Kate Bush Dance Party, bitch!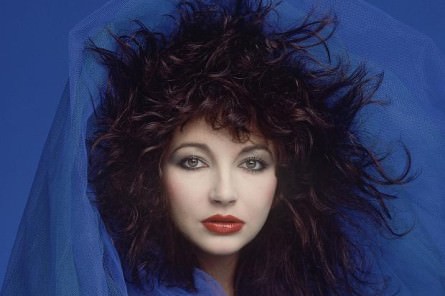 "For the 5th year, Poison Eve, Darlinda Just Darlinda, Eric Schmalenberger, Michael Cavadias and Severely Mame present KateBushwick," at House of Yes. The night is geared as "The Life Cycle of The Bush, a journey through the interior world of Miz Bush. An evening of variety dedicated to the legendary lady, told through cabaret, burlesque, performance art, video, and circus performances, followed by a Kate Bush dance party."
I know, you're probably thinking that Kate Bush wrote a lot of downers, and you're right! This Woman's Work deff could make me cry at first chord, but a night of brand-new Kate Bush dance tracks just sounds too fun to miss. House of Yes always seems to be hosting something new. They slay when it comes to excitement. Their float at pride was one of my favorites because the music was right and everyone just looked like they were having the greatest, most queer, grand-old-time! I expect this to be all of the above and probably more.
"The Rubberband Girls have found some Moments Of Pleasure in honor of Kate's birthday (July 30). This Leo Woman's Work has inspired so many songs and dances into The Sensual World, so them Heavy People are showing a little devotion through burlesque, circus, song and dance! This fifth annual Kate Bush Burlesque promises to be a Strange Phenomena with all new leotarded shenanigans to entice your Lionheart." Should be an interesting one!

Event:

Hillary Happy Hours DNC Acceptance Speech Watch Party

In a recent mega-poll analysis by the brilliant political site 538, they discovered that if the election was held today Donald Trump (I refuse to say the "J" in his name because I won't play into his desire to sound more presidential) would win! WTF? It's time all intelligent, sane people came together! I love Bernie, and would have preferred him to be the nominee, but he's NOT, Hillary is. In the words of Sarah Silverman, all you Bernie or bust people "are being ridiculous." We have our nominee and she needs our help. Hillary is a terrible campaigner, but I have no doubt she'll do a much, much, much better job being president than Trumpf. A vote for Hillary is a vote for a liberal Supreme Court for the next 30 years. It's a vote for LGBTQ, women's and abortion rights not being overturned, it's a vote for immigration reform, it's a vote for a million liberal causes that will be in trouble if the republicans win. This Thursday "Join Hillary Happy Hours for the historic last night of the Democratic National Convention, when we will gather to watch Hillary Clinton accept the nomination for President of the United States. Enjoy 2-4-1 drink specials and the best LGBT Hillary crowd anywhere." It's now or never queens. —tom
The Cockette legend still needs to perform!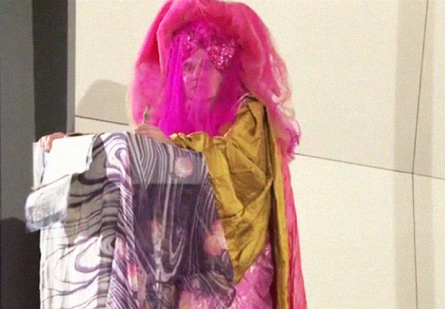 Beautiful weirdo Rumi Missabu is asking for our help, and when Rumi calls, we answer.
Featured in our latest issue of GAYLETTER, Rumi Missabu is one of the founding members of the Cockettes, the "acid-dowsed, anarchist drag queens who, in Rumi's words, made a 'brief but snazzy stand bridging the gap between the Summer of Love and the times of Harvey Milk.'" The group began in San Francisco in 1969 when a "visionary hippie" named Hibiscus gathered together 12 different performers. They began to put on a show featuring "fairy tales, show tunes and beautiful, chaotic drag while tripping on LSD."
"We were instant stars," Rumi says. "No one really cared if we could sing or dance; the fact that we dared to assume as much was enough. We evoked a vision of a bizarre utopia only to be found on the fringes of the mind, arranging the grotesque in scintillating homosexual, bisexual, asexual and quadric-sexual patterns, and decking it out in mocking rags and cock-flapping parody."
Now, almost 50 years since the Cockettes began, Rumi is still a champion for performance art. He is working tirelessly to bring four artists; Bruna Palmeiro (Belle Zee Bub), Roxanne Redmeat, Donna Personna and Diego Gomez (Trangela Lansbury) from San Francisco to New York to appear in THE WITCHES OF SALEM. The performance is on October 5th at the historic Judson Memorial Church with additional shows to be announced. …

Do:

GAYS AGAINST GUNS MEETING

After the Orlando shooting lots of us in the LGBTQ community have been feeling all sort of things: anger, fear, frustration. We have also been wondering what the hell can we do besides writing angry rants on social media. Recently I ran into journalist Tim Murphy at the gym and I asked him about a photo I saw on his Facebook page of him marching like a fierce queen (pictured) while wearing a t-shirt that read: "Gays Against Guns." He told me he is part of this amazing organization called GAYS AGAINST GUNS (some of you have probably heard of them by now) and that it's "a group of fierce queers who formed after the Orlando massacre and took over the Pride March chanting "Fuck the NRA!" They also lay down in the street, yelling "How many more have to die?" Since then, they've been busy. I was so happy to hear about this, I was like, how do I get involved? Let's be honest, we know that the gun laws in the U.S. are fucked — it's so easy to buy a gun — it's just stupid. The group have been busy making as much noise as they can, and they encourage all of us to join them. We need this. Here's how you can start: join them at their next meeting (Wed Jul 27) at the LGBT Center (208 W. 13th St) at 7:30pm. Tim told me that they are planning lots of things and one of them is a "noisy visit to D.C. and even to the NRA HQ's in Virginia on October 24. "If anyone's going to take down the gun lobby that's killing Americans, it's KWEENZ." You better believe it! —abi
Scenes from the Bruce LaBruce's solo retrospective at the Lethal Amounts Gallery in Los Angeles
Hair by Lisa Raquel and Make Up by Mark Edio
Event:

Black Lives Occupy Brooklyn

The world is pretty cuckoo for Cocoa Puffs at the moment. She's losing her shit in more ways than I can keep up with. I realized last night that I need to stop reading the Internet constantly and actually do something positive. This Saturday is a chance for us all to do just that. Black Lives Matter are taking a stand this Saturday to let the world know that it's time to end violence. Enough with all the aggression. "We will meet at the front end of Barclays Center directly across the street from Atlantic terminal (shopping mall) at 1:00PM we will make our way to BAM, followed by marching on Fulton st toward Fulton mall proceeding to Brooklyn borough hall and ending at Columbus park. We will be calling out the names of those slain by officers so a list will be started and please add names. In addition we are calling to action a change of the laws that govern the prosecution of officers when it comes to the killing of civilians. PLEASE REMEMBER THIS IS A PEACEFUL MARCH!!!!" Amen to that, a little peace and A LOT of action is what we all need right now. —tom
Party:

DRAG LIFE DANCE PARTY

So many fucking parties, please help us! My mother always told me you don't get tired of partying? Now I am getting older and sort of started to understand what she means, but partying is fun, you know. Why stay home? Socializing is very important for your mind and who needs sleep anyways? There's an ongoing contradiction in my head right now. To party or not to party… Then I read this promising quote about our pick for Friday: "The Drag Life Dance Party promises to be the most adventurous Friday night extravaganza in NYC as guests are encouraged to flip the script and dive deep into the gender blender of sexual disorientation. The festivities include a pop-up strip club with open pole, make-over station, glamour shot photo booth, ass jazzling, manicures and pedicures,  glam drag, butch drag, daddy drag, and then some!" That sounds kind of fun… Music for the night will be provided by Nomi Ruiz, Carlos Jadraque, the sexy Williams Francis, Din/Void, Exit sense, Derek Piotr and Gerry Visco (that girl, m m m). Free yourself from the jail that is masculinity — that shit is boring — tuck, put a wig on, gender bend it, get free. Click here for tickets. —abi
Sam Gordon's exhibition offers art sans categorical archiving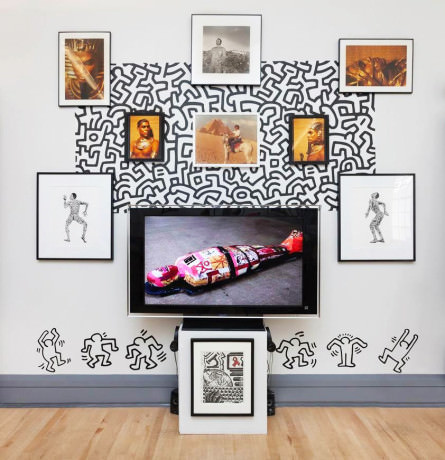 A "person of interest" usually refers to a suspect who has been deemed worthy of further investigation. In Sam Gordon's exhibition 'Persons of Interest,' nineteen artists collectively investigate the queer individual through drawing, video and even a neon glory hole (my personal favorite). Sam refers to the exhibition as a "wunderkammer, a microcosm of books and objects presented without categorical hierarchies." The exhibition itself strives to be as queer as the art it presents. Unlike most art spaces, there is no pecking order. Here all mediums are created equal.
The show is presented by Visual AIDS at the Bureau of General Services — Queer Division, located the second floor of the LGBT Center of New York. The Bureau is a "queer cultural center, bookstore, and event space…that seeks to excite and educate a self-confident, sex-positive, and supportive queer community by offering books, publications, and art and by hosting readings, performances, film screenings, book discussion groups, and workshops." Most importantly, you can find every issue of GAYLETTER there.
Sam explains that the show also explores "the people left behind and the challenges with archives and legacies." After the AIDS epidemic, exhibiting art was no longer a simple matter of organizing and categorizing. Huge gaps were left both in the canon and in the community. 'Persons of Interest' tries to symbolically rectify that loss, while paying homage to those who have passed. Featuring artists such as Raynes Birkbeck, Mark Carter, Chloe Dzubilo and more, the show is on view through September 4th. …

Party:

BETTE DAVIES

This is the third installment of Bette Davis, a party organized by Markus Kelle and James Twigg. I wanted to go and check out the first week, but didn't make it. So, I decided to reach out to some of the people involved in the party to get more info — Markus told me more about Bette Davis, he says it's  "an underground disco beneath the hotel Americano which started out rather organically, in that my group of friends (the shitty kitties; James Twigg, Eric Worsech, Nicholas Phinney and Josh Helman) are rather well know for our excursions and house parties." Ohhh I've seen those queens carrying. "We called it bette Davis because the front room is nearly entirely black and white, and to an extent some of the character she played rather embody the energy of the night. " Josh told me that this week is gonna be extra because it's also the after-party for The Hudson boat party. Sure, gtk summer! —abi