"NYC Inferno is a new monthly party for friends, fuckbuddies and lovers of all kinds." I'm talking about a sex party! That doesn't mean that if you go you must participate, but if that's your mood, here you have it. I know that before people go to sex parties, they are not walking around saying "Mom, I am heading to a sex party tonight," but come on, don't pretend that it's not a natural thing. We know you whores fuck around, it's cool, it's very popular with gay men. We are not gonna judge you, so go at it! Adam (who's helping promote the party) told me more about what to expect at the party, "people should expect a hot, diverse, attitude-free crowd of people —  the vibe is very open, not-shady, kind and respectful whether you're into someone's scene or not…" Sounds chill. He also told me that they'll have "a Troll Hole Popper Shop open from 10-12AM. Troll Hole, is Bushwick's amazing queer feminist sex shop." So, you don't have to worry about if you forgot to buy poppers. Also, "All proceeds for the evening will be split equally between two amazing charities that work for justice for queer people of color both in NYC and the Deep South: SONG (Southerners on New Ground) and F2L." You can always just go and watch, or simply dance (DJ Will Automagic will provide tunes) don't get too drunk, be safe and be friendly. Aren't you glad I told you about this event, You are so welcome :). —abi
$20, 10:00pm-4:00am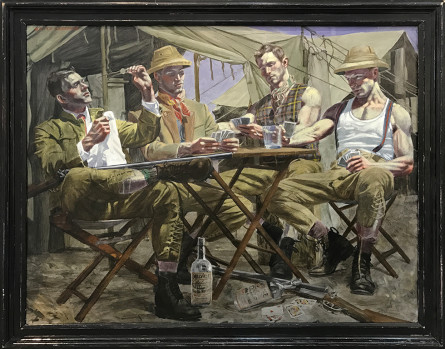 This show is curated by Mark Beard, who has spent the last two decades keeping alive the legacy of artist Bruce Sargeant. Sargeant is a painter who "largely concentrated on the idealization and celebration of the male form. Had Sargeant not met with a tragic and untimely death at the age of 40, he may have gone on to achieve the fame and renown awarded to such painters as James McNeill Whistler, Thomas Eakins, and Winslow Homer — artists to whom his style is often compared. Instead, Sargeant's oeuvre remained relatively unknown for years until it was brought to light by the efforts of Beard."
This Thursday, December 1st, ClampArt is hosting an opening reception for Mark Beard's show Bruce Sargeant (1898-1938): Parlor, Gymnasium & Field. "The current exhibition gathers canvases in which Sargeant portrays his young models in various private settings such as the parlor and studio; to quasi-public spaces including the gymnasium; on to the field and in the great outdoors.  Mark Beard's selection of a wide array of scenes reflects his great uncle's interest in men of all social echelons — from ranchers and people of the working class up the social ladder to sportsmen and art collectors alike."
Sounds like a wonderful show, and it's heartening to see a forgotten queer artist finally been given his dues.
Mark Beard [Bruce Sargeant (1898-1938)], "Two Friends," n.d., Oil on canvas, 20×24 inches, Courtesy of ClampArt, New York City.
Mark Beard [Bruce Sargeant (1898-1938)], "Hunter in Lederhosen," n.d., Oil on canvas, 60×36 inches, Courtesy of ClampArt, New York City. …

Book:

Cleve Jones at The Strand

James Baldwin once eloquently said, "Know from whence you came. If you know whence you came, there are absolutely no limitations to where you can go." I would probably just say, "Learn your fucking history homo." But the point still stands. Now more than ever we must understand the history of queer activism in order to successfully continue on the legacy of those who came before us. Cleve Jones, a man integral to the history of queer activism, is coming out with a memoir called When We Rise that we all need to read. Jones worked with Harvey Milk, co-founded the San Francisco AIDS Foundation and came up with the idea for the AIDS Quilt for godsake. This Wednesday at The Strand we all have the amazing opportunity to hear him in conversation with OUT editor-in-chief Aaron Hicklin. They will talk all about Cleve's inspiring work and activism in the age of Trump. Admission is the cost of a signed book or a $15 Strand gift card and you can reserve a seat on strandbooks.com. There will also be an after party at Nowhere Bar because obviously. Now come learn whence you came, you homos. —Jonny
Previously boxed away images of Madonna have made it to print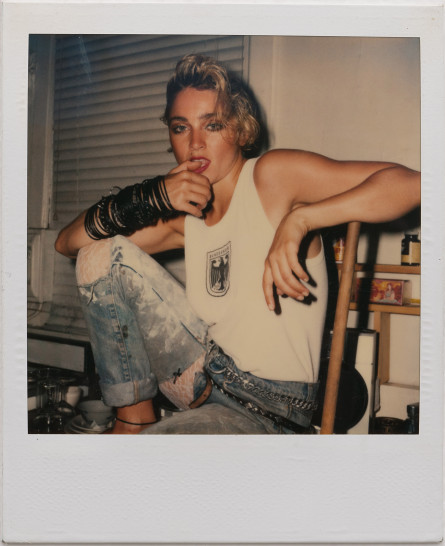 The latest from Madonna is not what you think. Madonna 66 is a new book featuring photos of the singer taken on the eve of her entry to stardom. These never before seen photos of Madonna tell the story of the woman behind the celebrity.
Her beauty is forthright and the outfits are quintessentially cool. Madonna in these photos has charisma, uniqueness, nerve and talent written all over her, crossed out, and then written all over her again. I picture them arriving on Cis Corman's desk in the early 80's (maybe accompanied by a few demos featuring the naïve but power-house voice) and imagine the gasps — audible and not — that probably ensued.
Madonna 66 is a limited edition photo book, running just 1,500 copies and featuring 66 unpublished Polaroid images of Madonna. Taken on Friday, June 17th in 1983, the images come straight from Richard Corman, son of the aforementioned casting director and producer.
"Cis was preparing a modern day treatment of the classic fairy tale Cinderella [and] asked Richard to drop everything and photograph a performer named Madonna," who was set to play the lead. The film was never released, but the preliminary photos kick ass. Plus, Madonna 66 includes a 14 page film-treatment of Corman's shelved Disney adaptation.
As I sifted through the images I wrote down all of the words that came to my mind, and I found that just single adjectives weren't doing me justice. …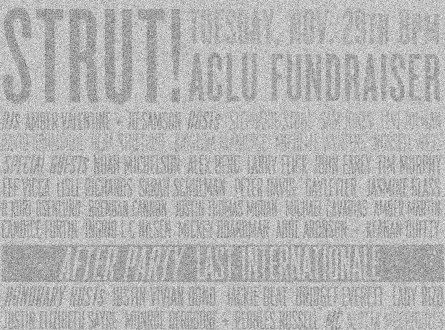 Join us on Nov. 29th at STRUT ACLU Fundraiser! We'll be there along with many other fierce individuals and organizations. If you're not familiar with it, the ACLU (American Civil Liberties Union) works to defend and preserve the Constitution's promise of liberty for all Americans.
The ACLU strives to defend every person, and right now — that's of the utmost importance. So many of our fundamental rights seem to be in jeopardy by our President-Elect and his proposed administration.
The event is produced by Deryck Todd with honorary hosts including: Justin Vivian Bond, Munroe Bergdorf, Jackie Beat, Bridget Everett, Justin Elizabeth Sayre, Pebbles Russell, Lady Rizo. There are lots of other cool people involved, but we can't list all their names because there are just too damn many!
DJ JD Samson and Amber Valentine will be playing until 4:00am. There's no better way to overcome the outcome of the election than dancing, while also donating to an organization that wants to protect YOU. There is a $5 suggested door donation. 100% of the proceeds go to ACLU! Please attend, and give as much as you can!
Can't make it? Click here to donate.
The fundraiser event is from 8:00pm-4:00am on November 29th, Acme, 9 Great Jones St. NY, NY …

Party:

PUSSY FAGGOT – HOMO FOR THE HOLIDAZE

I can't believe Pussy Faggot is back, it feels like it's been way too looooong. If you are a regular reader of GAYLETTER, you know we used to be obsessed with this event since it started — we love the name. Earl Dax, who created the event told us that it's time for him to come back and work as a "cultural producer" again. "I know the work of many of the artists. They have inspired and challenged me over the years and helped to expand my worldview.  That's part of the power of live, alternative performance. It's urgent and vital and needed now, more than ever. It's also important that we continue to have spaces to gather together to support, educate, entertain and love each other." Homo for the Holidaze is the name of the latest edition of the legendary event Pussy Faggot! The event is taking place at The Delancey and starts at 8:00PM in the basement with a performance by Kevin Aviance "in a special encore performance of his new show 'The Lost Sessions with DJ Uri Dalal.'" I just looked at the list again and there are so many of our favorites involved, it's like taking a trip to 2010. There's Penny Arcade, Gio Black Peter (pictured), Amber Martin as Reba (she is so much fun as Reba!), Gerry Visco, Shane Shane, The reunion of The Lesbian Tendencies, Machine Dazzle, Tigger-James Ferguson and many others. Also, importantly they'll be donating the proceeds from the door to GAG (Gays Against Guns) — "it seems fitting that we should support the work of this queer direct action group at such a dark time for our country and the world." Say it with us: pussy grabs back! Click here for reduced ticket. —abi

I've never tried fisting before, I guess it's not a super casual thing to do, but you'd think that by now I would have encountered a fister — I've been in NYC for over 10 years. I am not necessarily into it, but I feel kind of stupid saying "oh, I've never fisted" lol. In the email we received for this party it makes it pretty clear that we won't have a chance to fist anyone as it is actually "a subversive techno party seeking to extend techno + industrial camp into the gay/ queer/ minority /poc community." Anyways, I do know for sure that this party is going to have great music as it features Michael Magnan, Andi Synthicide, Auspex and Word of Command. I have been carrying about fisting, but it's probably because I have a dirty mind and I'm thinking yeah, gay party, probably the fist in their name stands for fisting. Turns out the name 'Fist' represents taking a political stand, which is more interesting than what I was referring to. As they describe it: "FIST engages the visibility of communities of otherness through techno in NYC." They want us all to "unify to help combat the status quo, fight mediocrity, and strive for new spaces that embrace the movement of a new culture. Annihilate hate. Join the chant. In tribute to radical fun." This is the third installment of FIST and it's the perfect time to let loose — ohhh, remember all the turkey you ate — dance it off! —abi
Film:

Lost in Translation (w/ Suntory Whisky on the rocks)

This is a super cute thing to do the day after Thanksgiving for those of you who are staying in the city. Videology Bar & Cinema is hosting two screenings of the Sofia Coppola film Lost In Translation. Starring a seventeen-year-old Scarlett Johansson (she plays a newlywed a few years older in the film) and a charming as always Bill Murray, Lost in Translation is about strangers who meet in a foreign land. Both characters have jet lag and can't sleep so encounter each in their hotel bar late one night. Through the course of a week they develop a warm bond and help each get out of their respective ruts. For anyone who loves Japan, or melancholic comedies, this is a screening not to be missed. Best of all you can watch the film while sipping on a glass of Suntory Whiskey. For those who haven't seen the film, Bill Murray's character is in Japan to film a commercial for the whiskey brand. Sofia got the idea for this from an actual commercial her father (Francis Ford Coppola) had filmed years ago for Suntory at their home. Be quick to grab a ticket as this will likely sell out in no time. "Lip my stocking! Lip my stocking!" —tom
Book:

Somebody to Love: The Life, Death, and Legacy of Freddie Mercury

It's Thanksgiving, and you know what I am thankful for? Gay people! Thank god for all the talented queers who have made this world one worth living in. There's too many to list in this short post, so let's just focus on one very talented queen today: Freddie Mercury. The incredibly charismatic, and unique lead singer of the band Queen changed the musical landscape for the better. Somebody To Love is a new biography of Mr. Mercury that not only tells the story of the singer's stratospheric rise to fame, but also very cleverly weaves in a history of the disease that ultimately killed him. Freddie died of AIDS complications in 1991. At the time he was one of the highest-profile people to die from the disease, which is why his life's story is ineluctably tied to it. The authors of the book, Matt Richards and Mark Langthorne, hope that Freddie's story "sheds light on the darkest times that so many lived and died through." While doing this the book also spends plenty of time exploring all the light and beauty associated with Queen's brilliant contribution to music. There's plenty of juicy details about Freddie's relationships, not just with men, but also with women. Freddie never officially came out of the closet, which is understandable considering he lived in the 70's and 80's and Queen was a very mainstream band. Regardless, Freddie is still remembered as a queer icon and pioneer. And I'll continue to be thankful that we had him, even if it was for only a brief time. —tom
Available now