Event:

BOFFO FIRE ISLAND PERFORMANCE FESTIVAL – AUG 26-28

We were in Fire Island last weekend and it was super crowded, that wasn't a good thing as it's always more relaxing with less people, but I guess if you don't have to go to the only supermarket there, or the overpriced wine shop or to the "cafeteria," then you can prob just chill at your house by the pool and ignore the crowds. I mean it was so basic there, this white man yelled at us because we were complaining that there were too many white generic men on the island: "If you're gonna talk shit about white people in front of me I have to speak up!" he spat at us. I mean what an idiot. Now that I've let that out, I am so glad that this weekend BOFFO is throwing their second annual Fire Island Performance Festival on the island — they really need some culture there. Their program is very good. Some of the performers include Tyler Ashley, Xavier Cha with Rafael Reynoso and Adonis Vasquez, Eartheater, Fluct, Fragile (Wolfgang Tillmans), M. Lamar, Pearl (from RuPaul's Drag Race), Casey Spooner, Ssion and many more. Expect "a weekend of performance, music, and dance made for the island's unique social and geographic context." We're big fans of Wolfgang Tillman's work and excited to hear about his "live band project" 'Fragile'. It was founded in 1983 and will return at the festival 33 years later. It "involves musicians from three continents in varying constellations... I'd say if you are not already there, browse the schedule, take a day trip, bring some greens and try to ignore the basics! —abi
The wrapping paper brand putting females first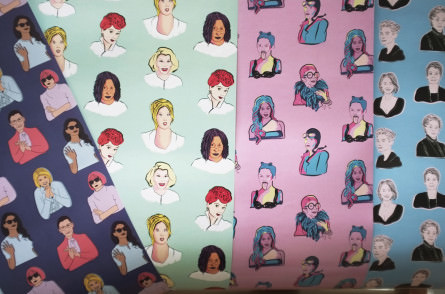 From now on feel free to judge a gift by its cover. She Paper has introduced an amazing new line of wrapping paper featuring sketches of all of our favorite ladies. The women are grouped together by categories such as "Funny Broads," "Like A Boss Lady," and "Yas Queen." The charming drawings are complimented by a thoughtful design aesthetic, making the wrapping paper itself a far better present than the lame gift card you're giving your friend for her birthday.
I was able to chat with the brains behind the paper about the gendered nature of gift giving and how we can eventually wallpaper the whole world with She Paper:
In the creation story featured on your website you mention some of the life events during which we are expected to gift. While most are gender neutral, there are definitely more events, specifically around weddings and babies, that women are obligated to buy gifts for. How is She Paper in conversation with that obligation? Do women actually like giving gifts more than men, or is this just yet another societal expectation put upon females? The perception that women like gifting more than men may be true, but it's probably because men buy gifts out of dutiful expectation whereas women see gifting as a creative opportunity to express their feelings. Something we like to do vs. something we must do has led to an over-saturation of gift-giving opportunities. And spending the time, money and effort to give a meaningful present every time can become very stressful. …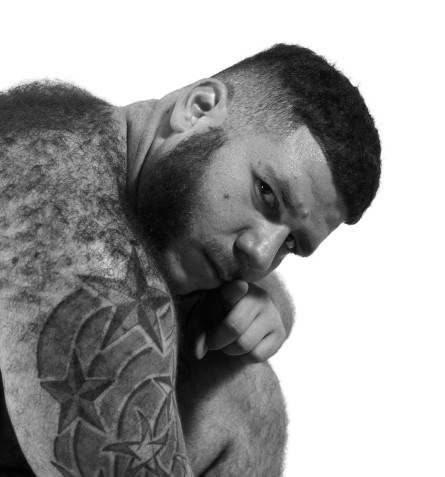 We have been learning how difficult is to keep a printed publication going since we began creating one of our own 2 years ago. Which is why we do whatever we can to promote other independent printed publications. We're not talking about Frank Ocean's latest release 'Boys Don't Cry.' He doesn't need any help promoting that release.
We're talking about the latest Pinups. "Pinups is a queer zine—each issue a pictorial of a nude male subject. The zine can be dismembered, and the loose pages tiled to reveal a single, monumental image of the subject. The zine's two states conflict, resulting in visual and narrative abstraction: a dialogue between its physical structure and its printed content." Sounds deep, I know, but it's a beautiful publication/object. Pinups No.20 features Akrum Salem, an actor who is known mainly for his work with Big Freedia. Akrum is a big beefy, hairy daddy, like many of the men featured in the publication. The photos taken focus on "the importance of being in touch with one's playful side."
I think embracing playfulness is one of the smartest way to get captivating images. Seriousness gets boring after awhile. You can pre-order the issue right now!

Event:

NIGHT AT THE MUSEUM: CLOSING PARTY FOR SUMMER EXHIBITIONS

If it hasn't set in that summer is ending, bitch, wake up! Labor day is two weeks away and a lot of queens are already wearing Pre-Fall. Sad, I know. But get over it. New magazines are going to hit the shelves soon, and so is some fresh art. To bring their summer exhibits to a proper-close, MoMA PS1 "opens its doors for a late-night celebration of [their] soon-to-close summer exhibitions. One of the city's most anticipated art events, Night at the Museum will feature special programming organized by artist Meriem Bennani." I haven't been to the museum since the Art Book Fair (I worked one day at the fair and was like, OK, I'm good for another year) but with a Warm-Up every weekend and barely any rain all summer, PS1 has been busy. Their long-ass hosting committee for the event is a testament to the museum's constant hustle: Alan Cumming, Jonathan Horowitz, Ryan McNamara, Cindy Sherman, Laurie Simmons, Alexander Skarsgård, Mickalene Thomas, Klaus Biesenbach and many, many more are included. Should be a fun event. The courtyard is such a great place to chill with a beer or a coconut water, so why not check this out for the night? August's awful humidity seems to be behind us. Wear pants and finally leave your AC'd apartment! —Chris Stewart
The Dauphine of Bushwick and Tommy & Victor present Baby Tea Fire Island! Music by Lemon Verbena and Qossip Qurl. Performances by Merrie Cherry, Patti Spliff, Claudia Cliffer and The Dauphine. Hosted by Mamma San Kazuko and Casey Spooner.
Film:

Embrace of the Serpent

There's too many events happening in this week that are the "last for the summer." Aghh, I hate that term! Case in point is Wednesday's final screening for the outdoor film series that has taken place at Socrates Sculpture Park in Long Island City all summer. The film, Embrace of the Serpent, has a 99% critic rating on Rotten Tomatoes. It tells the story of "a young shaman (Nilbio Torres) in the Colombian Amazon" who "helps a sick German explorer (Jan Bijvoet) and his local guide (Miguel Dionisio Ramos) search for a rare healing plant." It's set in the early 1990's, and is apparently very beautifully shot and brilliantly acted. This event is a no-brainer. Not only do you get to see an amazing film, but you get to do it in one of NYC's most unique settings. The Socrates Sculpture Park is filled with all kinds of clever exhibit sculptures and multi-media installations. The summer is unfortunately winding up, don't miss a minute of it! —tom
Rapport's artwork is now on view at the store Adam's Nest in Provincetown, Massachusetts.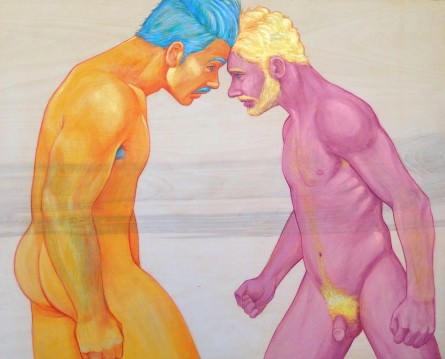 Nathan Rapport creates beautiful and erotic scenes using colors that are as queer as his subjects. I mean, it's not everyday that you get to see multicolored pubes. Beginning on Friday, August 19th, you'll be able to catch Rapport's artwork on view at the store, Adam's Nest in Provincetown, Massachusetts. The show is titled "I Won't Decorate My Love," and Nathan himself will be at the opening night reception.
A multitalented artist who splits his time between Texas and California, Rapport gained national notoriety with his queer adult coloring book, "Last Night I Dreamt That Somebody Loved Me." The coloring book, along with shirts designed by Nathan, can all be found in the Adam's Nest online store. The t-shirts feature designs such as "Blousy Top," "Butt Pirate" and a dude with a dick stuffed in his mouth captioned, "Enjoy the Silence."

The show coincides with Carnival week, one of the biggest outdoor celebrations in Massachusetts. The Provincetown Carnival attracts a crowd of over 90,000 people all coming together to celebrate queerness. Going along with this year's Carnival theme of "Back to the '80s," Adam's Nest is also selling Gran Fury's Act Up t-shirts, with a portion of the profits going to support the Ali Forney Center.
Adam's Nest opened up in June of this year and proudly features art, apparel and everything in between. In their own words, "We believe in love, equality, and to live by the 'golden rule.' Live and let live is the idea we hold in the highest regard. …

Join the celebrated author Edmund White as he discusses his latest novel, "Our Young Man."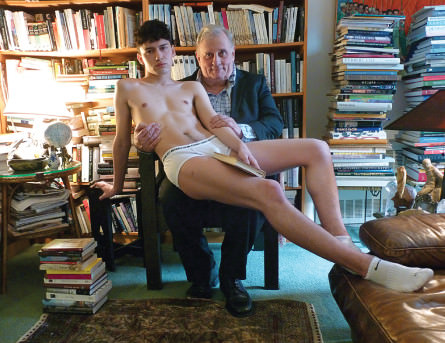 If you are queer and literate you should know the name Edmund White. If you don't, at least have the common decency to pretend and make sure you come hear him speak at the NYC's LGBT Community Center on August 23rd. Edmund White's career has spanned over 40 years and included 25 books of fiction, nonfiction and memoir. Most notable is the widely celebrated gay coming-of-age story (and my personal favorite) "The Beautiful Room is Empty," as well as the sex manual turned cult classic, "The Joy of Gay Sex." The Center is hosting White for a reading and discussion of his latest book, "Our Young Man." The book just so happened to have been reviewed by Leo Racicot for our latest issue of GAYLETTER. Racicot writes:
"White's novel is primarily the story of Guy, a beautiful boy from a poor French town. Fortunately for Guy, his perfect face and golden body pull him from what might otherwise be a grim fate. He ascends the shimmering heights of high fashion, first in Paris, then New York, and finds himself in a fast-paced, drug-fueled world where loathsome old toads pay big bucks for a young man's company, while detractors wait and watch for their friends and enemies to fail. Looks and self-maintenance are everything; gaining so much as an ounce could earn you the moniker 'Miss Piggy.'
Guy, recognizing all this, reminds us of the classic caveat so popular in those days: 'If you're not good looking, you'd damn well better be funny, and if you're neither of those, you'd better be a slut.'"
The full review and an interview with White by Slava Mogutin can both be found in GAYLETTER issue 4. …

Event:

Wigstock: The Cruise

One of the GAYLETTER boys asked me if this was worth a mention in this week's newsletter and at first I was like nahhhh, but then I saw that the legendary drag queen Lady Bunny was involved, so I went back to give it another look. Lady Bunny was doing drag before I was born. She was involved in the original Wigstock, which was an outdoor drag festival that happened in the 1980s in Manhattan's East Village — there's an amazing documentary about it, google it, you must watch it. RuPaul is in it, the film is cunt! This event is presented by Sea Tea - New York's Gay Party Cruise and it's one night only. Lady Bunny brings us an amazing line-up of entertainers including Jimmy James, Michael West, Connie Fleming, Glamamore (aka David More), Juanita More, John Kelly as Joni Mitchell (amazing!), Tabboo! aka Stephen Tashjian Dueling Bankheads with David Ilku, Clark Render and "a real blast from the past" Ebony Jett from San Francisco. I mean, yassssssssss. Music will be provided by Johnny Dynell and Ed Bailey. The cruise departs from Pier 40, it boards at 6:00PM, sailing at 7:30PM and returning at 10:00PM —  also, it includes a complimentary buffet dinner. Tickets will be also sold at Village Apothecary (West 10th Street & Bleecker). Now that I think about it, this sounds pretty amazing. —abi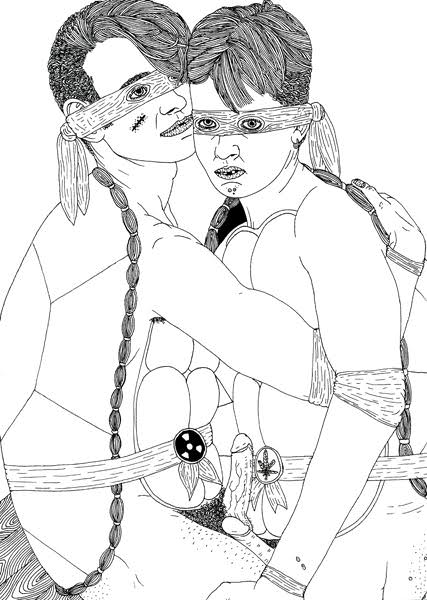 James Unsworth's art is very dark, and sexy and fucked up in the best possible ways. Known for exploring "the subjects of sex, death, food and grand faggotory" in his work, the London based artist, has acquired fans far and wide. This Saturday, August 20, at Printed Matter Inc.
Unsworth will debut his first U.S. solo exhibition titled 'N.S.F.L.' It "will include original drawings from Unsworth's first two publications; Ninja Turtle Sex Museum and Dead Boys alongside sketches, reference material, prints and ephemera relating to these drawings."
Apparently James will be onsite to sign copies of both publications. We chatted with Printed Matter's Shannon Michael Caine about the show and he told us that there are also "over a 100 original drawings for sale and riso editioned prints start at $20." He also mentioned that there will be "beer and boys." He knows us too well. We're looking forward to it.
Free, 5:00-7:00pm, Printed Matter, 231 11th Ave. New York, NY. …