Fatima Al Qadiri creates a queer vernacular in music forbidden in her homeland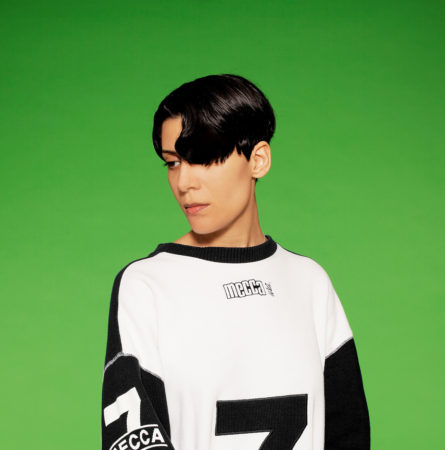 Senegal-born, Kuwait-raised composer and producer Fatima Al Qadiri enchanted a sold out crowd this past Saturday night at Bushwick's Secret Project Robot. DJ's Skyshaker, Sharp Veins, Asmara, and Rabit warmed up the with their hip-hop tinged sets as the cavernous venue brimmed with a diverse crowd of fans and dancers.
As Al Qadiri ascended to the stage at 1:00AM, the conceptual artist donned a long wig with bangs — a familiar trait of femininity — but after a few songs into the set, Qadiri snatched it off her head, revealing the signature short coif and sporting a warm grin. Refuting any kind of hetero-normative standards, the queer artist proceeded to dominate the crowd with a dynamic repertoire that included tracks from her recently released five track EP, Shaneera.
A stark departure from her previous solo efforts that include collaborations with Future Brown and GCC, Shaneera (Hyperdub) is a bold move by Al Qadiri to create a queer vernacular in music that is forbidden in her homeland of Kuwait. Al Qadiri's earliest works — 2012's Desert Strike, 2014's Asiatisch, and 2016's Brute — capture her experience with queer identity and political upheaval, wrestling content fished from her childhood during Saddam Hussein's 1990 invasion.
Desert Strike is the sonic story of a child, video game obsessed and contingent to the trauma of Iraqi occupation, while Asiatisch imagines a China painted through themes of Western appropriation, and Brute, whose artwork shows a Teletubby in swat gear, symbolized Al Quadiri's insight into the Occupy! …

Writer Alex Catarinella opens up to his friend about his sexual dependencies and his Buddhist savior.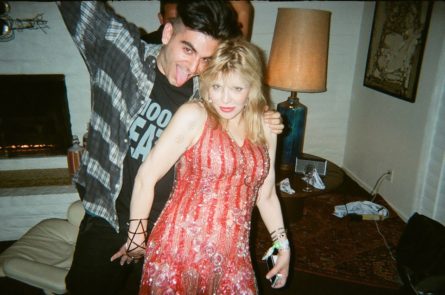 As a bonafide fashion PR-boy, over-the-top industry events, celebrity run-ins, paid press trips, and pretty much non-stop mayhem summed up my twenties. Alex Catarinella, a journalist for outlets like Vogue, Elle, PAPER, and i–D, happens to be one of my very close friends who, like myself, paraded through those formative years wearing debauchery and glam as a uniform.
The only difference between us was that when I would turn in for the night, Alex's night would just begin. When Alex finally decided to open up about his after-hours rendezvous, I sensed something darker was brewing underneath the face he wore out in the world.  Disillusioned by my own need for a life out of the ordinary, I considered his strife all par for the course.
Now, in a series of essays for Dazed, Alex reveals his story of sex, drugs, and rock bottoms. "I'm one of the lucky ones," he writes. "I survived the masochistic man bun, drill sergeant sides and all. It was the summer of 2014 when my insides were at their darkest, but my hair colour was at its bleached blonde brightest. The black roots aggressively powered through, though – darkness is attracted to light." Surprisingly, it took one week in an LGBTQ rehab and Courtney Love introducing him to Buddhism to guide him away from the destruction towards a more purposeful life.
Ever-eager, I had a conversation with to Alex about the essays, his stint in rehab, Courtney Love (of course), mental health, and the stigma surrounding sexual addiction. …

Eat:

PILAR CUBAN EATERY

If there's one thing you should know about the GAYLETTER crew it's that we like to eat. And we love to eat even more when we don't have to pay for it. Groundbreaking I know, but we don't turn up our noses at a free lunch, or in the case of this Monday evening, a free dinner. We were invited to try out the new menu, and taste some rums of the world, at a wonderful restaurant in Bed-Stuy, Brooklyn called Pilar Cuban Eatery. The menu was traditional Cuba with a modern twist, and with real musicians playing Cuban music right next to our table the authenticity was coming on strong. We enjoyed duck Cubana sandwiches, sea bass empanadas and tres leches to die for. We also drank more rum than Hemingway on a bender. We tried rum from 6 different countries. My favorite was the Guatemalan; the Jamaican was a little too heavy on the alcohol content, and the Dominican one was lovely, if not a little sweet. We rolled out of there full, drunk and happy. I'm not just saying this because they rumed and dined us, but Pilar is a seriously good restaurant. The decor is casual but thoughtfully designed and the food is comforting and delicious. If you're in the neighborhood check them out! Tell em the gays sent you! —tom
VARIOUS PRICES, PILAR CUBAN EATERY, 397 GREENE AVE., BROOKLYN, NY

Most of the parties we profile in this newsletter follow the same general formula — there's a specific genre of music (typically something danceable), there's drinks, and queers throwing looks, both fierce and not-so-fierce. Clone breaks that mold a little bit. Sure, there will be drinks and queers, and probably a fair amount of controlled substances, but the point of this party doesn't seem to be dancing, its essence is "old-school sleaze as physically close to the old Piers as possible." To go along with the vintage porn playing inside, there will be music sourced from "the cruise bar heyday, 1976 to 1984" and spun by DJs Martin and Damian. There will be an optional $1 clothing check as well! Very yassy. So if you're tired of the mainstream Something Special-esque parties and you feel like being a shmessy whore, check this one out. Also important to note is that the mood will be a "lax, friendly vibe" (how can it not be lax when there's a clothing check, papa?) and you get a free shot with your $5 cover. Don't forget your poppers. Don't forget your kiki. Miss me with the Tina but hey, if that's ya game, I won't stop you from playing it. And remember: lax and friendly — so sharing is caring! —Connor Atkins
$5, 10:00PM-4:00AM, ROCKBAR NYC, 185 CHRISTOPHER ST., NY, NY

I remembered back in 2013 when the Bureau of General Services — Queer Division was located in the Lower East Side, it was back when we didn't even have a printed magazine. I remember thinking, 'I guess if we have a magazine or some sort of printed matter we can sell it here.' They had an Indiegogo campaign at the time which we helped them promote via this newsletter and our website. We feel that it's important for our community to try to keep these types of places alive, there aren't that many, if any, bookstores in NYC that focus mainly on queer culture/literature. BGSQD is now located at the LGBT Center and they carry an amazing variety of books, they have been hosting readings, art shows, and lots of interesting events including one that I will never forget, a performance by Gio Black Peter peeing in front of the audience. The owners of the shop, Greg Newton and Donnie Jochum (pictured), are very progressive and we love them for that. This Friday, November 17, they are celebrating their 5 year anniversary with a fund-raising event. The event will be hosted by actor and "long-time friend of the Bureau," Drae Campbell and it will feature raffle prizes (check online for their full list), food, drinks, dancing and performances. Other appearances include: "author/blogger Jeremiah Moss (Vanishing New York: How A Great City Lost Its Soul), poet Pamela Sneed, comedian Elsa Waithe, drag performer Lady Quesa'Dilla, burlesque performer and porn star Chris Harder, and DJ Viva Ruiz!" You must go, $25 is nothing for all the things you get, just drink up and help keep this lovely queer store alive. —abi
$25, 6:00PM-9:30PM, The Lesbian, Gay, Bisexual & Transgender Community Center, Room 301,
208 W. 13TH ST. NY, NY
.
Hosted by Sasha Velour, featuring performances by Olive d'Nightlife, Cheddar Gorgeous, Lucy Balls, Mocha Lite, Neon Calypso, Pierretta Viktori, Untitled Queen, Vander Von Odd, and Zenobia
Party:

NEW DIRECTIONS IN FUNK

Something about basements just makes parties better. Black Flamingo is a taco joint that harbors one of nightlife's best kept, but also not so best kept, basement dance floors. When I first visited, I ended up dancing with a bunch of British tourists who didn't offer me any coke (rude) and struggled to not take my shirt off, so I settled for the next best thing: exposing my chest for indefinite periods of time and doing poppers alone. Parties here are intimate as fuck, considering the basement is just about as large as some apartments and can really hold maybe 70 people comfortably? I think. Luckily, it's a true dance crowd, so everyone moves in waves, gyrating near each other, exchanging sweaty looks in the strobe light and gallivanting upstairs because that's where the only bar is, so it never feels too blobbish when you're dancing. This new weekly Thursday party is all about funk and I'm here for that. Expect to be familiar with nothing you hear from the night's DJs, which is a good thing because you'll feel free from the known and able to totally settle into the groove for the evening. The bar has a knockout cocktail menu, so don't make the same mistake as me and end up with tequila sodas all night. As I said, it's in a basement space and you'll feel like a silly teenager about to rub shoulders with the cool kids in school… or maybe that's just me fetishizing my third-tier popularity. (Everyone knew me because I was gay, hunny.) Usually we're covering parties that are for turbo-gays, and while that's fabulous, this is a terrific option for a lowkey night out. I mean, it's Brooklyn, so everyone's sexy and looks sharp, you can still find a mouth to kiss. Try the tacos and let me know how they are! —Chris Stewart
FREE, 10:00PM-LATE, Black Flamingo, 169 Borniquen Pl., BK, NY
Event:

TRANS DAY OF REMEMBRANCE

Step back and understand. Trans people of color have always been on the forefront of the battle for queer rights. Watch the documentary The Death and Life of Marsha P. Johnson on Netflix if you haven't. Rewatch if you have. The Audre Lorde Project is sponsoring an event at St. John's Lutheran Church in the West Village to come together as a community out of respect, mourning, and reflection; we honor the fallen members of the trans community, we buttress the power behind the living, and we demand change and recognition of the gross violations of human rights trans people face. Trans women of color are victims of hate crimes by disproportionate means in relation to other queer people. There is absolutely no excuse to stay silent. Let trans voices direct the conversation, and do what you can to make these voices heard. Donate your money. Say their names. According to the Human Rights Campaign, 2016 marked record for the highest number of trans people murdered in America with 23 lives taken as a result of senseless violence. This year has already seen the murders of at least 25 members of the trans and gender nonconforming community. We remember Mesha Caldwell, Sean Hake, Jamie Lee Wounded Arrow, Jojo Striker, Tiara Richmond, Chyna Gibson, Ciara McElveen, Jaquarrius Holland, Alphonza Watson, Chay Reed, Kenneth Bostick, Sherrell Faulkner, Kenne McFadden, Kendra Marie Adams, Ava Le'Ray Barrin, Ebony Morgan, TeeTee Dangerfield, Gwynevere River Song, Kiwi Herring, Kashmire Nazier Redd, Derricka Banner, Scout Schultz, Ally Steinfeld, Stephanie Montez, Candace Towns, and all other unnamed trans people who have been murdered. —gayletter
The gals are all grown up, and chaos ensues in widescreen format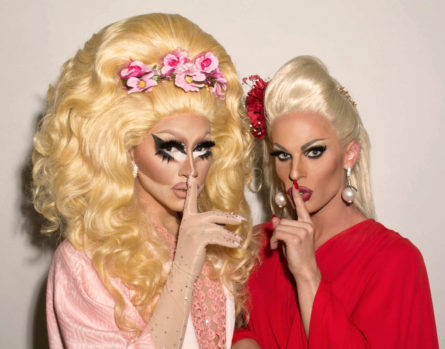 We live in an age where people are obsessed with instant gratification. Viral success propels forward the tastemakers in entertainment; with audience numbers reaching towards the populations of small countries, it's no wonder why more queens than just RuPaul are now queer-household names. Evolving from their cult-followed internet series, UNHhhh, Trixie Mattel and Katya Zamolodchikova have made it (back) to television to teach the children all about… whatever they damn well please because it's their show…and not yours!
Viceland presents The Trixie & Katya Show, which is the glorious extension of the drag duo's regular internet antics: post-verbal, inappropriate, beats for the studio-camera gods, and sweaty in all the right ways. As a fan of UNHhhh, the World of Wonder YouTube series, I was nervous that the show wouldn't survive the transition from computer screen to TV screen (something about watering down or selling out, or whatever) but the content of the show is still so utterly confusing it's like nothing ever changed.
What's marvelous about these two particular queens is that their concurrent personalities bleed through our pages as well as they bleed through the drag medium. In GAYLETTER Issue 6, Katya rolled around a studio backdrop for photographer Slava Mogutin. In Issue 7, we insisted Trixie let us print a makeup swipe of her beat. Whether it's on a page or on a stage, the duo is truly a riot and they excel on screen.
Unlike the Web-show, in the televised series Brian and Brian (Trixie and Katya's birth names) make appearances to do really serious reporting on Hollywood Boulevard. …