Another one of the boys featured in GAYLETTER Issue 4
Party:

KWIR FRIDAYS

Oh wow even The Monster is stepping it up in 2016. Apparently they have made "tremendous" updates to the club. They have "re-vamped their DJ booth, sound system, mixer and lighting in order to cater to an even wider array of DJs and performers while putting on a better experience for club-goers. At the upstairs bar they've made both of their restrooms gender neutral with a brand new stall added to the one time men's only restroom – they're eager to accommodate all genders." Yasss Monster come thru. I haven't seen what they did, but that place was always fun and totally ratchet. Ratchet is good, but an update is always welcome. Their newest party is called KWIR, and it's a collaboration with Yamil x. It's a dance party "for the entire community, a safe space for everyone to let loose, dance and sing." Don't miss their first night. The password for free entry is 'BLAZE' oh and they'll have $5 Stoli vodka drinks from 10:00PM onwards. Not bad! —abi
Performance:

Joseph Keckler at Pangea

Joseph Keckler once performed at this stupid event we threw at Bedlam on Ave C. It was in the early stages of GAYLETTER and we were approached by this doctors clinic for rich people. They said they would give us $2k to throw any kind of party we wanted, and the only promotion they would foist on people was an information table somewhere in the space (we shoved it in the back). We hired a caterer (who turned out to be a complete dick), threw open the bar and asked our favorite performers to perform. Best of all we had money to pay them. The evening was kind of a mess, no one really quite knew why they were there. But Joseph's performance is what I remember most clearly from the night. People wouldn't stop talking to listen to him. It made me furious because I couldn't believe what I was hearing. Joseph is a trained opera singer, who sounds like a fucking angel stranded on earth. His vocal range is bananas, and his performances are beautiful, funny, campy and captivating. He is well worth seeing, again and again and again. —tom
$21.69, 7:30PM, Pangea, 178 2nd Ave., NY, NY
Matt Lambert, and husband Jannis Birsner, create a sexy new picture book (NSFW)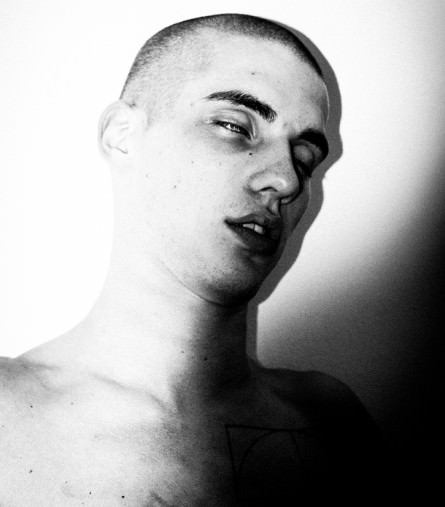 Berlin based filmmaker and photographer, Matt Lambert, follows up his first book, Keim, by working with husband and regular collaborator Jannis Birsner, to create Vitium. It provides quite an experience for the reader; opening the seal to the plastic outer casing, pulling out the light, B&W book, finding the glossy poster inside, and then absorbing the photography. It draws you into its world. A world that celebrates the carnal energy of Berlin's youth.
Here's what they had to say about the project: "The boys in VITIUM aren't overly big or small, they have normal bodies. They are in the zine because of their attitude. All the attributes these boys have you would use to describe femininity. Then we are back at their physicality: these boys are attractive and masculine because they are confident in their sexual expression. Masculine men are men confident with their selves without being abrasive."
The book is split into three parts, each with a distinct vibe. The first, "Sacrifice: Matured in Fire," expresses raw sexual charge; there is an innocence to the models captured. "Unity: Man is Wolf to Man" shows confidence and growth. "Love: Every Soldier is First a Lover," the final section, is the most explicit; A heavy climax depicting sexual ownership. Lambert and Birsner experiment with texture and lighting to create a rich, sensory experience for the reader. They have created a sexual (penis), fun (penis) and provocative (penis) time capsule, something you'll want to revisit. Honest, playful and HOT, Lambert and Birsner have created something real. …

Event:

CLASSIC ALBUM SUNDAY'S & DJ SPINNA'S SOUL SLAM – PRINCE TRIBUTE EDITION

I am not the biggest Prince fan. I know that's sacrilegious to say right now, but growing up all his music kind of sounded the same to me. I never really connected to him in the way others did. Which is why this event might be good for me. The idea behind Classic Album Sunday's, which began in London, is that they play a record, from start to finish, on the best sound systems they can find. The purpose is to give your undivided attention to the experience, and hopefully come away with a new, and deeper appreciation for the work. This Wednesday they are playing Prince & The Revolution's 'Around The World In A Day.' Afterwards the place turns into a big dance party with DJ Spinna and Good Room paying tribute to Prince all night long. If you're a diehard fan of the man then this is a dream event. If you're like me, and lukewarm about him then this might lead to a holy conversion. Or not. No biggie. —tom
Free with RSVP (http://bit.ly/26oHCTx), 7:00PM, 98 Meserole Ave,
BK NY,
.
The Dauphine of Bushwick X Wise Men: Music by Alexis Blair Penney and Raul de Nieves! Performance by The Dauphine! Hosted by Birthday Boys Alan Salcedo and Robert Kessler. Tea Set Winner Merlot!
Art:

Nir Arieli's Flocks

We've photographed many dancers in our magazine. We love working with them, because they're the best models, not only do they have great bodies, but they also have talent, and a depth that is so much more interesting than a model  with nothing but pretty eyes and high cheekbones. Photographer Nir Arieli feels the same way. His cousin is a dancer from Juilliard School. He's taken advantage of the connection by photographing many of the dancers from the school. His new show is titled 'Tension' and it's at Daniel Cooney Fine Art. In it are gorgeous images of dancers all piled on top of each other. This Thursday, April 21, from 6:00PM-8:00PM is the opening reception for the show. It'll be a great chance to see the photos in their large scale glory and also, hopefully, meet some of the dancers. Yummy. —tom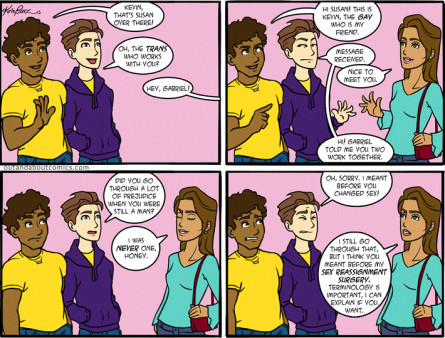 For a little dose of fun on the web, we take a look at comic strip, Out & About. Written and illustrated by Brazilian Kris Barz, who came up with the idea when he realized there wasn't enough comics that gave fair representation to the LGBTQ community. Originally created in Portuguese, with the name "Torta de Climão," it translates brilliantly as "Big Climate Pie" and Kris hopes to continue expanding on the issues raised in his work to add to this big 'ol pie of queerness.
Here is what Kris had to say about his work: "With my work I try to humanize the LGBTQ community as much as possible in the form of comics, telling stories that show many different aspects of my characters, touching some important issues but always with the goal of creating fun and entertaining situations."
Out & About may be fun on the exterior, but it has a big heart offering identity to people from every background. And fear not of reading them too quickly, Kris is still translating his works so he's got plenty to keep you entertained!


We have an intimate 420 party every year. The last one we threw even had a photographer from the magazine Put A Egg On It!, who came to take photos of our lovely homemade desserts. This year we are a bit annoyed because we are in the Dominican Republic and we don't have any greens. However we brought Foria (THC suppositories) and we are gonna head to the beach and lay down with them inside of us — we'll tell you more about that when we get back. If you've already started smoking, good for you. I don't care what strain you do, just make sure it's the best quality possible. I recommend you don't make any emotional calls or get involved in any drama, it will just ruin your 420 celebration, keep it light and present. Turn on YouTube and sing some random songs, it's so much fun to sing when you are high. Make sure you make your entire day blurry, go outside and take long walks, if you can, go to a park and chill out. Why isn't weed legal in New York City already? —abi
PRICES AND EXPERIENCES VARY, YOUR PLACE.
Party:

AGE DISGRACEFULLY

Earl Dax (pictured) is someone we have known for at least 7 years. He is the producer of many wonderful performance events, the most famous of which is Pussy Faggot, which is a night of a thousand performers from all walks of life (next Sunday is its 7-year anniversary.) Earl has been travelling for a while now, he was in Mexico and most recently he returned from Cuba. He'll be celebrating his b'day after Carol Lipnik's show at Pangea on 2nd ave. Carol is a cabaret singer who's famous for having a million, trillion octave voice, so she's def worth seeing. Earl has organized a deal where if you use the code EFFN45 you'll get tickets to Carol for half price (only $10). See a show, party with Earl, sounds like a pretty nice way to spend a Sunday night. Happy birthday kween!. —tom
FREE, 9:00PM, Pangea, 178 2nd Ave., NY , NY