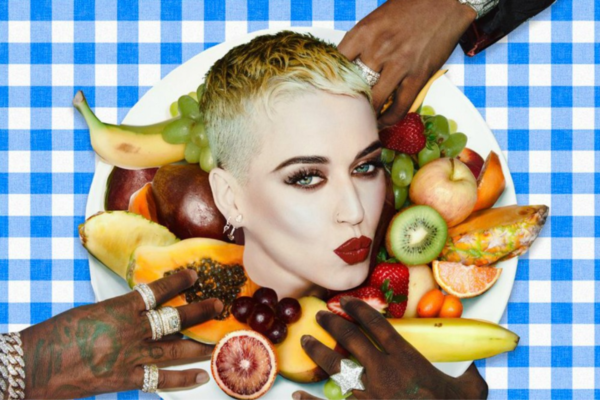 A Screenshot via YouTube
Bon Appétit by Katy Perry
Oops... Katy Perry did it again!
It seems that once again Katy Perry's latest single has been totally ignored. This time, she can blame the gorgeous weather in New York City. Though you're probably outside taking a really long lunch — maybe having a chilled class of pinot, or if you're really gay: a glass of rosé — I do want to draw your attention to Miss Perry's latest because it's definitely better than her previous.
"Chained to the Rhythm" came out last month (I think?) and did not perform well on the radio, or on the charts. The beat was catchy, and ushered in a new, albeit contrived, direction for the ever-changing brand that is Katy Perry. However, Bon Appétit (feat. Migos), which she released on this glorious spring Friday is way cuter and deserves a listen.
Earlier in the week, Perry fans tweeted photos of pies they baked after Katy tweeted that if you baked her a pie, "you may get a surprise." I was confused and didn't follow the Twitter trail because that is always exhausting, but nevertheless, the singer's Martha Stewart endeavor ended up being another really odd marketing strategy (RE : the disco balls no one tended to) for another new single.
Bon Appétit (feat. Migos) is really reminiscent of that kind of feel good track I only associate with Nicki Minaj's "Roman Reloaded." This is the kind of pop music that you can listen to at any given moment, meaning that it really has got no deeper meaning than what I assume is money-making. Listening to it I could see myself wanting to change the radio station once it came on in the car, assuming it might become over played by Z-100, but I also saw myself getting up to dance at a really bad Sweet 16. (Nicki Minaj was the only thing that got me out of my chair in 2012).
Katy Perry has always been really confusing to me. Going from indie pop to mainstream pop is not easy, especially when you did the Warped Tour circuit only to land yourself a single featuring Snoop Dogg. I imagine maybe she is just as confused about her career as we are, but that doesn't mean all of her music is bad. Plus, that blue hair was cute for a minute.
I think Katy put out a killer attempt at the summer banger. Unfortunately, I don't think anyone cares to stop and listen. Give it a shot! Someone else probably wrote a more in depth review, but it's Friday so I am only talking to you about what's worth dancing to.