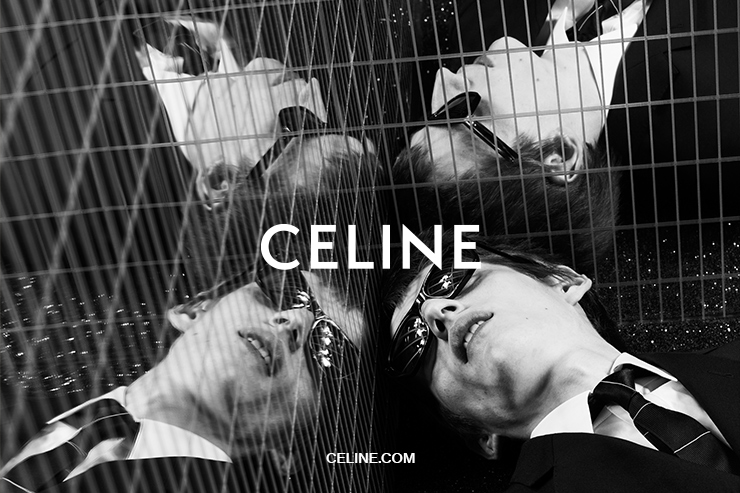 Listen:

Rereaders Podcast

Shit is getting a little too real this week. I can't open Facebook without being slapped in the eyeballs with another egregious headline highlighting the fuckery that's going on at 1600 Pennsylvania Avenue. It's dark times, for sure, which is why I want to recommend a podcast from far, far away where is it currently summer and nothing bad ever happens. Yes, I am talking about Australia, where I am from, and also where this podcast is from. It's called The Rereaders and it's a "fortnightly literary and cultural podcast." It's hosted by Mel Campbell, Sam Twyford-Moore and the very hot (if my recent google image search is to be believed) Dion Kagan (pictured). Topics cover films, books, art shows and in the lastest episode, an adorable discussion about the state of Melbourne beaches. Some of the content is very Melbourne focused, but that just adds to the show's charm, if you ask me — it's like taking a trip to hang out with some very smart friends on the other side of the world. The podcast is on a short break, but will return any day now. I suggest you catch up on past episodes, or if you're really adventurous, read the books they mentioned in their last episode and then join their book club when the next season returns. —tom
Available wherever you get your podcasts
Listen:

Noname – Telefone

24-year-old rapper Noname hasn't relied on dancing half-naked in music videos to make a career for herself. Over the last few years she has worked hard at building a reputation as someone with real talent and real ambitions to be taken seriously in the music biz. Raised in Bronzeville, Chicago, Noname (whose real name is Fatimah Warner) started out performing slam poetry in 2010. In 2013 she performed on Chance the Rapper's wonderful release 'Acid Rap' and in August released her brilliant debut mixtape 'Telefone.' Taking a page from two of 2016's standout albums — Kendrick's 'Untitled' and Chance's 'Coloring Book' — Telefone is a jazzy, breezy mitape that deals with a number of heavy subjects like police brutality and growing up in the streets of Chicago. Noname planned the album for 3 years before finally recording it in June of this 2016 in Los Angeles. In some ways Noname's music reminds me of Issa Rae's HBO show Insecure. While Noname certainly deals with heavy subjects in her lyrics, her mixtape is super enjoyable. I look forward to seeing what she gets up to next! —tom
Available everywhere.

If you're a long time reader of GAYLETTER you'll know that I love a podcast. I've been listening to them since the first ipod came out and itunes started hosting them. Listening to a podcast is a very intimate experience, and in my mind they still feel like a niche media platform — I know, I know, Serial was a blockbuster — but I'm still surprised when big companies come out with their own. I recently discovered that Vogue has a podcast, and I love it! Here's why. Firstly, it's hosted by Andre Leon Talley, who is so much fun to listen to (I get the feeling he's not quite sure what a podcast is, but that queen knows how to talk and is a joy to listen to). Secondly, he has access to everyone: Marc Jacobs, Alessandro Michele and Alexander Wang have all been recent guests, and Anna Wintour stops by each month to discuss the current issue. The podcast is recorded at the Condé Nast offices, and obviously Andre and Anna have known each other forever, so they're conversation is super relaxed. You get to hear a side of Anna (a woman I am fascinated by) like you never have before. She's loose, chatty, dare I say, fun. It's a unique insight into her, and the magazine/global brand she oversees. Subscribe immediately. That is all. —tom
Available on itunes
Listen:

Startup Podcast – The Runway

I'm a big fan of the podcast Startup. Season 1 of the show followed C.E.O Alex Blumberg as he created Gimlet Media, his podcast network. It was a frank and revealingly look at what it takes to start a business as a creative person. This season the podcast is looking outside of themselves to all kinds of unique businesses. Last week's episode was about a woman, named Mary Going, who created a company that makes gender non-conforming clothing (basically men's suits designed to fit women's bodies). Luke Malone produced the episode and reached out to us to ask if we would consider it for the letter. I'd already heard it, and enjoyed it thoroughly, so was more than happy to. Here's what Luke had to say about the episode: "It [the episode] covers the business, but also Mary's back story: How she wanted to wear a cowboy outfit on her first day of school but her mom put her in a yellow dress and she ended up hanging onto the doorway screaming, begging not to go to school like that; coming out and having her mom pull a gun on her; her struggles to find a suit for her wedding; and how she used all this stuff to build a clothing company for butch women and trans guys, and give them something they needed." If you're a fan of podcasts and don't know about Startup, then get your shit together and subscribe. Also, if you're gender non-conforming and need a suit, hit Mary up. She seems like a sweet lady, and could use your support! —tom
Find it on itunes or wherever you get your podcasts
Listen:

RuPaul What's the Tee? Podcast

If you've been a reader of the newsletter for any amount of time you'll know that I love a good podcast. In fact I'm listening to one as I type this. It's the New York Review of Books podcast featuring a conversation with Barack Obama. It's an interesting listen, but a little sleepy, which is why I want to tell you about another podcast that'll wake you right up. RuPaul What's the Tee? is exactly what it sounds like. It's hosted by Ru and fellow Drag Race judge Michelle Visage. The two spend equal time kiking with each other (my favorite part) as they do interviewing random celebrities (Leah Remini, Big Freedia, Mary Lambert) and of course plenty of drag queens. Over the last 40 episodes they have sat down with all the best queens from the last 7 seasons of Drag Race. It's clear that Ru and Michelle have known each other FOREVER as they have great chemistry. This connection is ultimately what makes the podcast so enjoyable, it's like listening in on two old friends gossiping about everything and nothing. It's totally addictive hunty. Download that shit ASAP. No, no, no, #shedonealreadydonehadherses —tom
Available through itunes and all podcast apps.
Listen:

You Must Remember This Podcast

It's been a while since I've found a new podcast worth listening to. Last week I was thrilled to discover You Must Remember This. Created, written and hosted by Karina Longworth, a former LA Weekly film writer, the podcast is an addictive, gossipy,  journey through Hollywood history. Episodes either focus on a star (Frank Sinatra, Mia Farrow, Marlon Brando, Madonna) a topic, like the wonderful "Tales of Celebrity Drunkenness" episode or in the case of the last 11 weeks, Karina has been telling the story of the Manson murders and all the ways the infamous cult was connected to Hollywood in the late 1960's. The podcast began in April of 2014, and over the last 39 episodes Karina has mastered the art of storytelling, not just in the way she's able to subdue her voice to create suspense, but also in knowing what listeners want to hear. She doesn't hold back when it comes to juicy details (who knew Sean Penn, in a jealous rage once bound and gagged Madonna in her house?) Celebrities of the 20th century, they're just like us...just richer, crazier and able to get away with pretty much everything! And thank god, because without bat shit celebs Karina wouldn't have such incredible stories to retell. —tom
Available through itunes, downcast etc.
Listen:

StartUp Podcast

We're big fans of podcasts at GAYLETTER (well at least I am). Here's a relatively new one that I've been enjoying lately. It's called StartUp and it's all about starting a business, or more precisely a for-profit podcasting network. This American Life and Planet Money's Alex Blumberg quit those gigs a while back and then decided to create the network. StartUp follows that journey in real time. You get to hear him make terrible pitches to Silicon Valley investors, find a business partner, find a new office space and deceive a 9-year-old boy. It's a chance to listen into every aspect of the adventure, warts and all. It's fascinating to listen to especially for us since we're doing a similar thing — building a business. The podcast is already up to episode #9 so you if you haven't heard any yet, you have plenty to catch up on. And while you're there, check out their 2nd podcast, it's called Reply All and is about the Internet. It's also great. —tom
Available on itunes or wherever you get your podcasts.
Listen:

Serial Podcast

Don't even get me started on podcasts, I could give you a list that would reach to China of my favorites, but this week I'm going to give you just one. It's called Serial. It's from the same crew behind This American Life, however, and I don't mean to offend anyone, it's sooooo much better than tired old T.A.L. Sarah Koenig is pretty much the reason for this. A long time producer from T.A.L, Sarah is exquisite at telling a story, which is all Serial is — one long story told over a season. The first season investigates a murder that happened in Maryland in 1999. At the start of every episode Sarah says "For the last year, I've spent every working day trying to figure out where a high-school kid was for an hour after school one day in 1999." The high school kid in question is named Adnan Syed and he's been in jail for the last 15 years. Sarah has some doubts about his conviction. In each episode she presents the evidence and it's up to us to decide where we stand. The season is about half-way through and I still have no idea whether he is guilty or innocent (I'm leaning towards innocent), but I am totally addicted and can't wait to find out what happens next. —tom
Available through iTunes or your preferred podcast app.
Listen:

Bret Easton-Ellis Podcast

The first guest on writer-turned-Twitter-provocateur-turned-culture-critic Bret Easton Ellis' newish podcast was Kanye West. It was during Kanye's 'the-fashion-industry-doesn't-respect-me' tour and he spent a lot of the interview complaining about his rich people problems. It was a weird yet fascinating interview. Bret is unique as an interviewer in that he isn't afraid to say exactly what he thinks and regularly challenges conventional opinion on all sorts of topics. If he doesn't like something: a movie, a TV show, he'll say it, often to the person who created it. It's refreshing and rare for a Hollywood insider to be so blunt. This week he interviewed Alan Ball, the writer behind American Beauty, Six Feet Under, Towelhead and True Blood. I couldn't recommend their conversation more highly. Alan is one of my favorite writers — the episode on Six Feet Under in which David is Kidnapped by a hot hitchhiker he picks up from the side of the road (That's My Dog) is one of the greatest pieces of storytelling ever created. It totally changed my view of what television could be. Bret and Alan's conversation is equally enlightening. The podcast is available through iTunes, or wherever you get your podcasts from. There's a link here. —tom