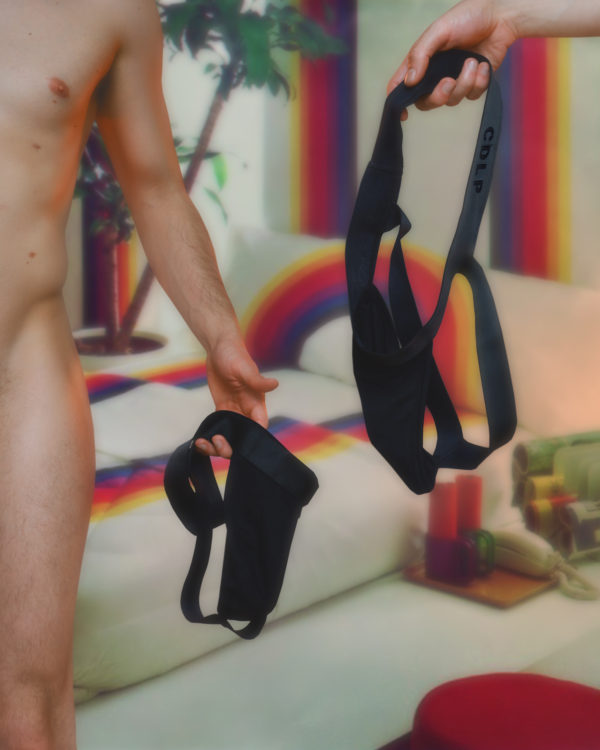 PHOTOGRAPHY BY MICHAEL THE III
CDLP x Tom of Finland
Make room in your drawer, you need these briefs!
GAYLETTER loves to showcase Tom of Finland. From exhibitions of the artist's work, to a bedding collaboration Touko Laaksonen's legacy is important to us. Many brands have taken Tom's iconic muscle men and used them to amplify textiles and designs. CDLP, the Stockholm based premium underwear label, most recently teamed up with the Tom of Finland Foundation to create a sleek ode to Laaksonen's penchant for minimalism and masculinity.
You're definitely used to seeing gaudy, neon jock straps on various dance-floors and bedroom drawers, but CDLP took an opposite approach to these intimates. With simplicity and branding in mind, CDLP stuck to the classic white and black color-ways. Just above the pelvis you'll find a subtle embossment of Tom's autograph, marking the style as his posthumous own. The designs feature some of Tom's most notable illustrations, which adorn the packaging and a limited edition print and portrait of the artist himself.
CDLP produces with an emphasis on sustainability so, not only will you be supporting a brand that supports the queer community, but you're participating in responsible consumption — CDLP's underwear is sewn from a fabric called lyocell that's created using a biodegradable organic fiber from a closed loop wood pulping process. By continuing to use ethical fabrics a CDLP keeps us and the earth in good shape.
Below, see Michael the III, our favorite model, wearing the briefs and jocks. He's living his own Tom of Finland Fantasy…