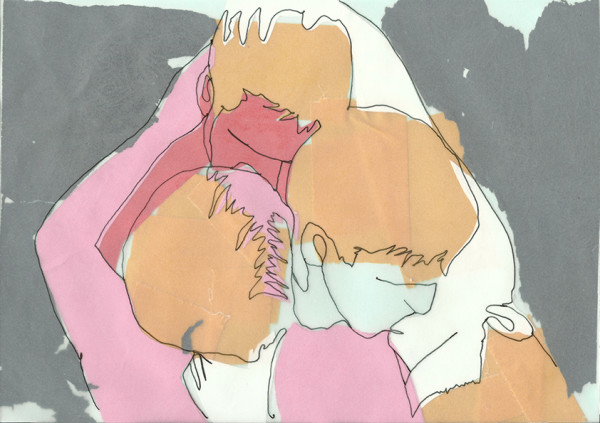 Drawings by Leo Rydell Jost
Colored Dudes
A compilation of 44 drawings by Leo Rydell Jost
This book of drawings called Colored Dudes by Leo Rydell Jost is a compilation of his first 44 artworks that he has been working on since June 2014. He was encouraged to self-publish this book by his boyfriend Luis Venegas who's the creator of the amazing publications EY! Magateen and Candy. Luis also helped with the art direction of Colored Dudes.
Leo told me more about his process in creating these charming drawings and how the internet played a major part while he was developing his technique, "I'm addicted to Tumblr, there is something in its randomness that won't let me stop scrolling. So one day I thought that I should do something with all the reblogs I did…" When he started drawing this body of work he was influenced by the artists Cocteau, Warhol, Baldessari.
His drawings, which are a combination of paper cut outs, tracing paper and other stuff from the garbage that he glues together, are effortless and arranged in a very casual way,  he explained to me, "I don't usually have much control over what I'm working on…it's not so much about symbolism nor meaning of what you are trying to put behind things, it's almost completely aesthetic…I'm always working with the computer, so I emulated the way I worked with Photoshop: layers, opacity, cut/ paste…"
The book Colored Dudes is 70 pages, full color and is in a limited run of 100 copies (each book is signed and numbered). It's sold out online, Yes! it's that good. But you can still get it from one of these stores.