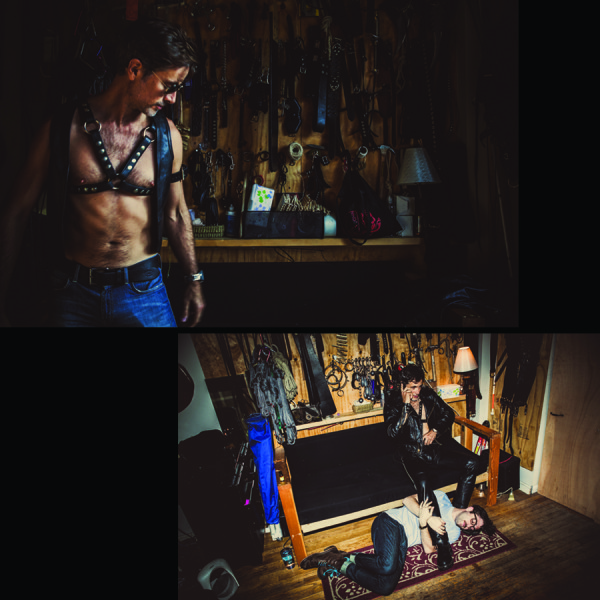 PHOTOGRAPHY BY ALEX PINES
#Cubby Pop-Up Dungeon Party
Join the indie film's stars to celebrate the Kickstarter launch
What happens when a bumbling Brooklyn babysitter sparks a new friendship with a hunky male sex worker? Such is the set-up of screenwriter and actor Mark Blane's promising new feature-length gay comedy, Cubby. Merging the 'strangeness of Lars and the Real Girl and the heartfelt charm of Mike Mills' Beginners', Cubby is as an independent film looking to explore a quirky, gay coming-of-age tale while also debunking some preconceived notions of the BDSM community. Sounds admirable and progressive and awesome and you totally want to see it, right? Right. As of right now, however, the project needs your help. The Kickstarter for the film went live today, and the prizes are doozies: bondage classes taught by the film's Kink.com leading man Christian Patrick, your name in the film's credits, a digital download of the score and/or final cut of the film, sailing trips and picnics with the stars, etc.
To make things even better, both Mark and Christian are throwing a Pop-Up Dungeon Party this Friday at One Last Shag to celebrate the Kickstarter (yes, you read that right—a Pop-Up Dungeon). Celebrating 'the film, sex positivity, fetish, and unlikely friendships', the party includes a backyard dungeon hosted by Christian, a sex therapy booth for fetish consulting, and a silent auction that includes birthday spanks, being bound and gagged for 5 minutes, and having a twink eat a Twinkie off your chest. There will also be DJing by both DonChristian and Boody, as well as a special guest appearance by Randy Blue/Falcon porn star Nick Sterling. Do we even need to tell you we'll be there?
The #Cubby Pop-Up Dungeon Party goes down this Friday, September 5th at 9:00PM at One Last Shag. Go here to donate to the Kickstarter.