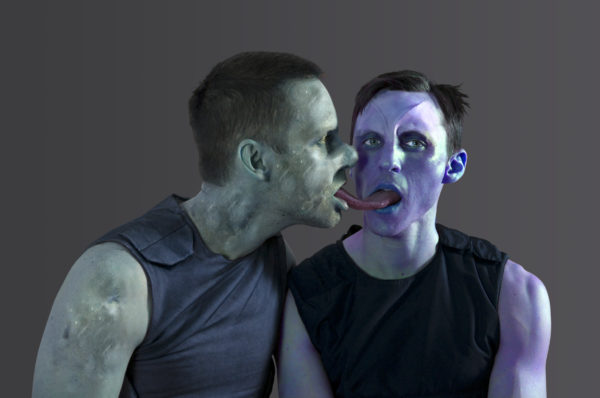 Photos courtesy of David Casavant Archive
DAVID CASAVANT'S ARCHIVE
Fashion's cult-favorite archive receives a proper publishing treatment.
If you didn't already know of stylist David Casavant's extensive archive of conceptual menswear, his book, aptly titled David Casavant Archive (DAMIANI), is the perfect introduction. The collection of images melds together the stylist's various collaborations between artists and his archive denoting the various views Casavant's collection inflicts on culture, ranging from the celebrity to the individual creative. If you're new to the archive, it's best to skip to the ending where you'll find the archive's proper credits. It features some of the most influential fashion from the last 20 years including Helmut Lang, Gucci, John Galliano, Raf Simons, Maison Margiela, Jil Sander and more.
The press release notes, "The David Casavant Archive is a private collection of the world's rarest and most culturally potent contemporary design, with focus on designers from the late '90s to the 2000s, notably Helmut Lang and Raf Simons. Curated over the span of a more than a decade, the archive distinguishes itself through Casavant's distinct vision of youth and attitude. David Casavant Archive is a natural extension of Casavant's vision to make fashion accessible, alive and relevant for the times."
Flipping through the pages, I was struck with an assortment of images ranging from snapshots of a youthful provocateur to snippets of both traditional and digital works of art. While the placement of the photographs do not follow any sort of pattern, this assorted approach to layout allows for surprise. As I leafed through the lightly glossed pages, what stopped me on multiple occasions were the editorial mood boards; screenshots of effortlessly influential fashion collected most likely prior to the shoots. It shows Casavant's decisiveness, above all else. These more introspective documentations of his archive, placed between more refined, editorial references create a humorous overtone to the book as a whole. You get the sense he is masterfully serious about his work, but is not afraid to be cheeky. (Not that you wouldn't already get a sense of that from the homoerotic VR colleges by Jacolby Satterwhite and realistic fetishized fan art of Zayn Malik by Stewart Uoo.)
Anyways, we can't forget the names. And with so many iconic creators how could we? We're lucky enough to see works here by Xavier Cha, DeSe Escobar, Eric Mack, Ryan McNamara, Joyce NG, Raul de Nieves, Hanne Gaby Odiele, Heji Shin, Ryan Trecartin, Wu Tsang and Boychild, Thomas Eggerer and Maggie Lee. These creators used the archive as inspiration for their own original works, and together they create a newly contextualized body of work based around those hard to pin-down major fashion moments.