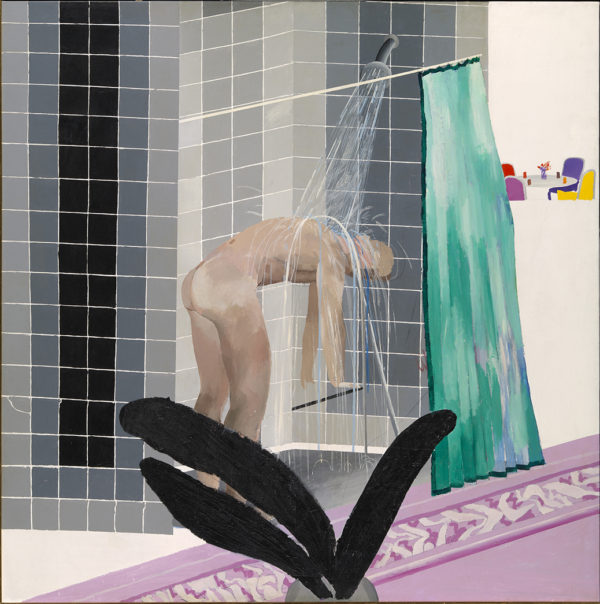 "Man in Shower in Beverly Hills" 1964. Acrylic on canvas 65 7/8" × 65 3/4". (167.3 × 167 cm) Tate.
DAVID HOCKNEY AT THE MET
Queer as he was, the painter shocks, educates and quiets in a namesake show.
When thinking "gay artist," David Hockney is not the first name that comes to mind. Known for his figurative works and naturalist style, the artist — now 80 years-old — has crisscrossed various mediums in hot pursuit of transposing reality into realism. "David Hockney," now on view at the Metropolitan Museum of Art, is a retrospective look at the artist's career now into its 60th year.
Ian Alteveer, head curator, begins with Hockney's early works made during his homosexual awakening while studying at the Royal College of Art. London, at the time, was about to become a hot bed for mod culture, and with the decriminalization of homosexuality still five years away, Hockney's early works celebrate a latent politicization of his blatant sexuality. "Between 1960 and 1962 Hockney produced a body of work dealing explicitly with his homosexuality. He called these pictures 'propaganda' for gay desire, and they are full of self-referential codes, literary references and stylistic variation." There is a foreboding joy on each of these canvases that include Walt Whitman's poetry and obviously sexual geometry. "Cleaning Teeth, Early Evening (10PM) W11" (1962) illustrates two biomorphic figures (sourced from his discovery of graffiti-like scrawls found in London Underground stations) with Colgate toothpaste for cocks and at the disposal of one another's mouths. One can't help but think that Hockney, queer as he was, got satisfaction out of a particular shock value, not to mention inadvertently scandalizing others by adding the initials of his school crushes beside these queer figures.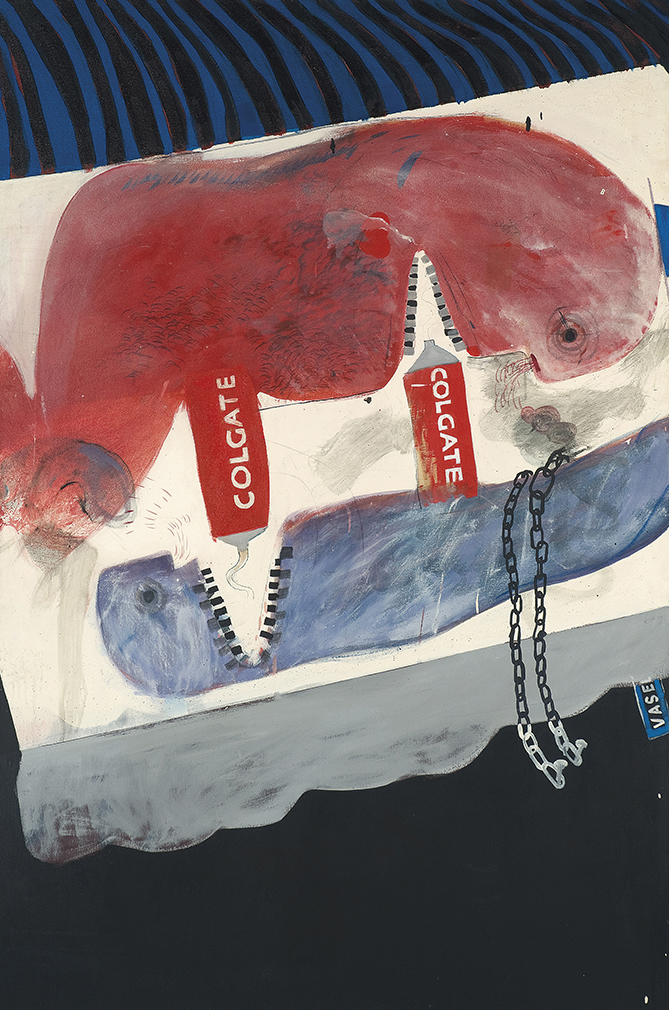 "Cleaning Teeth, Early Evening (10PM) W11″ 1962. Oil on canvas 72″ x 48" © David Hockney.  Astrup Fearnley Collection, Oslo, Norway.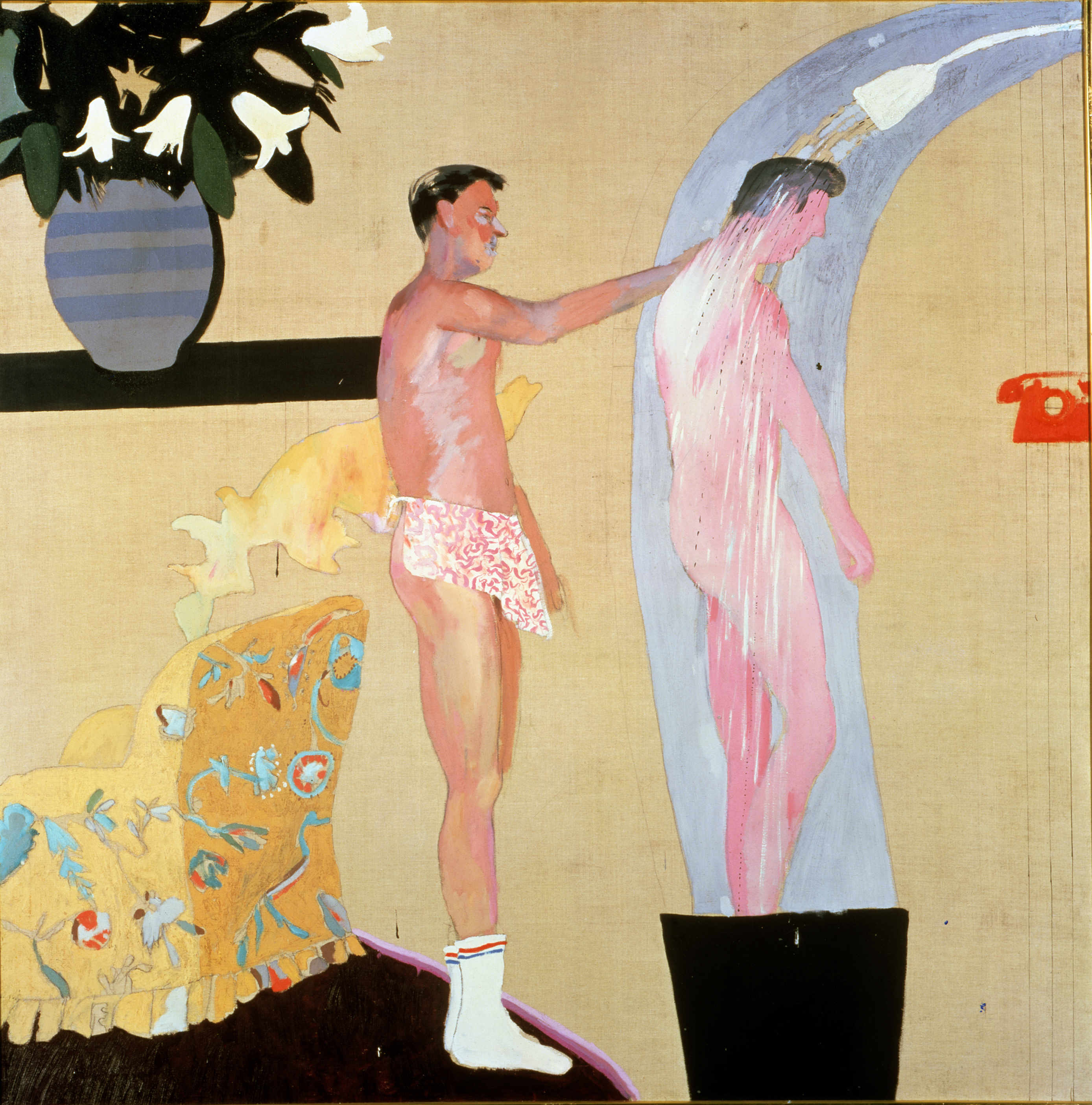 "Domestic Scene, Los Angeles" 1963. Oil on Canvas. 60 1/4″ x 60 1/4″ © David Hockney. Private Collection.
Another one of the earlier works, "Domestic Scene, Los Angeles" (1963) draws clear inspiration from the beefcake periodicals Hockney was keen on, such as Bob Mizer's Physique Pictorial out of Southern California. One man showers with another close behind, wearing just a small apron. Hockney's choice to incorporate such explicit homoeroticism began during that first year at the Royal College of Art when he was moving closer to figuration but still drawing inspiration from "the work of more established painters on both sides of the Atlantic… from Jean Dubuffet to Jackson Pollock." The running shower's gestural gentleness return to the canvas in his his larger, hydro-centric paintings made in the late 60s and  early 70s, as will this infatuation with the SoCal ethos, one Hockney had yet to experience in person, but in 1964 the artist moved to Los Angeles, a city that would serve as a great inspiration to both his crisp style and eye throughout his ongoing career.  The work from the early 60s are strong precursors to the artist's lengthy oeuvre, as they are perhaps his most overtly politicized, but without historical context, they are a testament to Hockney's style. That much is clear from the very beginning of the exhibit.
Also included in the show are a handful of drawings and photographs that celebrate Hockney's prolific eye. The figurative illustrations take up an entire gallery wall and are from the same timeframe as the canvases that surround them. Placed between the knockout double portraits and his more recent psychedelic Yorkshire landscape canvases, these small-scale additions to the delectable, nearly overwhelming show, create a moment of fresh air for the viewer. As soon as I saw more paintings beyond the wall, however, I practically ran from these playful drawings. You'll hopscotch through six galleries, each a delicacy of their own, and are curated very carefully to demarcate Hockney's masterful hand that is channeled through his various perspectives. Each quietly different from the other, but all serving the same purpose nevertheless.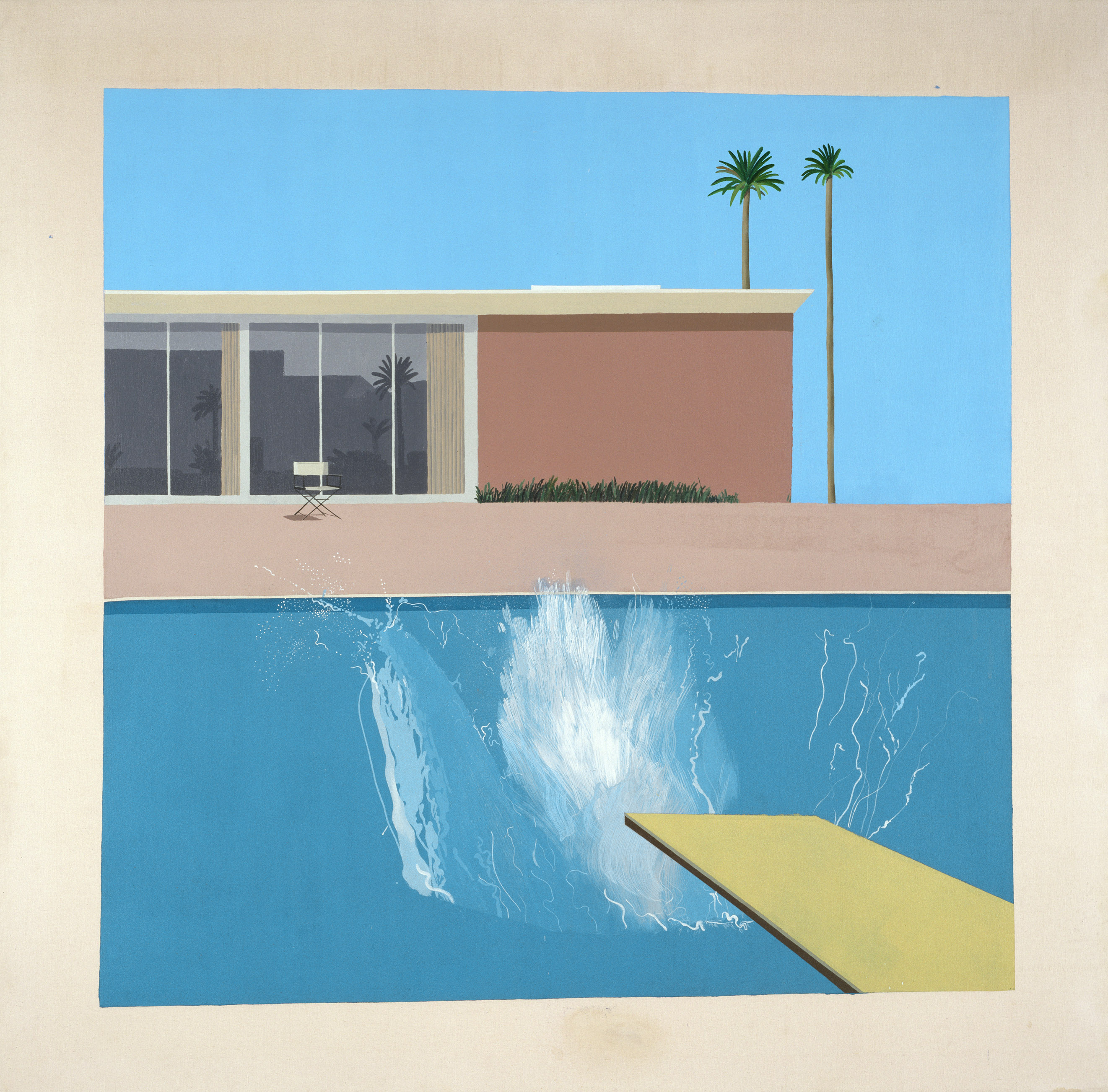 "A Bigger Splash" 1967. Acrylic on canvas. 95 1/2″ × 96 × 1 3/16″. Tate.
The double portraits series, meant to "show the artist's interest in the tension that exists in social relationships and the difficulty of depicting transparent material such as glass and water," are certainly highlights, as are a couple of collaged polaroids. These photos were studies of his infamous canvases, like 1967's "A Bigger Splash" and "Portrait of an Artist (Pool With Two Figures)" from 1972, and are important additions to the show where it is plain to see that Hockney's photography style is indiscernible from his work at the canvas: the paintings mirror the shimmer of the water; the sunlight; an incandescent glow and everything else worth mentioning about California's glaze and Hockney's idiosyncratic hand.
Hockney's gestures boarder on the garrulous, but the images he projects are of a profound quiet, making him a curiously dominant force in painting. Each of his canvases demands your undivided attention (their dimensions aside), and it is a wonder to stand before them. Concluding with his more recent works and a slideshow of those brilliant iPad drawings, "David Hockney" is an education in and of itself. From painting to photography, to digital illustration, he's a Renaissance man not far from Michelangelo, who's own work is on view nearby in another MET gallery. Hockney's perfectionist's desire and sculptor's precision is a marvelous skill to bear witness to, and with works from 2017 inside this show, what an honor it will be to see future Hockney pieces come to life.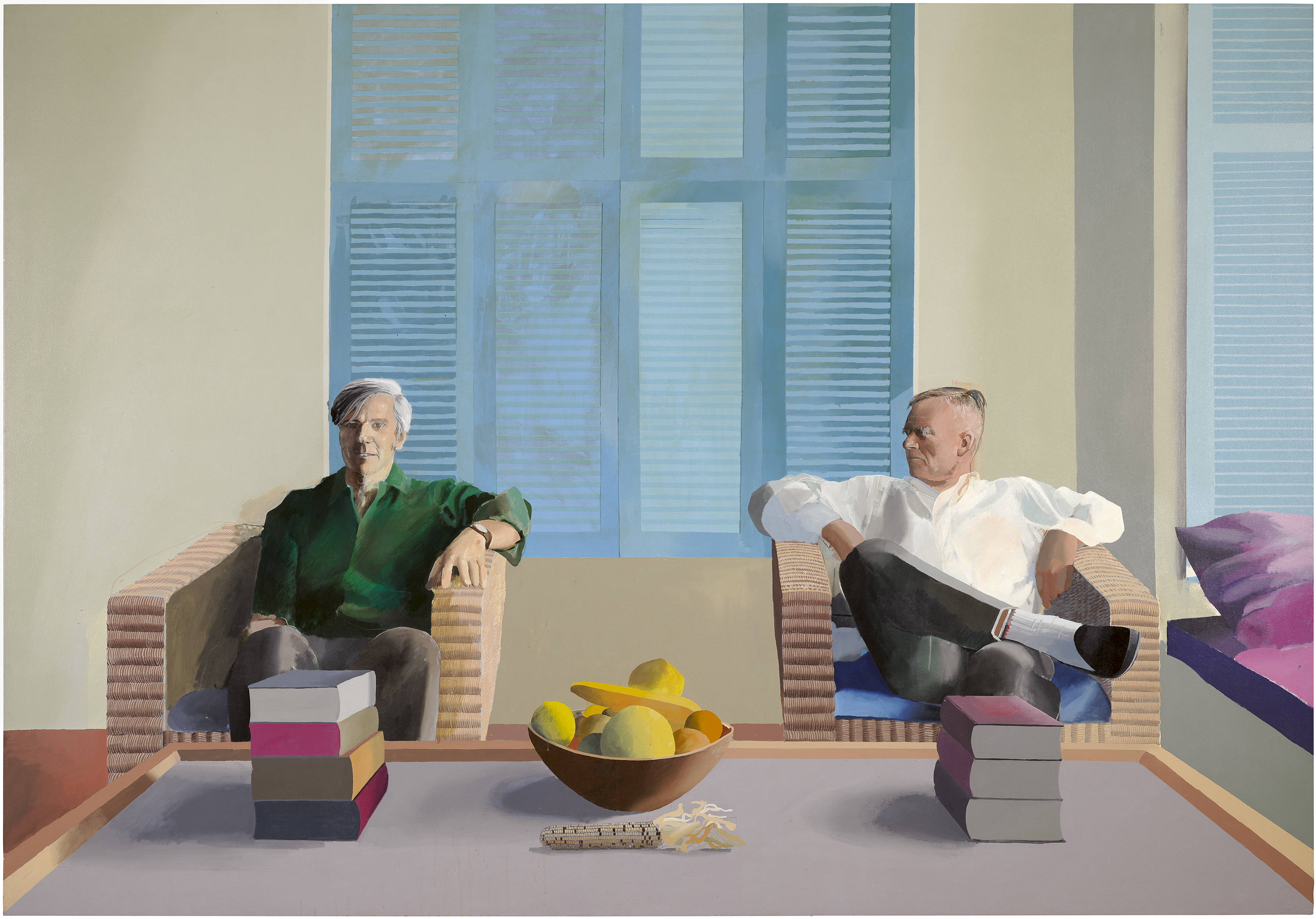 "Christopher Isherwood and Don Bachardy" 1968. Acrylic on canvas 83 1/2″ x 119 1/2″. © David Hockney.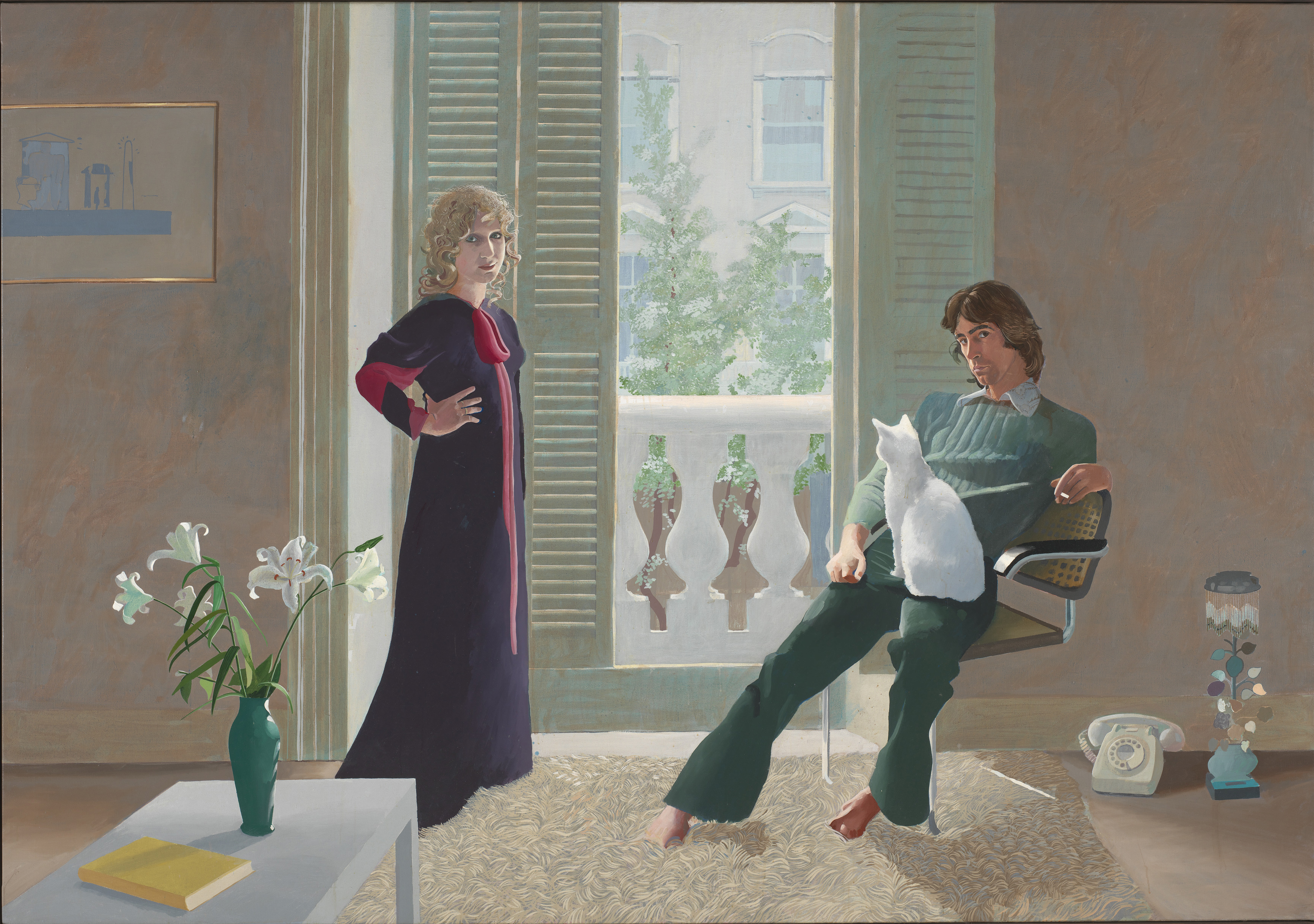 "Mr and Mrs Clark and Percy" 1970-1971. Acrylic on canvas 84″ × 10 ft. Tate.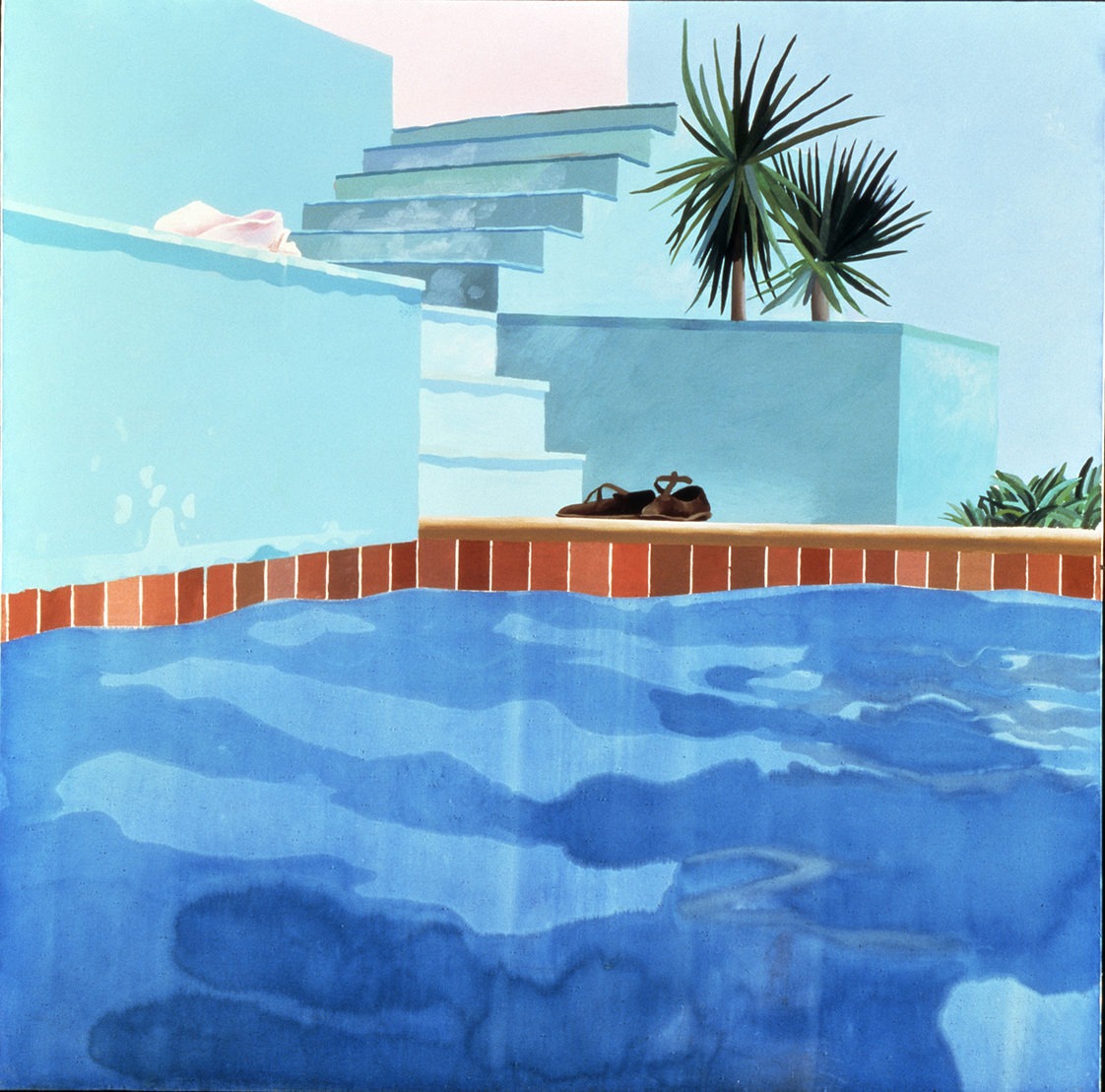 "Pool and Steps, Le Nid Duc Duc" 1971. Acrylic 72″ x 72″. © David Hockney.