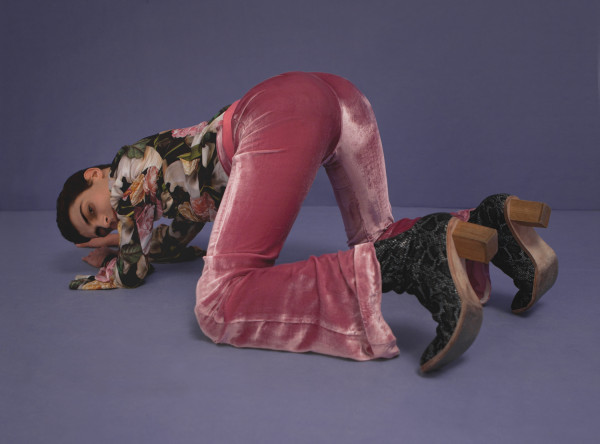 Photography by Kito Muñoz
EXCLUSIVE: Palomo Spain S/S17 Campaign – Boy Walks In An Exotic Forest
A conversation with Alejandro Gómez Palomo about his latest work
Fantasy is defined as "the activity of imagining things, especially things that are impossible or improbable." For many people, to fantasize is to escape, but for Alejandro Gómez Palomo , fantasy is reality. He lives the sort of life you only dare dream about, and yet toying with the idea of universal success crosses everyone's mind. There are only a handful of people who are ever lucky enough to experience the quixotic circumstances of industry fame, and then to handle it with the particular degrees of care (as Palomo does) requires an entirely different skill set.
On a late November morning, Palomo took time away from what he described as a "chill day" at his atelier in Posadas to Skype with me. We chatted about Palomo Spain's newest campaign, what his future holds, and the ideas surrounding this first spring/summer collection: "Boy Walks In An Exotic Forest." Shot by Kito Muñoz, the campaign took a sexually explicit route with boys on all fours, and the shorts unapologetically short. Muñoz told me: "The inspiration for this campaign comes from my passion for vintage homoerotic imagery; the sensuality and poses of these beautiful boys. They're innocent, but conscious of their bodies and sexuality."
Palomo Spain, in just one year's time, has gone from a Madrid secret to an Instagram favorite. His clothing has since been featured in various world-wide magazines (including the latest issue of GAYLETTER) and this coming February, Palomo will take his label's imaginative and vibrant style to the CFDA's New York Fashion Week. To think this will be the label's third collection in just 365 days is a pipe dream.
Palomo was all smiles as he spoke with a playful yet business oriented affectation about the enchanted life he leads. Like the clothes, Palomo is confident, but restrained. His demeanor exudes a certain candor that is undeniable as much as it is practiced. As the fashion world roars outside his door, Palomo Spain remains a small operation. Palomo requires keeping certain elements under his own thumb as he insists that he and his team should not miss a single moment of beauty in what is turning out to be a charmed story.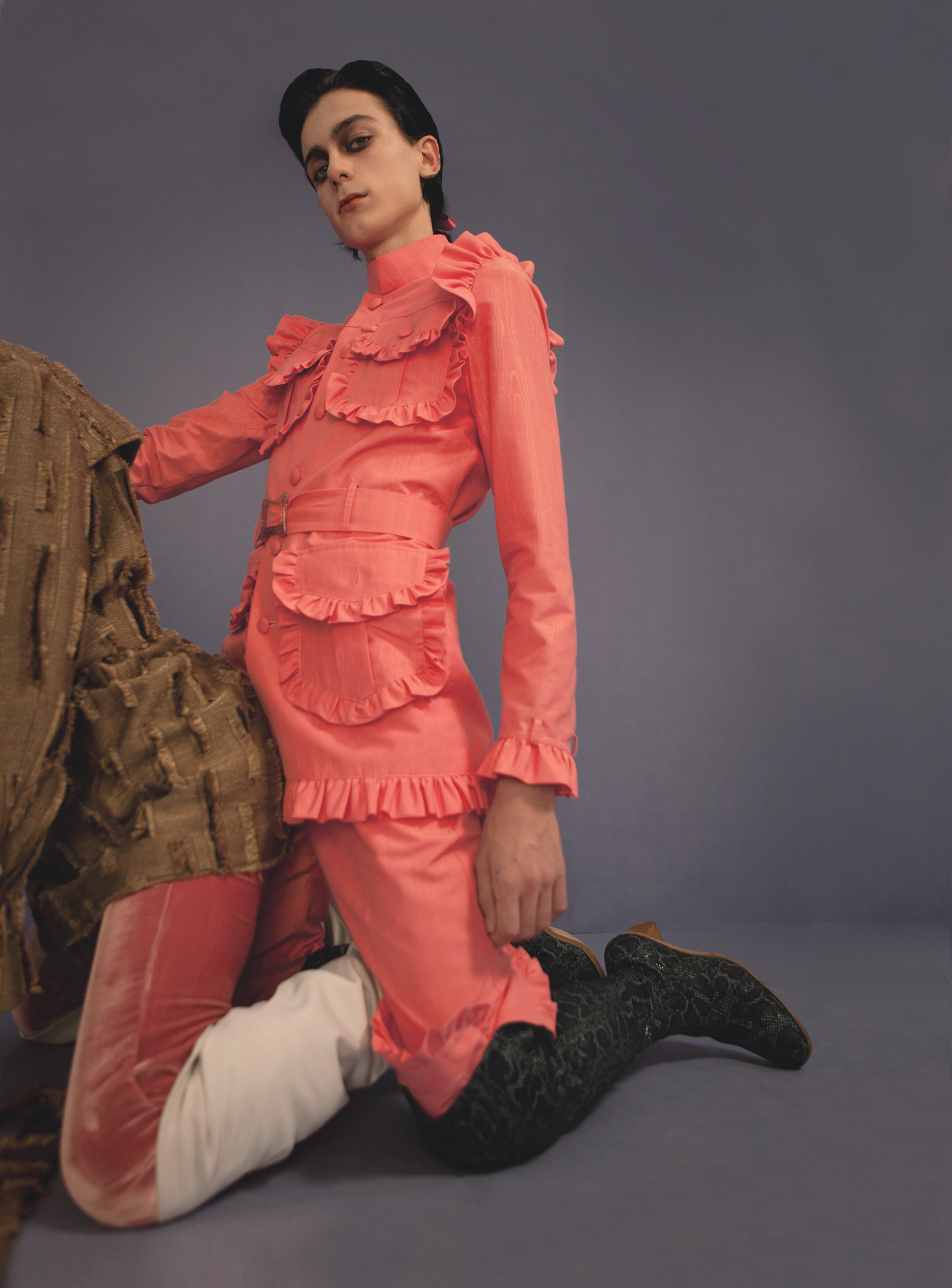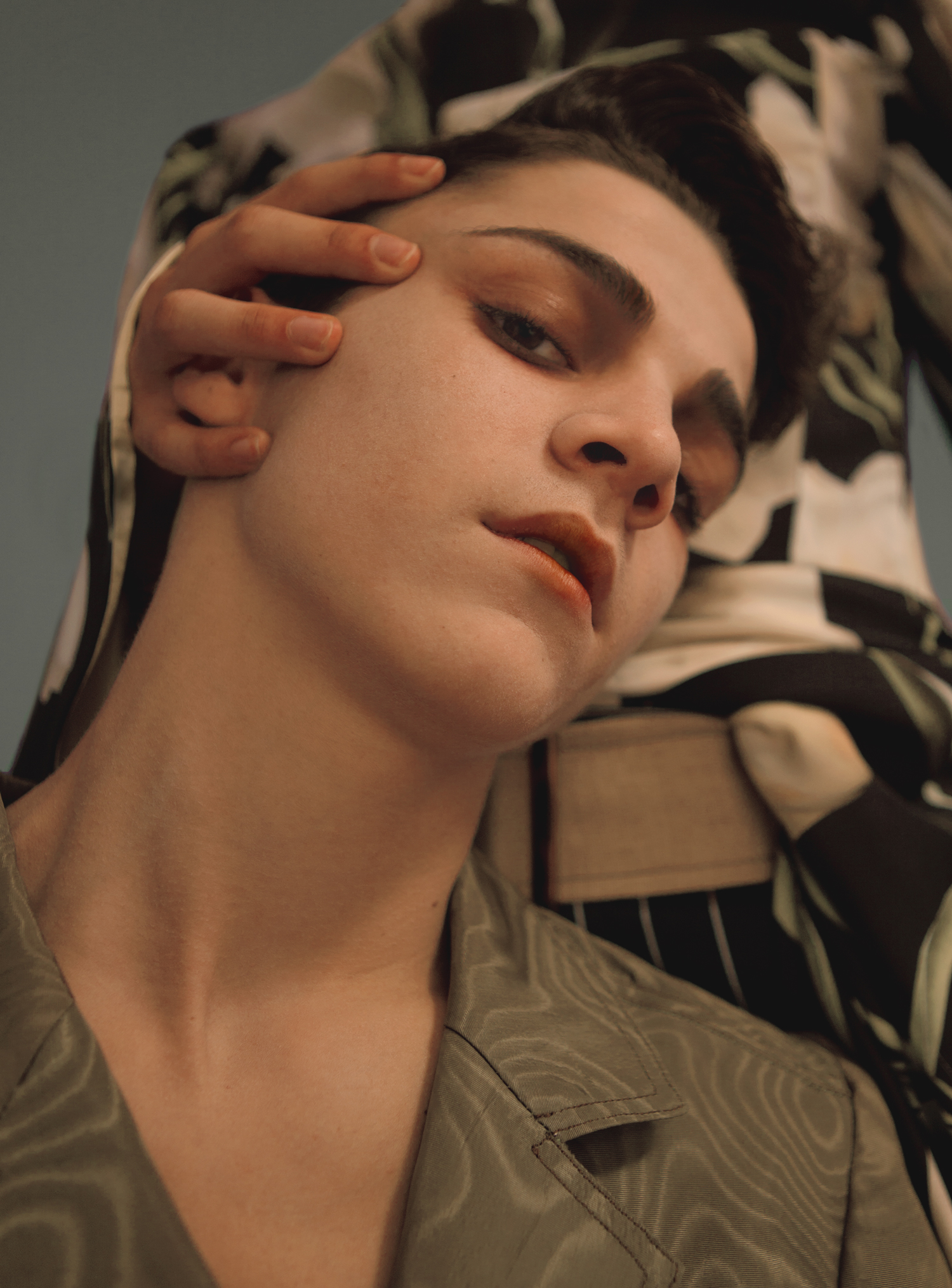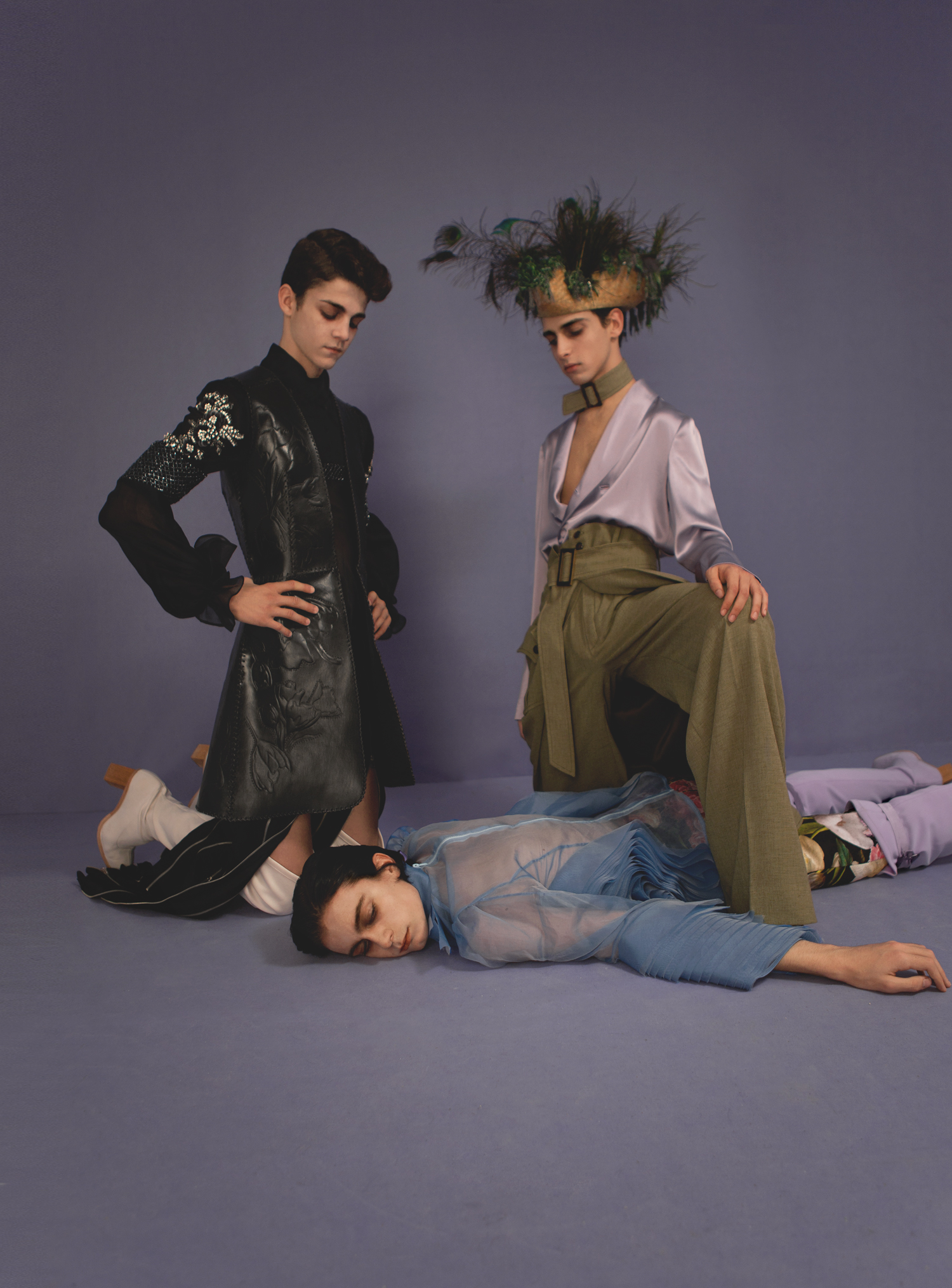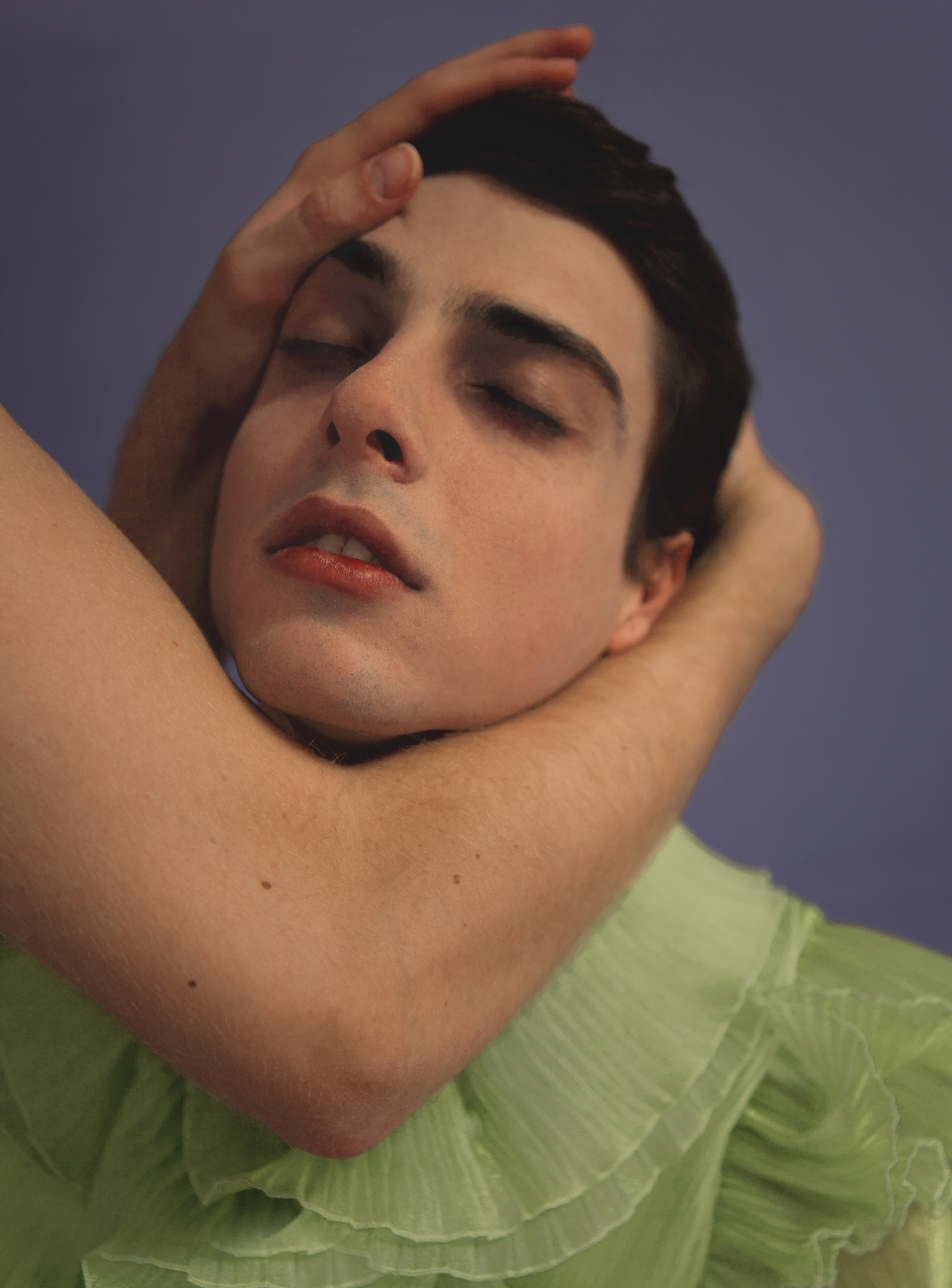 I'm laughing thinking about when I first found you on Instagram and where we are now. I think it has only been a year and a half, not even. Not even! "Orlando" I presented in February.
Alejandro, that's crazy. Yesterday I couldn't even stop and think and enjoy what was happening to me because there was so much happening. [The CFDA] confirmed that I was showing in New York last Friday. I got back to my studio from Madrid on Thursday and I was like, I'm doing another collection. I'm presenting in New York. This is incredible.
Can you tell me a bit about the latest collection? "Boy Walks In An Exotic Forest" is the name. It comes from Henri Rousseau, his painting — it's a woman walking into a forest. It's not that I got all of the inspiration from Rousseau, he's just a reference. I really like this idea of mixing fantasy and reality, and he painted this fantastic forest that I imagined a boy to be in.
Funny you say fantasy, because I see your collection as full fantasy.  The clothes are elegant and accessible, playful yet serious — they hit all of the right marks. I'm interested in your creative process. When do you know you have a collection on your hands? I think it all comes from an idea. It depends on how I feel in the moment. For example, this collection I was feeling like everything was changing so fast, and I was getting into this weird sort of journey — traveling and meeting all sorts of people — so it was this idea of me traveling into the fashion world and then translating it into whatever fantasy I was thinking at the minute. I'm walking into this weird forest where I first felt insecure, but now I've kept going in.
That makes sense considering the clothes themselves, from the tops to the hats, they really have a ton of movement. It was my first time doing a summer collection, and I did it here in the south of Spain where it's very, very colorful. That's why I did more males in that color; the acid greens and blues. I mixed all of these crazy colors together.
Would you say you find yourself inspired by location? Absolutely. If you work in a nice place and you're surrounded by nice people of course it helps developing the collection. It's really nice working here because I don't have any sort of distraction. It's just this quiet little village where I have fun working.
Palomo Spain sounds like it still has attachments to its humble beginnings. Absolutely. I was away for really long and when I came back, I thought, life is really nice here, I can work really easy.
I would imagine it's easier for you to work there rather than some place like New York. It wouldn't be possible. It wouldn't be possible for me to do this there; to get expensive materials or have a big studio and people working for me. I get a lot of help here with family. They all really support me.
Do you prefer to keep it quiet? Yeah, and plus I get really distracted in big cities. I go there and I party a lot, I meet a lot of friends and all of that.
And then you don't want to get shit done. But can we talk about these velvet pants? How do you go after fabrics? Normally I get fabric houses to bring it to [the atelier]. They bring a catalog of what won't go into shops, or they can develop fabrics for me like they would for very traditional haute couture, luxury houses. They bring the little pieces and then you choose and they send it. I won't go to big shops to get my materials. It's all a very couture sort of process.
That velvet you are talking about — I love using velvet, but it's the biggest nightmare. That velvet is made of silk and it's not a thick sort of velvet, so you can't iron it and you can't sew it normally, it has to be done by hand first. It's a really artisanal process to get it right because otherwise you'll fuck up the velvet.
I can imagine it's very rewarding when you have the finished product in front of you. I'm now doing a lot of production for the first time because I'm getting more and more demand and um, I don't enjoy that as much as starting a collection. Now it's like ten of the same piece or something like that, but we still do it in here. I have to keep an eye on everything.
I've got a good team now. At the minute, I think we can manage and I prefer supervising the whole process, otherwise it wouldn't feel the same. It's not the same thing as when you send it to a factory and you have it done not the way we're doing it in the studio. In here is a lot of hand-working, a lot of patience.
Can you tell me about your relationship with Kito Muñoz? Kito will listen to me when I'm really drunk and telling him all about what I want to shoot in the next collection. I told him how I wanted everything to be a little bit more sexual and spicy and provocative, because the way I present all of my previous collections were really sweet and dreamy. I wanted to give that a twist and start getting a bit dirtier.
Is it collaborative on set? [Kito will] normally present me with an idea and he'll tell me what he wants to do and I'll say OK, do your thing, you know I don't have to be there. It's really his work. I've got the clothes and got the idea, so I want to see how people interpret that idea.
That's actually the most beautiful thing about collaborating with all different people because it might inspire you in so many ways. Kito did these images, and the boys [in the campaign] have all worked with me.
I love that you're so willing to just give your world away and have someone make their own imagery with it. At the end of the day that is fashion. Someone's going to take the clothes and make their own example of it. This is what I want to do from now on. I want to create some sort of sexual desire for the clothes. Desiring them for their atmosphere and the sexuality in the clothes.
How does photographing the clothing from these atypical angles benefit the selling and presentation to a larger market? I think these images, and the styling, are all much easier to assume rather than a look given like [in the previous lookbook]. This campaign is much more eatable. Like mixing the velvet pants with the flowered shirt — it doesn't have to be that all together, you know? Mixing color, or putting the boots over the pants are much more styling. It gives people a different sort of vision of the clothes themselves. The looks in the show are all sorts of exaggerated looks that you could wear on the street. I like that the images are strong and provocative because you're going to want to look at it, and think of the velvet pants because they'd give you an incredible butt.
So it would be safe to assume that you find dressing intuitive rather than following a formula? Of course.
And these boys in the campaign you've worked with before. Palomo has a very specific boy. I select boys in a very organic way. We do a sort of scouting all of the time. Most of my boys I find on the street or friends will be like, "Oh, you know, I found this straight boy from the tiny village next to mine," and I'll see them at some sort of party where all of the villages get together and I'll say, Hey, do you want to be a model?
I've got these two boys who would have never thought about doing it. They're totally normal teenagers. Sometimes they get a bit bullied because they wear "girls clothes," but they know they're handsome. They really enjoy it, and they've got the chance to travel and go to Madrid and experience things that they would have never done in their normal lives. They love it. That's one of the nice things working with all of these guys, they all do it because they want to be a part of the whole —
The whole journey. Or generation, or army, or something, I don't know.
The Palomo Army. They sound really proud, you know? At the show, I'm backstage and I see the video of them walking all proud, and they give such a good performance. They all want to be something incredible, and they feel incredible.
I think your clothes reclaim the contemporary idea of masculinity where you can wear pinks and wear flamboyant designs and still command a presence that is not passive. Yeah, or shreds, or embroideries and all of that.
Plus there are military inspired pieces in this collection. Yeah, that was the beginning. That was the idea of beginning the sort of adventure with this uniform sort of thing, but it's not really a uniform, and then it turns into pink!
All of these boys look like bottoms. Are you making clothing for tops? I don't know! I guess I'm making clothes for people who like it both ways. It's very versatile, you know? That's how you play with fashion and sex. That's the way I want to present the collection as well. We've already fallen in love, made love, did the beautiful thing, so now it's time to really get in there, and I hope people like it in there.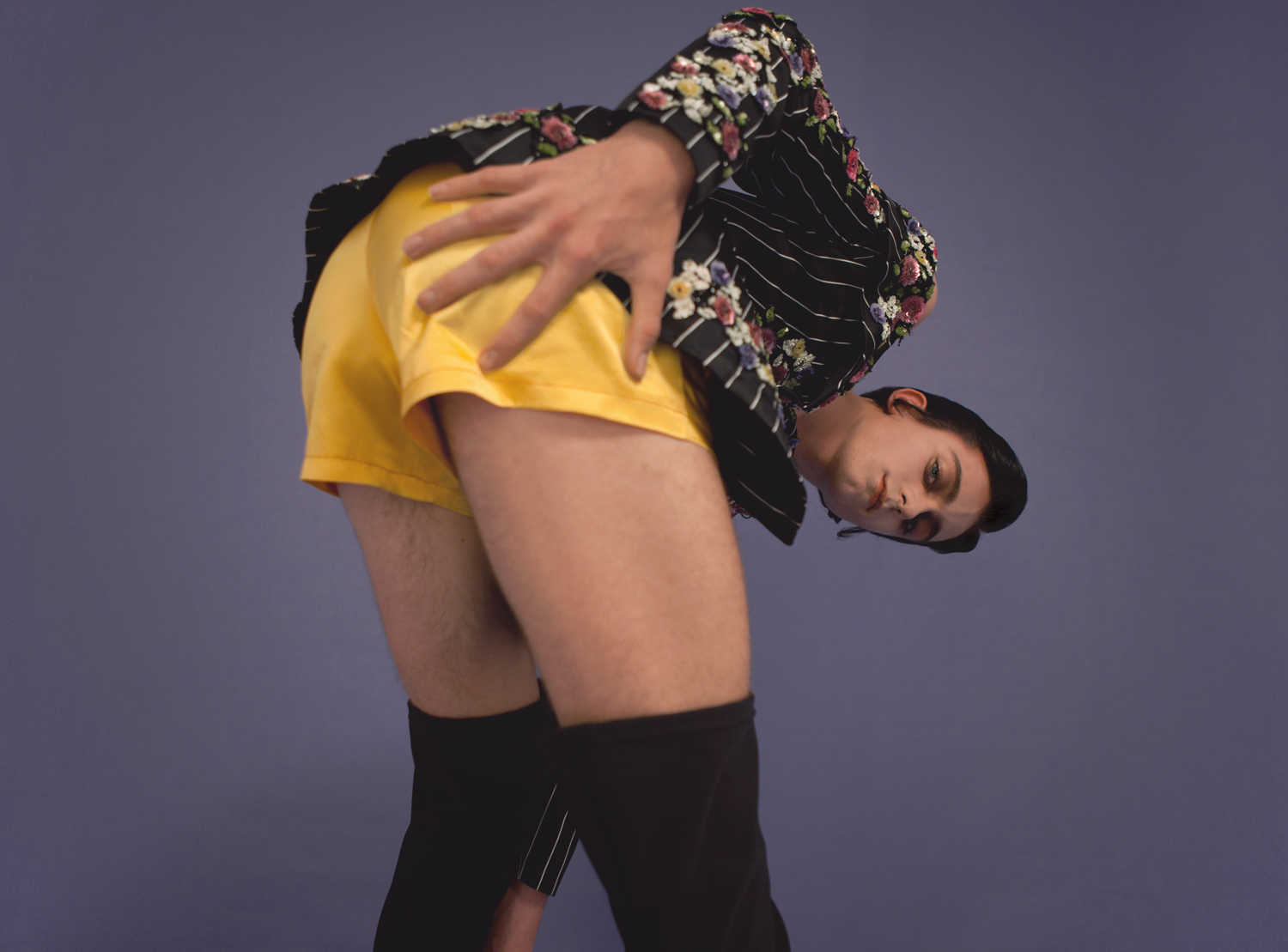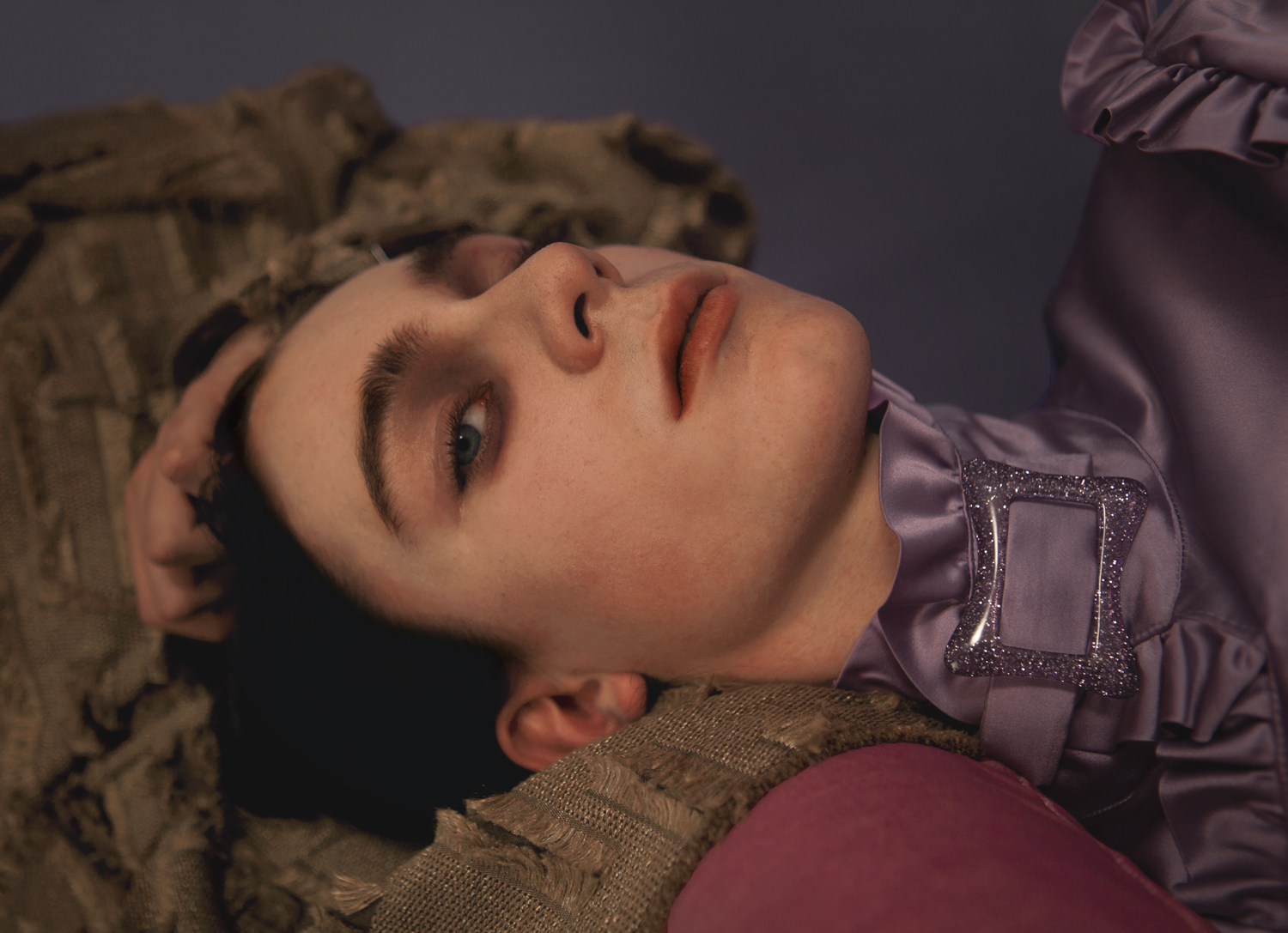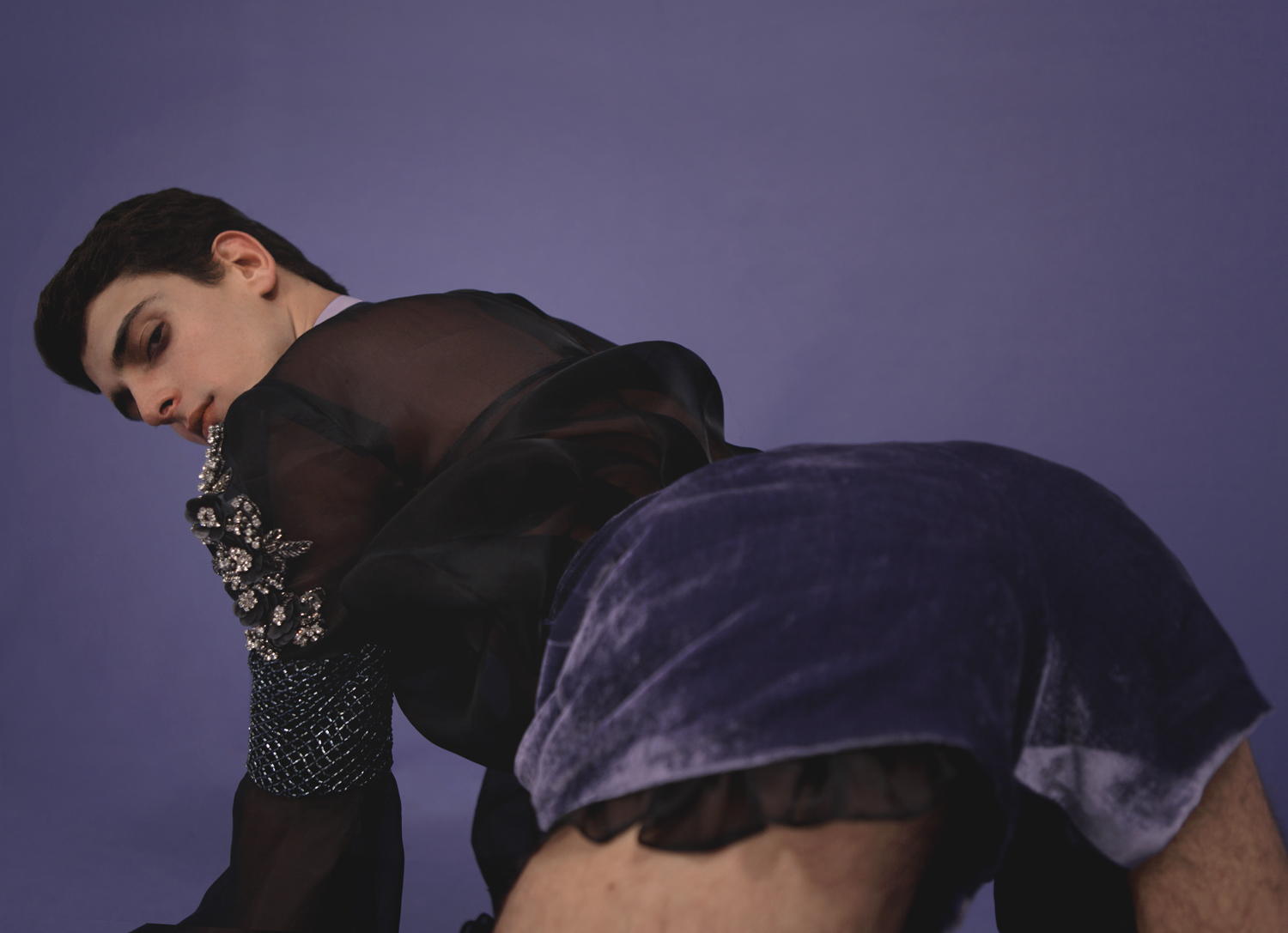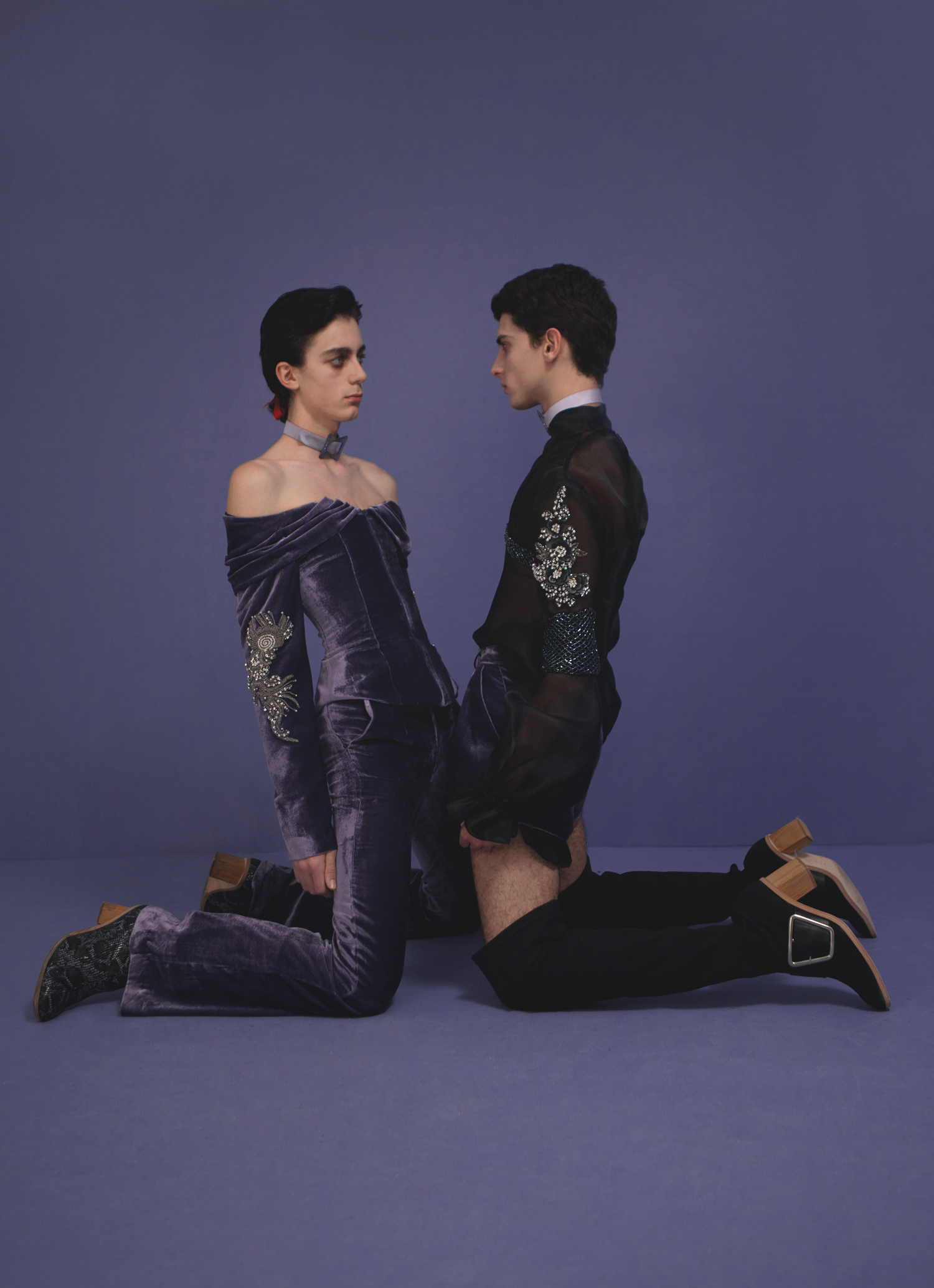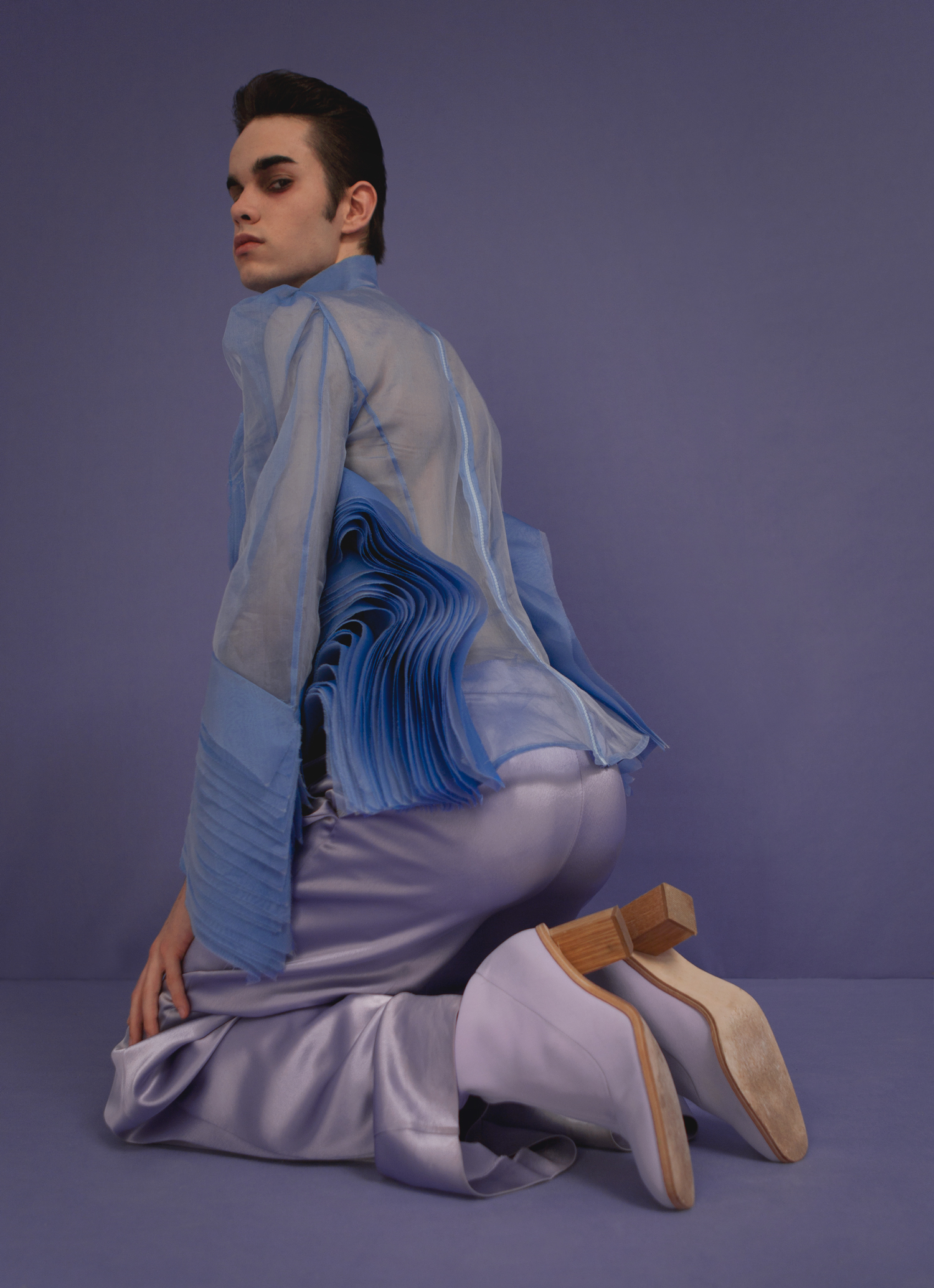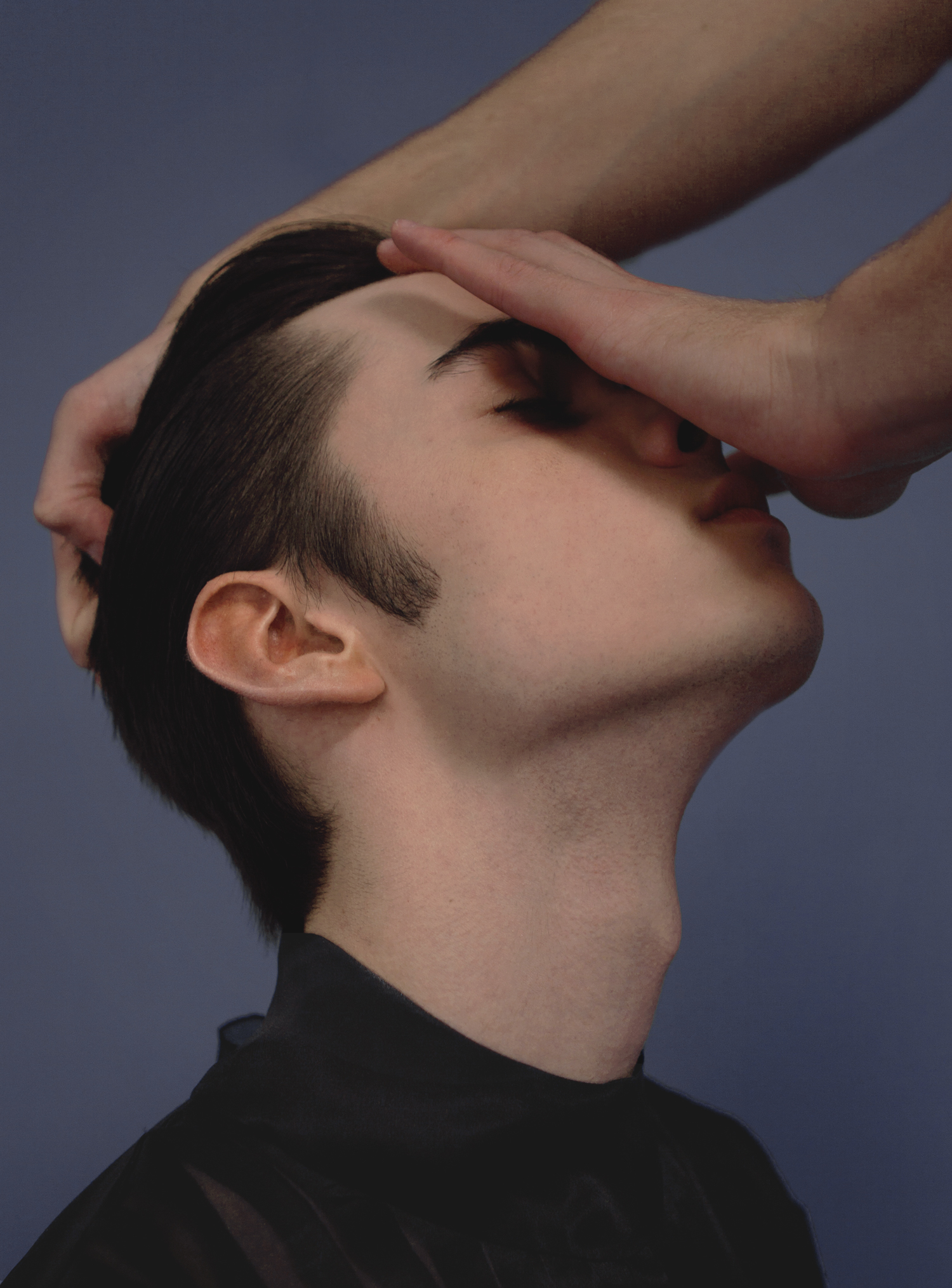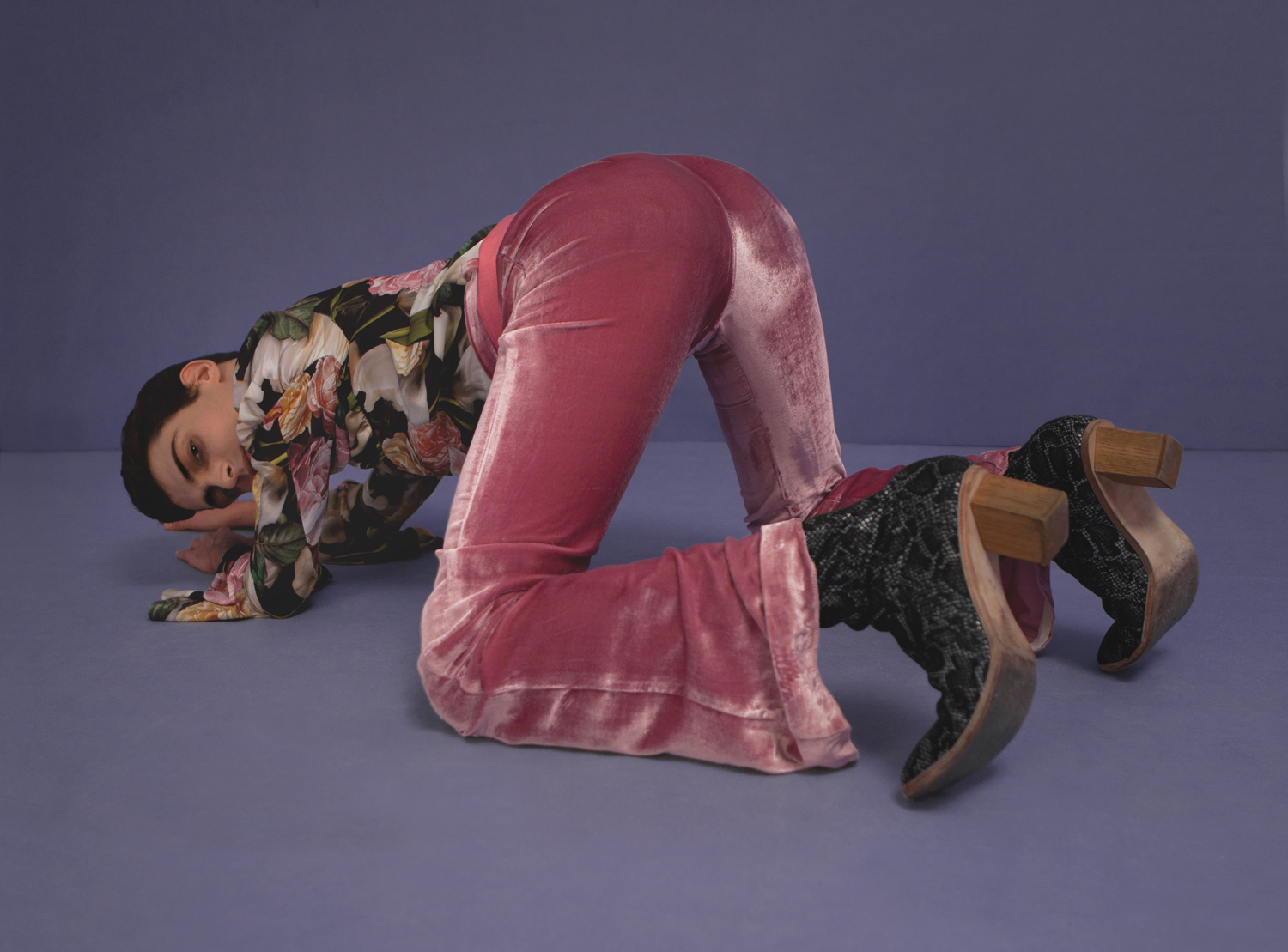 Stylist: Adrián Bernal
Hair: Elias Pedrosa
Make Up: Borja Lison
Models: Marcos del Rio, Juan Jesus Troyano, Pablo Aldama, Pol Roig
Production: Dmntia
Special Thanks to Curro Verdugo