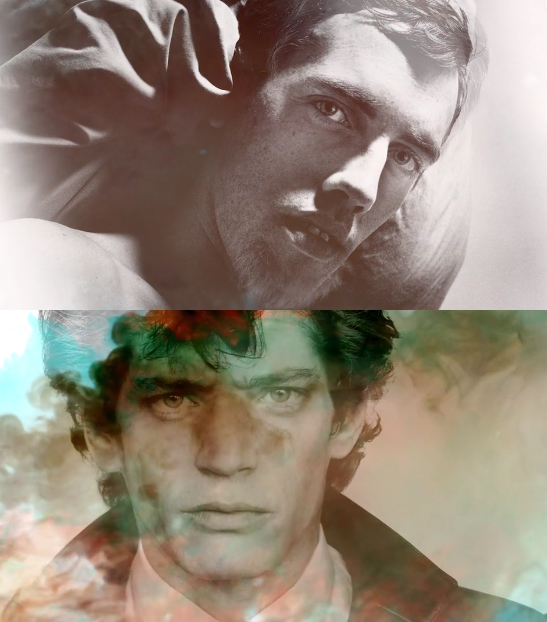 Stills from the Indiegogo video
FATHERS: Sex & Politics if AIDS Never Happened
A Sci-Fi Doc where HIV never existed.
One of my friends sent me the trailer for 'FATHERS: Sex & Politics if AIDS Never Happened' with the caption from the film's Indigogo page: "what if Mapplethorpe got into a Twitter feud with a Kardashian?" I about lost my shit at the thought of all the 'what ifs' that seem to be at the core of this film. Fathers is sci-fi documentary directed by San Fran queen, Leo Harrera, whose 50 years of faggotry in 5 minutes, The Fortune Teller, stunned us back in 2013.
The film is set in an alternate universe where the AIDS crisis never happened. Where would our queer artists and activists be? What if Keith Haring was still around? What if Robert Mapplethrope was still putting on shows downtown? What if Sylvester was still around? What if [Insert Gay Icon Who Died of AIDS] was still on this planet?
Harrera describes the film as "Looking meets Black Mirror meets Beyonce's Lemonade." Y'all, I'm sold. The film will use computer-generated imagery, historical and live-action footage, and staged news reports. It imagines the influence of our lost generation, telling a story about the culture of celebrities, global LGBT injustices, and HIV stigma.
"The tools we have to combat HIV will give us the privilege of keeping our queer artists, but the injustices of AIDS should always live in our collective memory and, more importantly, in our imagination. It's the only way that we can find creative cures to the damage it caused to our culture and harness the power it gave our community to join against political forces that threatened our lives, now more than ever." – Herrera
This is epic. Check out their Indiegogo page. Donate as much as you can (your donations are tax-deductible). They are trying to raise $15K with 10% of their proceeds benefiting the GLBT Historical Society Archives and Museum efforts to archive, and exhibit, our queer history.
Also, Mapplethorpe definitely would have come for Kim K. and we all would've been gagging for more.