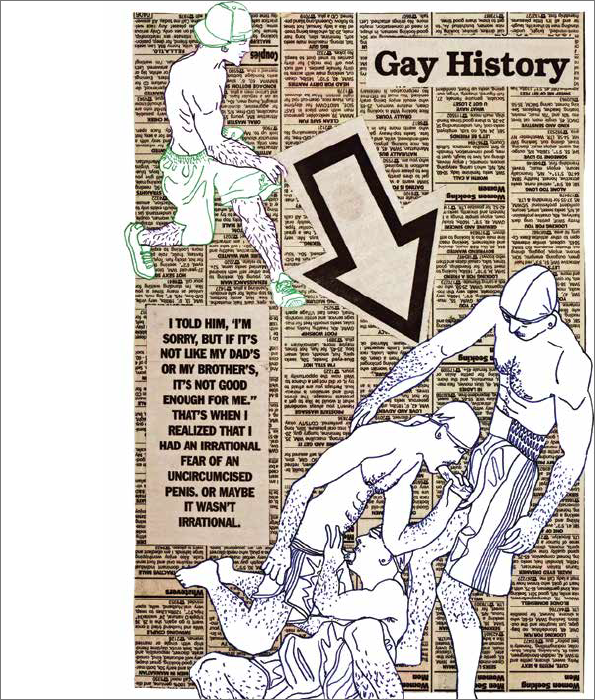 Image courtesy of Slava Mogutin
Food Chain
Slava Mogutin releases his first book of writings in English.
When we first laid eyes on the cover for Slava Mogutin's new book, Food Chain, a laundry list of kinks came to mind. "The cover image is a black hole that will suck you in," the artist says of the provocative image, which centers a hogtied man amidst an ornate, black doily. "Or a platter ready to be consumed." The cover is a collage of an image the artist captured in the early days of his work as a photographer, originally running as part of a bondage fashion story. The history of the image seems particularly apt for Food Chain then, the artist's first published book in English. "I thought it was a good visual representation of my writings, which offer an insider look into the worlds of fashion, porn, and art," he tells us, "with everything else in between."
Officially declared the "bastard child of Mayakovsky and Helmut Newton" by none other than Bruce LaBruce, Slava's work has long been challenging, sexy, and political, often within the same breath. Although he's already had two monographs of photography published in the US and seven books of assorted writings in Russia, it wasn't until Chris Stoddard of Brooklyn-based ITNA Press approached him about a book that he began to compile the blend of memoir, political satire, and magic realism that became Food Chain. Slava told us he's most excited for his recent essays, previously only published in Russian, to find English-speaking audiences. It comes as no surprise — the artist was famously persecuted in his home country for being, as he describes, a "hooligan dissident" — that his most recent writings have been labeled as "homosexual propaganda" by Russia's anti-gay legislation.
On Tuesday, ITNA Press will be hosting a launch party for the book at Dixon Place, with readings, drinks, and music, and it's already looking like a must-go. Slava will be reading from the book, which features teenage poetry and essays alongside artist collaborations with Michael Stipe, Brian Kenny, and Gio Black Peter. "Essentially, Food Chain is a summary of my past lives, both real and imaginary," he explains. We can't wait to immerse ourselves in both.
Order your own copy of Food Chain here, check out Slava's website for more of his work here, and you can RSVP for the launch party on March 25th, here.