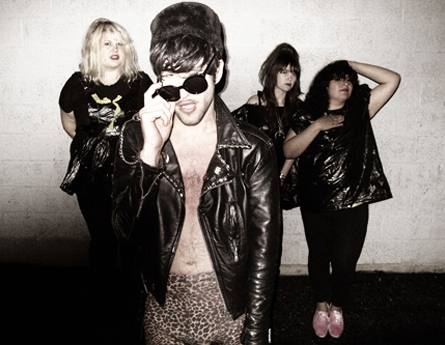 PHOTOGRAPHY BY Daniel Pitout
Hunx and his Punx
We're experiencing painful anticipation awaiting the third release from gay punk rock outfit Hunx and his Punx. Indie music fans have embraced the enchantingly campy teenage rock 'n' roll band, so we felt a post deemed appropriate. Plus — being amply excited and staying silent is a recipe for disaster. The reason I'm so enraptured with Hunx and his Punx is due to the unique sense of nostalgia offered by the band. The idea of being a teenager in the USA through the 1950s is undeniably appealing, and thanks to Hunx and his Punx the nostalgic individual won't have to sacrifice his gay standing.
Hunx (Seth Bogart) is a man made for center stage; his charm and uninhabited onstage antics makes for the perfect rock n roll star. Backed up by his band mates (Currently: Erin Emsile and Shannon Shaw of Shannon and the Clams), Hunx seems to be having genuine fun performing, which is sadly rare in the indie music world.
It's true, there is a melancholy that runs through both Hunx and his Punx releases (Gay Singles and Too Young To Be In Love), but that's what punk is all about — expressing yourself honestly while also having a fuck load of fun.
Hunx also released a solo album entitled Hairdresser Blues. We recommend you check them all out — Shannon and the Clams too. —THOMAS
Check out the video for Lovers Lane here.