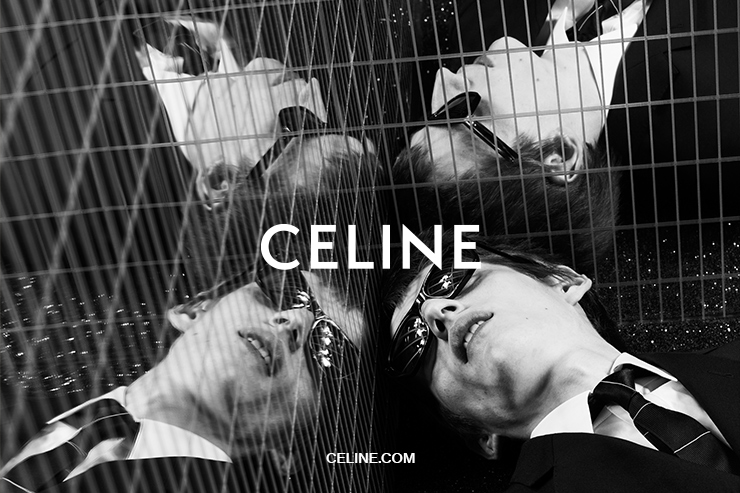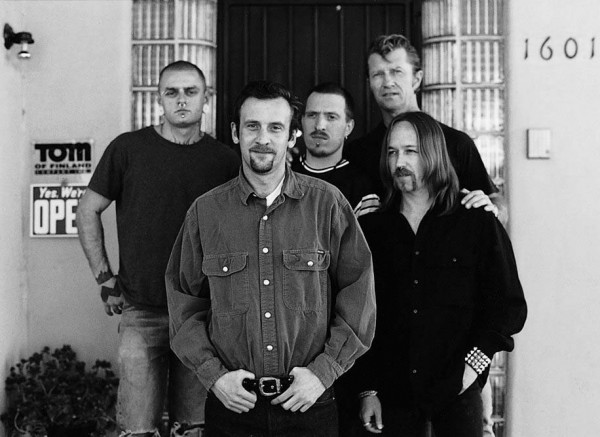 Bud Cockerham, Richard Hawkins, Daniel Babcock, Durk Dehner & Bud Thomas at the TOM OF FINLAND Company - Courtesy of Tom of Finland Foundation
In conversation with the artist Richard Hawkins
Artist and hot curator discusses his latest endeavors
If you've never heard of Richard Hawkins before, now is the time to start Googling his name. Since the early 1990s, Hawkins has been producing some of the most evocative, incomparable artwork we've ever seen, all teeming with an undercurrent of homoerotic appreciation and longing. Using collage and sculpture as his primary medium (although branching out into just about everything else as well), Hawkins' work has been featured in galleries across the world, and for good reason: with pieces that are as elaborate and carefully designed as they are rife with gay imagery and subtext, Hawkins' work speaks to people all across the Kinsey scale, transcending what often ends up being a niche audience.
Most recently, the artist Hawkins co-curated 'Tom of Finland & Bob Mizer,' a retrospective on the two iconic gay artists now on view at MOCA in Los Angeles until January 26th. Also, currently on view until January 26th, 2014 at Le Consortium, Dijon is the his latest exhibition 'Glimmer.' We got to interview the LA-based artist on what his curation means to him, what his process is like, and why he's newly infatuated with Alejandro Jodorowsky's "Holy Mountain." Hint: it has a little something to do with naked bearded hippie boys…
Where do you live? Los Angeles, old gay Silverlake
Where would be your dream location to exhibit your work? The Musee Moreau in Paris, definitely. Le Consortium, Dijon though was also a dream come true. The one that got away was Palazzo Fortuny in Venice. If you know this place — Moorish architecture, decayed walls hung with faded tapestries — you know it would've been perfect. I was ¾'s of the way through deliberations for a show there before it fell through. I think the problem was shipping — imagine one of my 10 tall haunted dollhouses teetering on the edge of a gondola.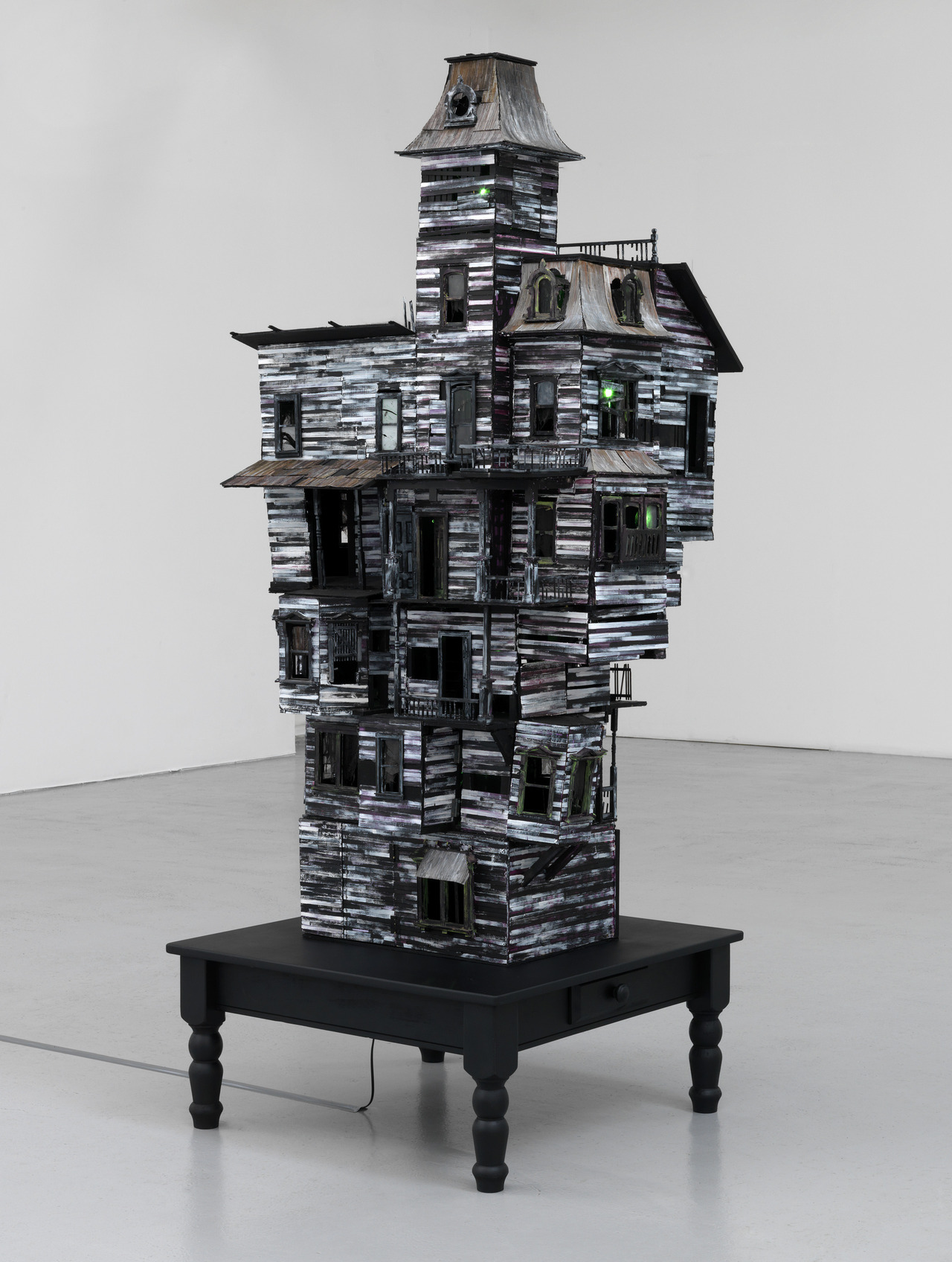 Richard Hawkins. House Capriccio, 2009. Altered dolls house, lighting, table, 91x 30 x 39 inches. Courtesy: Corvi-Mora, London.
You've used teen heartthrobs from the past like Keanu Reeves and Matt Dillon in your work. Do you have any contemporary favorites? I post found digital collages of Justin Bieber and Kai the Hatchet–Wielding Hitchhiker on my Tumblr account but never make any of my own. Though it seems like it would be perfect I can't buy into the whole Twilight boybabe thing.
Are there any new artists that excite you? Elijah Burgher is exciting. His forays into sacred symbols, gay sprituality and the occult seem like really great manifestations of what has always been brewing with the Radical Faerie movement — just better.
You recently co-curated an exhibition on Tom of Finland and Bob Mizer. What about these two artists has impacted you the most? Has their art influenced your own work? I of course once worked for several years as Office Manager of the Tom of Finland Company and have been collecting Bob Mizer material for years so I've known and loved both artists works for at least a couple of decades. But the inspiration is less aesthetic and more one of position and practice. Both Bob and Tom were able to live in a world in which their desires were far from accepted but their solution was always to return to the studio and kind of passionately imagine new worlds into existence. There's great inspiration for artists there: just follow your heart or your hard-on.
Where are you happiest? When you turn what you love doing into a profession you work all the time. I'm either in the studio or sitting in this chair at home writing a novel.
What's your favorite medium to work in? Are there any that you haven't used that you're interested in trying out?I think I might have done everything except video and performance. Usually I follow obsessions until the medium I'm meant to be working in becomes obvious. But while I've spent 20 years making paintings and sculpture I always seem to return to collage. Even the new book of short stories has a basis in collage: something about reordering the existing world to suit your desires is always present.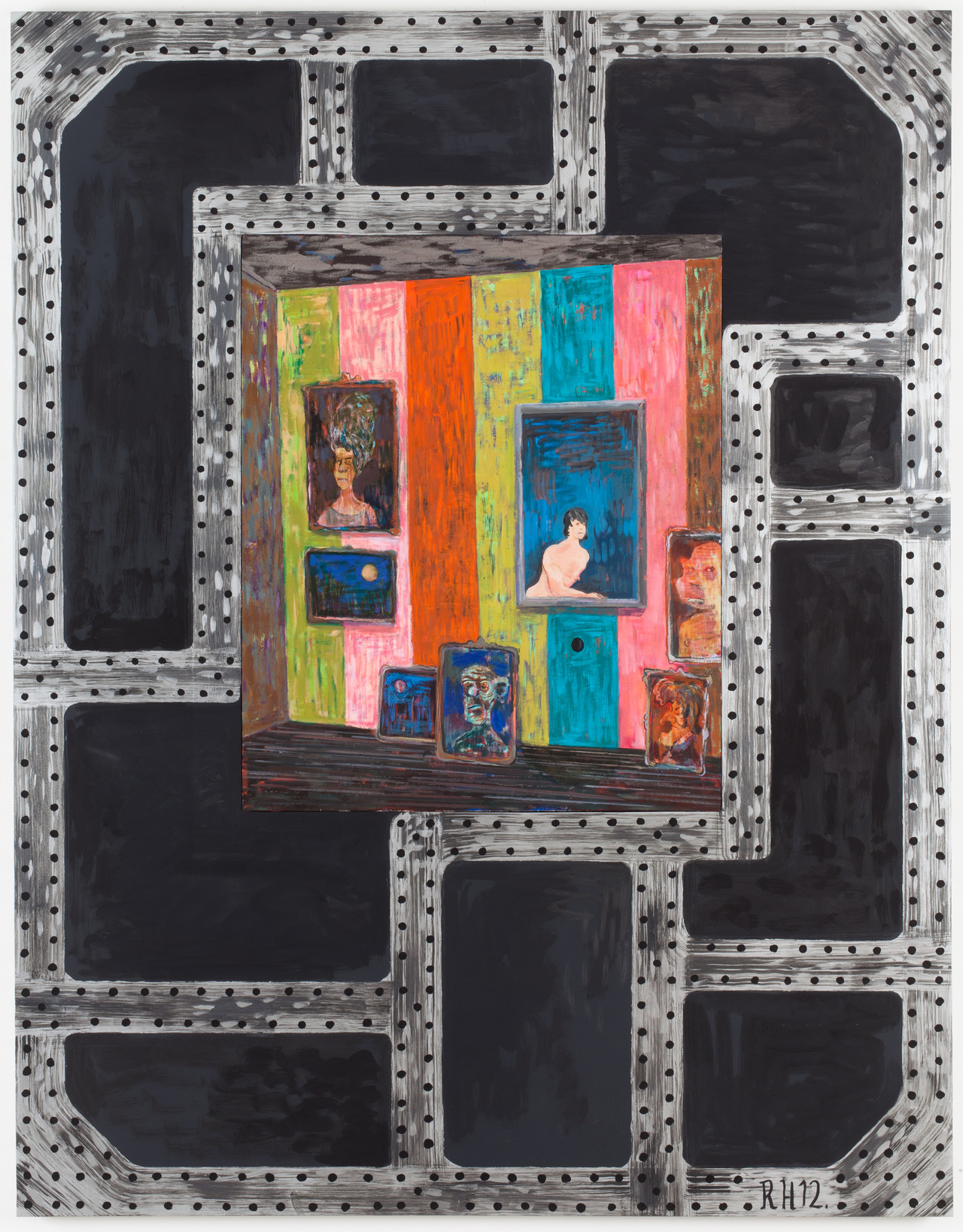 Richard Hawkins. Brig #4: Not under my roof you're not, 2012. Oil on canvas and acrylic on panel, 63 x 49 x 1 5/8 inches. Courtesy: Greene-Naftali, New York.
Do you find the art world to be more supportive of queer artists now than it has been in the past? I started showing at the height of AIDS activism and the beginnings of groups like Queer Nation so, for me at least, I've only seen a great acceptance and even an open invitation to be as gay as you want in the artworld. It is heartening though to see such a grand array of queers showing in the 2014 Whitney Biennial: Elijah, as mentioned above, but also Tony Greene, Catherine Opie, Travis Jeppeson, Bjarne Melgaard, Ei Arakawa, Ken Okiishi, Gary Indiana and several others.
How do you do research for your projects? Is it a hands-on approach or do you prefer to use texts/internet to cull resources? It varies. If I'm writing I read everything I can find. If I'm painting I really try to go out and look at actual paintings in person. The most recent project on Butoh founder Tatsumi Hijikata though took 2 trips to Tokyo to visit the Hijikata archives in person.
There is a strong undercurrent of sexuality and desire to your work. Do you feel as though you set out to put these themes into your work, or does it occur naturally? I think as an artist it's my privilege — if not also my duty — to talk about whatever it is I'm most interested in with my work. It just happens that boys are almost always on my mind.
Who are your role models? It took a long time to realize that I had intuitively built around myself not just a network but a whole family of gay uncles and brothers that I always turned to for guidance, support and advice. Many of the names you wouldn't know. But being friends with the film historian Donald Richie in Tokyo was probably my greatest influence. While not a studio artist like Mizer and Tom of Finland, Richie spent a lifetime researching, writing about and promoting Japanese film but always found the time and patience to address any idiotic questions I might have had. I'm always hoping I have that same passion — but also, when I'm that age (Donald was 80 when he died early this year) the same tolerance.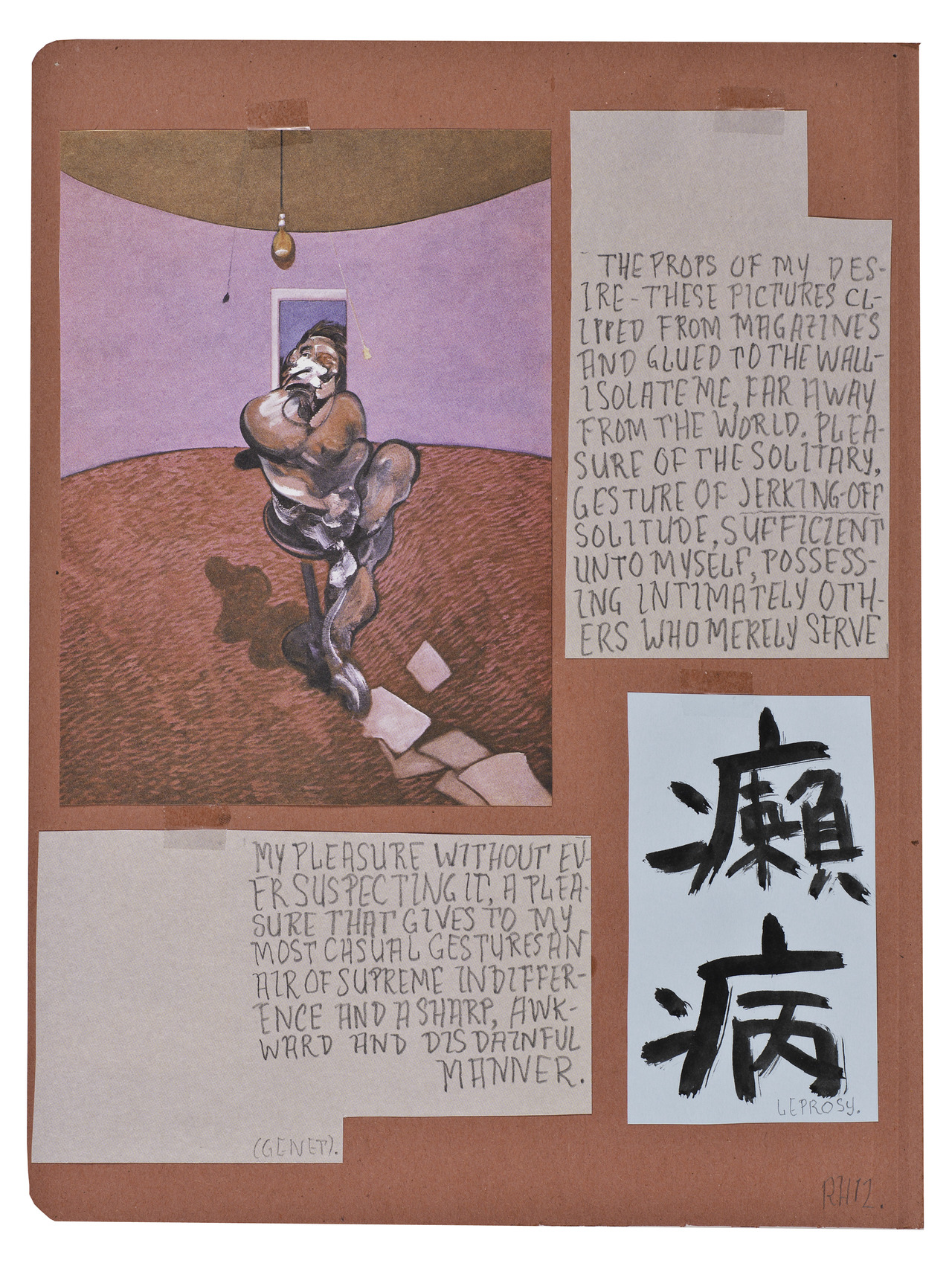 Richard Hawkins. Ankoku 1 (Introduction), 2012. Collage, 18 1/2 x 15 1/4 x 1 inches. Courtesy: Greene-Naftali, New York.
What was the best piece of art you ever made? I don't think in terms of best and worst. Just whether it's as evocative as it can be of whatever I'm obsessed with.
What is the part of your process you enjoy most when creating a new work? What is most difficult?
I prefer the spinning, whirling, elated distraction of making what I make. Sometimes, when putting the work up on the walls, the fun is already over.
What is the last great artwork (visual, film, music, lit, performance, etc.) you were exposed to? I had actually never seen Jodorowsky's "Holy Mountain" but was stunned when I watched it a couple weeks ago. It's all the color I'd want in my paintings and all the complexities I'd like my writing to have. And there are naked bearded hippie boys — which I love. I've recently taken some time off from looking at most contemporary things … so, sorry, I can't comment on that.
What are you working on right now? I may be finally coming to the end of the work I started two years ago on Tatsumi Hijikata. I havent done a final count but it seems like around 150 collages and books came out of the project. Many of which will be shown at Tate Liverpool in February. Otherwise I intentionally took time off from showing and spent a lot less time in the studio this past year to reacquaint myself with who I was in the early 90s. I'd seemed to have lost touch with the fact that I was a fiction writer and had the painter Tony Greene as my best friend. Tony died of AIDS in 1990 but I think I've completed archiving his estate and now, as I said above, he's in the Whitney Biennial. The first book of short stories was published 2 months ago.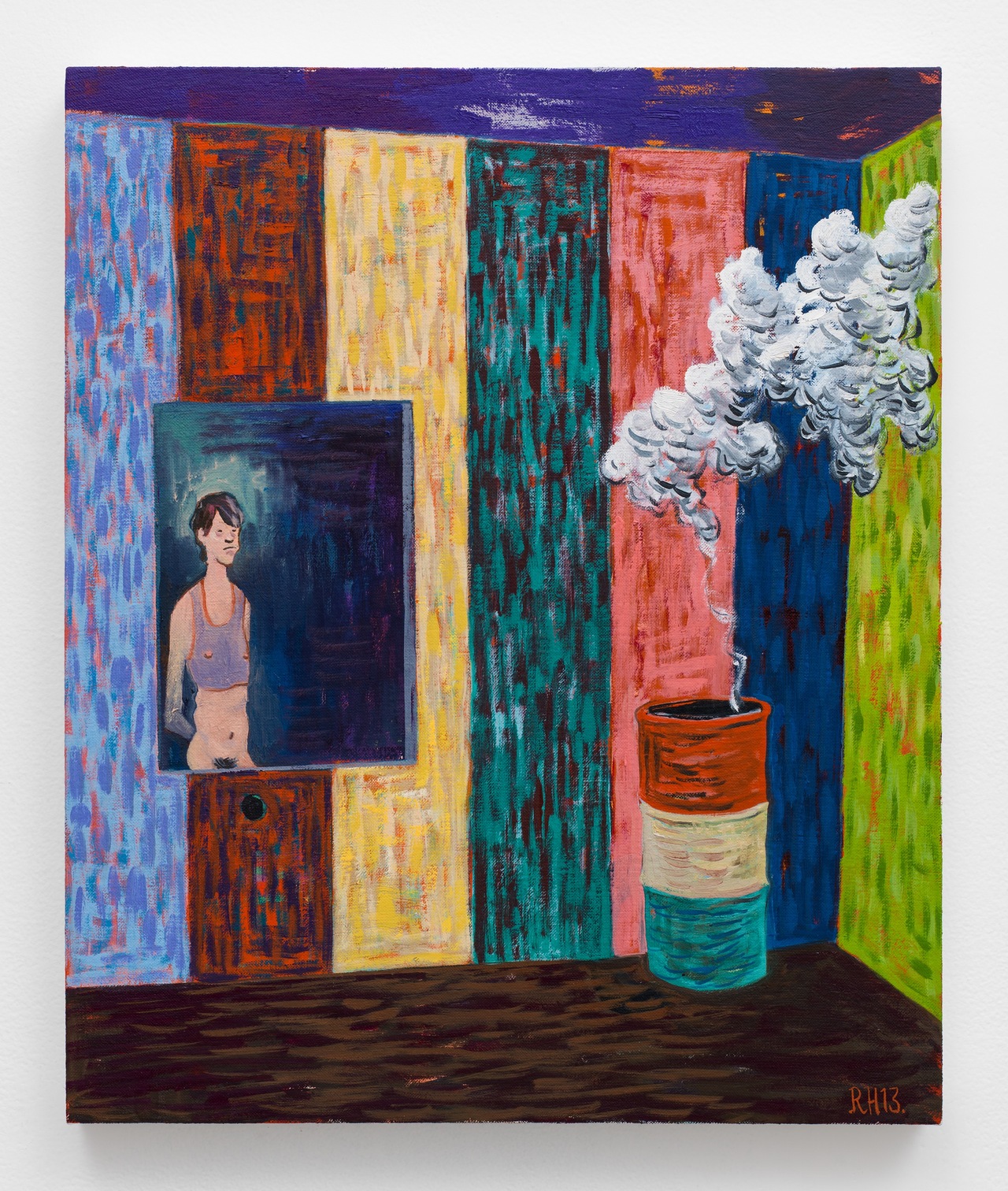 Richard Hawkins. Rainbow Room: sleeveless, 2013. Oil on canvas, 20 x 24 inches. Courtesy: Richard Telles Fine Art, Los Angeles.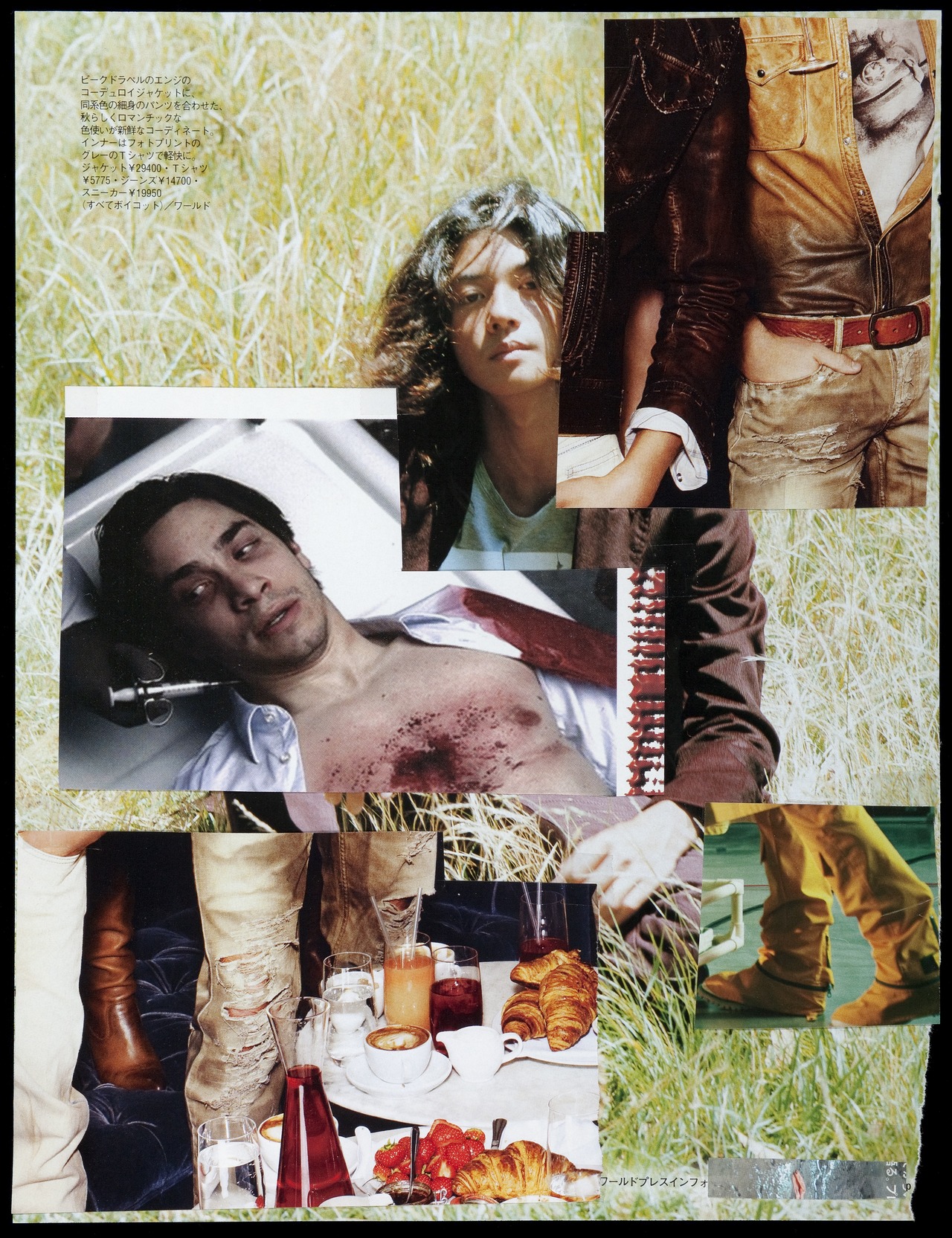 Richard Hawkins. brunch, 2010. Collage, 11 5/8 x 9 inches. Courtesy: Corvi-Mora, London.