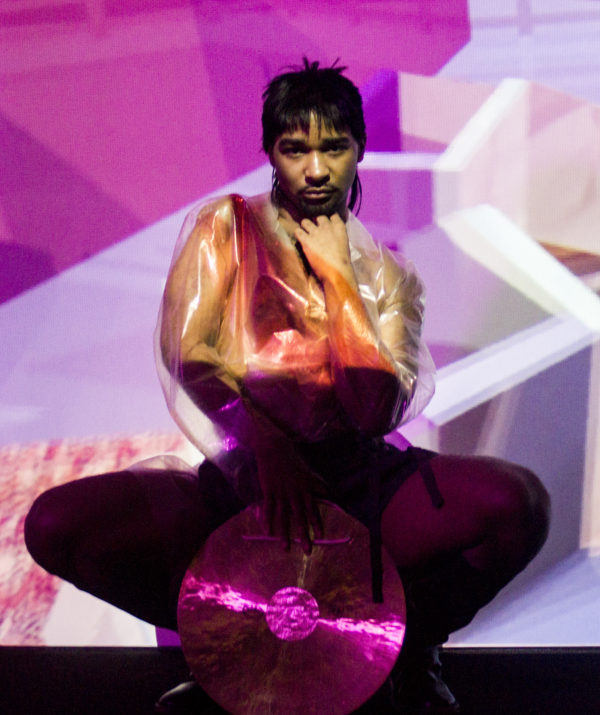 PHOTOGRAPHY BY IGHOR MELO
Blessed Avenue
Escapism and autobiography meet in Jacolby Satterwhite's new show.
In his latest exhibition at Gavin Brown's Enterprises, artist Jacolby Satterwhite takes everything to the next level, literally. Entitled Blessed Avenue, the visually stunning three-piece installation reflects his trademark use of 3D animation and themes of gestation, sexuality, and identity. Satterwhite renders an intoxicating vernacular of realism and fantasy starting with a 30-minute animé that takes us on a virtual journey through scenes of BDSM, avatar-inspired domination, and even a cameo by Lola Ciccone.
But Blessed Avenue is as much commemorative as it is affirmative. The exhibit pays homage to Satterwhite's late mother — Patricia — who suffered from schizophrenia, and uses her stirring vocal compositions as well as a sample of the vast collection of her drawings. You bear witness firsthand to Patricia's complex mind at work. This all while simultaneously delving deeper into his own wells of experience and Satterwhite re-imagines a fantastical alternate universe to state, rather convincingly, his status as an artistic provocateur.
Designed with stylist David Casavant, the exhibit's accompanying merchandise store is as much a cheeky statement on consumerism as it is the artist's manifestation of his mother's dream realized. Sending illustrations of inventions to the QVC in hopes of monetary prizes, Satterwhite channels his mother's aspirations of wealth into a boutique brimming with everyday objects for sale — cooking aprons and calendars baring Patricia's likeness, impeccably dressed miniature Jacolby dolls, lotion, fans, and even lunch boxes grace the shelves of "Pat's" 21st century boutique.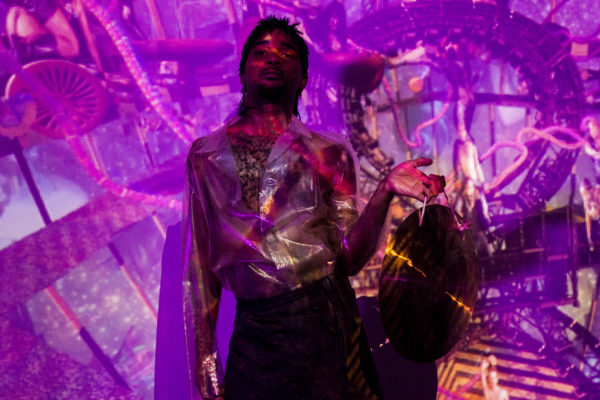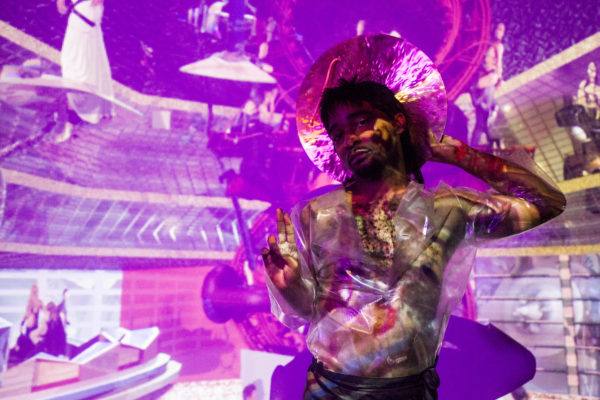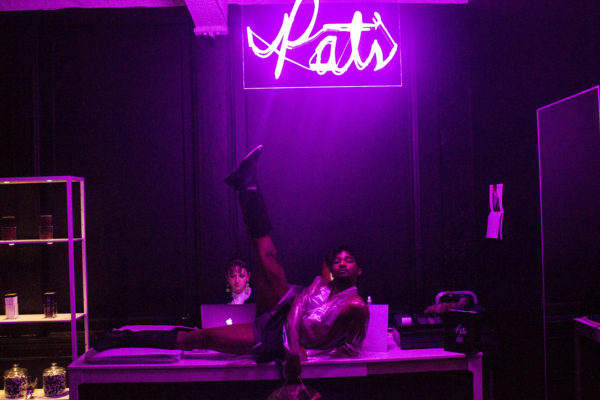 I sat down with Satterwhite to discuss his artistic process, how escapism informs his work, and what advice he gives to aspiring young gay artists.
When did you start working on Blessed Avenue? I started working on the project in 2014. Right after the Whitney Biennial, I started to archive and produce video content and collect performers and trace more drawings from my mom to articulate a new narrative that deviated from the tropes that were happening in my previous work. The project started to take form when the San Francisco Museum of Modern Art commissioned me to produce [what is now] the album portion.
Can you tell us about the your journey creating such a multi-layered and nuanced show? Between making the album and performing it live, I started feeling so spread thin that I had a meltdown. The project stalled and I went through a depressive phase because of the project's large scale. I took a five- month hiatus and travelled to China for two weeks. My mother also passed away. She was my main collaborator for the past ten years. So 2016 was an extreme collapse for me so I could rebuild and nourish things.
Eventually, I was offered a solo exhibition here so I cracked down and finished the project.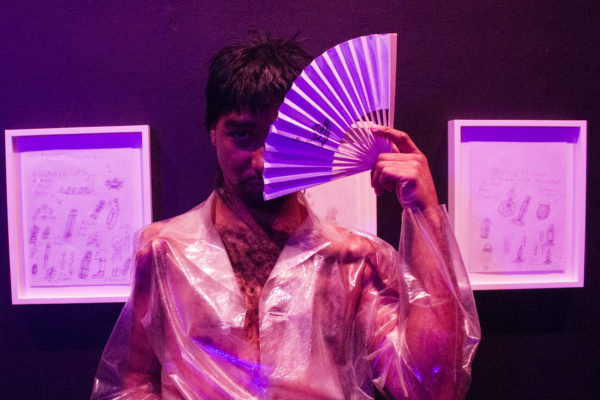 Do you plan on developing Blessed Avenue further? This project is an ongoing series. There may be nuances added or re-releases to the album. Right now, I'm working with a choir for the Rubin Museum of Art. There will be more films released relating to the music content.
Has the music industry played an influence on you in terms of how you've presented and marketed the project? I wanted to use the vernacular of the music industry as a way of articulating this body of work. I think there will more intersections like this in the art world in the future. I want to be a part of the generation that blurs those lines in a sophisticated way and builds that template for other artists. I'm coming in from the fine art world but I'm using the structure of escapism that I grew up with which is the pop form. When I first saw Daft Punk's "Discovery" visual album, they had the "Interstella 5555" animé, which was an hour long. After that, I remember wanting every song to have a video component as a child.
How does the theme of escapism inform your work? My mother's form of escapism was writing music when she was institutionalized. When I was a child, I had cancer and I grew up in a house that had abuse. My form of escapism was video games and watching pop divas and box sets — the fantasy around those relics of mythologies became my lexicon as a gay person.
Can you elaborate on how Surrealist, Dada, and the Fluxus movements influenced your vision? I'm intersecting these incongruent forms like music, drawing, and dance performance, and 3D animation that all have a relationship to each other in terms of entertainment. I'm taking things that were made in separate spaces for independent reasons and I'm forcing them to merge and have a conversation. I'm using them as a template of things that don't normally orient each to make some kind of spontaneous new form of language.
Would you consider this to be your most collaborative work to date? Yes, by far. I'm really happy that the piece reflects that I became super in love with my community and empowering of the people around me. It documents New York downtown culture — there's Juliana Huxtable, Anne Slowey from Elle, Lola Ciccone — every single person that I think has some kind of strength. There are over a hundred people in my hard drive that are going to be spanning out in this series. Their personal mythologies are a mental archive for me to work with. Every component is something I invest in — whether it's the singers on the album or performers in the video. I develop genuine relations with all the building blocks.
How was working with Nick Weiss on the album? It was really wonderful. After San Francisco Museum of Modern Art commissioned the album, I approached him. I gave him the idea and he was on board and we became best friends after that. We've performed this album live several times internationally. We are synchronized musically and he understands what I'm trying to get at sonically at all times.
How would you characterize the sound? It's acid house and trip-hop. It is a revivalist of the late Reaganomics period where that genre of music was a place for queer forces to sing in a gospel tone — a darker period where sexuality was feared.
And how did the store come into the exhibition? David Casavant and I worked together on it. He loves the artifice of consumerism. Conceptually, it was great for me to collaborate with someone who specializes in that field. Since it is a posthumous show for my mother, I felt it was poetic justice to see her vision articulated literally as it was intended to be — a merchandise store. It is great to give people affordable objects that they can take away but that also disseminate her into the public realm in a way that she dreamed of. I feel like I'm a custodian of a body of work that shouldn't go unseen.
What advice would you impart to up and coming gay artists? I think about younger gay artists all the time, especially young black gay artists. I think I have a specific agenda bout how I don't compromise myself or behave properly or try to conform to fit into a mold. I really think if you pay your dues, you can be whoever you want to be. Autonomy comes from effort and acceleration. I want young people to see what they can do and still be here — I'm definitely the most unlikely person to be here.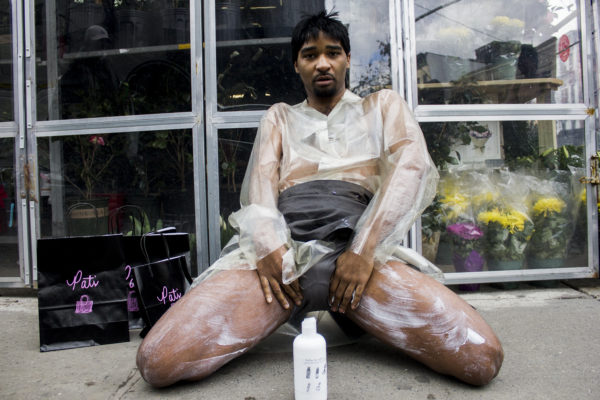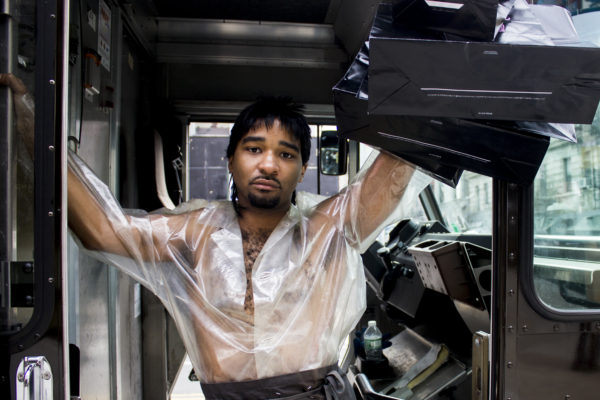 Blessed Avenue is on exhibition through May 6th at Gavin Brown's Enterprise, 291 Grand Street, NY, NY 10002