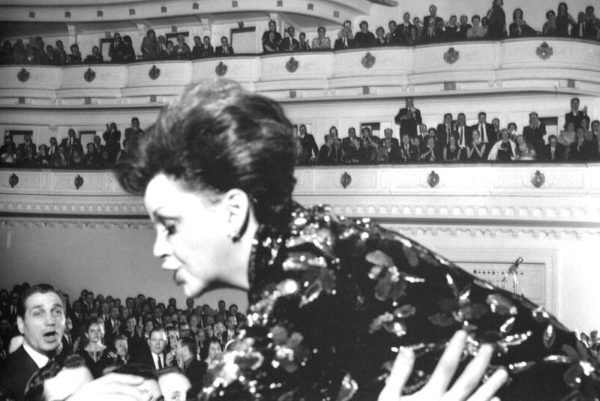 John Loengard, Judy Garland, Carnegie Hall, New York, NY, 1961. John Loengard © Time Inc.
JUDY AT CARNEGIE HALL
April 23, 1961 — I wish I'd been alive to experience this unforgettable night in queer, musical, and American history. At 8:30pm — or maybe 8:45pm — Judy Garland took to the stage at Carnegie Hall where she'd go on to perform for nearly two hours, making international headlines with one of the many comebacks that would define her career. It was, and remains (at least in my book) the single most important performance of the 20th century; dubbed by critics, super fans and attendees as "the greatest night in show business history." In the audience were Rock Hudson, Julie Andrews, Debbie Reynolds, Henry Fonda, Richard Burton and a slew of other queens you can hear hollering throughout the Capitol Records recording of the show that soon won five Grammy awards, including Album of the Year and the first-ever award for Best Female Vocal Performance.
The concert was recorded, mind you, unbeknownst to Judy herself and the evening proved once more that she was the consummate vocalist, one who could 'wow' for hours on end, not to mention live, and with the support of only an orchestra. Name someone who can do that today and win a Grammy for it — I can't! You can't either. This record, which remained at number one for thirteen weeks, pushing Elvis from the top spot, is still in print: a monumental achievement, a body of work unto itself, and something worth celebrating.
I suggest cancelling your Sunday afternoon plans, buying your favorite bottle of wine (or something stronger), and shutting yourself in to listen from start to finish — you won't regret it.