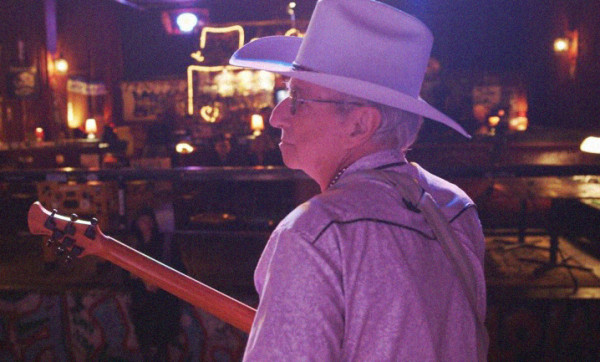 A still from the film
MUSIC DRIVEN: These Cocksucking Tears
Now that Beyonce has managed to defy all odds and tricked gay people into being interested in country music, it's important that we know our cultural history within the genre. Unfortunately due to the conservative politics of country music's mainstream markets, country singers have only started coming out of the closet as recently as 2010. As slow as the progress might seem, none of it would be possible without Patrick Haggerty, aka Lavender Country, who blazed the trail back in the 1970s. Haggerty recorded Lavender Country's self-titled album in 1973, thereby becoming the first openly gay country star.
Lavender Country sold all one thousand copies of the record that were issued, but then more or less vanished from popular culture. Patrick, a whip-smart Marxist, ran a couple of relatively successful political campaigns, but could never get a career off the ground. He eventually returned to country music and began to make a living off of singing "old songs to old people," namely performing country classics in retirement homes.
Thanks to Youtube, one of Lavender Country's most powerful and lyrically compelling songs, "Cryin' These Cocksucking Tears," has since garnered a resurgence of attention to the band. The record label Paradise of Bachelors reissued the album in 2014 which in turn led to more press coverage, a tour, and now a short documentary about Patrick's life. "These Cocksucking Tears" was part of a short film festival featured at Nitehawk in New York City.
The film, made by Dan Taberski, centers around Haggerty and his inspiration behind writing the album. Patrick recalls that after receiving a shockingly supportive pep talk from his father in which he urged him to never live his life "sneaking around," he vowed that from that day forward he wouldn't. He's painfully aware that he had a shot at being successful in Nashville if only he had stayed in the closet. Unwilling to sacrifice his convictions, Haggerty moved forward with Lavender Country and never looked back. He explains that his songs center around both out and closeted gay men who are struggling with relationships and intimacy. Issues every modern queer is all too familiar with.
Still a charming country boy who lights up the stage in his purple cowboy hat, Patrick's story touches on early gay identity in America and the universal desire to creatively express yourself without limitations. Lavender Country can be found on Spotify and iTunes.