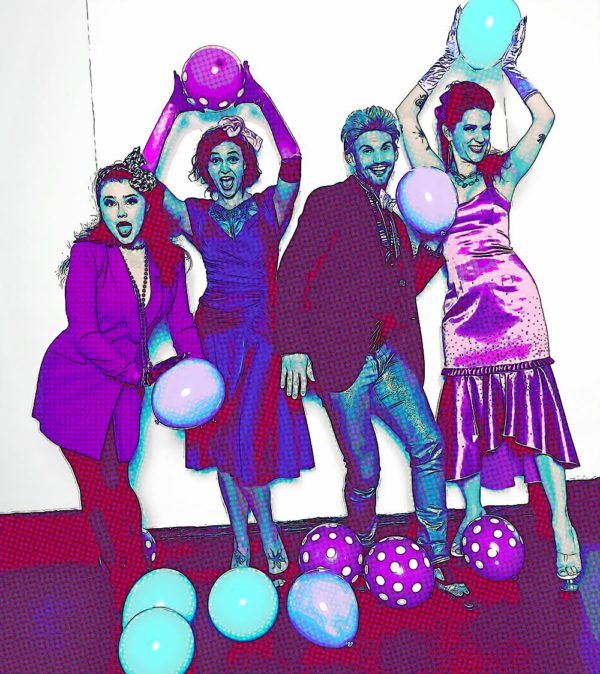 The cast of the show
Nasty Drew and That Harder Boy…The Secret of the Prom Queen Curse
Follow the unlikely couple's prom misadventures at Baxxside High
After that god-awful release of Mean Girls 2, it seemed agreeable that the teen-movie prom queen narrative carried itself to the grave, but Chris Harder's take on the story in his show, Nasty Drew and That Harder Boy…The Secret of the Prom Queen Curse was more than refreshing. Bringing the house down with each and every burlesque performance, the legendary cast of the show includes Nasty Canasta, Pearls Daily, Sapphire Jones, Miz Cracker, and, of course, Chris Harder.
With a cast sexier than MTV's Teen Wolf (which I didn't think was possible), we follow Nasty Drew and That Harder Boy as they go back to high school to investigate an alleged prom queen curse at Baxxside High. Along the way, Nasty Drew and That Harder Boy meet the school's head bitch in charge, Becky, and her loyal sidekick, Candace, who make it very clear that the prom queen title is already taken. Following the formula of high school misadventure, the previously undisputed crowning is jeopardized, and the regularly scheduled high school drama ensues.
Nods to classics like Heathers and The Breakfast Club had me screaming at every reference I could catch and every scrunchie I could spot. Be sure to have a cocktail before and during to ensure you're rum'd and ready to relive one of the most important moments of the high school experience. Trust, with a sexy troupe like this, it's way more fun than you remember.
The show returns this weekend at the iconic Laurie Beechman Theatre on May 5 and later in the month on the 19th. Both at 10pm. This campy 80s throwback has exactly the right amount of drag, burlesque, nearly exposed dick, and shoulder pads that'll keep you gagged until the end.