Party:

Thotlandia 1 YEAR Anniversary

The official definition for the term THOT is: THAT HOE OVER THERE. It basically refers to a man's side chick... it's a derogatory term for a loose woman. Of course many gay people have embraced the term. We root for side chicks, we celebrate the slut. We even named a party after the term. Thotlandia is one year old! Congrats for keeping a party alive for 12 months. That's no easy fete in this city, trust. Music for the night is by Mister Vacation, DJ DJ Dese (love her, girl knows how to carry — I just clocked her yesterday on V Magazine — #Slaysian), Tigga, Calore and Vyle. The party is hosted by a boat load of people so I'm not going to list them all. I have a feeling it's gonna be a good night. When the weather's this lovely the THOT's come out in full force. Have fun! —tom
Susan Kravitz's debut celebrates the home of the brave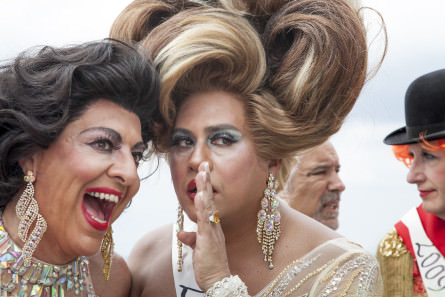 For those who have ever visited the gay mecca known as Fire Island Pines, it may come as a surprise to learn that even after the Stonewall Riots the community was fairly conservative. In 1976, Teri Warren was visiting from the more queer-friendly neighborhood of Cherry Grove and dressed fabulously in drag. He was promptly denied entrance to a restaurant on account of his appearance. In protest, a group of drag queens decided to come back on July 4th and "invade" the town. Thus, the Invasion of the Pines was born.
Every year on July 4th, an ever-larger group of drag queens hop on a water taxi and invade the Pines. Photographer Susan Kravitz has for many years been there to document the event. Kravitz considers herself a "social documentarian of daily life." She first visited Cherry Grove as a straight married woman, and then returned a couple of years later as a lesbian with her camera in tow. Kravitz has worked as a photographer for over thirty years, exhibiting her photos in galleries all around the world. Mascara, Mirth & Mayhem: Independence Day on Fire Island is her first book.
The book spans the course of four decades, intermingling photos of different eras to create the effect that every year's invasion actually took place on the same eternally long day. The political backdrops of the photos change, every decade presenting unique tragedies and triumphs, but the magnificent queens remain the same.
The photos themselves are as majestic as the royalty they capture. …

Party:

PARTY: YOUNG + EVIL

Young + Evil is on my list as one of the best party names I've come across since we started writing the newsletter. After seeing it on Facebook, I spent a few hours googling the party to figure out where it was coming from and finally the Y+E's FB page for the party responded to me, Yay! I chatted with one of the organizers, Matt Pieknik, and he told me more about this newish weekly event. This week is the third time they are doing it at Lonewolf which is usually a "straight" dive bar in Bushwick — "truly a gutter." The party is "inspired by Charles Henri Ford's old novel, The Young and Evil, about wicked amoral homosexuals and artistes in 30s Greenwich, it's one part salon, one part dance party. Filth and unapproved behavior is encouraged." About the music: "it's classic gay dancefloor vibes — true to the spirit of 70s era disco." This week the music is by DJ Joey D. The party is still new, so it's up to all of you homos to make it hot. —abi
Art:

Art AIDS America

You can say a lot of rude things about millennials; we're entitled, can't raise our phone off our tits — I've heard them all. Get some new ones, Mom! But if there is one thing millennials have an unappreciated knack for, it's our ability to not forget. You didn't like my Instagram post? Bitch, you better remember that I remember that! Growing up a millennial, the AIDS era lingered behind you. When NY Mag did their feature on Truvada, I remember being appalled that some men from the AIDS era were so disgusted that the drug was available (I was young, they have their reasons.) Not all of them were so conniving, but queens my age felt attacked — we were never blind to the fact that the epidemic shifted gay culture. Artists, including Kia Labeija, David Wojnarowicz, Robert Mapplethorpe, Bill Jacobson and more, "give voice to perspectives that are too often suppressed, and [Art AIDS America] reveals how they have changed both the history of art in America and the response to this disease." Featuring more than 125 works spanning from 1981 to the present, The Bronx Museum of the Arts "will present the first exhibition to examine the deep and ongoing influence of the AIDS crisis on American art and culture." The notorious suppression of the AIDS outbreak had a direct result in major miseducation, so it's important shows like this go up. In doing so, we uncover truths, celebrate lives, and commemorate those gone before us. —Chris Stewart
Front man Olly Alexander gets heated in complex feelings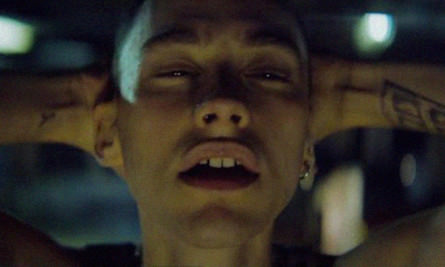 In one of my first dance classes, the instructor told us never to open our mouths when the choreography called for a head cast back or something of the sort. I still hear her snarling, "mouths open are ugly!" Olly Alexander, in Years & Years new music video for 'Worship,' completely disregards this formality. Instead, he throws his head and his mouth wide open, bringing it within inches of another man's, in the suggestive latest music video from the electronic trio.
Worship, off of the band's 2016 album Communion, is light on the surface, but the lyrics and video reveal a love rooted in a dark place (literally, "Gotta keep my lips shut / I'll do what you tell me to / Cause in darkness I follow you") that functions below. The video, taking place in a grimey parking lot and parking garage sheds light on these darker moments hidden in the song.
Throughout the video, Olly is on some kind of kick. He seems vengeful; trying to bring some form of justice to himself while an older man sits motionless in a car before him. However, he also seems horny… Olly thwarts several hot guys (the one with the mustache drove me nuts with that trade look) away from him and instead, manipulates their direction to what I assume to be the oppressive-daddy character in the car. Whether Olly is seeking vengeance or a good fuck might be not so important. Both sex and retribution are indiscernible here, mostly because, like any kind of worship, these feelings operate on the fine line between a sickness and a healing. …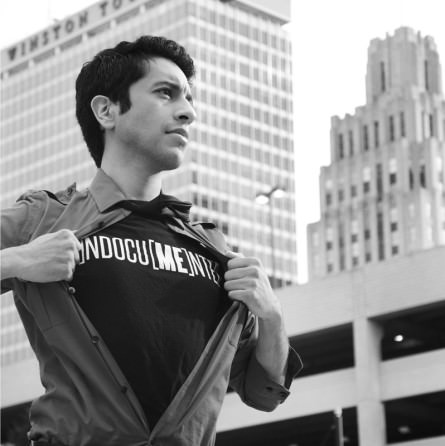 "My name is Moises Serrano. I'm queer, undocumented, and unafraid." With these words, Moises Serrano (pictured) came out publicly as both gay and undocumented, a second kind of closet most of us can't even image having to grapple with. Forbidden: Undocumented and Queer in Rural America is a documentary by Tiffany Rhynard, that follows the life of 23 year-old Moises as he struggles growing up in North Carolina. He is impossibly sweet and works tirelessly to raise awareness for migration reform.
Throughout the movie we follow his relationship with his boyfriend and his journey applying to college. What the film does best is what Moises often tries to do with his activism; it puts a face to a number. Undocumented immigrants are not simply a statistic we can throw around for the sake of a political argument. They are real people, facing serious problems, while also going through the ups and downs of life.
The film begins with the sound bite of Donald Trump's racist hate speech regarding Mexicans, throwing us right into the thick of our current bleak political situation. There were over 11 million undocumented immigrants living in the United States as of 2014, with obviously a significant portion of them belonging to the queer community. There is wide misinformation being constantly spread by politicians and the media about undocumented people. They work hard and contribute to society (and yes, they pay taxes), yet aren't eligible for food stamps or medicaid, not to mention living in a constant state of fear. …

The past few days have been so saturated with horrific news stories that most of us can only sit and scroll through Facebook with a blank stare. We had barely wrapped our heads around the PULSE shooting and now we're faced with two more murders, Alton Sterling and Philando Castile, this time at the hands of police officers. The question arises, how do we prioritize tragedy?
The good news is that no one is asking you to chose only one cause, only for you do something. And there is something you can do. There is still something to celebrate. There are still those among us striving to create in the wake of such destruction. Max Vernon is one of these people. The self-identified "composer/lyricist, faggot w many bedazzled blazers, and GAYLETTER subscriber," is producing a one-night only concert of his musical, The View UpStairs, to raise money for Equality Florida.
The View UpStairs was inspired by the UpStairs Lounge Fire, an arson attack on the New Orleans gay bar in 1973 that resulted in the deaths of 32 people. Until the events at PULSE, the UpStairs Lounge Fire was the deadliest attack on a gay club in U.S. history. "With this concert we will honor the memories of those affected by PULSE and UpStairs, use music to combat homophobia and hatred, celebrate the power of community, and raise money for Equality Florida." Equality Florida provides financial support directly to survivors and families of the victims of the Orlando tragedy. …

Film:

Outdoor Movie Night – Selena

I'm going to admit something very embarrassing, I have never seen Selena, the biopic drama about Tejano music star Selena Quintanilla (played by Jennifer Lopez). The film was J-Lo's breakout role, and is undeniably a classic. The thing is, I grew up in Australia where Selena was not known, and this film was definitely not on my radar when it came out. After learning more about the Mexican singer, I now realize what a big deal this bitch was. When she was murdered (spoiler alert) in 1995 by one of her employees, TV stations in the U.S. interrupted their programing to announce it. NBC newscaster, Tom Brokaw, referred to Selena as "The Mexican Madonna." In retrospect that is a slightly patronizing description. Selena was, and remains, an iconic figure in Spanish speaking countries — she was as big, if not bigger than Madonna to many people. (Ironically, nothing helps you achieve immortality more than dying young.) This Sunday is your chance to see the film on the big screen at the lovely Randall's Island Park. It all kicks off at 8:00PM. Bring a blanket, a bottle of wine (it's now pretty much legal to drink in public parks in NYC) and a dark red lip. Bidi, Bidi, Bom, Bom. —tom
Event:

I'M FROM DRIFTWOOD 6TH ANNUAL SUMMER BBQ

This has become a yearly Summer tradition for GAYLETTER to cover this event, not just because we love an outdoor party, but also because we love what I'm From Driftwood does. For those of you that don't know IFD it's an LGBTQ story archive where lots of people, just like you, from around the world, share their coming out stories. Have a look at their site, the work they do is very sweet and it's a great platform for the LGBTQ community. "The stories on IFD promote understanding, acceptance, empathy, and belonging, and send a simple yet powerful message to LGBTQ youth: You are not alone." It's their 6th annual BBQ fundraiser and it's taking place at The Hartley House Courtyard. The event features food by Andy Baraghani (that guy can really cook a piece of meat, trust me), open bar by Tito's vodka, El Dorado Rum and beers donated by The Brooklyn Brewery. Expect "live jazz music," a silent auction, raffle with lots of prices (I was reading the list of things and it all sounds very exciting), a pop-up shop by Tyler Wallach, Flynn & King and more. Go and mingle, I promise you it's gonna be worth your time and money. Enter the code 'GAYLETTER' for $25 off, there's only a few tickets left. —abi
A conversartion with the artist about his latest exhibition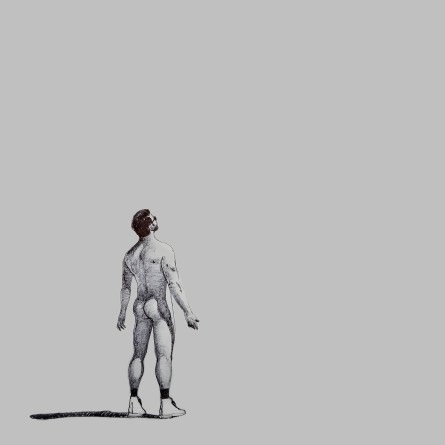 I discovered the 22 year old artist Daniel Marin Medina on Instagram months ago, we chatted online, then he drew me. After that we stayed in touch and I asked him to do a drawing for the last printed issue of GAYLETTER. I am so happy for him that he's having his first solo show in NYC titled 'Journal Entries' which is opening this week, July 8th. "The process of drawing these became similar to writing in a journal. Something would happen and I'd jot down my thoughts in the form of a drawing. They're coded passages in a diary, which is kind of fun to think about. Along with these drawings, I will be showing figure drawings done of some of the most interesting people in my life." We had the chance to chat with Daniel about this show and other fun stuff.
Why is the show called Journal Entries? The process of drawing these became similar to writing in a journal. Something would happen and I'd jot down my thoughts in the form of a drawing. They're coded passages in a diary, which is kind of fun to think about.
How did this show came about? A friend reached out, said she liked what I was doing, and offered me the space. The universe at work!
When did you start drawing? I like to joke that I've been drawing since before I was born, having done Lascaux-style cave paintings in my mother, but no one really finds that as fun as I do. …