Party:

Sister Soldier Sledge

DJS Will Automagic and Nita Aviance will liven up Easterbloc this Thanksgiving eve, Nov. 23th, with their party Sister Soldier Sledge. For all of you still in the city, your queer family is waiting for you at this East Village stalwart. I was at Easternbloc last Saturday night after a birthday dinner for a friend. It was pouring with rain outside, but was warm and inviting inside. We danced and did poppers as Darren (pictured at Easternbloc), one of the bar's owners, played the perfect music to keep us moving — plenty of Kylie, Madonna and Rihanna! Darren is calling this party "a family affair for all living in the beautiful bubble of NYC." Their will be no fights over the election or your relationship status at this event. There will be nothing but strong drinks, good music, and if you're lucky some tasty new dick to give you something to be truly grateful for on Thursday! Have some fun, what else are you going to do?! —tom
Jordan Seavey's play proves gays can do monogamy too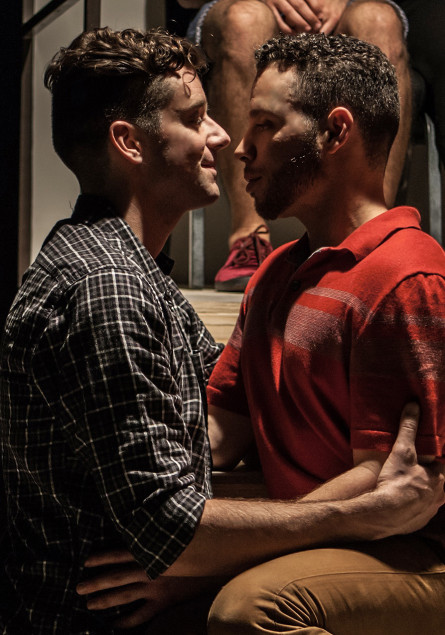 I started off watching the new play Homos, or Everyone in America silently pissed I wasn't in the cute beginning stages of my own relationship. As I watched Michael Urie (who played the fab Marc St. James on Ugly Betty) and Robin De Jesús (In the Heights) tenderly go through their awkward first kisses and learn everything about the other, from daddy issues to contrasting opinions on poppers, I couldn't help but feel inclined to re-download Tinder on to my phone.
And then things actually got real, gurl. Majorly real.
Written by Jordan Seavey, the heartstring-tugging play depicts all the saccharine highs, lows, and in-between moments of a modern-day queer relationship. The story takes place over the years of 2006-2011, the audience receiving timestamps through things like Urie's and Jesús' characters meeting each other through Friendster (which I forgot was ever a thing) and living in pre-gentrified Williamsburg.
Seavey does a fabulous job of not only illustrating the beauty of monogamous queer relationships, but — just like with heterosexual relationships — the difficulties and occasional mundanity of them. As the story hopscotches around time, the audience is left alone to piece together what breaks this star-crossed couple apart and the tragic event that reunites them.
When the play was over, I walked out of Bank Street Theater enjoying the sharp cold air and my singlehood — call me "emotionally unavailable," but I'll stay off Tinder for now.
Homos, or Everyone in America is running at Bank Street Theater now through December 11, 2016. …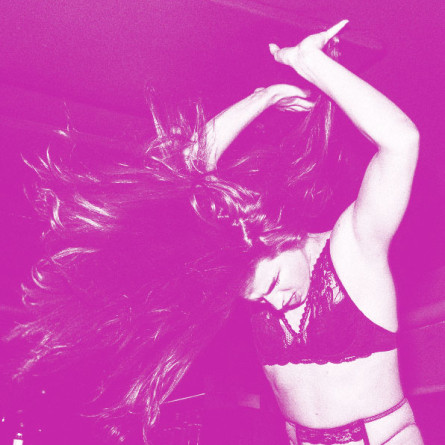 Emotions are high post-election day. I protested for three days straight and still have lots of rage, as I'm sure many of you do too. But we have to stay strong and come together. Warm each other with our love, protection, and light in the midst of all this darkness. This Sunday, November 12th, Tyler Ashley, the Dauphine of Bushwick, is hosting BABY TEA for T 2:0: A Trans Advocacy Fundraiser at Wise Men! A party for social justice — we need this! Fierce trans-model and advocate, Geena Rocero is the Guest of Honor and will be accompanied by a myriad of fierce trans hosts. Yass mama!
All ticket sales, donations, and Material Vodka sales will be donated to Callen-Lorde Community Health Center's HOTT Program (Health Outreach to Teens) and to Trans Lifeline. HOTT is a supportive program designed to meet the medical and mental health needs of LGBTQ adolescents and young adults. They offer sexual health services, primary medical care, transgender health services, crisis intervention, and so much more. In the past year, the program cared for over a thousand homeless or unstably housed LGBTQ youth. Trans Lifeline is a hotline staffed by transgendered people for transgendered people.
Come celebrate this brave community and support those in need! LET LOVE REIGN, HUNTYS!
Buy Tickets, here (or at the door)!
The party is from 8:00pm-12:00am on November 20th, Wise Men, 355 Bowery, NY, NY. …

Event:

Black Radical Imagination

This Sunday Black Radical Imagination is presenting a special screening featuring short films by four promising young, black filmmakers. If you're unfamiliar with Black Radical Imagination, it is a "touring program of visual shorts that delve into the worlds of new media, video art, and experimental narrative, growing out of a series of discussions about the boundaries and limitations that people of color have historically faced in the realm of the cinematic." Basically, they use cinema to explore "the aesthetics of afrofuturism, afrosurrealism, and the magnificent." There has never been a better time for us all to explore and celebrate the artistic output of historically marginalized groups. Talent is abound, if we look for it. After the screening their will also be a conversation with Ephraim Asili, Amir George and Erin Christovale. MoMA PS1 is one of our favorite places to explore. While you're there you can even pick up a copy of GAYLETTER. They sell it at the bookstore near the entrance. Apologies for the shameless self-promotion, but if we can't do it then who can? —tom
Art:

ON CHRISTOPHER STREET – TRANSGENDER PORTRAITS

Last week, after spending a few hours in Chelsea looking at some great art shows (Ai Weiwei, Prabhava Thimeppayil, Rothko and one my favorite artists Josef Albers) at some of the most pretentious galleries in NYC, I felt art-satisfied. I was walking with a friend back downtown and we were still gagging after all the cunt minimalism. As we were walking I looked in the window of Gallery 231 on 10th Ave. and read the word "transgender." We went inside and it was a show of Mark Seliger's photographs of members of the transgender community titled 'On Christopher Street - Transgender Portraits.' I was like why wasn't this on my "art walk" list? As far as I am concerned this is the most powerful and important work to see. Right now is probably one of the most important times to embrace and support marginalized communities. I am not gonna ruin my post by mentioning the name of that racist troll that "won" this election. After seeing lots of familiar trans faces (Hari Nef, Octavia, Carmen Carrera, Bailey Stiles, Amos Mac and others) it made me think how far this community has come and why we mustn't stop now. The show features honest and strong, black and white photography that capture the souls of the subjects being photographed. There's a room where you can sit down and watch videos and hear the stories of some of the people in the show. This is about trans-visibility — showing one's self to the world is something that every member of the LGBTQ community must do. Please don't hide. —abi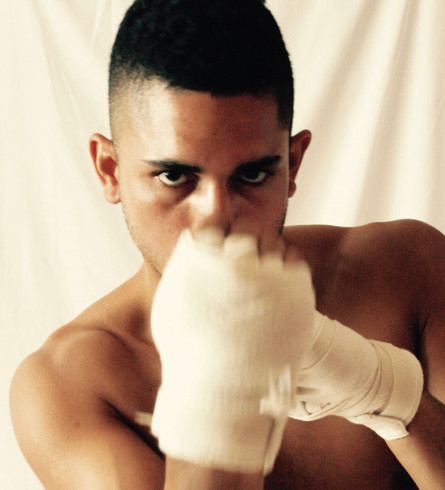 You the Boxer, is Michael Wynne's second photographic book in his one-year challenge to produce a new photographic book each month from October 2016 to September 2017. The small 4"x3" hand stitched book explores Wynne's experience boxing through text and 15 beautiful, intimate photographs.
There's an image of a sexy Latin boxer, his uncut dick and grown out bush showing off the intimate beauty of the male form. The whole book is an exploration of the raw masculinity and eroticism of contact sports. Wynne's poetic like text accompanies the photographs, here a favorite example: "The first time I saw you, you were sparring with one of the other coaches. Nimble was the word that came to mind, like one second you were on this side of the floor, the next you're five meters away on the other side of the mat. You weave in and out of the shadows. You're here and then not here, somewhere else."
The palm-sized book allows the reader to have an intimate experience exploring Wynne's raw and graceful world of athletic male photography. The beauty of the body, and the homoerotic communication between athletes, comes alive in this pocket sized publication.
Produced in an edition of 100, You the Boxer, can be purchased here.
…

Party:

HAPPY HOUR BIRTHDAY PARTY FOR LINDA SIMPSON

We love us some Linda Simpson! She's hilarious! And this week we all get to celebrate her birthday. Happy birthday Linda, you don't look a day over 70. Kidding, kidding. Linda has come up with the best way to celebrate her birthday, and that's by having a drink. With her of course. I mean, you can drink alone to celebrate her birthday, but it'll be more fun to do it with her and a few friends. Here's what Linda has to say about the event: "The party is mostly just for mingling and mixing. It's a good chance for people to come together and have some fun after the depressing election results." The party is at the legendary bar The Cock. (This might be the moment when you realize that the word "legendary" is thrown around too freely.) Linda told us to expect "celebrity, mixing and mingling" and "sexy go-go dancers." Ok, cute! Also, music will be provided by DJ Pretend, whose real identity she cannot reveal, but don't stress as "someone will be manning the DJ booth." I mean who cares, it's at The Cock, have any of you ever looked behind the DJ booth there? Have fun! Thanks for staying alive another year Linda! —t&a
Stand with us and oppose Trump's anti-immigrant, sexist, racist agenda!
Event:

What's Next? LGBT Equality After The 2016 Election

Most of us are at a loss as to where we go from here. Last Tuesday night's election results were beyond unfavorable, they were unthinkable. The fact that this reality TV star with openly hateful views towards women and minorities could win the White House has shaken us to our core. I heard a quote that tried to explain his win. It said that the media never took him seriously, but it always took him literally, whereas his voters took Trump seriously but not literally. Unfortunately for his voters (and everyone else) they are in for a big surprise when they discover that he meant a lot of what he said. It might have to take them losing their Medcaid, and benefits for them to realize that they've made a terrible mistake. We already know that, so let's not what that long to take action. This Wednesday night, Nov. 16th, "join leaders from the LGBTQ community across NYC as we come together to organize after the results of the 2016 election. The discussion is free and open to the public. We will be in Room 101 on the first floor. We also plan to broadcast this meeting live on our Facebook page. To find the livestream please go to fb.com/sdnyc at approx. 8:00pm tomorrow evening." We may have lost this fight, but we haven't lost the war. It's time to organize and get to work supporting and electing Democrats who can stand up for our rights. —tom
March against Trump in NYC...