The New York based performer has made quarantine more bearable with a series of spontaneous performances as Auntie Glam. We chatted with Auntie Glam about these strange times, and the joys of a Gin Daisy.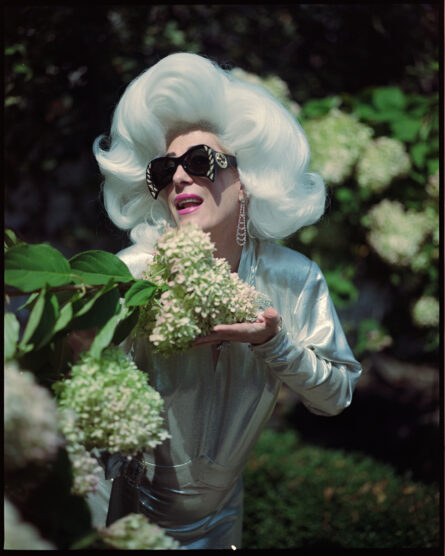 Where's Auntie Glam's accent from? Well, I wanted to do an accent that sounded fantasmatic — A fantasmatic accent, darling. I wanted something that was heightened and glorious. I wanted to emulate great, grand actresses of a certain age in a certain era. Just anything so I could have an opportunity to roll my tongue, darling.
It's a little bit British but also a little transatlantic accent. Yes, well you know somebody who's not really classy is going to try very hard to pretend they are.
How was Auntie Glam born? Well you know, darling, in the 89 to 90s I had a column in San Francisco called Glam on the Rampage where my character was Glamoretta Rampage. And Glamoretta Rampage covered the underground queer scene in San Francisco for the gay papers because in that time the gay papers there were relatively mainstream and I started writing about the queer kids and all the sort of shenanigans that was happening in the nightclubs. Then, when Kiki came along she got busy and moved to New York and just sort of forgot about me and left me back in San Francisco. At the time I was married to Elvis Herselvis, a lesbian Elvis impersonator. We went on Montel William's show where the theme was Crossdressers Who Marry. It was very extravagant. A while ago, earlier this year Justin Vivian Bond was very tired, darling. She got very tired of talking about herself. She didn't feel like leaving the house with the kittens. …