Art:

Visionaire Presents Autoportrait

ADA0002 is a robot artist who the public can pose for. It will create an artwork, a portrait of you, that you can take home. The show explores themes around technology and art such as "...what happens when, through technological means of perception, automata are able to create with greater precision than their human counterparts? How will creativity be affected when an augmented human or AI can distinguish spectra of light and color that are beyond our native biological abilities? Through the frame of the art world, VISIONAIRE's AUTOPORTRAIT seeks to ruminate on such assertions." This fascinating exhibition runs from Oct 13 to the 26th. "Using image processing algorithms, the artist — who is itself synthetic — stylistically synthesizes the image of its audience, transforming the viewer from a tangible being into processed computer data and back into a unique physical object/artwork. This artifact can be hung on the walls of the subjects' homes, thus completing the cycle of this new artistic paradigm." The era of robotics is nearly upon us. Are you ready? —tom

We mentioned Bromo earlier this year — back in April when the party was brand new — but a few people I know are really into it. If you are in NYC and are starting to feel the cold weather, it's the right time to go and warm yourself up on the dance floor and possibly find a cuddle buddy, at least for that night. The party is brought to us by Butched (Joey Quinones and JT Almon, pictured) who are also Djing along with Mauro Feola (Beitola, Berlin) and a "special performance" by Angelica Bess of Body Language. Hosts for the night are Oscar Ouk, Jor-El Garcia and Sean Bennett. As we told you last time it'll be "heavy on the techno" and they are promising "to deliver their friendly blend of fucked-out techno and maddening house tracks all night long for this mid-week debauchery." It's a party for "bromos, their friends, and their lovers." Sounds super fun for a Wednesday night. Everyone is welcome — like always! —abi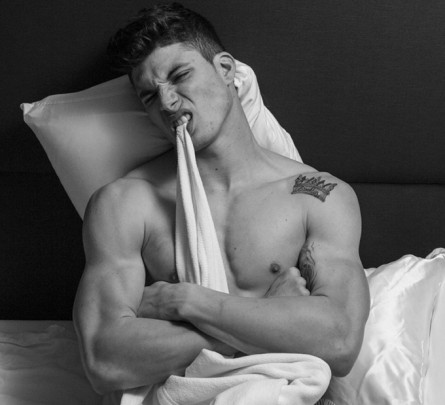 Josh McNey has released his debut book of photography, Olympia, Volume I. The book features model Joe D. Martinez embodying what it means to be an American Man in various cities around the country. Don't worry we already found Joe on Instagram so you can all properly stalk him.
A 140-page exploration of American masculinity, Olympia features Martinez in notable cities such as New York, Las Vegas and, of course, Saylorsburg, Pennsylvania. McNey positions his model as the everyman; a cowboy, a surfer, a party boy. All versions of the same guy mirroring his outward appearance to his geographic setting. What these men have in common is that their self-presentation reads as "confident and fitting." Well that, and that they all have cute butts. While it is deliberately unclear whether McNey is critiquing, or simply celebrating, our country's reverence for masculinity, it is clear that these are truly beautiful photographs.
McNey is an artist and creative director based out of New York and Los Angeles. Originally from California, he joined the U.S. Marine Corps and then went on to get his degree from Columbia University. His photographs can be seen in art and fashion magazines around the world.
I'm personally curious to see what the next two installments of Olympia bring, but until then you can check out more of Josh's work on his Instagram and pick up your own copy of Volume I here.
Below is a preview of the book:
…

Scenes from the weekend at Tom's House in Los Angeles
TV:

Fleabag

Fleabag is a new Amazon show by British comedian Phoebe Waller-Bridge. She is a young woman in London with an acerbic wit and a broken heart. Dealing with the death of her best friend, and business partner, she expresses her grief by sleeping with as many men as she possibly can. She isn't looking for love, she is looking for someone to fuck the pain away. While that may sound like a tantalizing, yet depressing set-up for a show, Fleabag is actually one of the funniest series I have seen in a long time. Phoebe Waller-Bridge based the series on her popular one woman play and I'm assuming she's based much of the character on herself. What's been noted most about the show are the private asides she does to camera in pretty much every scene. Some people have said these are distracting, but I think the use of them is clever, and in the context of this show, quite original. I know there's about a billion new TV shows that you've been meaning to watch, but Fleabag only goes for 6 episodes, and I suggest you add it to the top of your 'must-see' list right away, it's that good. —tom
Available on Amazon Video.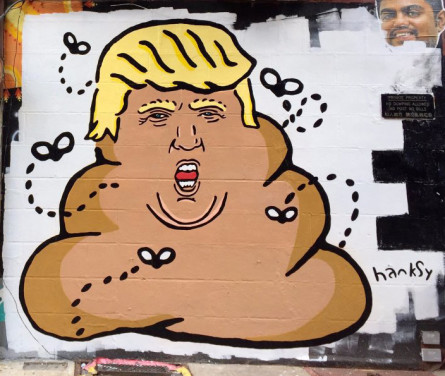 The ignorant, arrogant, moronic, privileged, attention-whore Lucian Wintrich is taking his #daddywillsaveus #twinksfortrump "art" show bullshit to BK this weekend — they are even having an after-party/pro-Trump celebration. I mean, where the fuck are the parents of this kid? Of course we can all chose to ignore this event, but it's a bit hard to ignore it when it has become such a talked about thing. I mean Trump might not hate gay people, but the party he is a head of is clearly anti-LGBT. Some of you might think it's best to not even discuss this and ignore the stupid kid, but I think it might be also nice to show up there and protest and hopefully close down the event. We also heard that the kid is exhibiting some images of these "twinks-for-Trump" without their consent, so that also means that he's pretending that all of these kids are pro-Trump, when I know that many of them are not.
Pablo Torres posted this on Facebook about the protest: "I think any action is valid. I find it difficult to accept staying at home while they are partying and celebrating what they call art. I work on myself to accept any form of expression, but it all changes when one of the leaders of the exhibition publicly attacks people of color and uses our vulnerabilities to turn LGBTQI people against each other." The artist Gio Black Peter has a different, but equally valid point: "these talentless hacks feed on attention — best fuck you is to ignore them and their event — a better protest is to spend your time making anti-fascist art that promotes queers, women, people of color, trans lives…" Another boy Damon Stang, also had a good point: "shaming the venue online might be a very interesting strategy though…" I'd say we can take some action and stop or interrupt this event, maybe just bringing a few anti-Trumps signs, just avoid any physical altercations. …

Art:

'Dirty Little Drawings' Opening

We just spent a weekend at the Tom Of Finland Foundation in Los Angeles. It was a very cool experience, we literally slept in Tom of Finland's bed! The foundation is a mecca for erotic art. They have a library with the biggest collection of erotic art in the world. Which is why this event immediately jumped out to me. Featuring over 60 artists, the Dirty Little Drawings exhibition started in 2003 as an opportunity for collectors to buy affordable art from many of the artists featured at the Leslie-Lohman Museum of Gay and Lesbian Art. This year there is a "dizzying array of original erotic art works...No two of these artists approach their work or represent masculinity in exactly the same way, whether the subject is portrayed as a heroic figure, a love object or an objectified play thing. Each artist executes his drawing with keen insight, skill and sensitivity revealing the evolving way we view the male figure as an object of desire." This is sure to be a popular event, so much so that to ease overcrowding they will not be serving refreshments. We suggest you grab a drink beforehand then head on over to pick up some sexy drawings while you're still a little buzzed. —tom
MUSIC:

Amber Martin's 'A.M. Gold'

Amber Martin is a dear friend to GAYLETTER. We have written about her performances at Joe's Pub and with Nath Ann Carrera as part of Witch Camp. Amber even performed as Reba McEntire at one of our Pride Balls. She is immensely talented and super sweet. She reached out to us recently to inform us about the release of her new album, A.M. Gold, at Joe's Pub this Thursday night (October 6). The album features "special guests Jake Shears and Kate Bornstein, as well as NYC players Claudia Chopek, Nath Ann Carrera, Paul Leschen and Brett Every. Also, two of the songs will be featured in John Cameron Mitchell's forthcoming movie, How To Talk To Girls At Parties, with Nicole Kidman and Elle Fanning. ("Bermuda" and "Bright Lights, Long Shadows")". Thursday night is your first chance to hear the new album. Considering the talented people involved in it, I'm sure it'll be a night filled with famous faces and unforgettable performances. Amber never disappoints! —tom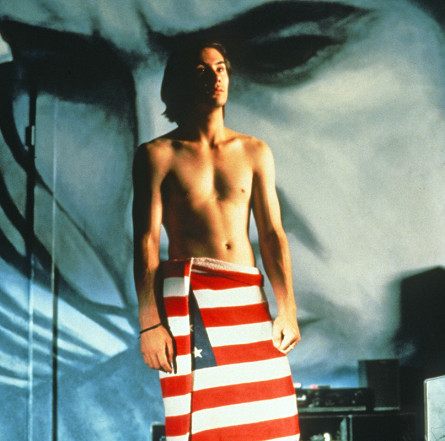 I heard from a few people that I must check out the newish Cinema Metrograph in the Lower East Side. My friend Charlie Kuder is always like "I'm heading to Metrograph, are you coming? It's a great place." Their 'About' page says that "Metrograph is a unique experience of seeing prestigious films; of stepping into a special, curated world of cinema, a world of hospitality harkening back to the great New York movie theaters of the 1920s…" You can have a proper cocktail, have a bite, they even have a bookstore — it's the perfect excuse to wear something cute for the theater.
This week they are opening their 'Queer '90s' series, which features over 30 films that they'll be showing until October 30th. "The 1990s was a watershed decade for the visibility of queer bodies in independent, documentary, experimental, and studio films. The emergence of "New Queer Cinema," a movement of filmmakers reacting to the rightward shift in culture and the specter of the AIDS plague, produced formally radical and political works about and specifically for LGBT audiences…" This sounds absolutely marvelous, I can't think of a better fit for GAYLETTER. We'll be going there a lot for the rest of the month.
Poison (1991).
CLICK HERE FOR MORE INFO, METROGRAPH, 7 LUDLOW ST. NY, NY. …

Whoopi Goldberg Curates a Personal Showcase of the Actress' Life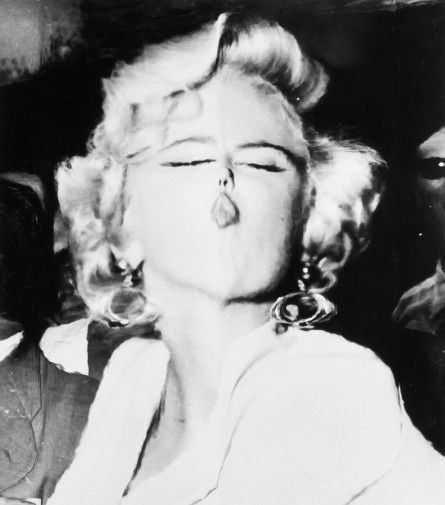 You know, I think when I first took Marilyn Monroe seriously was when My Week With Marilyn was coming out in 2011 and Michelle Williams was on the cover of Vogue dressed as Monroe herself. I was gay and in high school, so I really thought American Vogue was the end-all be-all, but shade aside, many of my interests came about from flipping through Anna's pages pre-doing-everything-at-Condé Nast. For example, in Vogue is where I first learned that beyond the beauty, Marilyn Monroe desperately wanted to be an incredible actress. Being a theater kid myself, I thought that fact to be depressing. I wondered why no one ever spoke about her go-getter attitude, only of her beauty. I found the former so much more appealing. Monroe studied method acting at the Actors Studio with Lee Strasberg and his wife Paula. She often cried when she couldn't get a monologue, or scene right.
I feel that in Monroe's case, attaching the word icon to her for an introductory label smears over a lot of who she was. Since her death, Monroe's image is arguably the most recognizable, yet no one cares about her story. Women just want to look like her. Men just want to touch her breasts.
Thank god for Whoopi Goldberg. Seriously.  She's curated a new exhibit at New Jersey's cultural center Mana Contemporary, showcasing the interiority of Monroe the person; not the iconic face. "The image of Marilyn Monroe the icon endures and strengthens as time goes by, but her personal life remains a mystery,' says Whoopi Goldberg. …