Event:

SSION ALBUM RELEASE

Did you pick up your copy of GAYLETTER Issue 8? If you answered no, I suggest you change that. We featured a bunch of beautiful, beautiful people, and among them is pop-music-alt-damsel Cody Critcheloe, better known as SSION. When Cody told us he had a new album coming out we got super excited. He had just released "Comeback," which tells the story of an old flame returning to the appropriate lover who is more than willing to accept that skank back. It's also a pretty obvious play on words. Ssion hadn't released new music since 2012, so a new single six-years later is most definitely a comeback. "O," out on May 11th, is Ssion's third studio album and to celebrate the release he's throwing a cute party at Mission Chinese. There's going to be food, drinks and he'll be playing the album. I'm stoked about it because when we got together to create his feature for Issue 8 (with Slava Mogutin) he was telling us all about how he made it in a basement in LA. Cody said he just kept inviting people to be on the album so that it had the flavor of a mixtape, like something corny you'd curate in high school, but with indie-pop and indie-rock royalty (Sky Ferreira, Devendra Banhart, Ariel Pink). The official singles, "Comeback," "Heaven Is My Thing Again," and "At Least the Sky Is Blue" (check out our behind the scenes coverage) have been on my Apple Music repeats for a while now. I am eager and ready for more! —Chris Stewart
The legendary party is back to B Bar!
Party:

SUGARCUBE EPISODE 3

So this week GAYLETTER is getting back to its roots and hosting a party. Yas! Don't you miss us? Not to worry, if you caught us drinking from a bottle of Veuve on Instagram last week I can assure you there's more where that came from. Sugarcube is a relatively new party created by Parson James that happens every few months. It's very VIP and has hosted the likes of Lil Kim, Amanda Lepore, Char Defrancesco, Zeke Thomas, and many more...which is why we are inviting all of you to attend this Wednesday, May 9th — we'll be helping them host their third installment. Come say hi, don't be shy. Expect performances by Dorian Electra and Jesse Saint John. "Episode 3 will include a night of spring-fueled gaiety with a blossom-clad cube designed by Sean Kelly. The night will be blooming with cute young buds looking for a sugar-coated spring awakening. Doors open at 10pm with SVEDKA Vodka Happy Hour open bar for all." That's going until midnight, which is pretty fabulous. I'm wondering if they'll mix it with champagne for us. Think Ab-Fab but… more Tots-Maj. I guess we'll find out, we have been trying to make a Stoli-Boli our go-to for spring 2018. Arrive early, let's get drunk together and see how that goes. Click here to RSVP. —gayletter
A sexy, shocking and endearing new zine edited by A.A. Bronson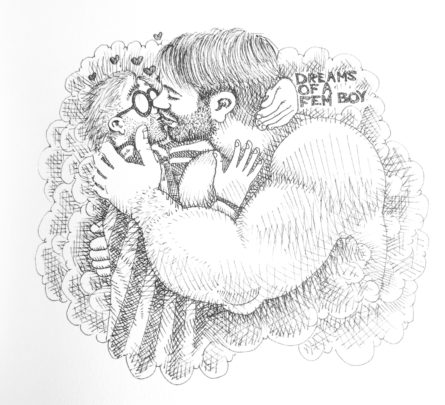 Doug Melnyk's new 'zine, Pyjamas, has been on my desk when it's not on my dining table and when it's not in bed with me. Needless to say, I love it!
In his signature playful, process-driven and unabashed style, Melnyk's high quality scans detail original drawings that show the artist's decision to move the angle of an ankle in one sketch and the subtle but declared use of color in another, highlighting erogenous zones or the environs in which his characters come to life. The passing of time in a single black and white image lets us watch as the smaller-guy (the protagonist) first clues into his curiosity and then let's wander get the best of him, only to have the hand that leads him to pleasure become trapped by some midday dalliance — the pay-off being not just the reclined hardening hunk on the couch, but rather the reveal of the small guy's hairy cheeks just above the lowered pyjama bottoms as he tumbles over and onto a big fellow.
And what to say about those offerings of glorious groups of athletes and college roommates? They're simultaneously stimulating and cringe-worthy in the visual exploits of sexual fantasies turned everyday nightmare in our world of power imbalance. Like the hotel art included in a two-page spread of hijinks. It features some implausible meeting between a stag and a lion act as precursor to the single black guy, naked and in the mix of five other white guys, pouncing on the immature redhead and pinning him to the floor face-down as his cock is about to breach the exposed ass. …

Featured in GAYLETTER Issue 8. Starring: Imp Kid, Aquaria, Harajuku, Monét X Change, Mango Sassi, The Blair Bitch, Hinkypunk, Jarry-Kate Olsen, Harry Charlesworth & Sussi.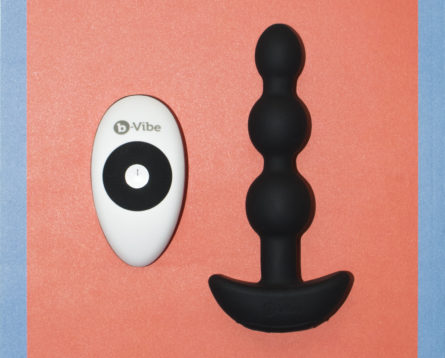 A blinding orgasm. Thats what we all want, right? Now, there's a few ways to achieve an orgasm of that caliber: maybe, for you, it's poppers (I hear Iron Horse and Pig Sweat are pretty good?), maybe it's edging (if it's not for at least an hour, you're not doing it right mama). Maybe, even, it's only getting off once a week or once a month to let things build up. For me, though, my approach this week was b-Vibe's Triplet Anal Beads.
First and foremost, b-Vibe did not create just any anal beads. When I think of typical anal beads, I imagine a long cord with a bunch of big beads, all of which are inserted into a very hungry bottom. This is something else entirely. It's equal parts dildo, vibrator, beads, and 100 percent fun.
I'm going to relay my experience with the Triplet Anal Beads, but first, let me describe to you some aspects of the toy that aren't readily apparent in the fabulous photo pictured (which features GAYLETTER Issue 1's back cover design). Upon unboxing the toy, I was pleased to find that it includes a discreet travel case made of hard plastic, reminiscent in material and form of those shell suitcases that I saw a couple basic queens try to fit in the overhead bins on my last flight to Barcelona. Girl, give it up. The toy itself is made of a super soft body-safe silicon and has six vibration levels and 15 vibration patterns. …

Performance:

BLESSED AVENUE BY JACOLBY SATTERWHITE

One of my favorite things, as a young and impressionable queer person, is finding out about artists for the first time and really opening myself up to their work. About a month ago, we published an interview with Jacolby Satterwhite — an artist who thrives on the cusp between performance and visual arts — by writer Omar Nasir. That interview was my introduction to Satterwhite; it was about his multilayered series Blessed Avenue, which is part installation, part visual album, and part performative statement on consumerism. This Friday, May 4th, Satterwhite is performing the first concert version of Blessed Avenue. The audience will be "introduced to a phantasmagorical world of bodies and machines, exploring such themes as desire and sexual freedom, while drawing inspiration from such diverse sources as gospel, acid house, and modern dance. The work in progress incorporates acapella songs originally composed by Satterwhite's mother, Patricia, as she struggled with mental illness. They are reimagined into an electronic and visually stirring odyssey. In collaboration with the electronic composer and musician Nick Weiss, this performance features live vocals and new choral arrangements around Satterwhite's latest musical and animated film." Satterwhite's concert is part of the Rubin Museum of Art's performance series Refiguring the Future, which over the course of this month and next will also feature work from Morehshin Allahyari and Shirin Fahimi, as well as Juliana Huxtable. —Connor Atkins
Anahita Ghazvinizeh's film handles the gender binary with deft lightness.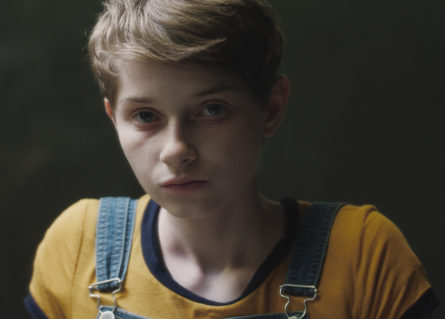 They, by Iranian-born director Anahita Ghazvinizadeh, begins with a voiceover. Fourteen year old J, the film's protagonist, is talking with their doctor. We learn that J (Rhys Fehrenbacher), who uses the gender neutral pronouns they/them/theirs, is taking hormone blockers to "hit a pause button," preventing the onset of a puberty J just doesn't want. Their doctor tells them that the blockers are negatively affecting their bone density, that it's time now to make a decision. It is here that J's doctor mentions exploration, but it's exploration for some sort of end goal. Ultimately, they are talking transition. The doctor asks J, "Are you ready?"  The question hangs like a moment of suspended animation, and carries on through the entirety of Ghazvinizadeh's film.

They takes place over one weekend during which J's sister Lauren (Nicole Coffineau) and her Iranian boyfriend Araz (Koohyar Hosseini) come to stay at the house with J while their parents are away. Lauren is an artist, and she tells J about her various artist residencies and, more potently, the frivolity her and J's parents assume of her profession. There is also Lauren and Araz's impending marriage, complicated by the decision Araz has to make: whether to stay in the U.S. with Lauren or return to Iran to be with his family. Over the weekend J's own internal struggle is a constant hum beneath these intertwined plots, bubbling up from time to time to take priority. In this we see that the film is not merely J's coming-of-age story but a complex web of questions about identity, with J's gender identity panning out alongside Araz's identity as an Iranian in America, and Lauren's forging of an identity as an artist. …

Eat:

Y TU MAMÁ TAMBIÉN Screening + Dinner

Y Tu Mamá También is the first phrase I learnt in Spanish. Growing up in Australia we didn't have much need for the language so it's not really taught in schools. I studied Indonesian in high school which was sooooo useful! lol. I learnt the phrase Y Tu Mamá También because it's the title of the 2001 Alfonso Cuarón film that is screening tonight in Brooklyn at the Alamo Drafthouse. When it was released 17 years ago it not only launched the careers of its director and its stars Diego Luna and Gael Garcia Bernal, but it was also the highest box office opening in Mexican cinema history at the time. And it did that by only making $2.2 million it's opening weekend. "The film tells a coming-of-age story about two teenage boys who take a road trip with a woman in her late twenties. The film is part of the road movie genre, set in 1999 against the backdrop of the political and economic realities of present-day Mexico, specifically at the end of the uninterrupted 71-year line of Mexican presidents from the Institutional Revolutionary Party and the rise of the opposition led by Vicente Fox." It is a very sexy, gritty and engrossing film with a rather queer twist ending. You can see it tonight (May 2) at 6:30pm with a Mexican-inspired menu created by the Drafthouse executive chef Ronnie New, with drink pairings from their beverage director Vincent Favella. This is a much better way to celebrate Mexico than partaking in the upcoming Cinco De Mayo nonsense. A disfrutar! —tom