Art:

IMPOSSIBLE BODIES

Before I got an email about this show I didn't know much about the artist Cupid Ojala. I spent some time doing research on him and I thought, oh our readers will really enjoy his work. Ojala was born in 1977 and he grew up in a conservative Mormon family in Virginia. He transitioned from female to male in 2003 and now lives in Brooklyn. "Through lines, Cupid Ojala's work, conjures new ways of seeing the masculine body through the lens of a trans man. Ojala draws bodies that go beyond the questions of what it is to be a man. Instead, he re-embodies cultural signs of gender, and either strips away the flesh altogether leaving traces of hair, or produces new body formations. In Hair Patterns, the body is outlined only by hair navigating the construction of male virility where some of the patterns overlap to create abstract, yet corporeal shapes." I like that his images are simple, subtlety erotic and playful at the same time. This Friday, October 2nd you can attend his opening at Leslie Lohman Museum and see for yourself what makes him so special. The show is only open until the 4th of October. Don't miss it. —abi
Check out our full shoot with Dan Donigan for Issue 3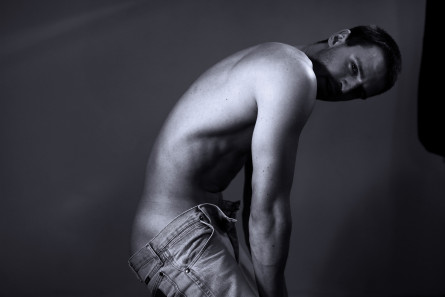 When we decided to feature Susan Sarandon in our third issue, we knew we had to do something special. After much editorial debate, we decided to ask a drag queen to paint her face. Dan Donigan (aka Milk) was our first choice, obvi. As you may know from RuPaul's Drag Race, his style of makeup is always beautifully over the top. This queen is expensive, creative, anything but typical — just the way we like it.
We wanted him to go crazy on Susan's face. No holding back — big eyes, big color, big hair, big and Milky! Susan was nervous. And rightly so — who the hell are we? And who the hell is this drag queen who wants to give her a glitter moustache? After a lot of back and forth, we settled on a look. In the end, it was exactly what we needed: sophisticated, smart, and a little subversive.
We asked Dan to write a few words about the transformation. If you want to read that then you should buy the issue (sorry for the tease) but we thought we'd share some of the images of Dan that we couldn't fit in the magazine. Enjoy them below!
For more about this story, click here to get a copy of the magazine…
…

Performance:

JACK FERVER & MARC SWANSON'S CHAMBRE

This is the must fun you'll have seeing a performance at least this fall 2015. I am serious, I want to go see this again! It's outrageous, it's cunt, it's madness (but the good kind of madness) it's what me and my friends like to call "nuts and bananas."  Co-presented with the French Institute Alliance Française (FIAF) as part of the Crossing the Line Festival 2015 and the New Museum R&D Season: PERSONA The writer, choreographer and director Jack Ferver, and American visual artist Marc Swanson take Jean Genet's The Maids "as a point of departure for a farcical and haunting attack on our culture of celebrity and greed. Ferver refracts Genet through many lenses, including the gruesome facts of the real-life murders that inspired The Maids; Lady Gaga's infamous courtroom deposition speech; role-play; and a manic fantasy escape to the City of Lights." The show is performed by the super talented Jack and he's joined by Jacob Slominski and Michelle Mola while surrounded by Swanson's sculptures — "on view as an installation during museum hours — they function as both freestanding artworks and a theatrical set that asks not how such a violent thing could have happened, but why things like this don't happen more often." The meticulous performance art piece contains dance, acting, screams, amazing chic fashion and the sort of crazy that we at GAYLETTER are really into. It will work your last nerve. —abi
Super gay Grandma's vintage china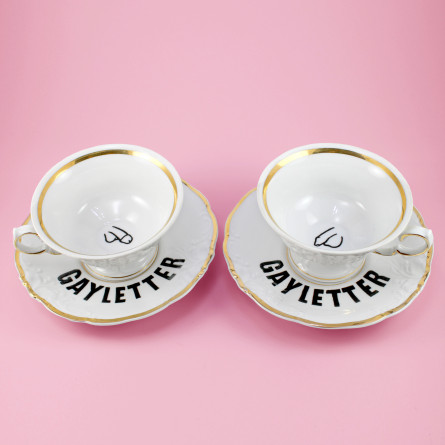 The Toronto based artists Andy Walker and Kris Aaron have an obsession with vintage ceramics and are particularly drawn to the florals and elaborate designs that they found on antique china. While creating one of a kind, hand-painted pieces, they developed a campy, graphic and fun sensibility that got our attention, Pansy Ass Ceramics — paints erotic drawings on traditional china. "We travel around Toronto collecting pieces to paint on that fit within the aesthetic we like, then we do designs based on the shape and decoration of the piece…"
Andy told me more about it during our Facebook chat: "The idea plays with decorative/commemorative plates, and we make them sexy, campy and gay…My partner Kris and I do the drawings and we choose images that turn us on, and try to make interesting contrasts with the original design of the piece." They usually paint on ceramic they find, mostly bone china and 50s-60s Japanese ceramic figurines. However, they are working on producing their own pieces from scratch in the coming months. They also take custom orders as long as it fits with their brand. They are super busy at the moment producing new work for our online store and other collaborations that we will see soon.
Check out our custom GAYLETTER tea set, we are obsessed!
…

Film:

DON'T GO SEE STONEWALL

We're not trying to jump on the bandwagon for the sake of jumping on the bandwagon, but sometimes that bandwagon is full for a reason. As you may of heard, Roland Emmerich, the director of such classics as The Day After Tomorrow and Independence Day has turned his attention to the genesis of the modern day gay rights movement — the riot at the Stonewall Inn in downtown NYC that took place in the early morning hours of June 28, 1969. Unfortunately he has completely re-written the history of that event in an apparent attempt to get white straight people to watch his movie. Instead of focusing the story on the trans women of color (who actually started the riot) he has instead decided to revolve the film around a white boy from middle America, a poverty tourist, who at the end of the film heads uptown to start school at Columbia University. Is it 2015 or 1985? The reaction to this movie has been swift, and vicious. And rightly so. When members of our own community are so out of touch they think it's totally cool to whitewash our history to sell movie tickets, there's something terribly wrong. So whatever you do, please don't buy a ticket to this movie, if you must watch it (for the sheer angry thrill of it) find a way to do so without putting money into the pockets of the director and studio that released this trash. —tom
Nowhere, never, no price, not today Jesus, no thanks.
Event:

Fashion Underground: The World of Susanne Bartsch

If I was asked to describe Susanne Bartsch in one word it would be "enduring." The woman has been on the New York nightlife scene longer than I've been alive. And she is still killing it. If this show (featuring 100's of her outfits from the 1980's to today) is anything to go by Susanne Bartsch has a wardrobe the size of the World Trade Center, and nothing in there is remotely boring. The show's curator Valerie Steele had this to say about Susanne's closet to the website Racked: "In the 80s and early 90s, there was a lot of this kind of excess of fashion, but it sort of disappeared. But Susanne is still waving the freak flag for that sort of thing, and I think a lot of people miss that...It's a nice moment to remind people that there's other aspects of fashion." Yesss honey, it's time the kids of NYC stepped up their game. Life's too short to be dressed in all black, find some feathers and a bejeweled corset and a lime green alien jumpsuit and have some fun. It's fashion, not brain surgery. Fashion Underground is on now until Dec 5th at FIT. Don't miss it darrrrrrling! —tom
An intro to rope play with leather lifestyle top Yin Q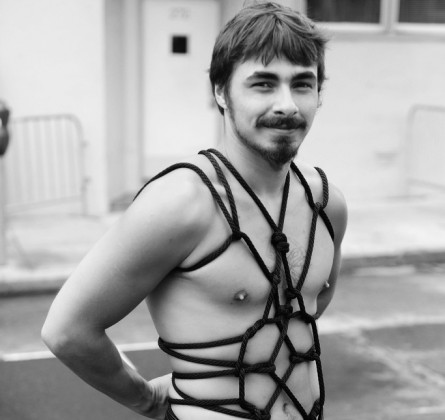 Just last week a man without a Grindr photo asked if he could tie me up — by the ankles, specifically — and have his way with me, more or less. To his disappointment, I politely replied, "No, I have homework." (#backtoschoolbondage?) He dropped a "K" and went on his way to find another, more available guy. Still, his question lingered with me. I couldn't help but think, under what I believe to be the correct circumstances (more on this later) would I be willing to be roped up? As of late, I think my answer is yes. There is a curiosity there. A year ago? Most definitely no. But I'm a growing boy and luckily for all you on-the-fencers like myself, Yin Q is offering a great place to begin your own rope play journey.
"Rope Bondage 101 with Yin Q is an introductory, hands-on workshop for novices who are interested in learning the basic ties of rope bondage. Participants in this class will learn basic rope safety, practice wrist and ankle ties, and view a demonstration of more elaborate torso harnesses." Couples are welcomed, as are individual parties. This could be the start of a kick-ass relationship so please don't let your solitude stop you. "Everyone is encouraged to tie and be tied, so please be willing to play both roles with your workshop partner!" You will not be nude so dress comfortably — think yoga, but with different kinds of tools to use outside the studio. …

Party:

Metro Tek – Let's Dance

My friend Frederic stopped by the NYABF last weekend and reminded me that this monthly downtown Brooklyn dance party is back! If you haven't been you should check it out, the party has gotten a great response so far. Metro Tek takes place in the backroom of a bar called Harry O's that "caters to office workers during the week — in fact, it's usually closed on Saturdays, but we convinced the owner to open up for us." Expect fog and lasers, (so you should probably bring your friend Molly — she loves going out all year around.) It's Hosted by Danny Kaplan and Jacob Robichaux, with music by Pete Madden & Tad Haes. "For this event, we're joining forces with Jacob Robichaux and Danny Kaplan in order to introduce some new folks to our little gem of a dance party. If it's anything like our last one, things could get...uh, lively." I like the sound of that. If you are in NYC this weekend and want to avoid the Pope crowd don't waste your time going to any uptown parties...People and cops are all over the place waiting for the old man, it's nuts. Stay downtown and in BK. Trust! —abi
A short film by Slava Mogutin featuring Bruce LaBruce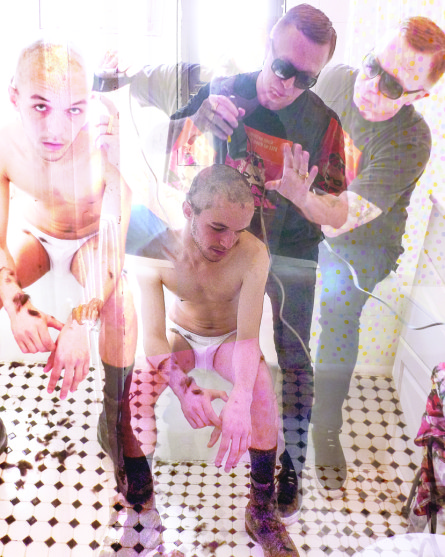 Bruce LaBruce is many things, but shy is not one of them. The incendiary filmmaker — and GAYLETTER Issue 3 subject — has made a career out of putting all of himself out there, from his unwavering politics to the skin of his own ass. It's the reason why his career has endured for over twenty years, starting out in the queercore scene in Toronto and stretching all the way to his film retrospective at MoMA earlier this year. He is queer transgression personified, a critical lightning rod known just as much for his exceptional arthouse cinema as for his exceptional hardcore porn.
This past spring, we caught up with LaBruce following his MoMA retrospective for a chat about his life and career, as well as a photoshoot with Slava Mogutin and a squad of boys. One thing led to another (par for the course when you put two queer legends, handsome boys, and a few bottles of rosé in the same room), and the pair of artists decided to make a music video in Slava's bathroom. It's a quaint short film of LaBruce, really, set to an outré cover of "Moon River" performed by the man of the hour himself. It is also one that may appeal to that watersports fetish you don't tell anyone about. Who knows!
Check out the full, uncut NSFW film below:
…

Event:

An Evening With the Creators of 'Serial'

OK, I'm aware that this is about the whitest event we could possible promote (white girls smiling - pictured), but this letter was created to highlight the things we are interested in, and along with pretty much every other fucking person in New York, I was obsessed with the Serial podcast. If this highly addictive podcast, about the murder of a young woman in 1998, also left you with as many lingering questions as it did me then this Friday is your opportunity to ask the podcast's creators, Sarah Koenig and Julie Snyder, all of them. But get in line, cos there's no one I know who listened to Serial in its entirety who doesn't have a couple 100 questions about the case they desperately need to be answered! I checked and their are tickets left, but I could only see about 30 — so grab them before they go. This is sure to be a fascinating evening...with hopefully a satisfying ending that none of us saw coming! —tom
The Dauphine of Bushwick X Wise Men: Music by Gerry Visco and JX Cannon! Hosted by Ryan Lobo, SocialDucky, and Arantxa Araujo
Event:

Vogue panel with Elegance for Visual AIDS

When Elegance Bratton visited us this weekend at our booth at the NY Art Book Fair at MoMA PS1 and told us he was speaking on a Vogue panel, my first thought was that's cool, Anna Wintour is getting behind underground artists and filmmakers. However it's not a "Vogue magazine" panel but a "Vogue ball" panel. Which honestly is more our style. "The discussion features artists Luna Luis Ortiz, Milton Ninja Garcia, Kia LaBeija and Elegance Bratton, moderated by Martez Smith, discussing the development of their creative practice as well as the ball scene as a context for a range of activist pursuits with regards to HIV/AIDS." As you probably know we throw a Pride Ball each year, so are intimately aware of how vibrant, talented and brilliant the current houses are. The ball scene was created in NYC but it's influence can be found in art, music and culture the world over. One example that comes to mind is FKA Twigs, who unlike Madonna — who coopted the scene for her own fame and financial gain without giving proper credit — has gone to great lengths to celebrate the performers who keep the community alive. I'm sure this and many other topics will come up. Elegance isn't afraid to speak his mind and we love him for it! —tom