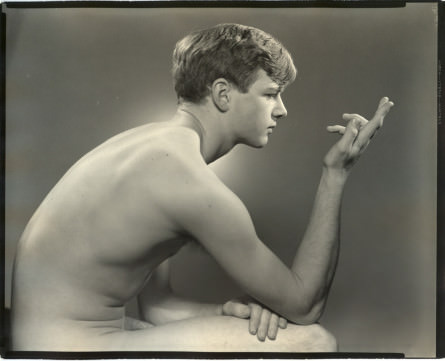 Before Robert Mapplethorpe there was George Platt Lynes. Born in East Orange, New Jersey Lynes quickly became recognized as one of the most revolutionary photographers of the early 20th century. Despite contributing to renown publications such as Vogue and Bazaar, he is primarily known for his photographs of male nudes.  Characterized by their homoerotic quality and formal beauty, these photographs are truly stunning and captivating.
Lucky for you the The Leslie-Lohman Museum of Gay and Lesbian Art will be hosting an event tonight, November 18, celebrating Lynes' work. Allen Ellenzweig, author of The Homoerotic Photograph, will be leading a presentation about the incredible life and times of George Platt Lynes. You will get a chance to see several of the amazing photographs taken by the artist, including his images for the New York City Ballet and his Surrealism inspired images, while also listening to a brilliant commentary about the artist's work as a whole.
FREE, 6:00PM-8:00PM, Leslie-Lohman Museum of Gay and Lesbian Art, 26 Wooster St. NY, NY.
…

Party:

CAKES – UNOFFICIAL GLAMMYS AFTERPARTY

I probably should know what the Glammys are, but I don't! Never heard of them. Turns out they are a both the Glamour Magazine Beauty Products Awards as well as The 17th Annual Glam Awards hosted by Bianca Del Rio (pictured), celebrating "the best of NYC Nightlife." I'm assuming this event, which is the unofficial after-party for the awards, is tied to the latter. It's all happening at Metropolitan Bar. "Spread sprinkles with us as we give shows and a special DJ set by Big Dipper!!!" There's also a "Dance off Pants Off" contest with a first prize of $50 and 2nd prize of $20 bar tab. I guess the Glammys people aren't interested in being featured in GAYLETTER as we've never received an invite to the event. Weird. Maybe Abi or I unknowingly pissed of one of the organizers (bad sexual encounter, we didn't let them into one of our parties…) who knows. I love Bianca Del Rio so would show up for her, but honestly I'd rather save the $20 it costs for a ticket and just go to the after-party. That's where the real action happens! —tom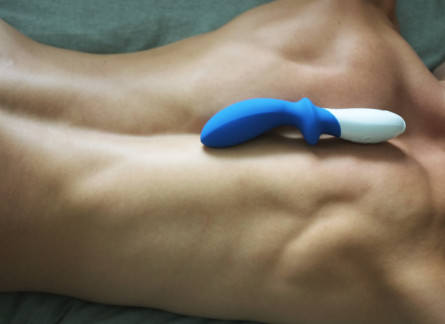 I'm back on my back.
If you read my last review you understand that the Lelo experience begins far before you slowly work your toy inside yourself. Today we're getting to know LOKI. Like HUGO, his box is similarly lux: textured, embossed, and neatly organized. Loki is simple, 6 inches of velvety silicone curving forward to hum, buzz and frenzy on and around your prostate. Or rather, My prostate. Yes, once again, I'm writing with Loki inside me. 
To be perfectly honest, it took a second to slip him in — he's girthy and doesn't have the same give as the shaft I'm used to. But since passing my gentle point of departure, things are steadily increasing. I'd suggest taking your time. This thing has so many settings I'm not sure if I can keep track. His range of vibration is on point — the lowest setting allowing me to rock gently back and fourth, the highest clenching me firmly around his base. I'm hovering slightly above medium and ready to type with one hand.
He starts in a familiar place, vibrating steadily to the rhythm of my thrust. I wouldn't say I'm riding him, but rather massaging myself — exploring in and around more than in and out. Working my way through the first four settings, I'm not too surprised at what I've found: A high-frequency vibration switches between constant humming, short bursts, and mounting intensity with a bump at every peak. I can feel my teeth grit as I'm trying to split my concentration between word choice and the rotation of my wrist. …

Event:

Queer Brooklyn Clothing Swap

Some friends of mine tried to have a pre-fall party way before the Fall season came, but after all the planning and talking about it, we never really got to it. Maybe for the next season… This brings me to this event that Tom pointed out to me, Queer Brooklyn Clothing Swap. A clothing swap! Perfect! I am gonna be honest with you I don't know the people behind this event, but it says queer and we are in the same city. According to their Facebook page the folks organizing this have "a lot of clothing we don't wear anymore. We think there might be other folks in this same predicament. How about we swap clothing?" Yeah exactly, that's a great idea. Here's  how it works, "free entry with (clean) clothes to swap or a light refreshment (we will never say no to food). $5 suggested donation otherwise. No one turned away for lack of funds. All leftover clothing will be donated to an LGBTQ organization (any recommendations are welcomed!)."  Basically if you can't find things to swap it's a great way for you to donate your clothes to a LGBT organization. This event is at someone's home, so it's gonna feel a bit weird at first, but then once you say hello and swap some clothes, drink some alcohol and eat some snacks I think it should be just fine. These people seem chill. —abi
Event:

Revolting Grace and Execution

We've heard from a couple of people that this party is bananas. We like parties that are bananas — they're the ones people will be talking about when we're old. This Friday is your chance to get bananas with the latest edition of Grace and Execution. This monthly party is dedicated "to showcasing Queer performance and dance based work." The event provides "a platform for artists to examine queerness by exploring themes of gender, sexuality, androgyny, and the politics that surround them." You can expect "performance/movement based work by: Olga Dobrowolska, Tyler Ashley, Elayna Lopez, Gage Of The Boone, Shawn Escarciga (MISS LADY SALAD) and Leah Marie Beltran." Bring a good attitude and leave your privilege at home (I've always wanted to say that, lol), Have Fun! —tom
The Latest From The South African Performance Duo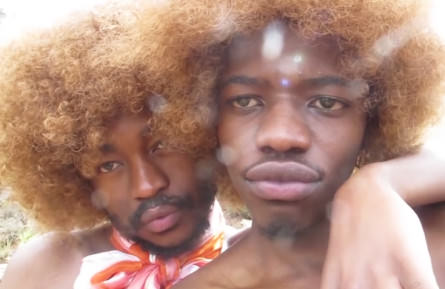 The purpose of any medium is to provide agency for a larger idea. In this technologic age, video and sound are (maybe) the most popular agents to further illustrate an artist's vision. FAKA is the brainchild of South African performance artists Thato Ramaisa (Fela Gucci) and Buyani Duma (Desire Marea). This week, they've shared a new music video titled From A Distance, which is an ode to Brenda Fassie's fierce rendition of Bette Midler's corny classic. Concentrating on the issues that surround the black queer body, FAKA says, "We wish to create a dialogue that transcends the bounds of queer activist rhetoric," and in doing so, From A Distance serves as what they call a "Gqom-Gospel lamentation for dick," and also what I am calling the next best thing.
"We regard this as an ongoing performance celebrating the third world aesthetics that often do not have the space to be validated on a large scale in contemporary creative culture. Even within the supposed progressive art world there is a classicism that excludes this demographic."
The performance, which is presented on Youtube, is described as FAKA in their truest form. "Living our complex existence in ways that transcend all the artifacts we adorn, distancing with no restrain and no apology. We feel that there is an exclusion of a certain demographic of valid voices and expressions due to lack of resources, specifically Black/African voices who could strongly contribute to the progression of global culture." FAKA says this video is their way of stepping into their place in the world, and so be it. …

Event:

MIX NYC 2015

This is the 28th Mix NYC — a queer experimental film festival. If you haven't been to any of the previous festivals then this is the year to atone for your sins. Tonight you have 3 options. First up is the documentary Peace of Mind which "documents the life of American artist, Flo McGarrell, prior to his untimely death in the earthquake that struck Haiti in January of 2010." Following that is The Fight For Home which documents the struggles for minorities to claim a home and features "Fierce drag queens" battling the Google/Twitter/Yahoo tech buses of San Francisco plus Black and Asian communities coming together in the struggle for racial justice in the aftermath of the LA Riots, Rodney King's beating, and Tian Sheng Yu's death. Finally there's The Hustle which the festival is giving little information about besides a gif of Marilyn Monroe strutting through a fancy restaurant and this quote attributed to Abraham Lincoln: "Things may come to those who wait, but only the things left by those who hustle." I'm intrigued! —tom
Event:

THE RENTBOY RAID IS EVERY DAY

The RentBoy.com raid was really stoopid. Prostitution should be legalized. If someone wants to sell their affection, and body, it should be no one else's business but their own, and in all seriousness, a site like Rentboy was a safe place for many of these workers to operate. "The Rentboy.com raid is the latest front in a state-sponsored war to criminalize the survival of people in the sex trades. Rentboy offered a safer way to work, screen clients and create community, now it no longer exists pushing those that advertised on Rentboy onto other online platforms and the street." This Wednesday get to the LGBT Center and start to "organize around the #RentboyRaid, police profiling and violence against people in the sex trades, and the Human Trafficking Intervention Courts, along with other issues of concern to people in the sex trades in New York City." It's an important cause, whether you work in the industry or not. Do it for Zola! —tom
A lecture by Gender Studies Guru Jane Ward in NYC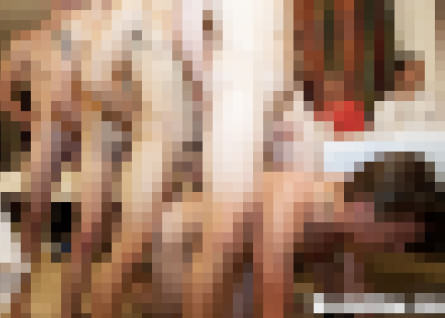 Jane Ward's book Not Gay: Sex Between Straight White Men has been around the literary circuit since early August, and been featured in such trusted sources as New York Magazine, Huffington Post, and of course GAYLETTER. The book largely focuses on sexual acts between white, straight men and examines how these acts "allow them to leverage whiteness and masculinity to authenticate their heterosexuality. By understanding their same-sex sexual practice as meaningless, accidental, or even necessary, straight white men can perform homosexual contact in heterosexual ways." I'm sure you're all dying to read it for obvious reasons. Who doesn't like an educational analysis that also serves as soft core porn?

Tonight, November 10th, The Center for the Study of Gender and Sexuality at NYU presents Haze Him! White Heteromasculinity, Anal Resilience, and the Erotic Spectacle of Repulsion. The talk, by Ward, "examines the function and effects of homosexual contact in the hazing rituals of the United States military. Juxtaposing documented military hazing rituals with scenes of hazing in the widely popular series of "reality" internet porn, HazeHim.com, Ward considers how male-male anal penetration has been framed as a practice of hetero-masculine resilience, one to be suffered with performative repulsion and endurance."
It sounds like a fantastic lecture to sit in on, and I'm sure it will be jam-packed with every kind of person imaginable. Be sure to brush up on your politically correct lingo, and leave your privilege at the door.

Eat:

Miscelánea Grocery

I love a Mexican sandwich, otherwise known as a torta (she's foreign!). They're often filled with the flavors and textures that get me excited — avocado, chorizo, hearty black beans, melty thick cotija cheese and some heat. At Miscelánea they do Mexican sandwiches REALLY well. This newish grocery store on 4th street in the East Village only serves their sandwiches between the inconvenient hours of 11:30am to 4:00pm, which means Saturday and Sunday are the only days I can get one, but it's worth waiting a week for these treats. Try the Huevo con Chorizo $9 it includes scrambled eggs, Mexican chorizo, refried beans, lettuce & crema fresca. If you're looking for a vegetarian option get the Queso Oaxaca $8, and if you want to get messy order the Chilaquiles Rojos o Verdes $4.75 which is "tortilla chips soaked in your choice of red or green salsa with avocado, refried beans, cream fresca, queso fresco, red onion & cilantro." "'Miscelánea' means deli in Mexico," owner Guillaume Guevara told New York Magazine recently. This means the store is also stocked with an assortment of Mexican candies, spices, salsas and home goods. They also do Mexican coffee, which is very sweet. Stick to the sandwiches! —tom
Event:

Tomorrow's Man 3 – Book Signing and Release

One of our contributors, Jeffrey, recently wrote about Jack Pierson's Tomorrow's Man 3 book for our site "this hybrid book-zine-porno-photo-anthology continues to Let You Know. This edition layers the works of four distinct artists, Pierson, Peter Fend, Richard Tinker and Veralyn Behenna, to create a surprising narrative about the male figure, environmental justice, and the collision of graphic collage with organic form." The book series Tomorrow's Man is published under Bywater Bros. Editions. "Pierson's full color photographs are, as always, delicious. Shot in a range of naturally lit (often tropical) environments, he explores the male body with a playful precision that reveals without overwhelming — tastes without gorging." This launch event is taking place at the newly opened Printed Matter (that new location is sexy). Aside from the 4 different covers they'll have a special hardcover edition of 75 which includes an original signed and numbered photo by Jack Pierson. All the proceeds will benefit the Fire Island Artist Residency and Printed Matter's relocation. We've been saying this for a while now, events at Printed Matter are the perfect place to meet your next date. The crowd is always cute, and cunt! —abi
Art:

The Impermissible – Drawings from the Norman Shapiro Collection

Two weeks ago I took our GAYLETTER boys (we call the assistants or interns or anyone who helps us make GAYLETTER possible) for an art walk around west Chelsea. Before we headed to the galleries we went to the LGBT Center on 13st. to drop off some GAYLETTER magazines at the BGSQD bookstore. On the same floor we went into the Keith Haring bathroom, which if you haven't been to, or taken a selfie in, then you are wasting your time in NYC. Some guy asked me the other day "where was that snapchat you posted with Keith Haring all over the wall?..." and I went nuts on him, telling him it was mandatory to visit if you are queer and live in NYC, but you know, I do this newsletter, so sometimes I just assume everyone is into queer art and history. Later, we headed up to the 4th floor and right across from the elevator we saw a small collection of drawings "reproduced from the Norman Shapiro Collection, exploring the question of what is appropriate to express in art and in public as it relates to our sexuality, our shibboleths and our taboos." These erotic drawings were amazing! Colorful, clever, bold and fun — make sure you spend some time reading the text — you'll love it. The GAYLETTER boys gagged! —abi