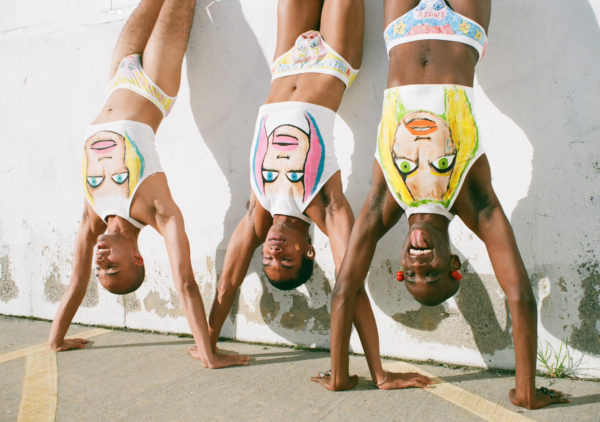 PHOTOGRAPHY BY CHELSY MITCHELL
Patrick Church's Collection
A tongue and cheek body of work is the latest from the British multimedia artist
Painted leather, a reinterpreted wedding gown, the graphic-tee, flamboyant and hot pink faux-fur — none of these are new ideas in fashion, but artist Patrick Church, with his youthful take on both ideas of illustrious fashion and garment revitalization, make these ever-present tropes in ready-to-wear feel progressive, not overwatered.
Church is a British multimedia artist whose "bold and playful looks" are a part of a collection that are 130 hand painted pieces, including briefs, blue jeans, leather and a wild pair of original Vetements + Manolo boots. The collection is Church's first total body of work. Launching online last month, the assortment of garments are rich in commercial value but quite frankly just full of joy.
To say a bit more about the collection's bold and playful identity, "bursting with color and character, each piece is entirely unique. Aspects of the human form are heightened with an infectious sense of fun and humor." Modeled by three fresh faces that are also bold, playful and totally yummy, "each piece has its own serendipitous tale to tell." And something tells me these models do too.
Perhaps the briefs are best worn at a summer party, or Sunday in bed with whoever you're fornicating with on the Sabbath. The wedding gown is good for a first date; it doesn't say too much though offers a sense of "I'm down for anything." What would be your best bet is to begin with the t-shirt or leather, they are subtle enough to break necks on the Bowery and every fashionable street in between.
Because fashion can often be too face value, I sent Church some questions about the collection to see if he could speak a bit more on this vibrant debut.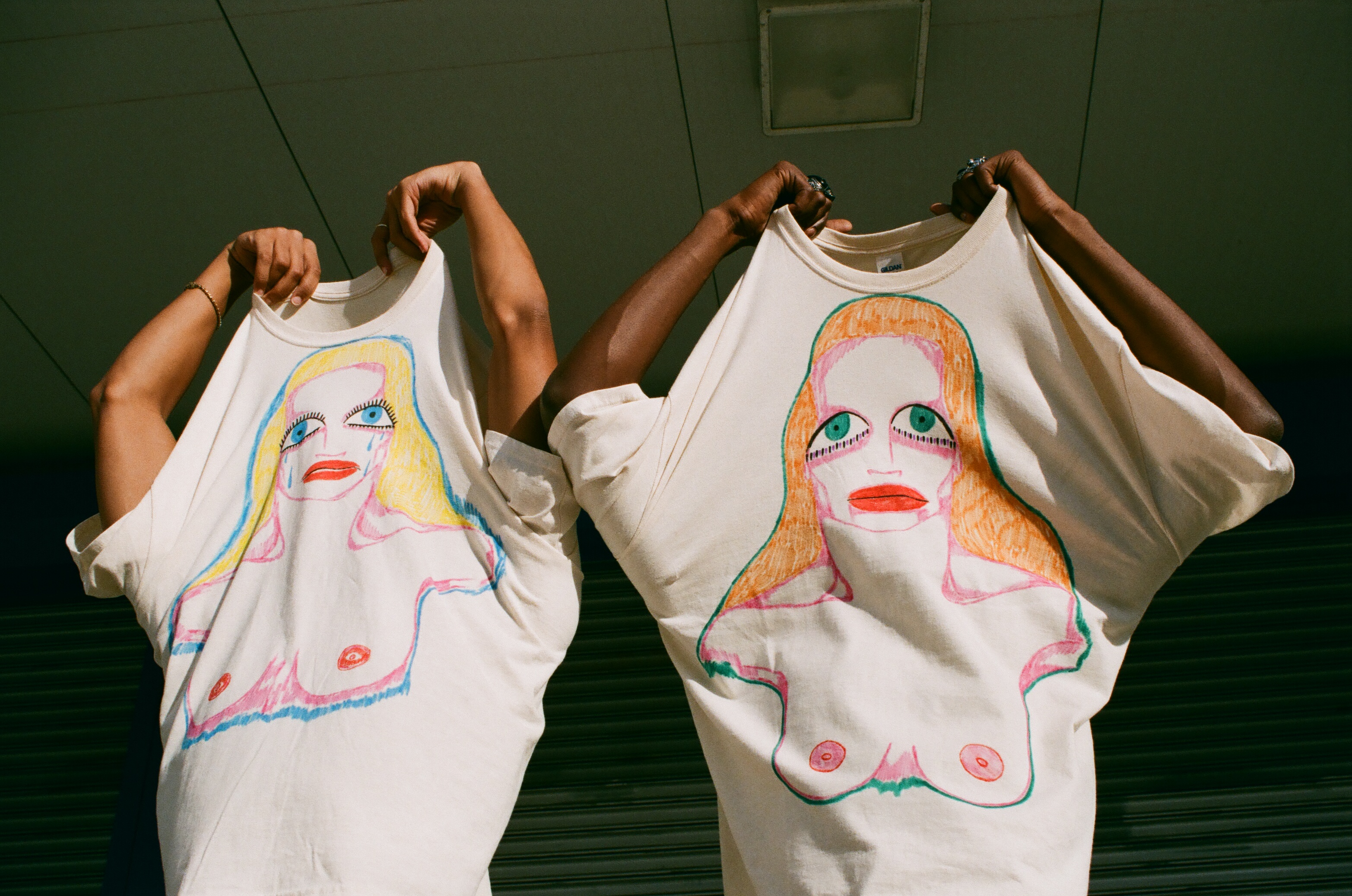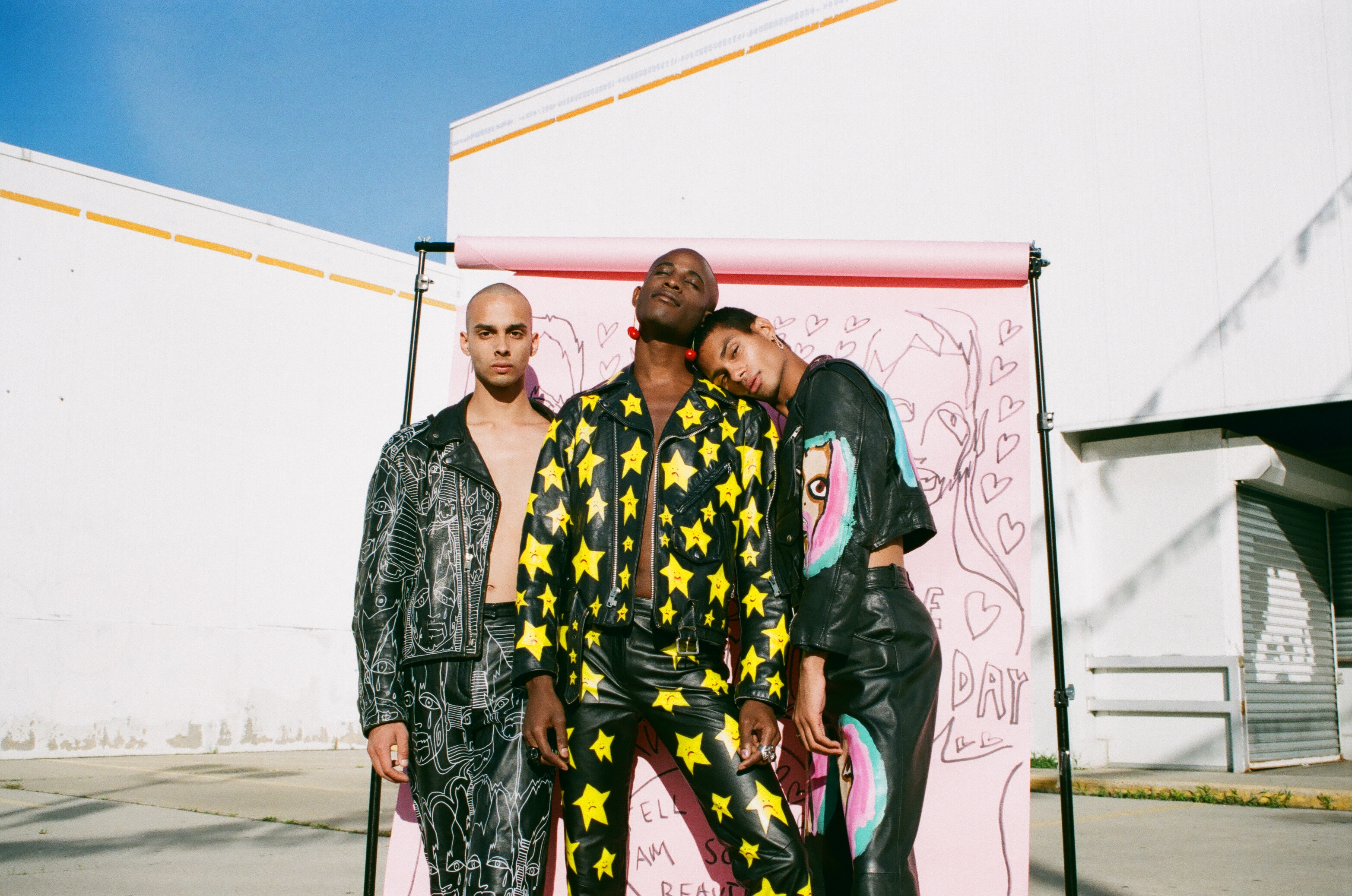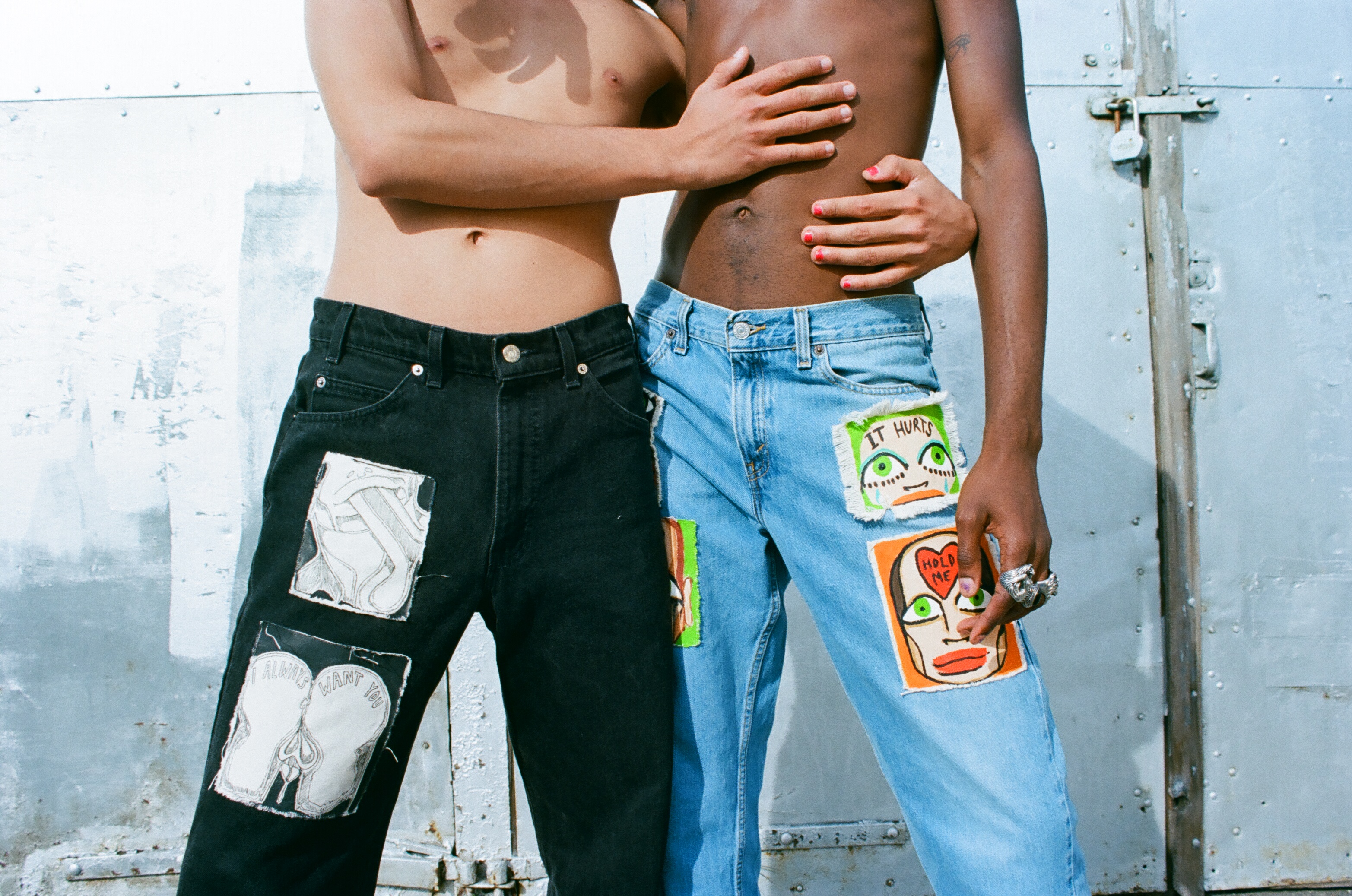 Attitudes seem to play an important part to your clothes — do you design with attitudes in mind or do the clothes eventually take on a life of their own? I don't really create with other people in mind, I make pieces that I relate too and that I love or would want, I feel that then they start to speak their own language. I always have a strong idea of what I want and I always find how other people perceive my work very interesting.
Can you tell us about the first piece you made for the collection? The week I moved to New York I started painting all of my husbands vintage white t-shirts, they were really soft and worn in and I like how romantic and intimate this process felt, it didn't just feel like a t-shirt, it felt like it had a story behind it.
What was the inspiration behind the text that's incorporated into the clothes? Text has always been a major part of my work, I've always been drawn to the juxtaposition of placing quite a superficial portrait with confessional and intimate writing, it gives it context and depth, I always want to have a narrative within my work.
The 1970s are constantly in and out of trends across fashion, art and society — using leather, a vintage wedding dress and classic denim, how has the 70s influenced your work? There is a nostalgia to clothing from the 70's, a social awareness greater than the clothing itself. Leather, this empowering expression of masculinity reimagined as an expression of sexuality without self imposed limitations. A virginal dress advertising what lies underneath. When using original vintage pieces, I think it's important to allow them comment on the time that's passed.
Who are your design influences? I love seeing people that are almost caricatures of themselves because they are so over the top and a little ridiculous.
What are the benefits of reinterpreting fashion's older ideas? I don't consider myself to be a designer, I didn't start this collection to express how fashion influenced me. I just like the process of selecting clothing that speak to me. To breath life into something abandoned.
How can fashion and gender continue to modernize together? A consideration of gender is never on my mind when in the creative process, anyone should be able to wear whatever they want and its a designers responsibility not to impose gender.