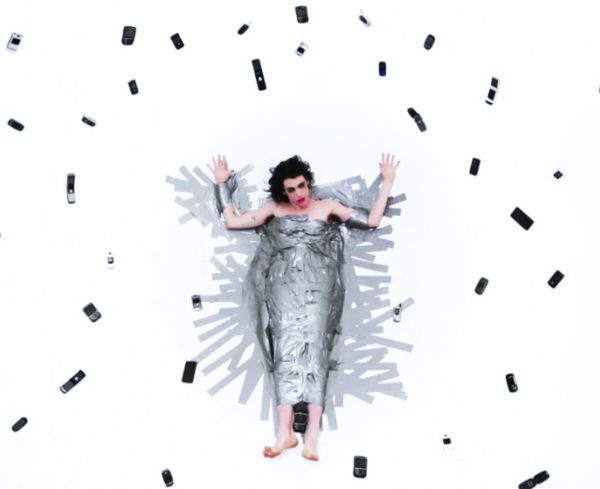 A still from the music video
PWR BTTM – 'Answer My Text'
PWR BTTM's got another millennial anthem under their belt
Much to the queer universe's delight, PWR BTTM released a new music video this morning! 'Answer My Text' sticks to the band's declarative and unapologetic ethos with the chorus' central lyric stating "answer my text, you dick!" (If that's not a mood, I don't know what is).
The single, which is off of their forthcoming sophomore album 'Pageant' follows the band's D.I.Y. formula of simplistic chord progressions matched with lyrics that are not only relatable to the band's variety of fans, but also do a bit more for listeners by revealing Liv Bruce and Ben Hopkin's own autobiographical struggles. The twosome have approached music-making with a pedestrian skill set, but their willingness to be vulnerable and vocal about queer identity has propelled them into intersectional crusaders.
Just last week I was retelling a friend about the first time I saw PWR BTTM. They were playing at Legion Bar in Brooklyn with Diet Cig who were also newcomers on the scene. I don't even remember when their set started, and I didn't even know who they were really, but their now notorious banter blew my mind. I had never seen two people be so obviously queer on stage at a D.I.Y. show.
It's been a pleasure to watch them grow into globally recognized musicians, and 'Answer My Text' is another addition to PWR BTTM's radical image making. Bruce is as darling as ever in a bubblegum pink bedroom, and they are even more intriguing with neon-blue lipstick paired with a pink gown. Are these gender references? Maybe, but the band's existence is so important to younger queer people, so regardless of what I read into their work I just hope they don't stop making it.