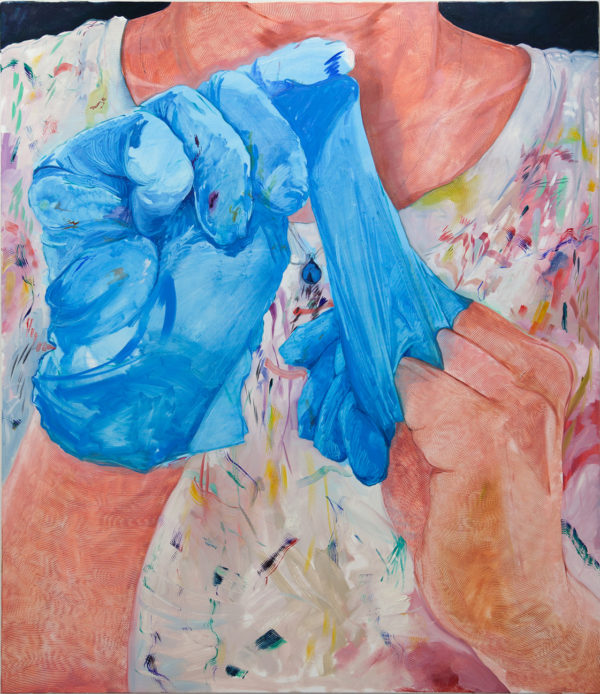 "Time for a Break," (2019) by Rebecca Ness
Rebecca Ness – Twice Over – 1969 Gallery
In keeping with the current movement of painters queering the genre of portrait painting, 1969 Gallery in the Lower East Side presents Twice Over, a solo exhibition featuring the work of Rebecca Ness. Having completed a graduate degree in painting and printmaking from Yale of School of Art this year, Ness is adept at both articulating the human body and developing conceptual motifs. While the work has an academic rigor, it also has an effortless quality as it captures scenes of comfortable domesticity. The subjects of her paintings often demonstrate the power of relationships and the dynamic of micro versus macro, the smaller parts constituting the larger whole.
"Closet" (2019) shows a figure standing with their hands on their hips, their head cropped out of the frame. A mirror reflects the colorful interior of the closet, the racks of clothing forming a varicolored rainbow. The figure appears in motion as they try on a leafy green and white bottom to match a red, checkered sweater. The phenomena of mirroring in this work may serve as metaphor for the queer couple, building their own identities loosely and in relationship to each other, one of Ness' overarching themes. Often, lovers wear each other's clothing, borrowing from their companion's wardrobe, adopting and imparting their sense of style. This may be particularly more common in couples that share the same gender. In other paintings, like "Sunday" (2019) and "Kiss" (2019), the artist and her partner are shown anonymously, their heads cropped out in focused compositions of bodies wearing colorful clothing and sneakers. We're left to wonder: who is who? Or maybe partners in an intimate relationship are two parts of the same thing.
Ness maintains a painterly approach throughout her work. The marks of her brushes vary, elaborating patterns and textures to demonstrate her dexterity and ingenuity. The rough surface of denim is rendered by a scraping technique, and a sgraffito method of scratched line-making expresses the contours of skin. Each painting is a composite of deep shades, jewel tones, and bright neons. Feet are often a focal point, shown bare or in multicolored sneakers, and similarly, hands are displayed in a functional sense, worn by the process of painting or posing to tie a shoe.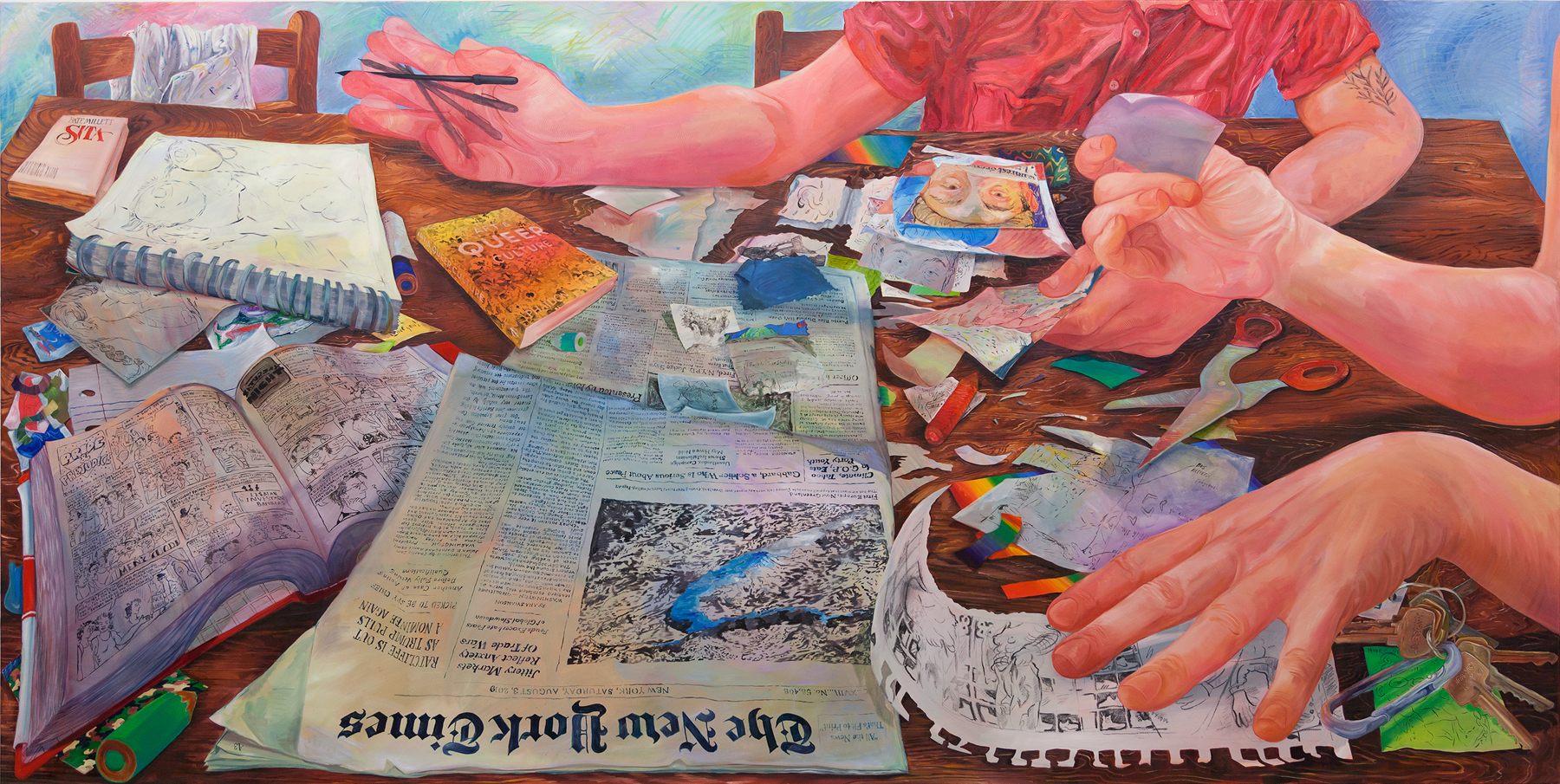 "Origins," (2019).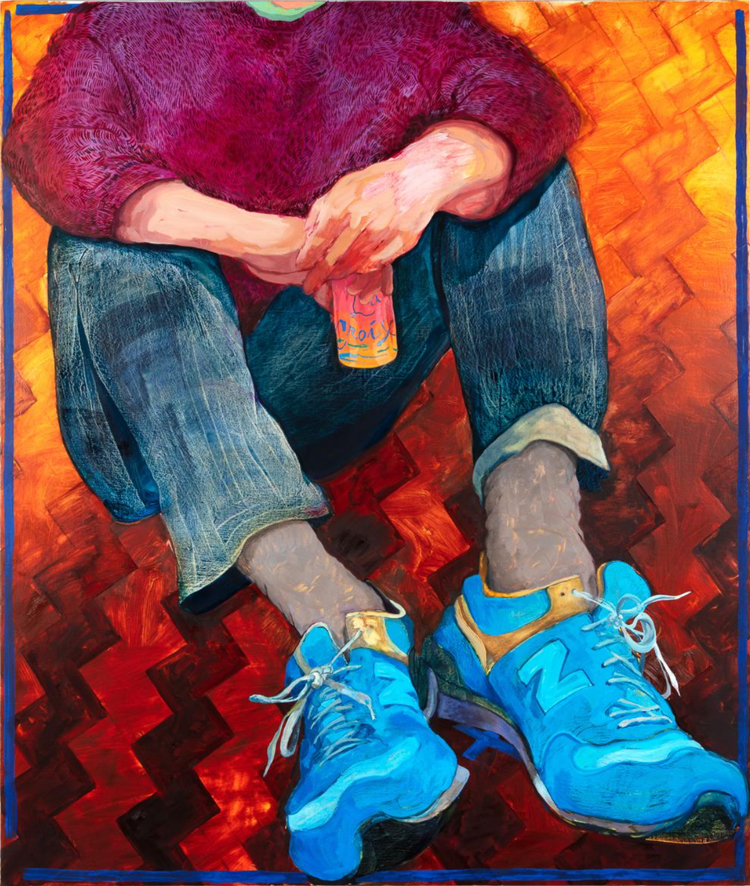 "Tom on a wood floor," (2019).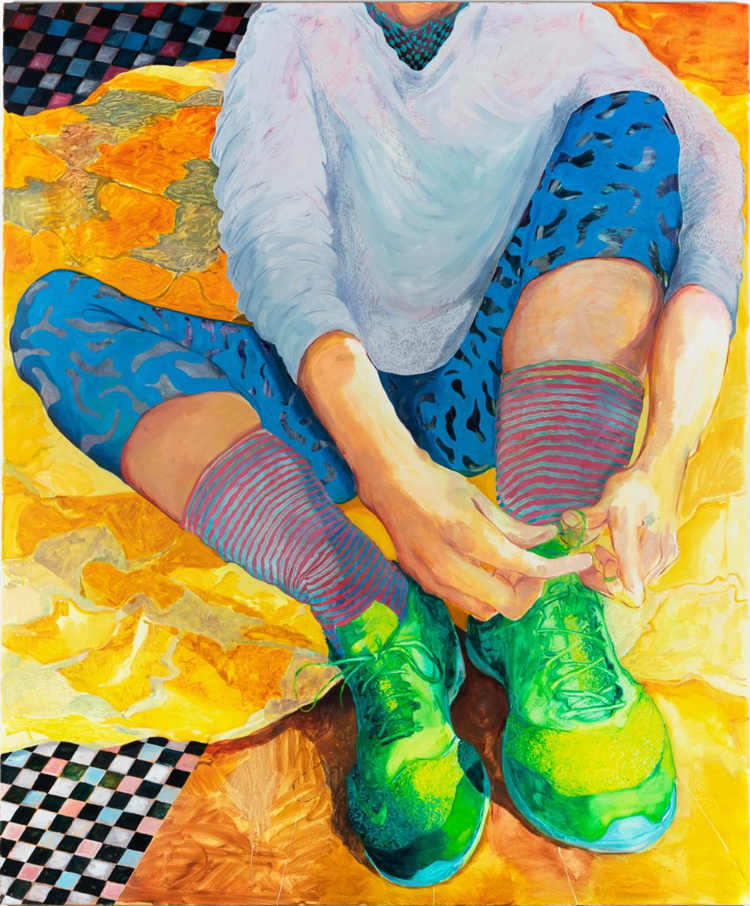 "Shoe Tier," (2019).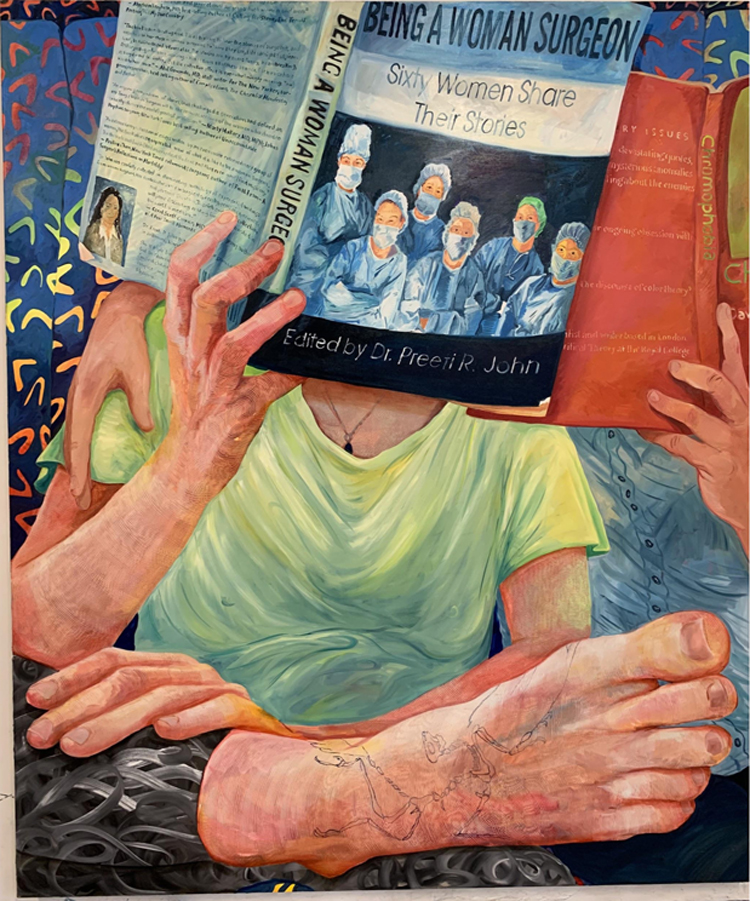 "Bus Reading," (2019).
"Bus Reading" (2019) and "Reading the Globe on the Red Line," (2019) show people reading while they travel. Ness articulates the seats on charter buses in brilliant colors, translating their tacky patterns into a fine art context. Life becomes art as they consume Being A Woman Surgeon, Chromophobia, or The Boston Sunday Globe. These works remind us that we are all advocates, reading stories in books and in newspapers, developing our ideas according to the ideas of others. "April 19, 2019" (2019) goes a step further, displaying a headline from the New York Times about Donald Trump's presidency. An archival printing process is used to pull an image directly from the newspaper onto the canvas, an explicit and undistorted reality, affecting American everyday life.
"Origins" (2019) also includes an issue of the New York Times, this time placed on a wooden table, along with other books and everyday objects: keys, tape, scissors, pencils, pens, paper scraps, and sketchbooks. Two people's hands are shown sorting through the messy workspace, making sense of the table's content as they move. The small parts are ready to be considered, reorganized, and collaged into a larger work. In the basement of 1969 Gallery, viewers are able to see a real-life version of Ness' studio table. A flat shadow box frame downstairs features an array of small paintings on paper and sketches, splayed out as if across a table in a working environment, to inspire or inform the painting process. Several of the smaller works on the table are in a slightly different style, dated 2016, and others are more obviously plans for larger works in the exhibition on the main floor of the gallery.
The exhibition shares its name with a self-portrait that graces the wall seen first when entering the gallery. "Twice Over" (2019) introduces Ness in a raincoat, pulling the front zipper up far enough to completely cover her mouth. Stylized raindrops fall in a slanted pattern across a close-up view of her face. The title points to a more subtle relationship — the figure in the painting stares back at the viewer, eyes examining eyes. The painting allows us to consider the intimacy of witnessing art, of experiencing and interacting with its subjects, feeling alone and accompanied at the same time.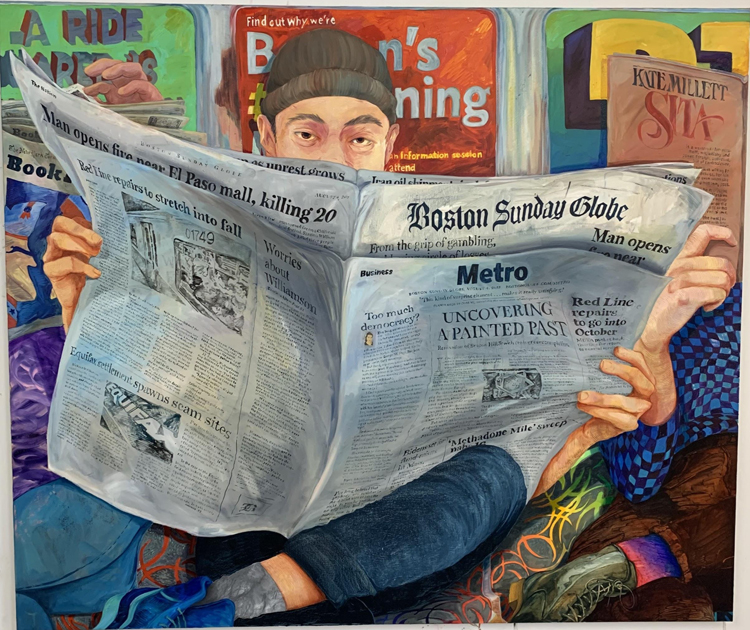 "Reading the Globe on the Red Line," (2019).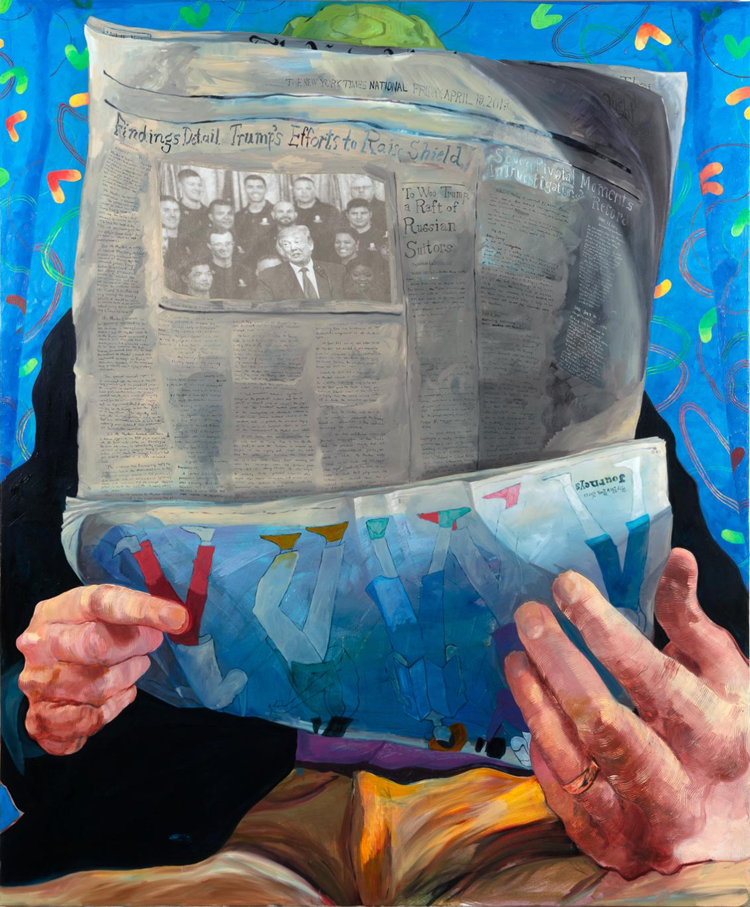 "April 19th, 2019" (2019).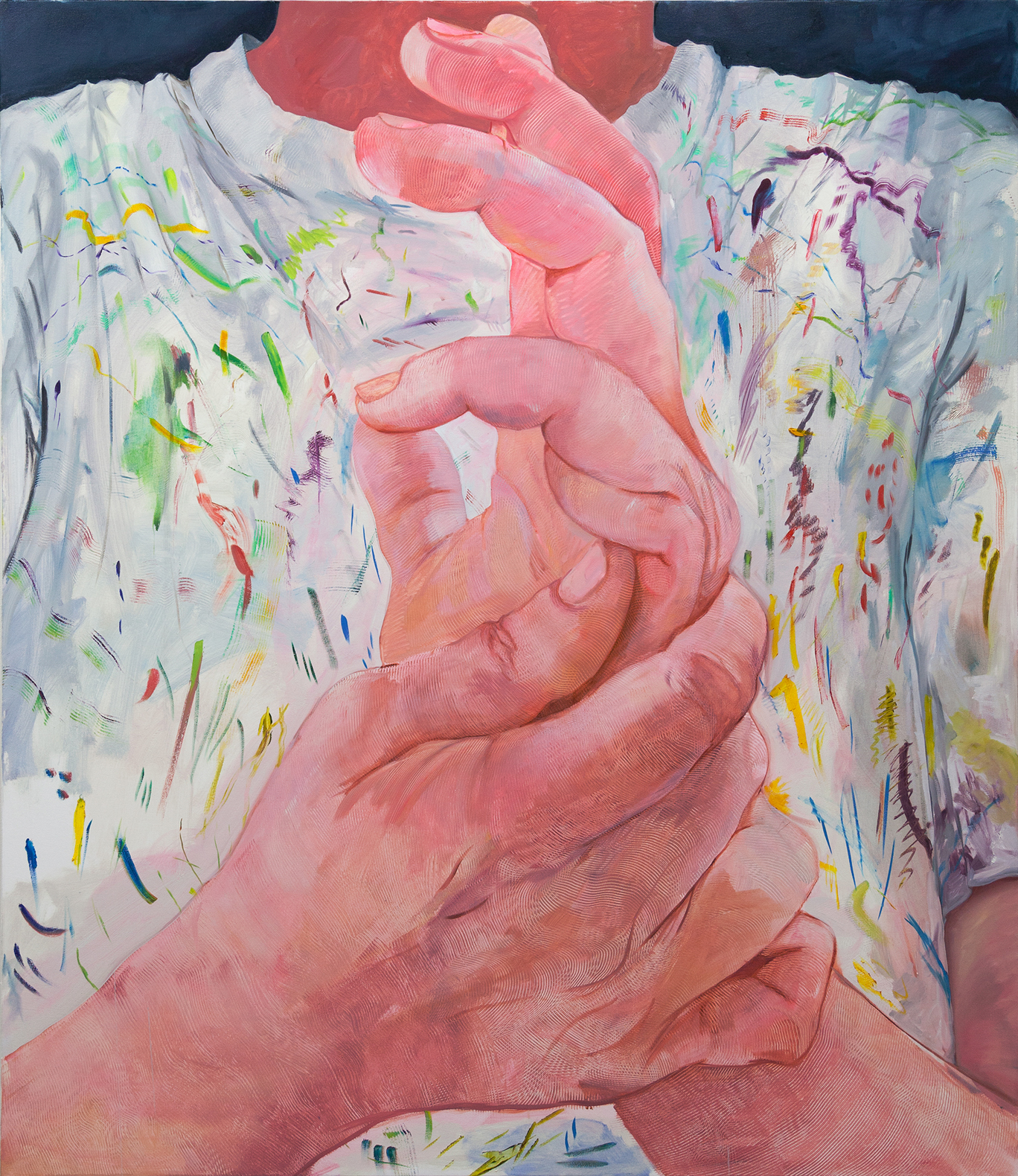 "Tired Hand," (2019).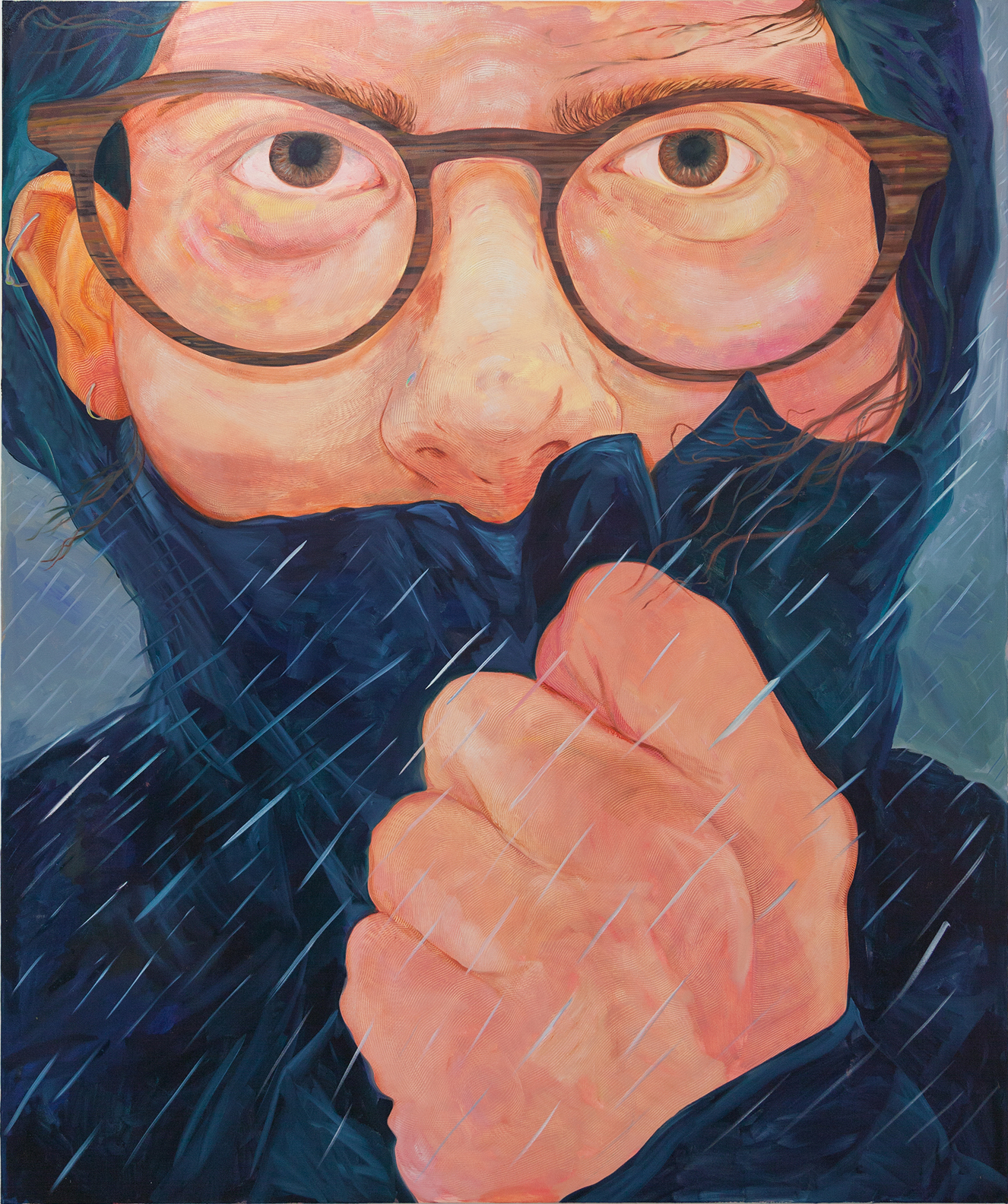 "Twice Over," (2019).
All images courtesy of 1969 Gallery.
The exhibition runs through October 27, 2019.