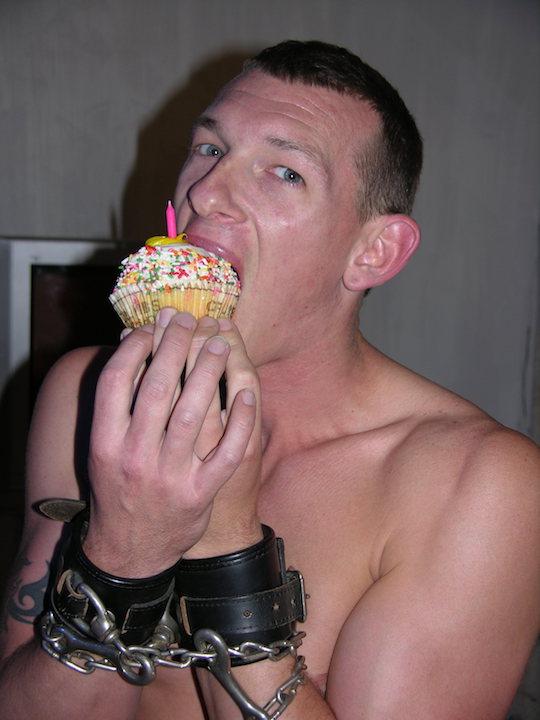 PHOTOGRAPHY BY RICK CASTRO
Rick Castro: Glory Hole
Special edition prints exclusively available on the Tom of Finland Store
Though his illustrious career has spanned more than 30 years and seen a mastery of multiple disciplines, Rick Castro hasn't become an inch less daring. In discussion of his latest online exhibition for the Tom of Finland Store, RICK CASTRO: GLORY HOLE, Castro exclaimed: "FUCK CENSORSHIP!" This online exhibition features a curated collection of outtakes from Castro's prolific career in kink photography — needless to say, his work is not in Instagram's good graces. Castro correctly understands the term 'fetish' to be broad. More or less consciously, our fetishistic desires extend past ball gags and rope and manifest through fixation on particular objects, clothes, and body parts. That's not to say that Castro's work ignores ball gags and rope; a quick glance at his exhibition will prove the contrary. Subjects in this collection include desert bikers, intimate BDSM scenes, outtakes from commissioned fashion shoots, and more. All photos featured in the exhibition will also be available exclusively through the Tom of Finland Store as signed, limited edition prints through the show's conclusion in September 2019.
In this particular exhibition, the subjects range from crouching, tanned, dirty blonde surfers whose jocks peek from their swim trunks, to ball gagged and hogtied muscle men on nondescript beds. Having famously documented Furry culture for MTV in 2001, it's perhaps unsurprising that animal regalia is a recurring theme throughout the exhibition as well. In one photo, a towering man wearing a gorilla costume fireman-carries a naked, jock-strapped man towards the viewer, ass first. Note: if you're planning on breaking into the Gorilla enclosure, be sure to wear more than just a jock strap — you mustn't tempt them. Several of the photos also feature muscle men wearing animal masks or faux antlers. Whether they're meant to allude to pagan ritual or take a stab at charming "horn-y" wordplay, we're here for it.
Though Castro's principal medium is photography, he began his career in fashion styling and costume design. As a designer, his client list included the likes of Bette Midler and David Bowie and featured magazines such as Interview, GQ, Vanity Fair, and Rolling Stone. Castro began to focus on his photography in 1988 and began to be featured in domestic and international exhibitions soon after. Over the course of the decades that followed, Castro photographed subjects varying from porn star Peter Berlin to the 14th Dalai Lama, and worked with Christian Dior Homme, Cartier Jewelry, and designer Rick Owens on fashion photography projects. His films are now archived by UCLA Legacy projects. His books and photographs are archived by the Tom of Finland Foundation as well as the Alfred Kinsey Institute.
An eclectic collection from a prolific, kinky, and adventurous career, this exhibition earns our approval. Unless you're at the office or a funeral, we expect you to view it straight away. Here.