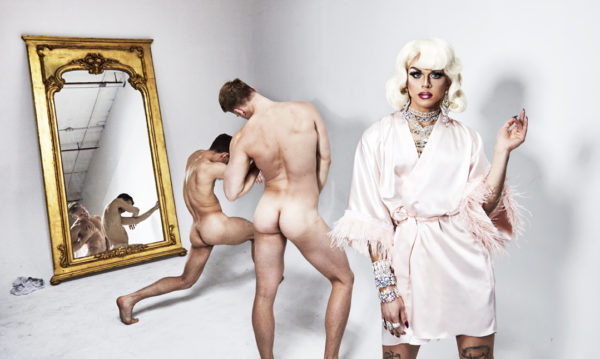 PHOTOGRAPHY BY FRED ATTENBOROUGH. STYLING BY HEATHER DUNPHY
RIFY AND HER BOYS
"Being tattooed and muscled in a dress is my drag."
Dame to Brooklyn and New York City nightlife, and soon to be even more known beyond her 24,000 Instagram followers, Rify Royalty has been bringing muscles, tattoos and, at one point a ubiquitous mustache, to club-nights and drag-cabarets for the last six years. "The mustache was a Rify staple," she told me over email, "but once people start expecting me to deliver a certain thing, I like to catch them off guard. For years people only knew me as the queen who wore a jock strap and heels, but now I'm in floor length gowns."
Rify's got some new images, out exclusively with GAYLETTER. She made them in collaboration with photographer Fred Attenborough and creative director Elvis Maynard, explore her more sophisticated, high-profile side. After all, Royalty is her name. Her performances are typically bold, and her looks operate within a sort of deconstruction-couture. It's D.I.Y. drag fashion for the crowd with a sense of humor and who isn't afraid of a loose hem. I've always seen her as rather rock and roll. "Being tattooed and muscled in a dress is my drag," Rify said. "There's no illusion here. I think queens should make choices that feel authentic to them. For me, not padding or trying to make my body appear more 'femme' is authentic to me."
Using David LaChapelle's famed image of pop culture femme-fatales — Donatella Versace, Lil Kim, Missy Elliot and Rose McGowan (who tells the hilarious story of Donatella fussing over her presence in the shot) — Rify, Attenborough and Maynard extracted themes of strength, timeless glamour and power to raise Rify into new heights. Oh, and those boys with the cute butts (Eric Berey and Logan Fletcher) helped too!
"We all have our own starlet persona that we may keep hidden, it doesn't fit how society sees us," Attenborough said. In these images, Rify, he said, gives us a glimpse of her many starlet personas, which will hopefully allow others to become more comfortable sharing theirs.