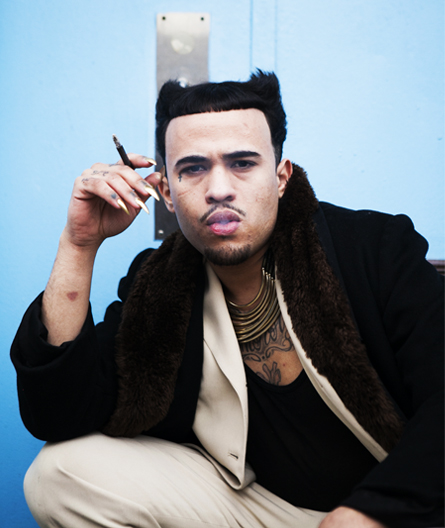 PHOTOGRAPHY BY CYLE SUESZ
RobotMoon Juice gives it to you
We first saw RobotMoon Juice perform in Brooklyn during the Δn1morphs (animal drag competition) party that we were guest judging. We were impressed by his stage presence, vocal talents and personal style. We were like — who is this boy? Where did he come from?
Recently we had a chance to chat with the rapper and artist about "looking mad cunt on top of mad trash," his music and his 70's inspired style. We sent photographer Cyle Suesz to Harlem to capture the artist in his neighborhood. Robot showed us how you twerk a photoshoot!
When did you come to New York? I came to New York when I was 12, my mom was already in New York so I had to fly to New York by myself—scary as fuck airports are too big.
Do you remember the first thing you did when you first arrived? I don't remember exactly what I did but I remember the first song I heard on the radio in the car driving to Harlem.
What was the song? Fuck I forgot that bitchz name, but its that disco song "…at first I was afraid I was petrified…" it's sad how I know every word to the song but I don't know who sings it—I think it's Donna Summers…
Did you speak english then? I did a little, but not very well. Because of my American cousins, they would come to Dominican Republic in the summer and Christmas.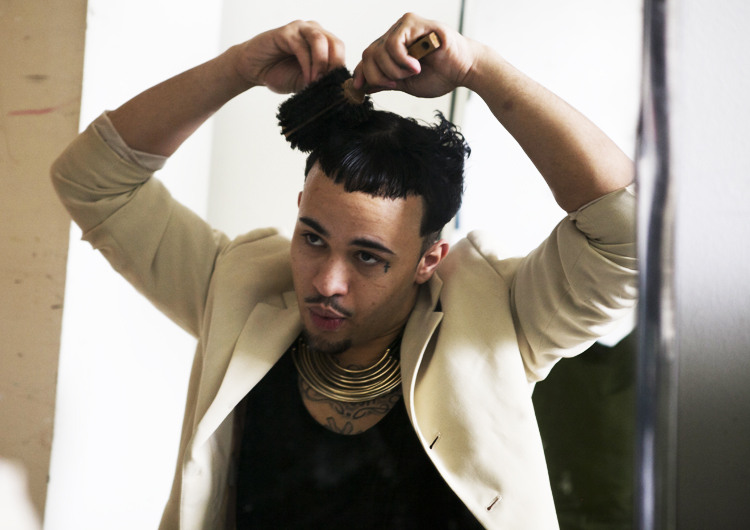 When did you start rapping? I started rapping in high school, I went to a performing arts school on the Upper East Side called Talent Unlimited High School and every friday all the hood boys would do their own little free style friday and one day I was walking by the table and one of the boys rapping tried to come for me while he was rapping. I got really mad and said fuck this I'm a get this nigga, so I just joined the cypher and ending up killing it. I had never rapped until that point. After I was so high off that experience I started doing it more and more.
How did you come up with your name RobotMoon Juice? Robot is a childhood nickname my grandmother gave me because when I speak spanish I have a speech impediment, so I would space my words out when I was a kid so I sounded like a robot. Moon Juice comes from facebook, I had to put a last name for my profile so I put Moon Juice cuz I was drinking juice while i was writing it and it was a full moon that night.
How did your family feel about you rapping? I grow up with an only Spanish speaking single mom, so my mom was always working so I was pretty much on my own and she didn't understand a lot of what I was doing. My mom just thought I wanted to be a actor cuz I was a drama major in high school.
Did you feel close to her growing up? My mom had me at a very young age, she had me when she was 16. My mom moved to New York to try and make a better life, but immigration didn't accept my visa so I was separated from my mom until I was able to get my visa which was when I was 12.
Are you close to your mother? No, but I love my mother.
Who do you get the most support emotionally from? I get the most support from my friends and myself.
Do you feel like you have created your own family? For sure. I live by myself, I have my own one bedroom in Harlem. I'm the mother of my friends, I am the one always cooking, cleaning up and making sure they don't throw up on themselves.
Who are these friends you are referring to? Wavy Spice, Trill Spice, Luna Mcwavy, Leslie Diaz and a bunch of cunts no one knows. They are all artists. I'm the more visual performance one, so I always make sure my girls look good.
What inspires you to create music? My friends, they are all doing such amazing things and that pushes me to do the same, and it's how I let all my faggotness out.
What are you working on at the moment? I  am working on my mixtape which is going to be all dance/rave/trap music. I have a new song coming out soon; it's called 'Take My Picture,' I'm dropping the song the same day we start shooting the video and hope to have the video out a few weeks after.
When did you first realize you were gay? LMAO. I was born Gay! I had my first kiss with a boy in first grade, his name was Jeffrey. I loved him.
That's so cute, are you still in touch with him? No, he's probably married with kids or some stupid shit, that was in DR, aka a long, long time ago.
Yeah he probably is, I know how those Dominicans are… they all suck and take mad dick on the low (I low key live for it tho)—under cover Dominican men make the best porn.
How did you get involved in performing? I think it all started from me dressing really crazy, when I was in high school I would put on the craziest looks and just walk around the city, and I would get stopped a lot in the streets for fashion blogs etc. I really first started out as just a nighttime personality, I used to do the door for Contessa when I was 16 for this club called the Annex in LES. I used to only do performance art.
What sort of performance art? I use to just lip sync to disco songs that I would mix in with dubstep, so it would start with me singing to Donna Summers then the song would flip into a Voguing beat or a dub track and I would start dancing, then for a while I was doing my gorilla act where I would pop out this big box I painted pink and start twerking for the gods, FOR THE GODSSSS.
What's your definition of twerking? Well twerking is really just shaking your face like a stripper but I think its become something way bigger. It's becoming a way for people to let out their sexual and feminine energy. Back in the day it was just something you saw pretty girls in videos doing, now there's like little 12 year old boys in London twerking, which I think shows how much sexuality has grown.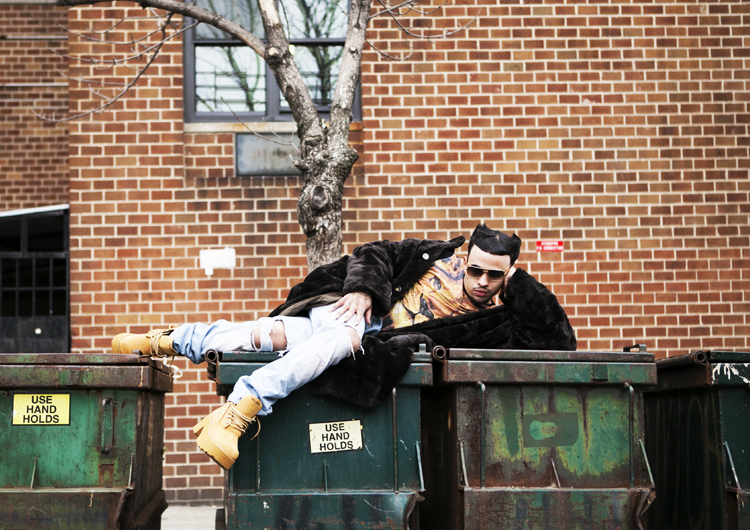 During your shoot with photographer Cyle, what was your favorite part? The garbage setup was my fav. For me to be looking mad cunt on top of mad trash is kinda the story of my life. I used to be under the garbage now I'm on top.
Are you twerking at the moment? Yes I am twerking right now. I'm twerking while I'm typing.
What inspires your fashion/style/looks? I'm really into 70's, mostly because of disco music, so a lot of my style comes from that area. I always try my best to look classy but at the same time scary. I love suits, big hair and big shoes. My goal is to look like a hood David Bowie. My favorite designers right now happen to be close friends of mine: Shayne from Hood By Air and Raul from Luar Zepol, who both are really supportive.
What's your dream for the future? Damn. Fuck. I have so many dreams for the future, I don't know where to start or end for right now, I just wanna make music and perform, it really gets me off. I feel the most confident and powerful when I am on stage, but when I get older I wanna use all the things I've done and put it all together, from music to drama class… I eventually wanna be a movie director, mostly music videos mixing sound and video is the most powerful magic to me.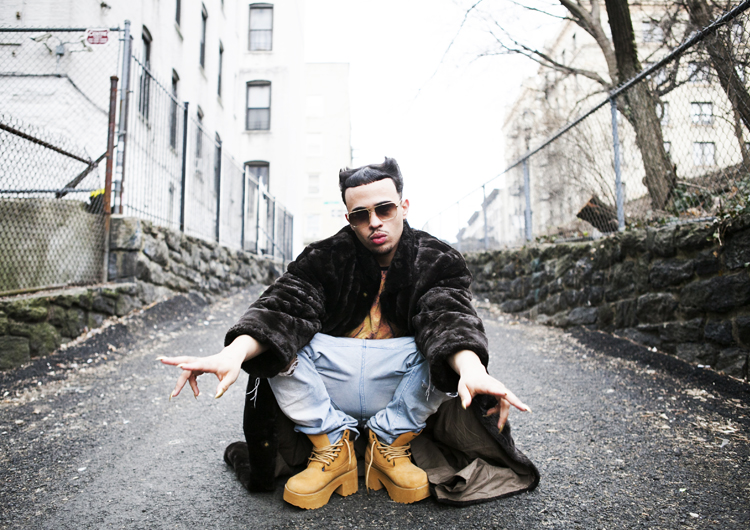 RobotMoon Juice performs on April 6th at F .:. N C Y $HOWER$. Click here for details.