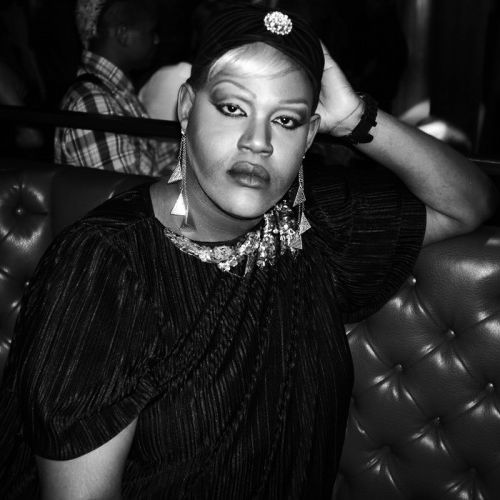 PHOTOGRAPHY BY GAYLETTER
Say Hello to Merrie Cherry
The nightlife star on her awards show, her drag, and her Brooklyn.
Where others have a mind for boring desk jobs and business attire, Merrie Cherry has one for supreme nightlife creativity. In 2013 alone, the Brooklyn nightlife superstar started her own awards show to honor other prominent members of the nightlife scene (the Brooklyn Nightlife Awards), while also providing fantastic hosting duties for a handful of NYC's best spots and giving us all a much needed breath of fresh air in her uniquely unconventional brand of drag. We were lucky enough to get a hold of her for an interview in anticipation of the BNAs this coming Sunday, wherein she dishes on her dream performer for the awards show, her favorite venue in NYC, and what her first drag outfit looked like (hint: it involved shoulder "pads"…).
When did you first put on makeup/a wig/a dress? I was 6 years young. My grandmother went to the grocery store and my mother was watching her stories. This was the perfect situation for me to get into trouble.  I went into my mother's closet and grabbed a purple leopard pattern dress, put on some of her lipstick, that did not match, and used what I now know were pads for periods, but then I used them as shoulder pads. I turned on the radio and danced it out.
How did the Brooklyn Nightlife Awards come about? I had been thinking for over a year that something needed to happen to shout out to the world that Brooklyn was a contender for a nightlife destination. I did not know what could be done until I went to a Glammy award show and found the perfect idea. I have such a sweet spot for Brooklyn. It is a place I call home and I really just wanted to do anything I could to rep my home.
Why do you think recognizing people whose lives and work revolve around nightlife is so important? I think an awards show for Best Data Entry Specialist would suck balls. These people are full of energy, style, and are all celebrities in their own way. Without them New York City would be a cesspool of button ups, slacks, and ponytails with bangs.
How have you seen the drag culture and nightlife scene in Brooklyn change over the past few years? When I moved to Brooklyn over four years ago, it seemed that the scene was more DJ-driven. I heard about drag shows produced by Colin Self and Backspace, but I never went until I became Merrie Cherry. I was happy to just got to a bar and dance with my friends. Nowadays, bars have people calling in to ask if there will be a show that night. The entertainment is much more expected now.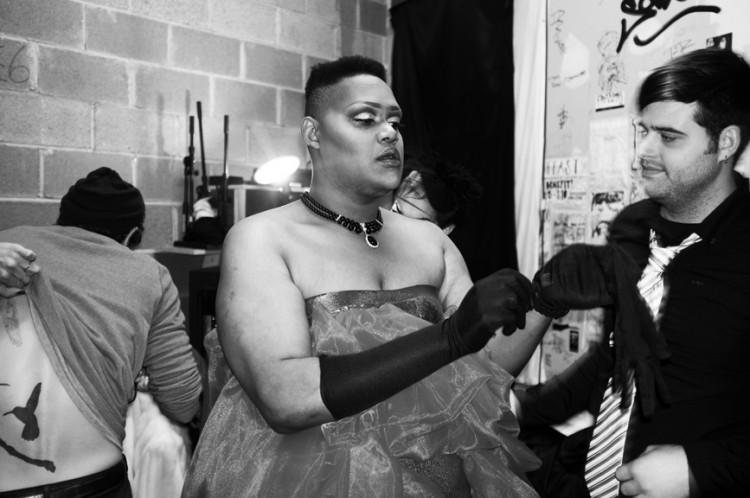 Merrie backstage at last year's BNAs.
Are there any specific awards shows, local or mainstream, that you draw from for the BNAs? The Glammy's produced by Cherry Jubilee in Manhattan was a huge influence. The biggest difference I wanted to make sure was highlighted at the BNAs was the voting process. Anyone can vote for the BNAs. I wanted everyone to feel as if their voice was being heard, because when it comes down to it the people that come to the events are the ones really keeping it going.
Do you have any frontrunners you want to see win this Sunday? For me it is not about the winners. I would be lying if I didn't admit that I am proud when I see a close friend of mine accept an award that their peers, friends, and fans awarded to them. It does become hard, because I know so many people in nightlife, especially in Brooklyn. I wish everyone luck and in the long run I feel everyone that gets to be apart of this crazy world is lucky, regardless if they were nominated or not. It sounds corny, but it is also true.
If you could enlist anyone to present and/or perform at the BNAs, who would it be? Peaches. I almost got her to present an award last year, but she ended up going to Berlin a few weeks before the event.
What celebrities/icons/queens/performers of the past influence your style of drag? Life is my influence. I just want to keep myself interested. I can be a beautiful woman one night and be a psychedelic flower in a t-shirt and sequin pants the next. My "drag" is all over the place, just like my personality.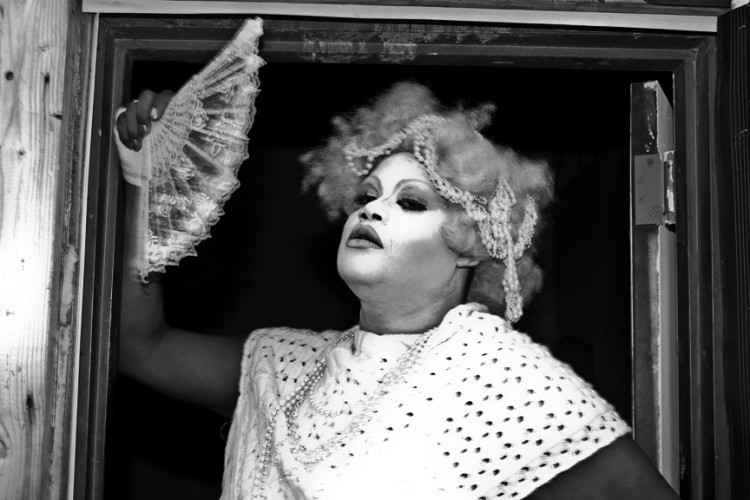 Classic Beauty.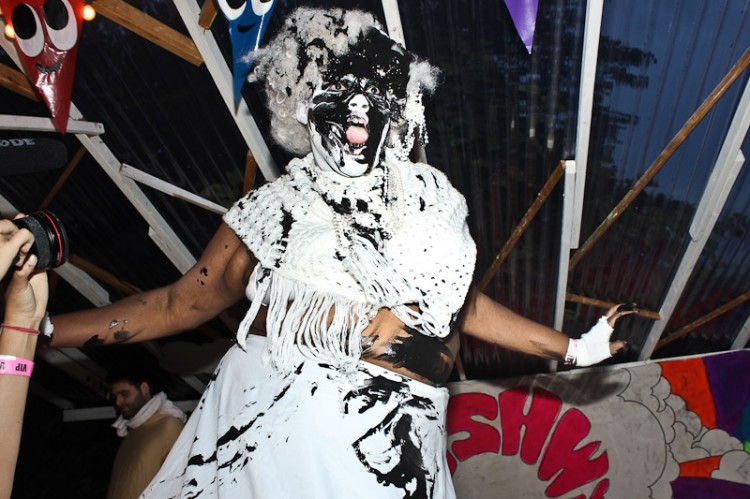 Merrie performing at Bushwig 2013 at Secret Project Robot.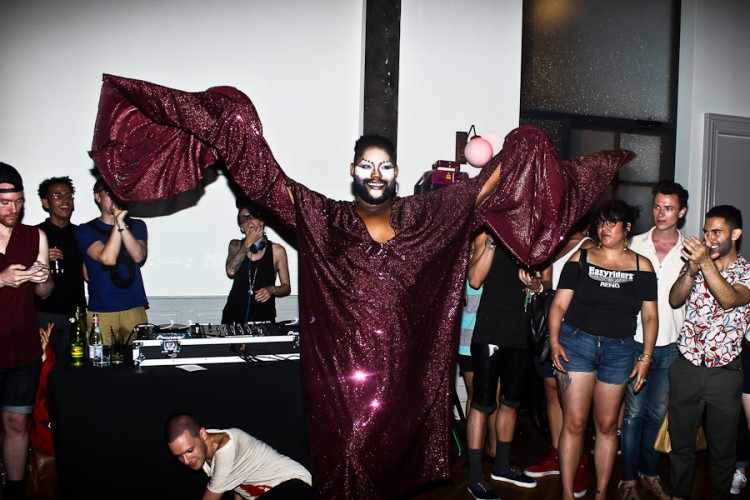 Performing at the GAYLETTER + Whyte Hotel Pride party in 2013.
What's your favorite venue in Brooklyn? In the US? In Brooklyn, I would have to say Metropolitan Bar. The stage isn't amazing, but I love being up there and looking out into the crowd and seeing faces that have completely altered my life. In the US, The Stud in San Francisco. I have performed there a few times for a party called Something hosted by David Glamamore and VivvyAnne ForeverMORE. The stage there gives me life. The best part is they have a mirror so you can look at yourself. What queen wouldn't want that?
What has been the overall reaction toward the BNAs since they began last year? People love it. I have gotten a great amount of praise from veterans and newcomers alike. The only negative feedback that I have gotten is that it is a bit like a popularity contest. To those people I just say, "Maybe you will get nominated next year."
How do you define your drag? I do not think it should be defined. Do what you do, how you do it, and when you do it. Forget everything else. Humans waste so much time trying to fit in boxes for other people. Live outside the box, it is so much more fun.
The Brooklyn Nightlife Awards happen this Sunday, February 9th at 9:00PM at Radio Bushwick. Tickets are $10 at the door.