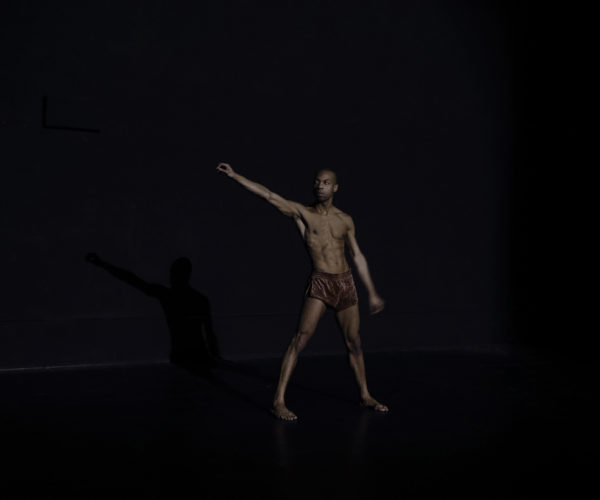 PHOTOGRAPHY BY BRIAN VU
Shamel Pitts – Black Velvet
From Black Box to Black Velvet, the dance artist explores being an "other."
Last year, GAYLETTER had the privilege of seeing Shamel Pitts' stunning solo show Black Box – Little Black Box of Red at the 14th St. Y Theatre. We were amazed by the physicality of the performance in combination with the multimedia effects of sound, set pieces, lighting, and projection. After the performance we became aware that the work was originally performed in Pitts' apartment in Tel Aviv for an intimate crowd, then later at Suzanne Dellal Center for Dance and Theatre in Tel Aviv, and then again as part of the APAP Showcase in New York.
Pitts returned to the 14th St. Y Theatre early in 2018 with Black Velvet. He allowed us to photograph the rehearsal and answered some of my questions I had about the new work and his partnership with artist Mirelle Martins.
How did these different spaces and audiences change the performance and the message Black Box carried? Black Box, is a personal testament shared with universal sentiment.  It is very crucial to the work that the audience feels the intimacy of their viewing. The viewing should feel almost like seeing the performance through a peep hole. The lighting artist for Black Box, Tom Love, manages to keep this intimacy of viewing through how he focuses and scales the light projection. The only light source in the work is through a projector, which projects only black light into the performance space. My job as the performer is to allow myself to be seen, and yet to know that I am alone.  And even further to realize that we are never alone, together. This is what I was dealing with at the time of creating Black Box: the feeling of being "with" others, but as an "other."
Your latest performance Black Velvet – Architectures and Archetypes was originally performed in Sao Paulo in 2016. What role have artist Mirelle Martins and lighting artist Lucca del Carlo played in developing your collaborative production? Mirelle Martins and Lucca del Carlo are huge collaborators in the creation of Black Velvet. From the first moment Mirelle and I met in 2013; from the first glance, the first time our eyes met; the first conversation; the first glass of wine; all of these moments lead to the creation of Black Velvet. Through our conversations we realized many similarities between us as well we share very different histories and experiences.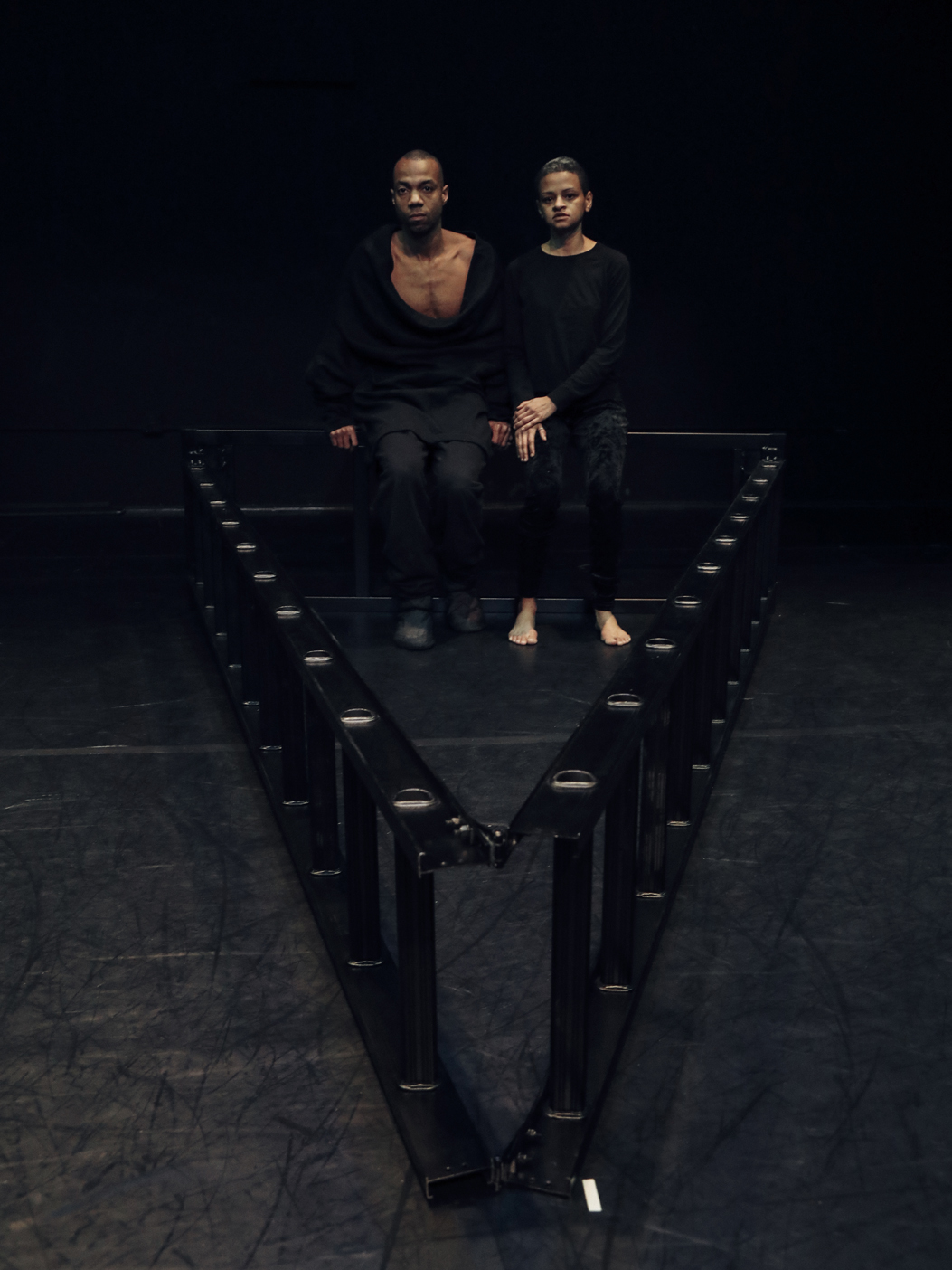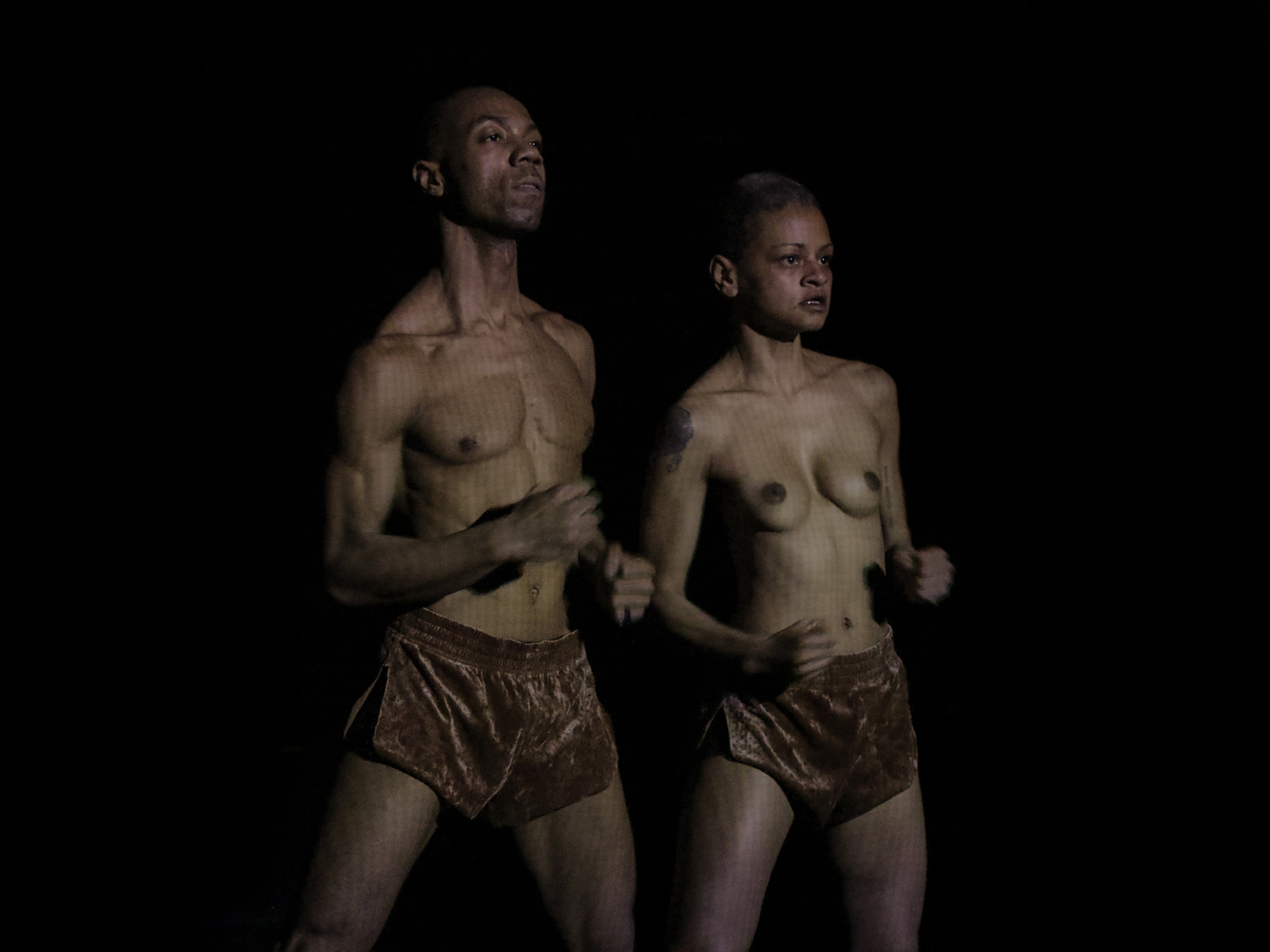 Mirelle and I are both African Americans; she's from Brazil and I'm from Brooklyn. Yet, our experiences were different and are from different cultural and social codes of our upbringing. We both experienced ourselves as outsiders and minorities of our cultures,  yet we also felt ourselves as outliers to all the boxes and titles that were assumed of us: What does it mean to be a black, and especially a black woman, or a black gay man? What space do we have in order to live fully without confining ourselves to the society's identity's crisis? We created a world in Black Velvet where we can both exist and thrive as we take care of each other. The lines between masculinity, femininity, orientation, love, and color all seem to blur. We take care of each other and there becomes enough room for both of us to be,  and this creates the oneness of our existence.
Lucca Del Carlo is a masterfully crafty lighting designer. He showed me things about the work of Black Velvet that I could not even imagine. A lot of the time, I have questions regarding "technology" and video mapping in dance performances. Lucca showed me how both can live together and how through projection, we can amplify harmony and dissonance of the moment. 
Lucca helped me to find both the reality and surrealism in Black Velvet.
Dancers are often asked to dance in couples, to explore romantic chemistry, collaboration and connection. Your latest performance Black Velvet is performed with a partner, Mirelle Martins. How does dancing solo compare to dancing in a pair? As a gay, black man originally from New York, what were the limitations and benefits of dancing with a female partner? 
Limitations?  There were challenging moments because Mirelle just started dancing meaning Black Velvet is her first dance work, her first time on stage, her first time in a creative process with dance. When we started creating Black Velvet in Brazil, I was just finishing seven years dancing with Batsheva Dance Company. We were meeting each other at very different stages in the process. It was frustrating and complex to find our common language with dance. It made me very worried and with moments of anxiety. 
However, I kept saying to myself: Be Patient, and listen because this woman has something profound to say, something unique to share. Working alone is frighteningly lonely! Having a partner means constant dynamic dialogue. Mirelle and I would work all day, dance all day, then drink all night, and dance all night, and have endless conversations about the work.
Regardless of where we were or what we were doing, we were inside of our creative process. Its a great partnership. 
And speaking of partnership people constantly ask if Mirelle and I are  lovers or if she's gay or if I'm gay, and is the work (Black Velvet) about that? These things are less interesting for us. The work is about us and our partnership is one of love and compassion and camaraderie. Mirelle usually says that she's the girlfriend of my boyfriend, which is kind of true.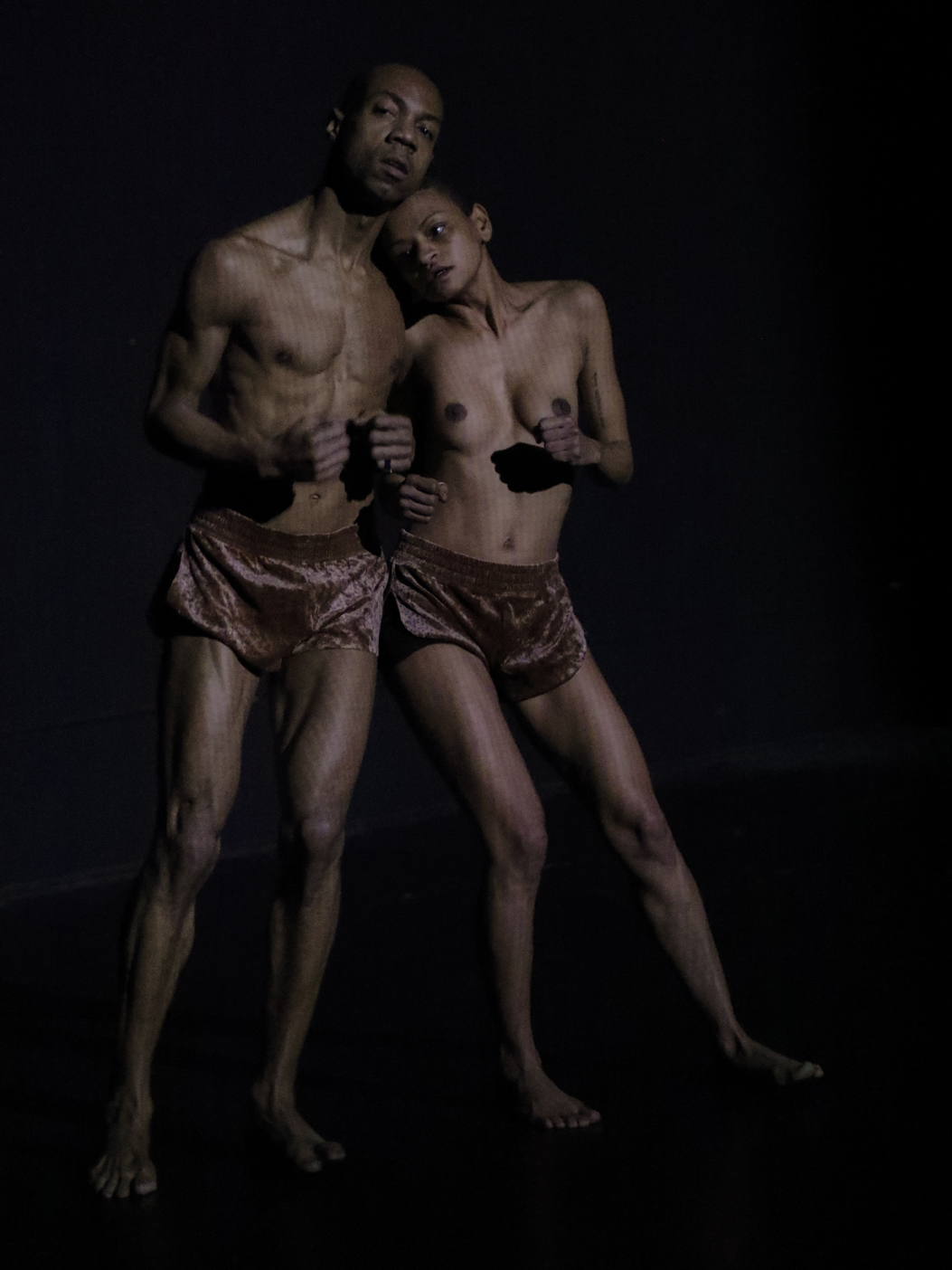 After resigning from the Batsheva Dance Company, you began to travel the world as a teacher of Gaga, a movement language developed and refined in Israel by the Batsheva artistic director, Ohad Naharin. Can you explain what attracted you to Gaga and the importance of its transmission and expansion? Gaga is the key to unlock a lot of what is already inside of us as dancers, and people. The importance of listening to your body before telling it what to do. How we can sense delicacy within us and still be alert. Working with Ohad has be one of the most meaningful gifts of a relationship in my life. With Gaga, he gave me a language that allows me to find my own voice.
You are clearly a performer and teacher of many talents. We know it is often the hardest question for an artist to answer, but what is next? This is a challenging question. What's next is that this year I'll be creating a new work for the Inaugural Dance Concert at Harvard University. Later in the year, I will create a new work at Gibney Dance in New York. I am also touring and performing with Sharon Eyal and Gai Behar's LEV Dance Company and I will also create the third work of mine in this "black series" called: 
BLACK HOLE: Trilogy And Triathlon. In between all of this, Mirelle and I are touring the world with Black Velvet. It is all very exciting!
In concert with Black Velvet, Pitts and Martins are running a selection of photographs by Israeli photographer Alex Apt on view here and at the 14th St. Y Theatre.  Each of the beautiful photos are for sale and are limited editions of three.  All of the proceeds go towards their 2018/2019 International Production Tour of Black Velvet.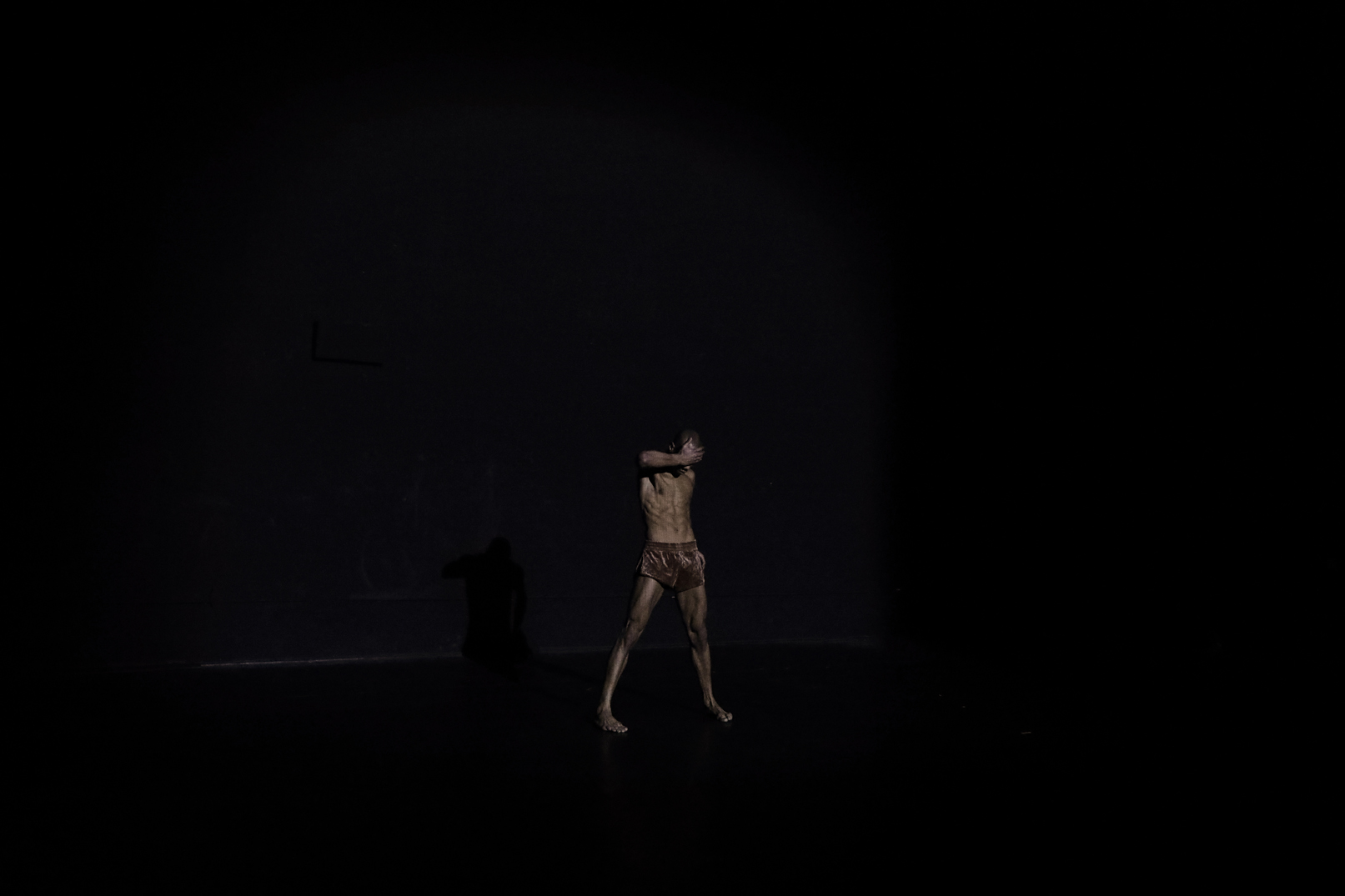 For more on Black Velvet's upcoming tour, read here.