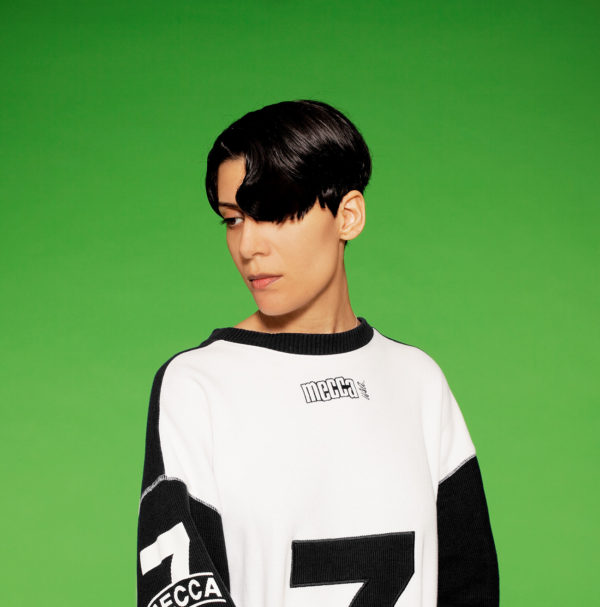 PHOTOGRAPHY BY VALERIA CHERCHI
SHANEERA
Fatima Al Qadiri creates a queer vernacular in music forbidden in her homeland
Senegal-born, Kuwait-raised composer and producer Fatima Al Qadiri enchanted a sold out crowd this past Saturday night at Bushwick's Secret Project Robot. DJ's Skyshaker, Sharp Veins, Asmara, and Rabit warmed up the with their hip-hop tinged sets as the cavernous venue brimmed with a diverse crowd of fans and dancers.
As Al Qadiri ascended to the stage at 1:00AM, the conceptual artist donned a long wig with bangs — a familiar trait of femininity — but after a few songs into the set, Qadiri snatched it off her head, revealing the signature short coif and sporting a warm grin. Refuting any kind of hetero-normative standards, the queer artist proceeded to dominate the crowd with a dynamic repertoire that included tracks from her recently released five track EP, Shaneera.
A stark departure from her previous solo efforts that include collaborations with Future Brown and GCC, Shaneera (Hyperdub) is a bold move by Al Qadiri to create a queer vernacular in music that is forbidden in her homeland of Kuwait. Al Qadiri's earliest works — 2012's Desert Strike, 2014's Asiatisch, and 2016's Brute — capture her experience with queer identity and political upheaval, wrestling content fished from her childhood during Saddam Hussein's 1990 invasion.
Desert Strike is the sonic story of a child, video game obsessed and contingent to the trauma of Iraqi occupation, while Asiatisch imagines a China painted through themes of Western appropriation, and Brute, whose artwork shows a Teletubby in swat gear, symbolized Al Quadiri's insight into the Occupy! and the Black Lives Matter movements.
Shaneera delves deeper into the stigmatization and homophobia rampant in Kuwait and the Gulf at large, reinstating her dedication to creating music with a political inflection. In a country where a penal code states that "imitating" the opposite sex is a criminal offense, Al Qadiri rebuffs binary norms with a collection of songs that delve into drag culture, using clever cultural references and hyper-digitial renderings to contour gender-specific stereotypes. Derived from the Arabic word, "Shanee'a", which translates to "nefarious" or "hideous," Al Qadirir chose to create a a gender fluid, ice queen as her alter ego to amplify her most recent compositions named after the slang derivative "Shaneera." With references from the heavy make-up of Khaleeji women in the early 2000's, Shaneera appears on the EP's cover as a player not to be toyed with.
Drawing from television clips, Grindr chats demanding "masc only," and the shrills of the empowered Arab female archetype, Al Qadiri's most recent offering encapsulates the overt homo-erotic overtones found in Kuwait society in tandem with cultural submission. "Shaneera," an unabashed dance banger from the get go, opens the EP and makes way for this feisty alter ego to come out in full force and conduct 21 minutes of pulsating drumbeats. The five tracks delineate Al Qadiri's politics, with lyrics that translate to "ask her" and employing traditional female Arab vocal techniques on "Galby" that riff and run on a punctured melancholia, reflecting the folklore of the region. One can only visualize the unapologetic persona pictured on the cover as she unleashes her prowess and beckons a decadence of visual and political bravado.
The potency of the EP lies heavily in Al Qadiri's ability to craft Arabic dance music that transcends language or religion. Judging by the diversity of admirers at Saturday's show in New York, Al Qadiri weaves a story through cadence and song structure that translates to the West without seeming pompous or over-calculated.
Shaneera obviously references the early nineties watershed queer anthems, like RuPaul's "Supermodel (You Better Work)" whilst retaining a decidedly current underground feel that speaks to the larger electronic audience. In order to value Al Qadiri's music, one should recognize that the recent commercialization of queer culture, especially in Western media, is all but non-existent in the majority of the Arab world. Most of the EP's collaborators use aliases and the recording was done at a secret location. The taboo subject matter of Al Qadiri's work speaks volumes in regards to Kuwait's anti-gay sentiments. Shaneera is a bold representation of LGBTQI Gulf culture that steps out of the shadows and penetrates the dance floor.