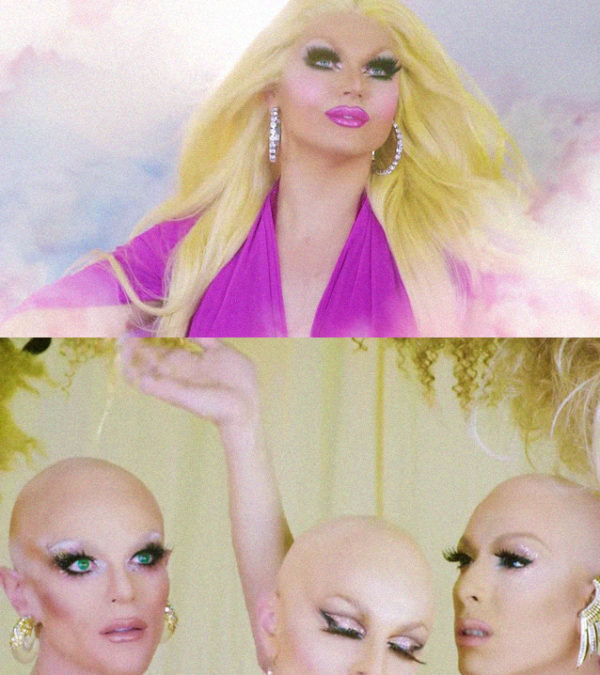 stills from the music video 'A Lacefront Like This'
The AAA Girls 'A Lacefront Like This'
A lesson in hairology
Product placement has never been so gag-worthy. Celebrating the release of their debut EP, Access All Areas, The AAA Girls are back with a video for their song, "A Lacefront Like This." Directed by Kain O'Keeffe, the video transports us to a pastel hair-heaven where Willam, Alaska Thunderfuck, and Courtney Act (all stark bald à la Sasha Velour) passionately serenade us about the wonders of Wigs by Vanity, the iconic Australian wig company founded by Vanity and the AAA Girls' very own Courtney Act. All I can say is that this was not the Kelly Clarkson comeback we wanted, but it was the Kelly Clarkson parody we needed.
The video highlights the mission of Wigs by Vanity: Wigs for drag queens by drag queens. Featuring cameos of Vanity blessing each queen from above with various hair-hats to complete their baby pink and jeweled looks, the video interestingly points towards the spiritual experience of a queen fully realizing the fantasy when she puts on her wig. Visuals are kept simple for this video, but since hair is the main feature, it makes sense. This project strikes poignant notes of the struggle to sustain the expense of drag, with the lyrics detailing methods of acquiring the coins for an original wig by Vanity. As a more or less broke New Yorker, techniques that rang the most tragically relatable were in the vein of pulling a fast one on an unsuspecting straight guy, signing up for sugar baby websites, and selling organs. Yes, they did go there and I may or may not have considered the exact same.
The song is a comedic carry, that's not a question, but it's also refreshing to hear the girls take on a softer tone. These girls consistently out-do themselves with their musical endeavors and they're all masters of their craft in drag, so "A Lacefront Like This" makes me very excited to see what's in store for the upcoming year, especially with the race to All Stars 3 already in full swing. This video blessed me, as any good 22-inch platinum blonde ponytail should.