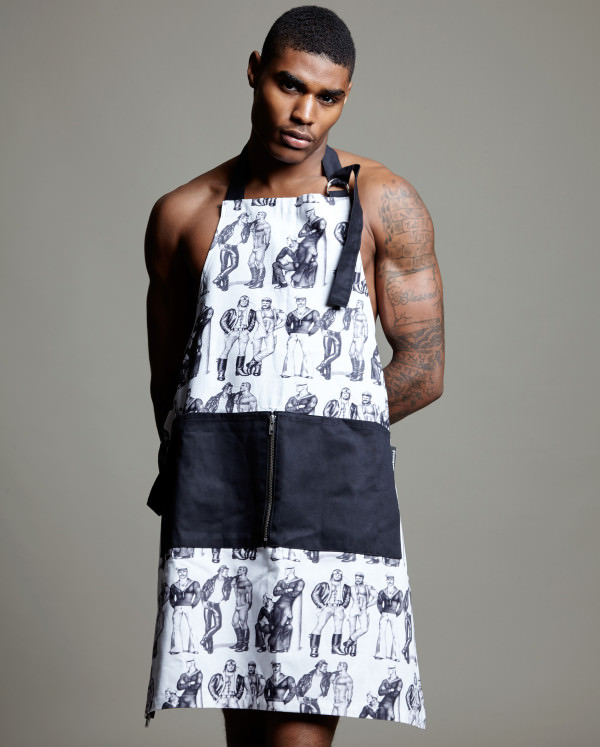 PHOTOGRAPHY BY VINCENT DILIO
Tom of Finland x Finlayson: Fellows Apron
One of the Tom of Finland Foundation's recent ventures comes to the home with another collaboration with the textile manufacturer Finlayson. Known widely for his refined homoerotic fetish artwork, the Finnish artist's cast of World War II characters featured everything from beefy aviators, to cozied up sailors who are all fully cocked and loaded. Launched in late 2014, the Tom of Finland x Finlayson collaboration doesn't leave a room untouched. From the "Face to Face" duvet cover, to the "Fellows" apron, Tom of Finland's World War II era boys are a timeless and perfect for your Summer wardrobe.
Whether you're grilling at a summer BBQ or making cocktails, the "Fellows" apron has you covered — literally. With Tom of Finland x Finlayson you'll have no problem feeling sexy while entertaining or cooking. As you can see our boy Karon (pictured) wears it rather well, he can really work an apron.
Unlike your average apron, this one even comes with a zippered pouch, perfect for storing party supplies. I recommend you wear this apron shirtless, it's easy to work up a sweat manning a B-B-Q!