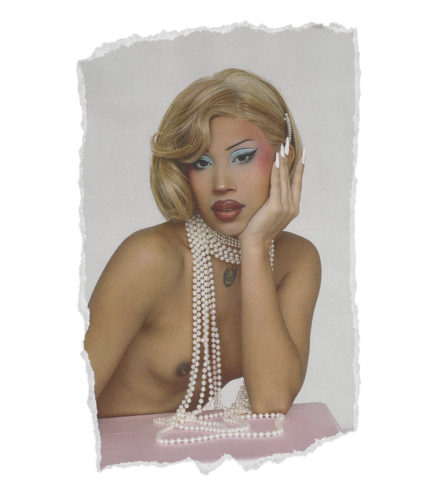 Chiquitita, the artist formerly known as Juku, Juku for now and before that Harajuku, has been performing in the Brooklyn drag scene since she was 18 years old. Her recent rebirth as Chiquitita came about after co-starring in a transcendent performance of the Abba song of the same name with one of her favorite people, Charlene Incarnate. We asked one of our favorite people, drag performer Baby Love, to sit down with Chiquitita for a one-on-one conversation. The duo are good friends, and even host a podcast together, Shows BK. we had no doubt the conversation would get real deep, real quick.
So I'm here, reporting live for GAYLETTER from my living room. So formal.
I guess I don't really know the full story about what's going on with you and the magazine. They told me I had to do this or they would kill my family. I'm kidding. I'll just say it. I love talking about myself. They asked if I was interested in doing a birth of Venus shoot, sort of in parallel to like the birth of me, because I just changed my drag name to Chiquitita after a year and a half of contemplating names. It is a rebirth in a way. I don't know where it's going to be in the issue, but I hope that it's the cover because it's really stunning.
Why did you change your name? I started doing drag when I was 14. I chose the name Harajuku when I was 14, 15. …