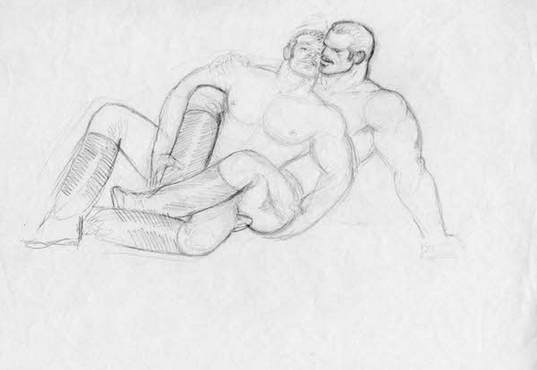 TOM OF FINLAND (Touko Laaksonen, Finnish, 1920 - 1991) Untitled (Preparatory drawing), c. 1979, Graphite on paper, 8.31" x 11.69" ©1979 Tom of Finland Foundation.
10th Tom of Finland Emerging Artist Competition
The Tom of Finland Foundation is calling on you, artistic babies. The foundation, which honors and preserves the legacy of the iconic erotic artist, is returning for the 10th time with its annual Emerging Artists Competition.
Contestants are asked to showcase work that falls in one of five categories — single figure, dual figure, multiple figure, fantasy, photography. However these categories are illustrated is up to the artist. The grand prize is this lovely "Tom of Finland Preparatory" drawing.
The deadline for the contest has been extended to November 3rd, so you have plenty of time to sharpen your pencils and find your muse. Or your daddy.
For more details about the contest, click here.