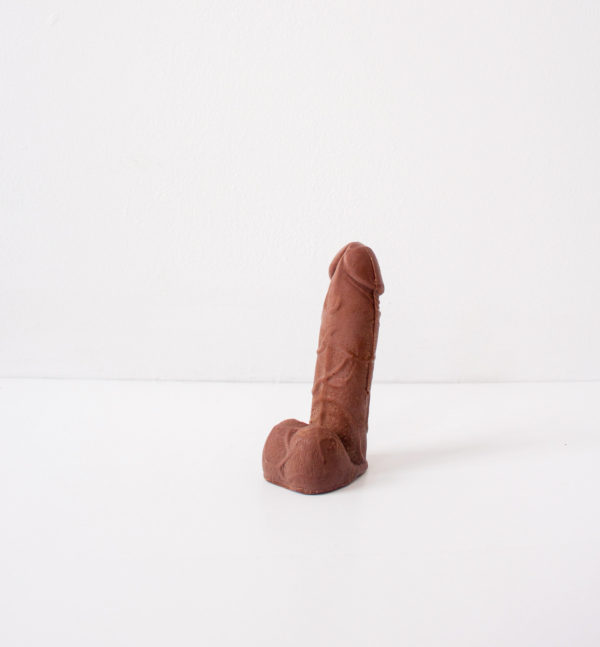 PHOTOGRAPHY BY ALEXEY KIM
A Chocolate dick
I opened the press email about this item fairly quickly after reading the subject "…Dick at Your Door!" I opened my eyes wide and read the details. For those of you that get easily excited the chocolate dick appears bigger in this photograph than what it is in real life, although it's still an exciting size — something like a good 6-inch rocket. This gives you an idea of how deceiving dick pics can be, photography can do wonders for the appearance of your penis.
The chocolate dick was an item originally developed as a prank, "a way for people to anonymously tell their friends, office colleagues, frenemies… to "eat a dick" without the repercussions" the inventors tell us. I mean sure, but receiving a dick at the door for me sounds funny and perhaps it's more suitable to cause a few giggles, than freak anyone out. The company is pitching this item as a "perfect April Fools and Easter gag gift." I can certainly see it for Easter, if they have chocolate bunnies and eggs, why not a dick? "One dollar from every order is donated to the American Cancer Society to help fund Prostate Cancer Research."

It's a nice gesture to send a chocolate dick to anyone who loves a light joke or maybe someone who's super conservative? The dicks come in different types of chocolate, just in case you are picky about your flavors. Send a friend, a family member or anyone who could appreciate the joke. The only question I have left is how are you supposed to eat this chocolate dick?