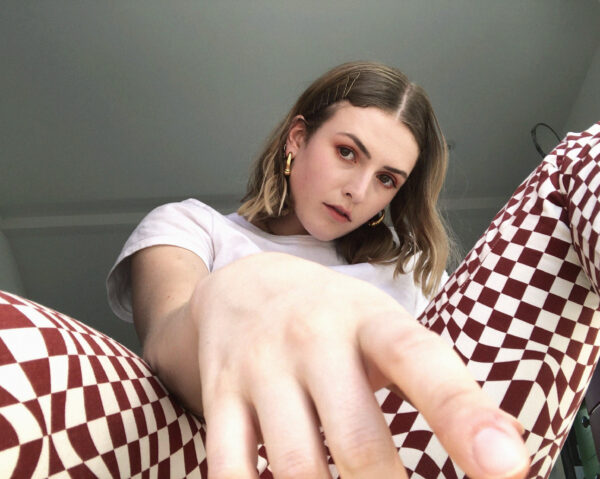 PHOTO COURTESY OF ARIA WOOD
Aria Wood — "Block Colours"
From Sydney to London and on, she's producing her own path
If we harnessed the anxious repression behind every fake smile on Zoom—let's say on a Wednesday at 5pm—we'd solve the energy crisis. Or, we'd get "Block Colours" by Aria Wood! Currently based in London, Aria Wood is a singer/songwriter/producer/savage who left Sydney, Australia, to go get hers. "Block Colours" is a single in anticipation of her upcoming debut EP, Groovy Tunes, to be released independently. "Block Colours" takes what kills in dealing with shit people—the shut-in, useless emotion when someone tries you and you can't react—and spins that into something that shimmers and shakes.
As March collapses into May, and the seasons lock themselves indoors, we need pop that processes dark thought to motion. Turn "Block Colours" on at 3AM, when you've lost yourself online, and see where it takes you.
Wood set off for London in 2019, her luggage stuffed with production gear. She doesn't arrange on others' beats; she creates and arranges her sounds alone. This means her songs are married to themselves at every layer, like Valentina's makeup. The beat and the fantasy express one message, together (also like Valentina). When asked about producing, Wood replied:
"I like making sounds, continuing to try and understand what textures go together. Layering and shaping sound in different ways is like painting a picture. Even if I'm tired and unmotivated, I sit down and can't stop doing it. I'll work at it eight hours and somehow it'll still feel good."
Here for anyone who works eight hours to help us shake the demons off our backs. Or the angels, if you're sick of them. Lord knows, they haven't helped 2020. But music has. "Block Colours" got us ready to move to Groovy Tunes. Check the song out here!