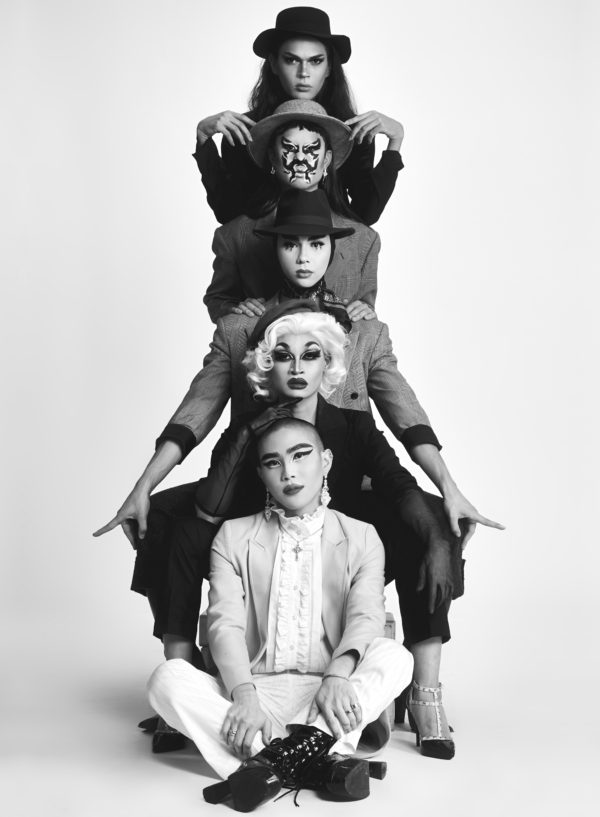 WEST DAKOTA, MAHAL KITA, PANTHERA LUSH, SOOKIE STERLING AND DYNASTY PHOTOGRAPHED BY OLIVER MINT.
ASIAN AND VISIBLE
"The Slaysian Dynasty is here!"
Over the past few years, drag has gone from niche performance art to cultural phenomenon. With offshoots from the now empiric RuPaul's Drag Race coming to millennial-focused networks like Viceland (The Trixie & Katya Show), and former show-contestants like Valentina appearing on the upcoming season of America's Next Top Model, drag queens are now receiving major bookings, and, much to our delight, their careers are now watched by millions of people.
There are plenty of drag queens who come from an Asian heritage, however the particular subset of queens and nightlife personas can sometimes feel slightly underrepresented in the world-wide drag theatre. With exceptions like Gia Gunn (RPDR Season 6) whose "feelin' like pussy, feelin' like cunt" attitude has resonated with many, to Kim Chi (RPDR Season 8) whose Korean inspired name seems like an afterthought when compared to her celebrated make-up skills and Season 8 finale appearance. Asian queens receive a much smaller portion of the credit in regards to the success of the now massive drag industry.
As the LGBTQ+ community attempts total inclusion, Asian performers are making strides to keep their part of the community close-knit, especially in the clock-central drag circuit. The photographer Oliver Mint took it upon himself to platform some of the fiercest faces within his midst. Using some of the finest faces out of the Brooklyn drag community, Sookie Sterling, Dynasty, Mahal Kita, West Dakota and Panthera Lush posed for some photos inspired by the fashion-great, Richard Avedon. The images are a testament to all of the girls' undeniable talents, their love for one another and how their Asian heritage trickles into their drag.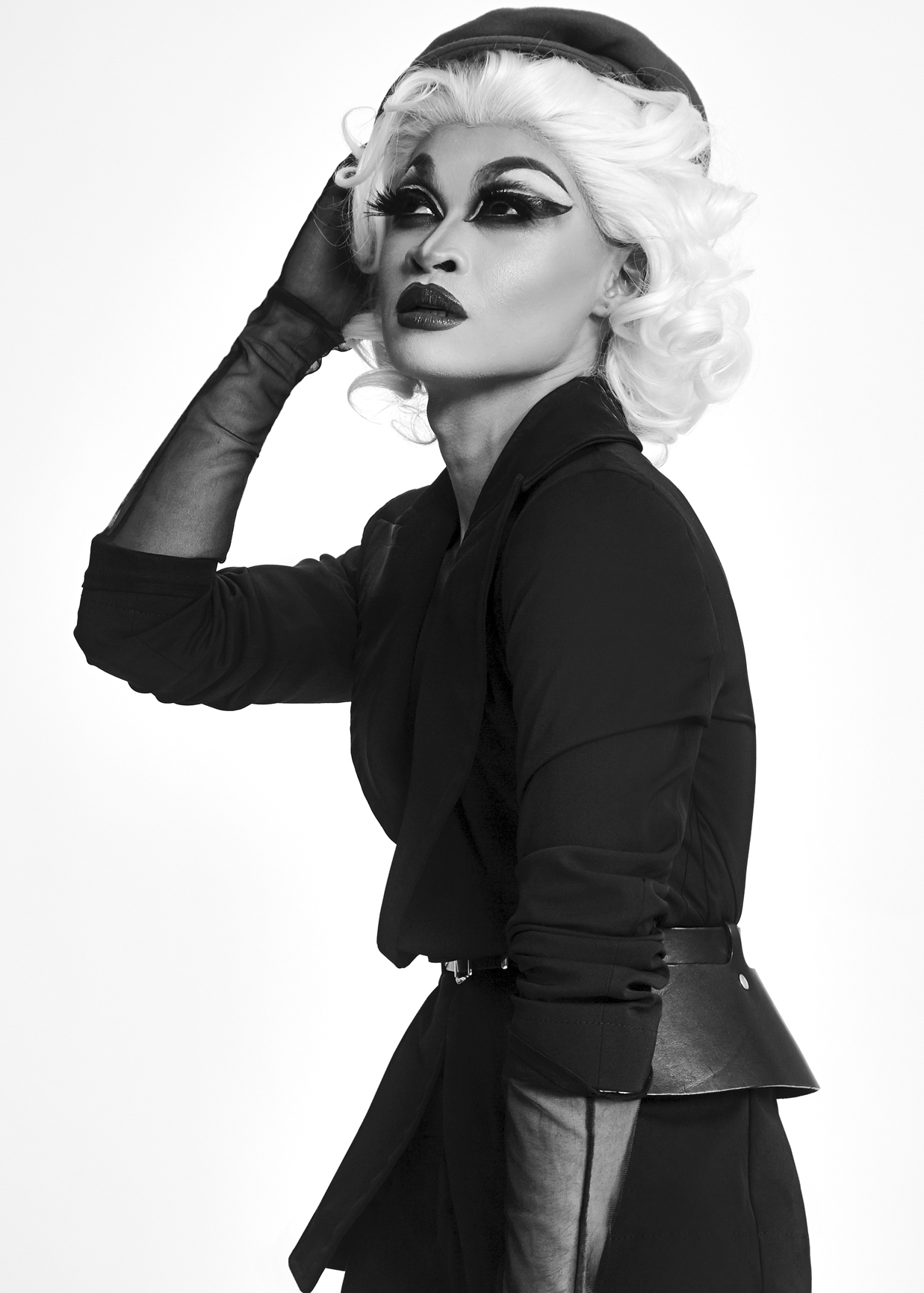 "The Asian drag community is unique in a way that we are a relatively small group within the larger drag community, which is why I think we have such a close sisterhood of young up-and-coming queens. I guess you could say that we're the new kids on the block.
Most of us (myself excluded) come from an artistic or fashion background. I think we all gravitate towards a brand of drag with a very graphic, refined, and intricate aesthetic.
My drag aesthetic mainly draws a lot of inspiration from burlesque, bondage, leather, and vinyl themes, so I'm a big fan of Yeha Leung's designs. But my most recent inspiration has been old Hollywood glam. I've been drawing a lot of references from old Hollywood Asian actresses like Anna May Wong and Li Li-hua.
I think a lot of people expect Asians to be the shy, quiet — nerd-stereotype. Getting into our drag characters, performing, being in the spotlight and being visible as confident performers works to undermine that perception.
Brooklyn has an amazing community and support system that not only embraces all forms of drag, but also encourages developing your own sense of style, character and performance, which is so important in order for new queens to truly discover and foster their unique drag identity.
I may be a little too new to be a drag mother, but I can most certainly assure that you are always welcome and have a place as a sister in our little corner of Brooklyn drag."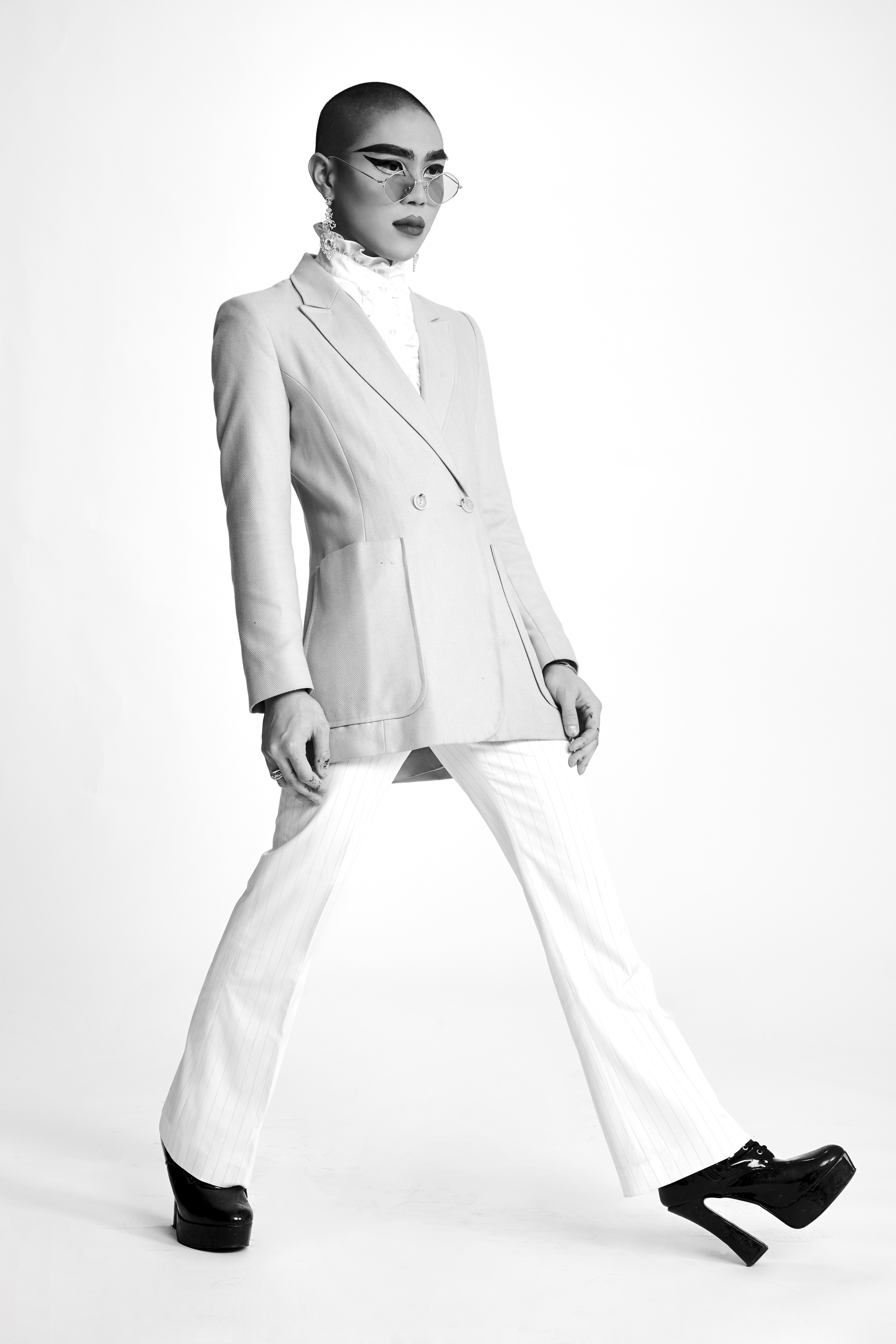 "Growing up gay and queer in an Asian immigrant family, we all have an understanding of where we come from, where we are now, and where we want to be down the road.
I lived in New York City for the first time in the summer of 2016. In those short three months, I went out in drag for the first time with my face looking like a toddler with their eyes closed had done my makeup, but I felt an overwhelming sense of freedom and happiness, so going back to finish my undergrad at a conservative school was a major bummer. I knew Dynasty was inside of me and dying to come out of hiding. I spent a lot of time just sitting in my room practicing my makeup and posting on Instagram.
In some of my performances I try to explore the journey of my refugee family who were forced out of their country, Vietnam, due to U.S. involvement in the Vietnam War.
I have a lot of references, but lately I've been listening to this Japanese city pop/funk artist from the 80s, Miki Matsubara. The grooviness just takes me there with my imagination.
Queer Asians have always been invisible in the LGBTQ+ community, and I think we are living proof that those days are over. The Slaysian Dynasty is here, y'all! You can do whatever you want and be whoever you want to be. No matter what, you are loved and supported, and it's so important to spread that love."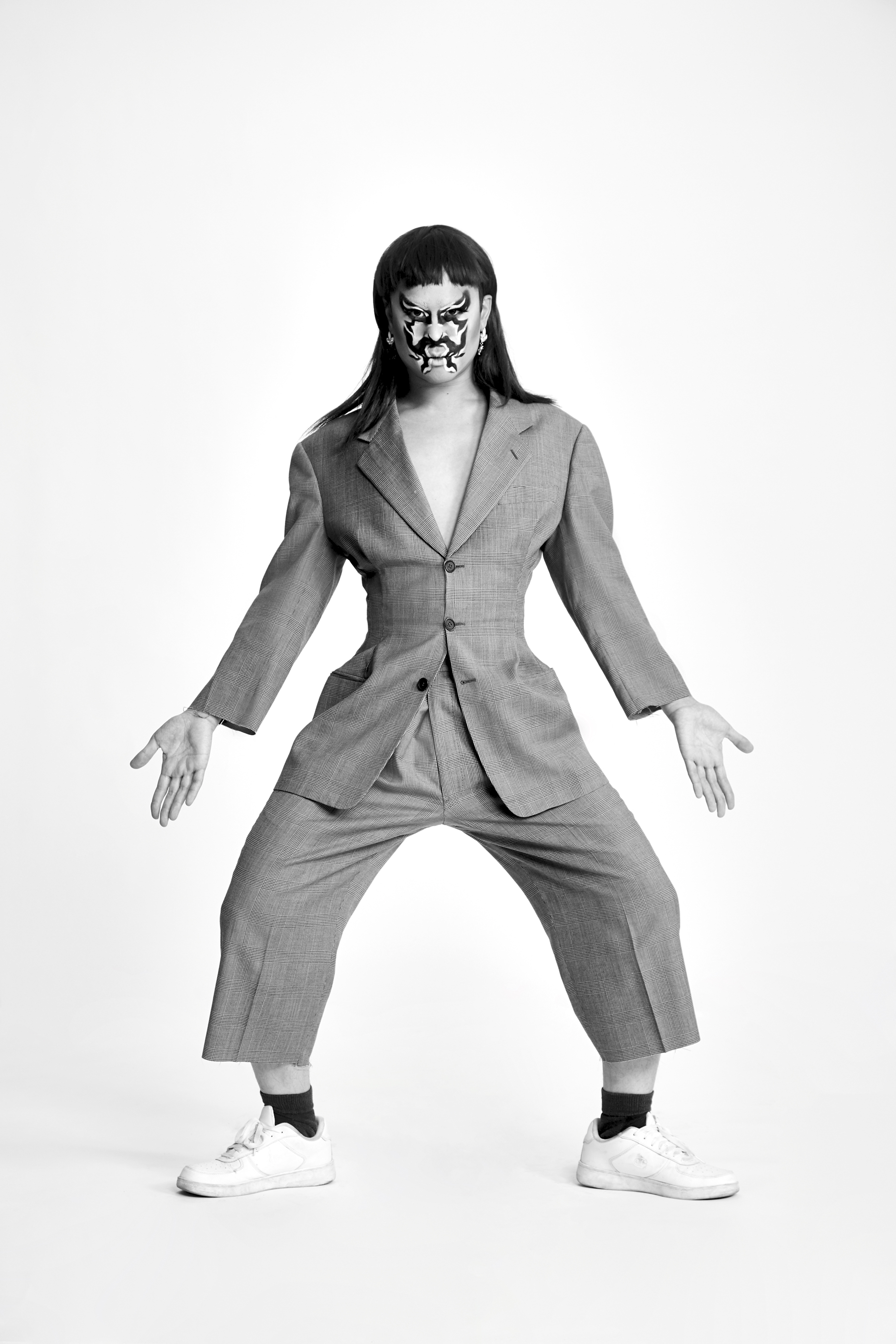 "I'm a Filipino artist and designer known for my experimental, mask-like approach to drag and my narrative performances. My name means "I love you" in Tagalog.
The Asian community encompasses so many things. Our individual experiences as Asian-Americans are so vastly different, but we probably do share fundamental feelings of being confused, tokenized, alienated, and demeaned because of our heritage. There isn't much of a queer Asian-American history to look back upon, at least not that I'm aware of.
What I've always loved about the Philippines is that it is a true hodgepodge of cultures, not least of which comes from its history with colonization and occupation. There's an unabashed devotion to a cheap kind of commercial pop culture in the same breath as a deep, pious religiosity. Contradictions like these are so exciting and funny to me, and I'm drawn to that uncanny pinoy ability to mix and match. There are names like Jejomar that infused Jesus, Joseph, and Mary. Authenticity doesn't equal purity.
Drag for me is not necessarily about making a conscious decision to subvert, but more about being whatever I want to be — a fully formed fantasy that isn't bound by expectations. As an Asian queen you can feel pressure to "represent," but it's better to not overthink it and just do you."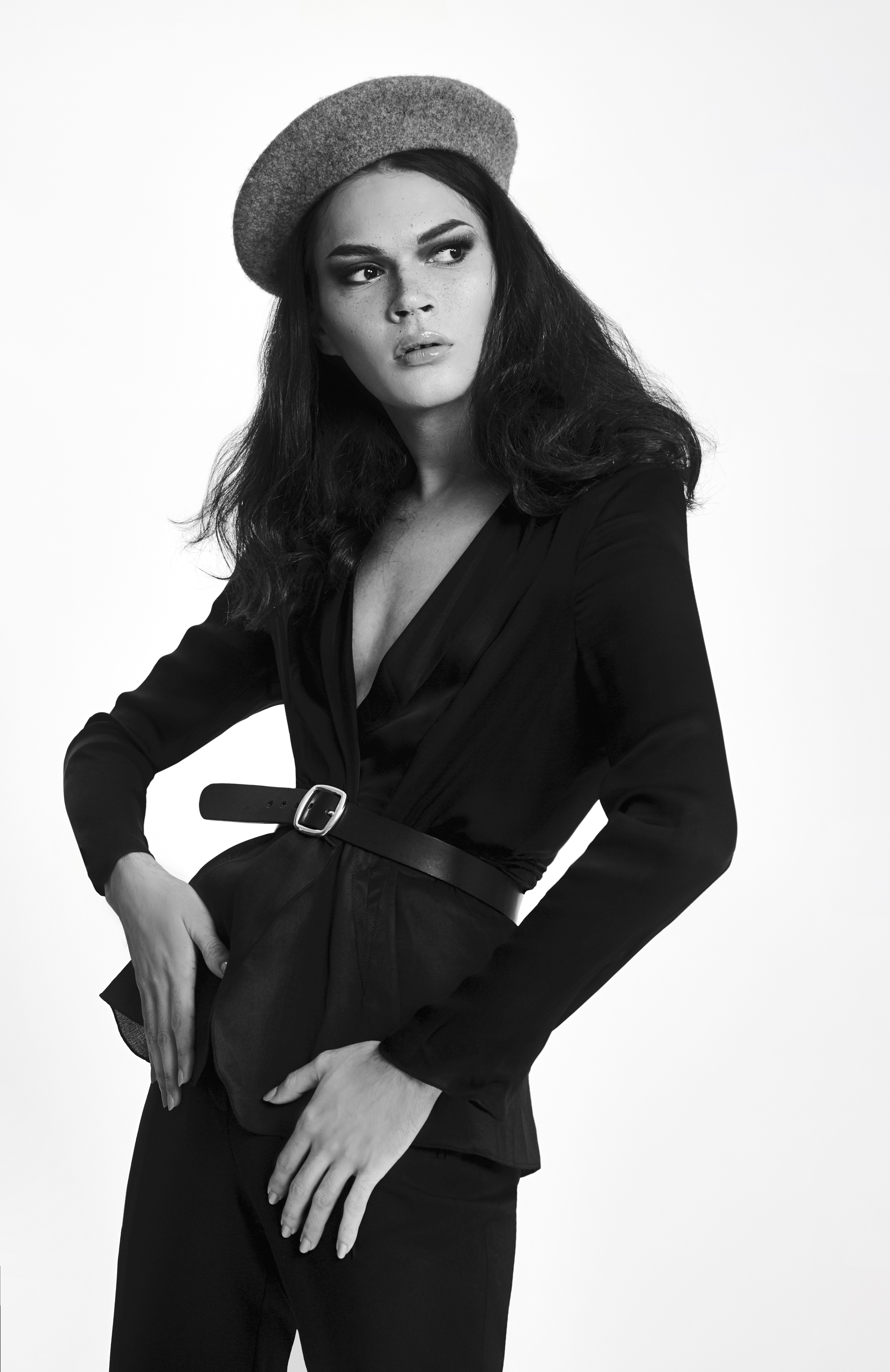 "Queer identity and culture is not something that is normally passed down from our immediate families, it is created and shared with the families we choose. We have a strong sense of kinship because we understand each other in ways that the larger drag community or even our own families may know.
Brooklyn has sort of an 'anything goes' mentality when it comes to drag. It's the perfect place to experiment because you don't have to spend a lot of money or be a part of a certain crowd to make people gag. The audience and the opportunities are here, you just have to have the nerve and the drive to go for it. We're all constantly reading each other, so maybe we're all a bit scared of being clocked for a bad paint job, but these girls teach me not to take myself too seriously."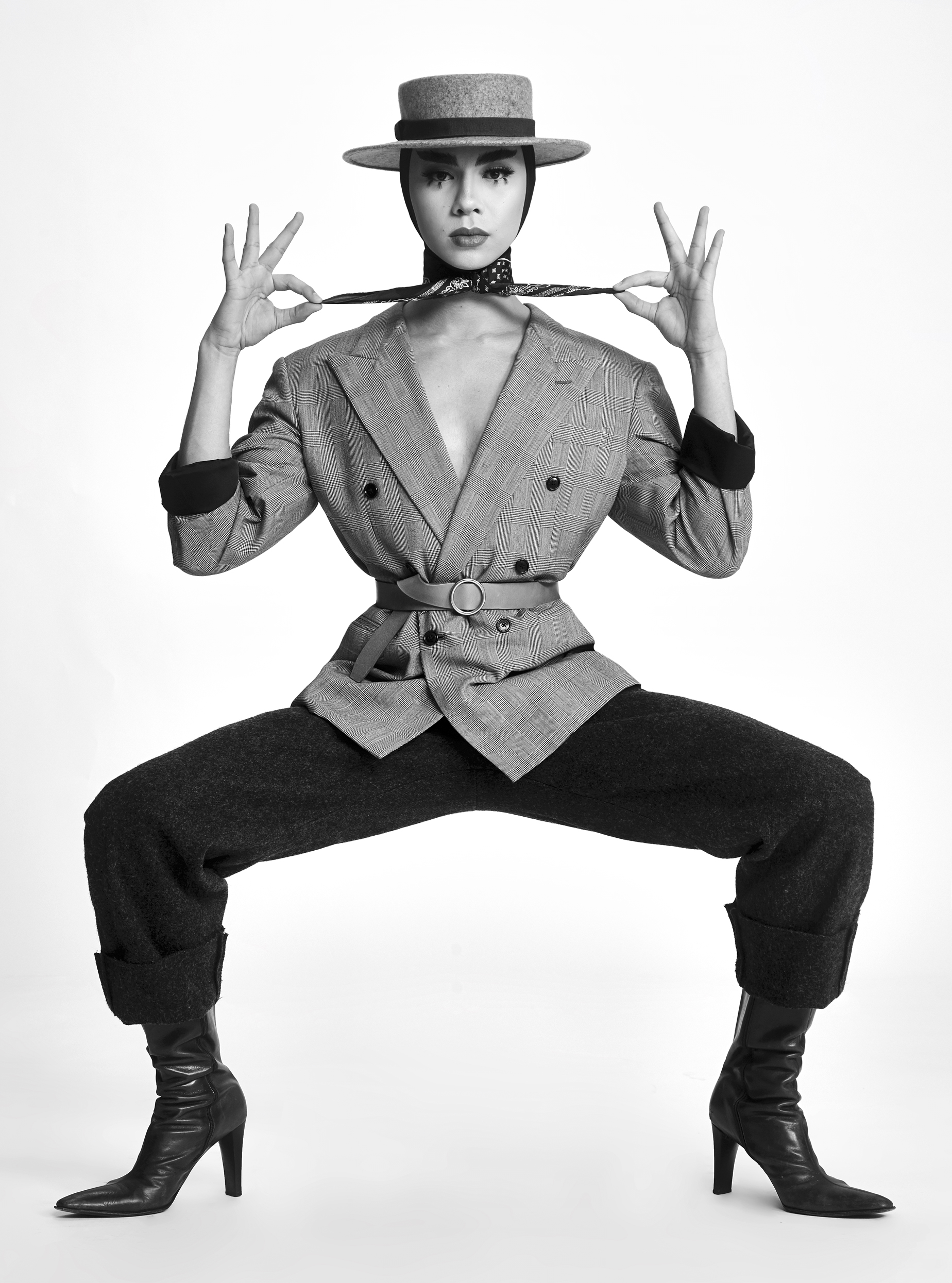 "A difference I've noticed in the Asian drag community is how quickly I've made genuine connections with my fellow Asian sisters. That is not to discount the connections I've made with anyone else in the larger drag community, but I will say that there is a level of immediate acceptance and welcoming-with-open-arms with these girls that has allowed me to let down my barriers much quicker than usual.
My philosophy for most things in life is to stick to what I know. And if I don't know something, I practice it until I do know it. That very much applies to my relationship with makeup. It creeps me out when I don't recognize myself in the mirror. If I feel like I have a mask on then it's almost like I am not accurately presenting who I am.
Drag is a huge platform to subvert stereotypes about Pan-Asian culture, and I don't think there is only one way to do this. My heritage is something I am proud of, it is literally the blood that runs through my veins, and everything I present with my drag persona comes from a place of deep passion. I've had people say that I should incorporate more of my Asian heritage into my numbers, and comments like that kind of catch me off guard. I think that my drag is very much representative of who I am and everything that influences me. It wouldn't be genuine to go out of my way to spoon feed a certain narrative to an audience."