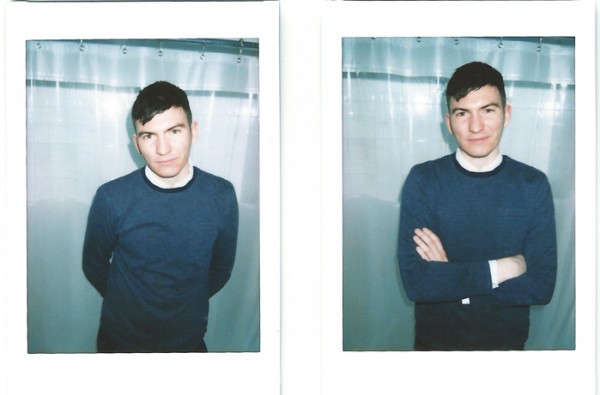 PHOTOGRAPHY BY GAYLETTER
Ben Pryor on American Realness
The festival's curator celebrates 5 years and running.
To many LGBT-identifying people, the word "realness" evokes a very specific image in queer history. It's the sequence in Jennie Livingston's 1990 documentary Paris Is Burning, in which several late 80's NYC queens display what "realness" truly means: to blend seamlessly into heterosexual culture despite your queerness. It's about being a walking contradiction, gender-bending your way into what culture has deemed the norm. It's about being able to pass for something you're not and subverting the entire image you're conveying in the process. At American Realness, the arts festival currently happening downtown at Abrons Art Center, creator Ben Pryor (pictured) has adopted this word to perfectly represent a series of new performance, dance, and art events that repurposes "realness" for a newly growing subset of American and international art.

We asked a few questions to Ben about the future of American Realness, doing homework in the BAM Opera House as a kid, and what "realness" means in the context of the artwork and performances on display at this year's festival. Check out the full interview below.
What is your background in the arts? Are you an artist yourself? My mom was a publicist for contemporary classical composers. David Lang, Michael Gordon, Julie Wolfe, the Bang on a Can scene, Michael Nyman, John Corigliano… I grew up going to atonal music concerts, being seated between critics, forced to behave myself backstage at the Knitting Factory at age 12, or doing homework during sound check in the Opera House at BAM. There was a predisposition to artists pushing the boundaries, and I was stuffing press kits to earn allowance at age 7. I got more serious about dance when I was a little older, studying tap, jazz, ballet and still doing musicals in school. My BA is in theater performance. Later on I started seeing concert dance and was studying a lot of queer theory and looking at the performance of race, gender and the self. I got really interested in qualities of performance and of personhood. How does the performance of self constitute an identity on or inside a body?
I think these two worlds can be seen in the performance work that excites me today. There is text, there is song, there is dancing/movement/ideas within the framework of dance. It is really a queering of musical theater, of modern dance, of performance art and other contemporary art making practices — a mashing up of contexts, theatrical or otherwise.
What stands out most to you when looking for performers for American Realness? I get excited about work when I am surprised, confused in that tantalizing or challenging way, and when I see or experience transformation — when I am pushed into new ways of thinking, into and through my own discomfort, or into a state of joy. American Realness presents work in which artists are exploring performative practices to show us that the world is larger than ourselves; that we are all connected. Their work is reflexive of who they are and how they make it, and subversive in how they approach the frames of dance and performance. The works are crafted as experiences more than shows, where the action is not just seen, but felt. It is about palpable energetic exchange between the performers and the audience. I want to FEEL something. I want someone to make sense of it all and tell me it is OK, however fucked up it seems to be. This is what I hope to offer audiences in a lot of different ways over the course of the program.
Over the past 5 years, what has been the most rewarding aspect of putting together American Realness? The program has been insanely rewarding in a number of ways. The resonance was palpable from the beginning. Everyone said yes. And keeps on saying it. The artists. The industry. The public. The program has had a remarkable trajectory and I am insanely grateful to Jay Wegman, Director of the Abrons Arts Center, for thinking it was a decent idea and making the path to today possible.
How do you define "realness" in relation to the arts? The term "Realness" comes from the Drag Ball context and has to do with passing. With the festival, I consider Realness in relationship to the performativity of personhood and identity and how these ideas are played with in the performance of life, highlighted here for us on stage. How are performers representing themselves? What are they presenting of "themselves"? I am really interested in that slippery space where we are not really sure what we know. It creates a heightened state of attention for the audience. They are forced to work through their own sense of confusion about what is happening.
There is also a level of "realness" that relates to the underfunded nature of American work (dance/theater/performance) in relationship to international work. It is about acknowledging that there is more frequently a DIY, raw aesthetic employed in this American work versus its international counterparts. But we are totally cognizant of that reality and making the decision to work with and call attention to it. We may not have everything that we wanted to do this, but we are making it work with what we have and not apologizing for it. Artists keeping it real.
There is also the level of marketplace that is somewhat transparent, perhaps less so for the public, but very much so for the programmers coming to the festival. The festival takes place during this huge performing arts conference. There are curators and programmers from all over the country and the world in town. Many of them are literally shopping for work to bring to their venues and festivals at home. So American Realness is also about selling your goods. In the traditional American entrepreneurial spirit, we have set up shop and we are for sale.
This year is the first time American Realness is featuring works authored solely by international artists. Can you describe your process for recruiting internationally? My day job is producing and touring the performance works of a few choreographers, Miguel Gutierrez and Ishmael Houston-Jones, for example. With that I end up traveling to different festivals and venues around the world where clients' work is being presented. This affords me the opportunity to see a lot of work from other artists that often times isn't otherwise coming to NYC. Every now and then I see works that I know will really resonate back home. I have resisted making invitations because my festival was supposed to be about "American" work. Now that the program is five years old, I feel like I can finally break out of that frame and not worry about what colleagues or the press might say. Now it is about sowing that the central aesthetic ideology of the program still holds clear across national and geographic boundaries.
Several of the works at this year's festival challenge typical ideas of identity and how we see ourselves. What about the concept of identity, and the many ways it changes in our lifetime, appeals to you most? Like most homos, I had my own struggle with figuring out who and what I am and wanted to be. It wasn't really until I started reading Foucault and Butler that I really felt comfortable understanding my identity as the confluence of my mental and physical reality. I think the combination of the more body-based practice of dance and the more intellectually-based practice of theater (not to imply that a dance or body based practices are not also intellectually grounded or rigorous) lend themselves to an investigation of personal identity. It is true that identity shifts as life goes on, so it is a ripe and universal territory for exploration, one that audiences can find themselves in.
In the future of American Realness, are there any directions you haven't gone yet that you'd like to go in regard to artistic disciplines? I keep feeling interested in curating some sort of music program. I dabbled with some more musically based projects in 2013. This year I was trying to get Mykki Blanco involved in some aspect of the program. I was like "Hey Mykki, I am this crazy guy you don't know who has access to a theater and this festival that gets some good press, wanna come make some crazy stage piece pop-opera?!!?" I like to have crazy fantasies I don't have the resources for. I think that could really be amazing though, broadening the program a bit, but also asking the artists to bring themselves to the forms of the program. I think there is a lot of potential there.
Can you give insight into any particular events/artists/art in history that have influenced American Realness? Mark Russell's Under the Radar Festival was the blueprint for American Realness. Mark ran Performance Space 122 for 20 years and then started Under the Radar as a way to bring new experimental theater to his national and international colleagues. For Realness, I shifted the focus from theater to dance and performance, but the format and function of the programs in the context of the APAP conference that is happening is quite similar.
American Realness spans many different venues, but is housed largely in Abrons Art Center. What about that space in particular appeals to your vision for American Realness? I love that Abrons is a campus. There are three theaters in the two connected buildings, and we have turned this multi-purpose room into another performance space. You can make a lot happen there. We take over the three gallery spaces too so the program really takes over all the public spaces and becomes something new. It allows the festival to become a fully social experience, not just going to the theater, sitting, watching and leaving. You can hang out, talk about the work, check out some exhibitions. Make some new friends and then go see something else. That was always really essential to the vision for the program.
Can you give us an insider's opinion on some of the must-see additions to this year's festival? This is always a hard one for me. I curated the program, so of course I have a reason for you to see everything! I would love for people to especially check out the international work as they are probably less familiar with these guys. Dana Michel is from Montreal. Her piece 'Yellow Towel' is playing with racial stereotypes in this really interesting way. When I saw the piece last summer I kept thinking "WHAT THE FUCK IS SHE DOING?" There is all this action going on, she is speaking all this quasi-comprehendible gibberish, and while she is totally captivating on stage, she isn't really letting you in 100%. It's the kinda confusing/exciting I go for. And people should check out The Lounge. It is a free after-party each night at The Public Theater with a cash bar, performances and DJs. Chris Tyler's TRL >>> Total Reject's Live is happening next weekend, that should be wild. Hope to see ya there.
To make a contribution to help keep American Realness going, click here.