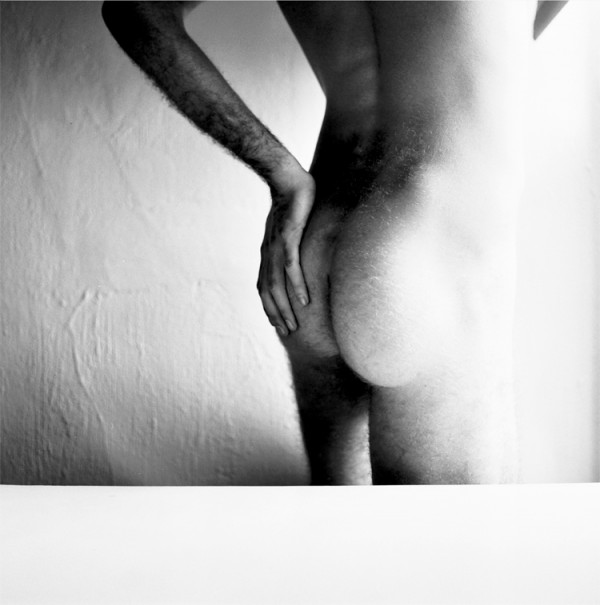 PHOTOGRAPHY BY DANIEL MOSS
Boywolf from Brooklyn
A quick chat with the butt of Boywolf.
Continuing our series of conversations with butts from around the world, we chatted with the butt of Brooklyn-based performance artist Boywolf. We meet Boywolf a few months ago at a party. He was very forthcoming…
Hi Boywolf, how is your butt feeling today? Feeling nice and warm.
How come? Cause I'm sitting by this wonderful radiator drinking prosecco.

You just finished your photoshoot, on top of that radiator? Yes.
So how old are you? 25.
Where are you from? South Florida, the suburbs.

So what was the first thing you ever put inside your butt? Hmm I guess my fingers, the first object I remember penetrating myself with was a shampoo bottle in the shower.
Cute, Did you consider yourself gay at the time? No haha.
Just curious about shampoo bottles? I guess, I was pretty confused about my sexuality as a teenager, I had read that you could stimulate your prostate and that felt good so I wanted to try.


Were you stimulated? Yeah it's always felt really good to me, I didn't really consider that i would put a dick up there until a few years later.
So do you consider yourself a bottom? Kinda, I consider myself versatile, but I tend to bottom a bit more than I top. People have called me a power bottom before
The world is your oyster when you're vers. As a friend of mine likes to say, no one wants a 50 year old bottom. Gotta mix it up. My favorite situation is flip fucking.
Why is that? I get off on the power play, the struggle back and forth, like a wrestling match.
Interesting, so you like being dominated? Sometimes.
Because you're vers? Yeah I like to dominate too, actually think I'm probably more of a dom than a sub overall, that why even when I'm bottoming I tend to try to take control.


Do you do exercises to enhance your butt? But the right guy can make me do whatever he wants if he knows how to turn me on, I ride my bike a lot, I heard thats good for your ass.
Do you masturbate much? Yeah usually once a day, sometimes more.
How often you have sex? A few times a week.
Do you have a boyfriend? No.
Just casual sex? I guess, some of my partners I have close friendships with, but we're not necessarily boyfriends.
You have a tight-knit sex crew? I have some really beautiful incredibly free-spirited lovers.
You're very lucky. I know. It gets complicated sometimes, but overall the freedom is exhilirating
Have you ever tried DP (double penetration)? OMG yes, it was incredible. I was like "I can't believe I'm doing this right now."


But it was exhilarating? Fuck yeah. And I was in this room covered in mirrors so I could see myself getting fucked from all angles.
Wow, where do you find a room like that? In Brooklyn baby.
In a hotel, or a sex club or someone's apartment? I'm very curious. Someone's home.
An exhibitionists home, I imagine. Have you ever waxed or shaved your butt? Haha. No, but I've come pretty close to it. I went through a phase of being ashamed of my body hair and probably would have shaved it if I could have reached it easily, but now I love my hair and would never ever get rid of it.
Did your persona Boywolf come from you embracing your hair? Yes, absolutely.
Who is Bowolf? Boywolf is a prince of darkness, a fantastical god of the the underground who's lust for pleasure and immortality lead him into uninhibited feeling and unconditional love.
Deep. do you have better sex when your Boywolf? I wouldn't say better necessarily, but boy wolf is often deep underneath the cover of substances that we in the underworld call "safety," so safety sex is always wild, harsh and uninhibited.


Safety sex, like wearing a condom? No, safety is what you might call drugs.
What kind? Well in Boy Wolf's world we don't have the exact same names for drugs as you might in your ordinary world, here each drug has a letter of the alphabet or a combination of the alphabet, but they might remind you of LSD, THC, TCI, MDMA.
Wow. Interesting. Thanks for chatting with us. Is your butt happy with the interview? Yes it feels very satisfied.


Wonderful.