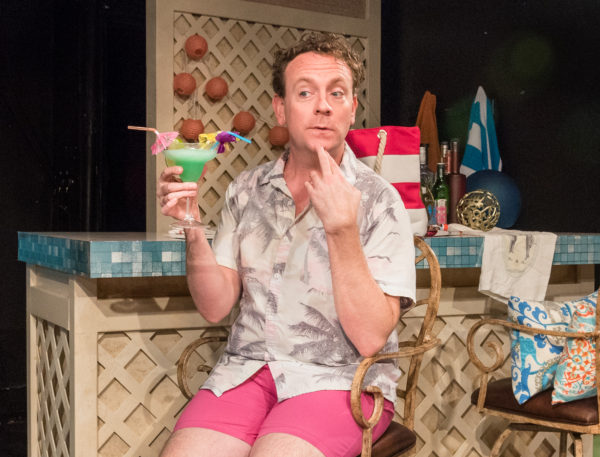 Photography by Russ Rowland
BRIGHT COLORS AND BOLD PATTERNS
Caustically hilarious, this new play questions the gay aggregate
There's a new insult comic in town that makes Bianca del Rio look like Farrah Moan. His name is Gerry and he's the sole character embodied by the uproarious Drew Droege ( "Chloë," and "Drunk History,") in the caustically hilarious and timely new play, Bright Colors And Bold Patterns. Hell hath no fury like a bitter queen with a margarita, as you may know, and no Mary is safe around Gerry.
Bright Colors And Bold Patterns is written and performed by Droege (pictured) with direction by the splendid Michael Urie (the star of the season's smash revival, Torch Song). Josh and Brennan are old time friends of Gerry who are about to tie the knot in sunny, turbo-gay Palm Springs on the most serene of Saturday afternoons. "However, the night before becomes a drunken, drug-fueled riot, because Gerry has arrived, furious that their invitation says 'Please refrain from wearing bright colors or bold patterns.'" This tiny wardrobe request mobilizes the show's underlying sustenance and posits big questions; "In the struggle for equality, what do we really want? What do we lose? And is there any cocaine left?" The show ruminates over these timeless struggles for equality. Only the last question can be answered; it's safe to assume Gerry's bumped the last of the cocaine.
Throughout the 80 minutes (there is no intermission), Gerry rips through myriad topics from pop culture to his own gripes while the audience, along with the other wedding guests, watch from a poolside set. He's not afraid to shows off his knack for gossip. If there was an Olympic-level gossip column, Gerry would take home the gold for his scathing criticism. He knees into the other poolside wedding guests (some of whom are his ex-lovers) one by one until, eventually, he is left totally alone. As the sun begins to rise on Josh and Brennan's wedding day and the drinks and drugs have worn off, the audience does finally catch a glimpse behind Gerry's ironclad emotional armor that has come to define the character.
Droege is both dazzling and devastating as he fires off gut-busting verbal abuse like a machine gun, but he works just as hard to showcase Gerry's lonely and disillusioned personal life. Droege has crafted a show that is both relevant and poignant and again poses the age-old homosexual question: "What do we, the gay aggregate, really want in the face of our burgeoning equality?" The answer, whatever it may be, is left for us to decide.
The show has recently just announced a six-week extension. Replacing Drew Droege in the role of Gerry after January 7th is "comedy master" Jeff Hiller ("Nightcap," "30 Rock," Broadway's Bloody Bloody Andrew Jackson), so you have plenty of time to sprint to this show before it closes. Head to the theater a little early with a few margaritas in you. That's what I recommend for before curtain! Whatever it is you do, just steer clear of Gerry's wrath and enjoy.