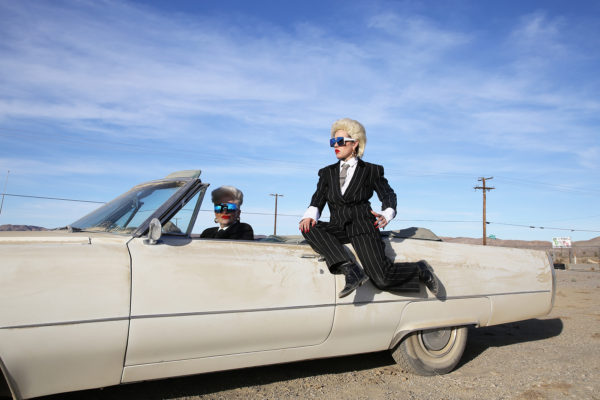 PHOTOGRAPHY BY TONY CAMARO
Brooke Candy's back to make you crack your neck
Listen to her new track and watch the music video
Brooke Candy kept it pushing this 2018. Since going independent, Brooke shifted her trajectory from mass-market pop (like last year's "Living Out Loud" feat. Sia) toward the haute, the conceptual, and the unapologetically political. Earlier this year, Brooke collaborated with Mykki Blanco and Pussy Riot for "My Sex," a celebration of the agency that arises from claiming your sexuality, regardless of its form. These independent songs go way harder, and the all-in blowout energy of her debut "Opulence" is back. "Oomph" is an aggressive summons to throw your ass in a circle, and maybe get your head knocked back.
ojivolta is a duo of producers Mark Williams and Raul Cubina, who might best be known for their credits on "Fall in Line," the Grammy-nominated Xtina & Demi Lovato record. They also earned songwriting credits for Jon Bellion's 2x Platinum Top 20 hit "All Time Low." It's mind-boggling that a similar team helped craft these three wildly different songs, which is a testament both to ojivolta's versatility and Brooke Candy's singular artistic vision and control. "Oomph" is closer to the sound and structure of "All Time Low" but it warps the beat much more, creates weirder and more squeamish movements of energy. It's squelchy and dissonant, chunky and heavily distorted, but the rhythm — the sweaty, fem-dommy, breathy rhythm — is never lost. And it's infectious.
Brooke Candy directed the video herself. Stunting in the desert like corporate Arizonan fucking cock destroyers , Brooke and Peli make a moment out of a retro convertible, shoulder-padded suits, and some hyper-reflective après-ski shades. It's a freaky post-Tarantino flex, like Spring Breakers in the desert. They celebrate like henchmen after killing the hero, the boss away, and there's something so cute about it. There's a trampoline, a tricycle, and a Radio Flyer wagon at the isolated truck stop. There's even a swingset and some balloons — a scatter of displaced little throwbacks. It's dark and light in the same frame. You could say it bangs. Brooke's been fuckin' weird for a minute. We'll keep asking for more.
Click here to watch the brand new video.