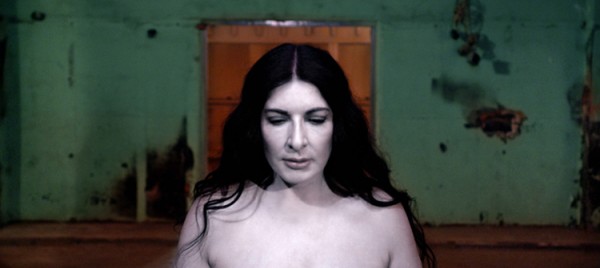 VisionaireFilm / "130919 • A Portrait of Marina Abramović" by Matthu Placek
Lady Gaga is not a performance artist
A panel discussion on the fusion of performance art and pop culture
When you hear the phrase "performance art," what do you think of? Perhaps you see Tilda Swinton sleeping in a glass box at MoMA last year, or Marina Abramović's seated endurance test in the same space a few years before that. Maybe it's the legends you think of first, like Laurie Anderson or Yoko Ono, who helped pioneer the art form in the 60's. Or maybe it's Jay Z's video for "Picasso Baby" that comes to mind, the self-described "performance art film" in which he bogarted Pace Gallery and had a coterie of both celebrities and regular joes join him on camera.
Regardless, there's no denying that the execution of performance art has changed drastically over the past decade or so, particularly when looking at its recent mergence with mainstream pop culture. This union is the topic of conversation at Concept/Icon, a panel discussion that's part of the New York Performance Artists Collective's partnership with VOLTA NY 2014. Moderated by Kate Sutton, the panel includes Pati Hertling, Ryan McNamara, Adam Whitney Nichols & Carl Swanson, all of whom will be discussing performance art as it functions in the current cultural landscape. Artists can get pretty touchy about this stuff (see: the near-intolerable case of Lady Gaga), so there's no doubt it's going to be a fascinating dialogue.
Concept/Icon is on March 8 at 6:00PM at Volta Talks Lounge. RSVP via Facebook here.