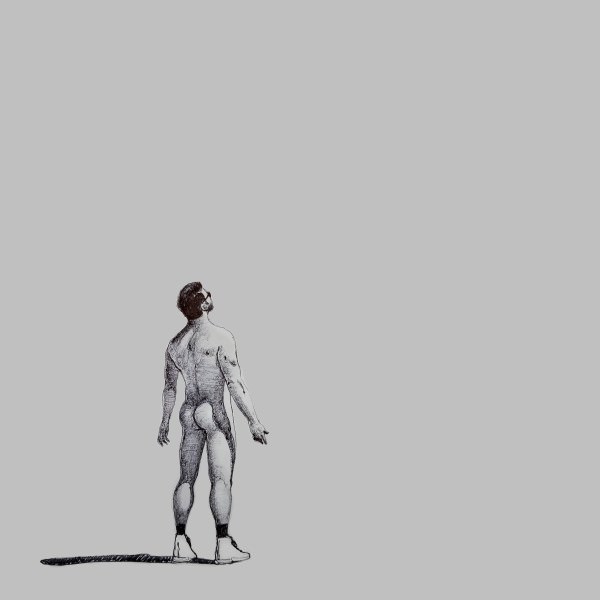 Illustrations by Daniel Marin Medina
DANIEL MARIN MEDINA's JOURNAL ENTRIES
A conversartion with the artist about his latest exhibition
I discovered the 22 year old artist Daniel Marin Medina on Instagram months ago, we chatted online, then he drew me. After that we stayed in touch and I asked him to do a drawing for the last printed issue of GAYLETTER. I am so happy for him that he's having his first solo show in NYC titled 'Journal Entries' which is opening this week, July 8th. "The process of drawing these became similar to writing in a journal. Something would happen and I'd jot down my thoughts in the form of a drawing. They're coded passages in a diary, which is kind of fun to think about. Along with these drawings, I will be showing figure drawings done of some of the most interesting people in my life." We had the chance to chat with Daniel about this show and other fun stuff.
Why is the show called Journal Entries? The process of drawing these became similar to writing in a journal. Something would happen and I'd jot down my thoughts in the form of a drawing. They're coded passages in a diary, which is kind of fun to think about.
How did this show came about? A friend reached out, said she liked what I was doing, and offered me the space. The universe at work!
When did you start drawing? I like to joke that I've been drawing since before I was born, having done Lascaux-style cave paintings in my mother, but no one really finds that as fun as I do. I've been drawing for as long as I can remember.
Tell me about your training as an artist… I went to a little art school when I was five in Colombia, but nothing was ever as specific until art classes in junior high and high school. After that, I went to Parsons School for Design and studied illustration.
How do you define/describe your drawing technique? What do you use to draw? I choose illustration over art simply because I find it to be more accessible. Speaking to that, I enjoy drawing with a regular ballpoint pen better than most other things. A pack of Wexford pens will run you about $3.00 at Duane Reade. I figure if anyone can pick up the same thing I can, it becomes about what I can do with the tool rather than the tool itself.
Do you always draw from life subjects? I try to as often as I can — it's my favorite thing to do. If not, I find old photograph and pick and chose and add to the figures in them.
How did you narrow down the work for this exhibition. It all happened pretty organically. I'd been working on the drawings prior to being asked about a show so after saying yes, I just kept on as before making four or five a week.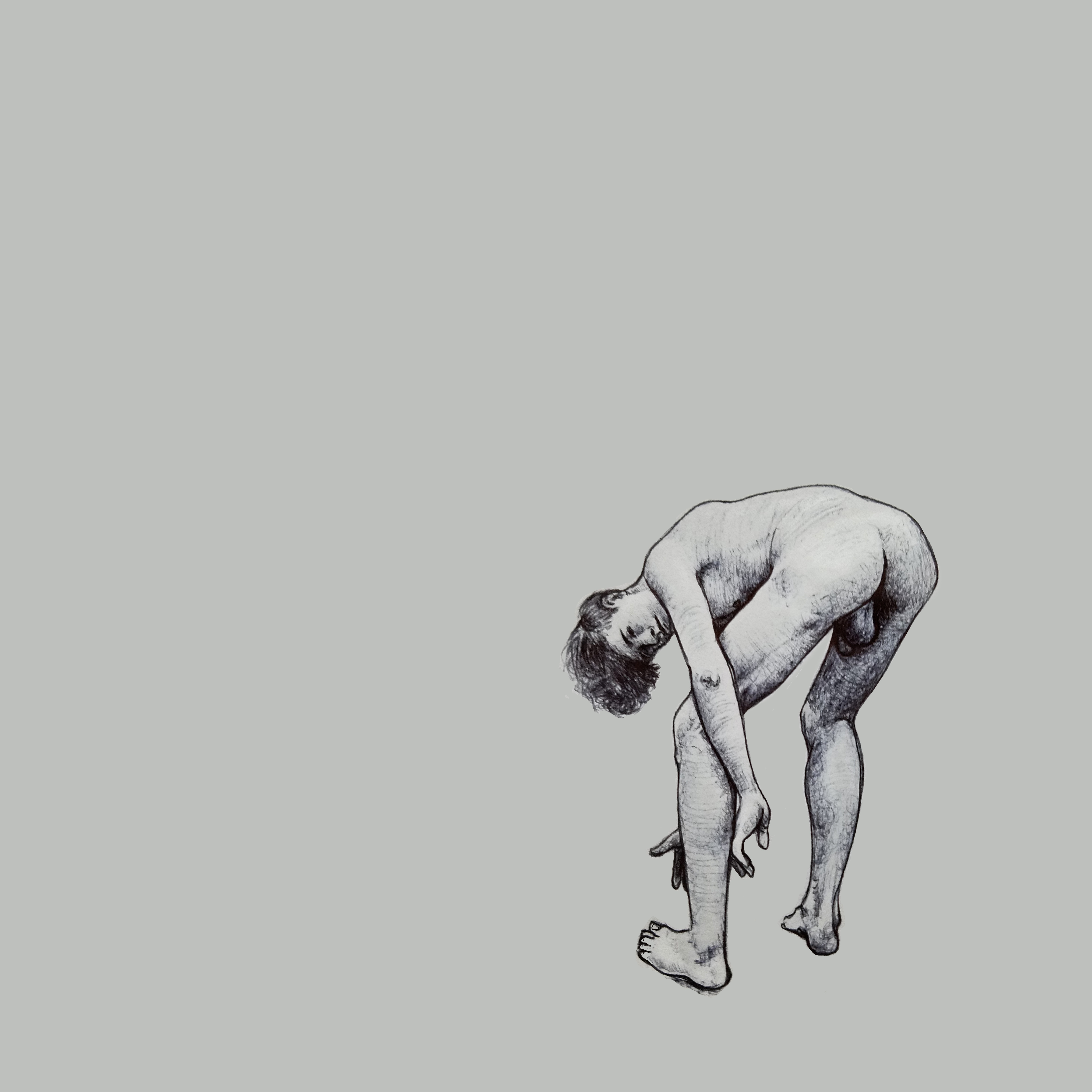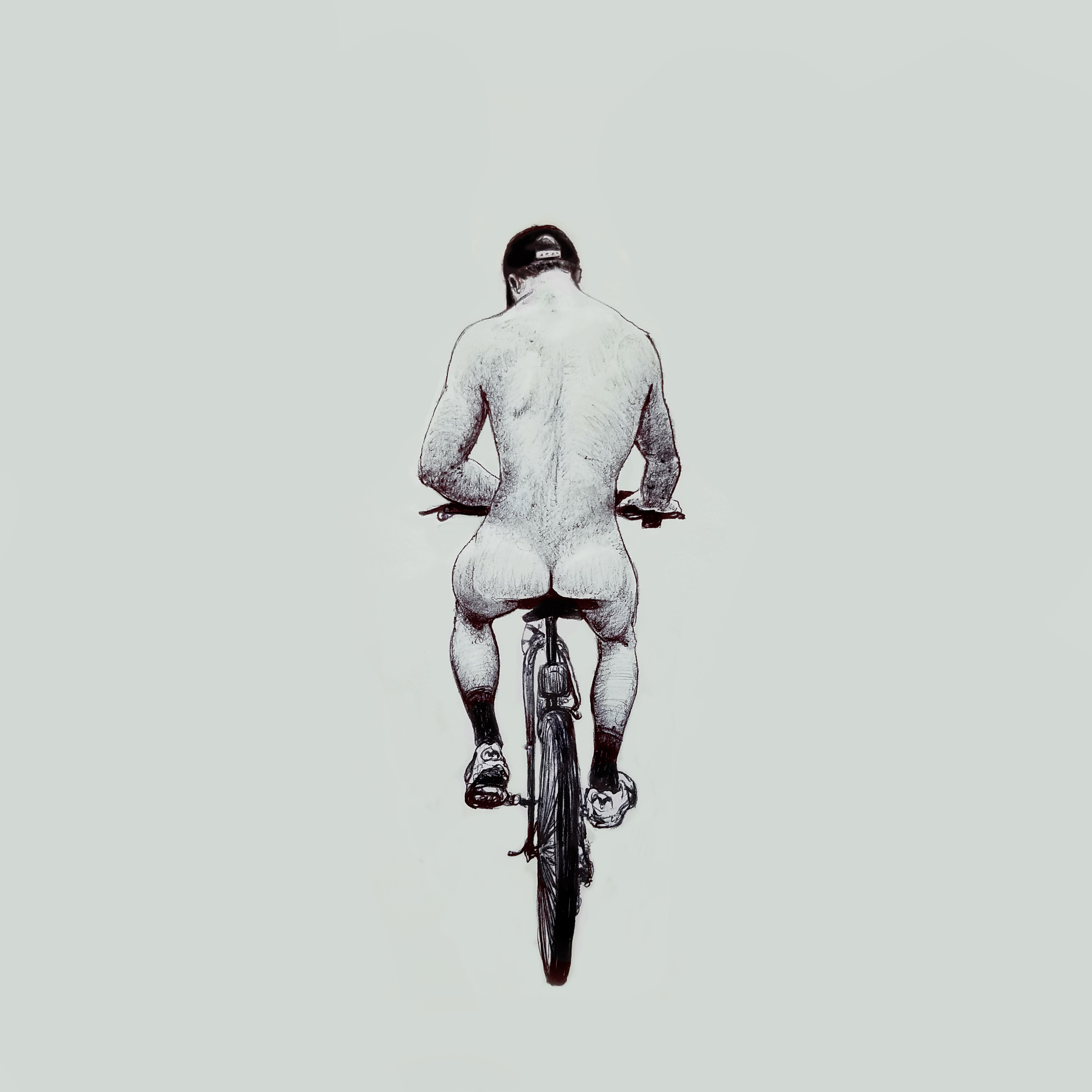 What other artists inspire you? Salvador Dali, Egon Schiele, and Nina Simone.
How do you do cast your subjects? I try and do as little of that as possible. If I find you any kind of attractive, be it physically, emotionally, spiritually, or sexually, I'll try and ask to draw you. If you say yes, chances are we're drawing.
There's a saturation on social media of artists drawing the male figure. How does your work stand out from the rest? I'm not sure it does! I don't actively make my drawings with the goal of them being successful social media post. That being said, it is easy, for me at least, to pick out which drawings come from a genuine place and which don't, both in my work and other's on social media.
What's the most interesting part of a male body? The gluteal fold, where the butt cheek meets the top of the thigh.
Tell me about any unexpected experience you had drawing any of your subjects… For my senior thesis I drew men from Grindr. It's safe to say all of those experiences were unexpected. I saw everything from people doing mountains of cocaine while listening to the then-new Azealia Banks album, couples having sex, to one guy kicking me out of his place and tearing up my drawing because I wouldn't jerk him off.
What type of man do you like to draw? All types. All the bodies! Muscles are fun, sure, but hairy bellies and skin folds and tattoos and scars, that's the stuff I enjoy to draw and those can be found on any type of man.
What inspires you to draw? It's the thing I know how to do best. I never question it. It's simple. I keep drawing because I can't imagine things being any different.
You mentioned you drew over 50 guys for this show, how many of them have you had sex with? A lot of these drawings are from old photographs. They weren't made from life like a lot of my other works simply because they had to be done quickly, like a journal entry. So, none! But I would have sex with a lot of them. They're very flexible.
How many erected penis have you seen during your drawing sessions? Ohhhhhhhh man. Rough estimate? Over 200 in Manhattan alone.
Have you ever been nervous drawing anyone? Always, each time. There's a pressure to perform. Sometimes I schedule a drawing and then I get a headache or I'm really hungry or I'm just not feeling this person in real life and I still feel this need to make a thing.
Why is it important to you to depict the male figure? I have a male figure and it's the source of a lot of questions. I think a lot of my drawings are done in an attempt to become artifacts of those questions in hopes that they'll be answered. Figures are the most interesting things to me.
What makes you happy? Donuts, running, and sad music.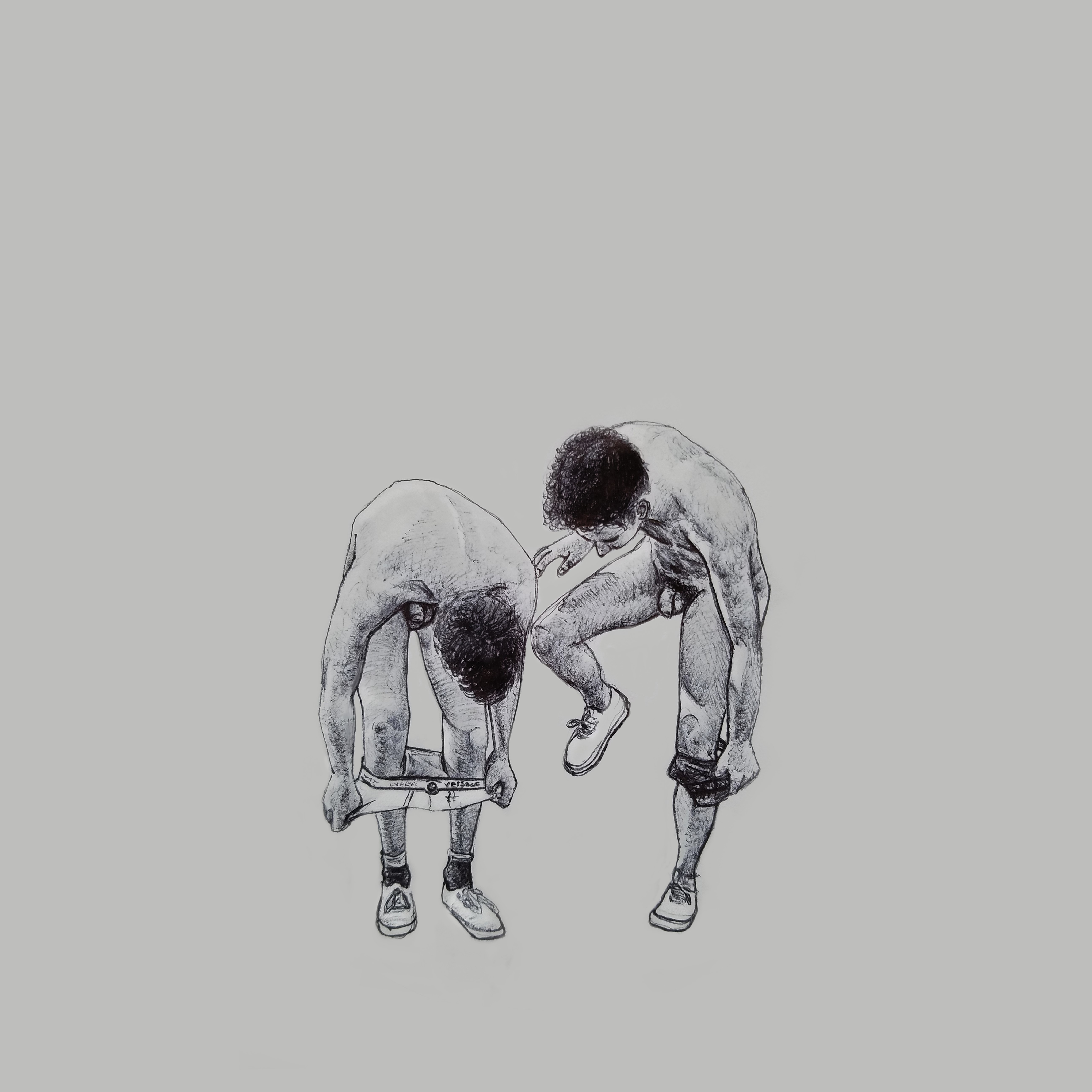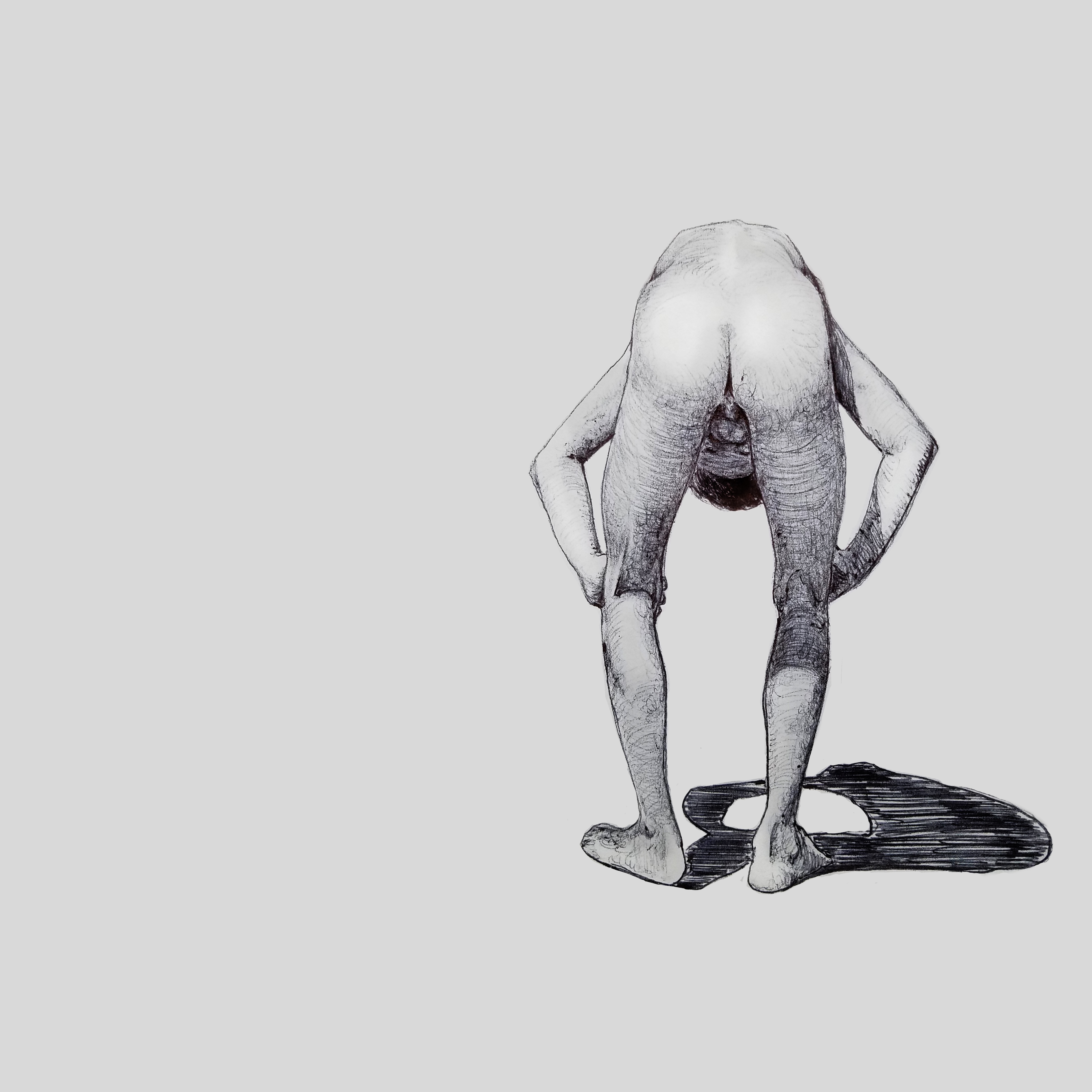 Opening Reception July 8, FREE, 5:00PM-10:00PM, 103 ALLEN St. NY, NY.