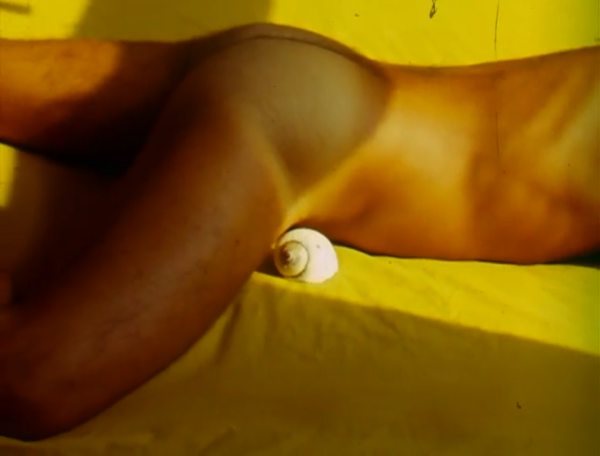 image via onlocation.dirtylooksnyc.org/fire-island
Dirty Looks: On Location 2015 – Fire Island Film + Sound
Dirty Looks: On Location is a film series created Bradford Nordeen. Tonight (Wednesday 1st July) he has enlisted Sam Ashby and Ginger Brooks Takahashi to curate the first screening for 2015.  Sam Ashby is a London based artist, designer, writer and he has been a long time friend to GAYLETTER and we can vouch that his taste is unique, and impeccable. He has a great talent of sniffing out under-appreciated queer films that are worth re-watching. His film publication Little Joe has been around since 2010 and is a wonderful "forum for the discussion of film around subjects of sexuality and gender within a queer historical context."
The event takes place at White Columns on east 13th street. If you're unfamiliar with the space here's a little backstory: White Columns is "New York's oldest alternative art space. It was founded in 1970 by Jeffrey Lew and Gordon Matta-Clark as an experimental platform for artists. 
Ginger Brooks Takahashi is the "co-founder of LTTR, a queer and feminist art journal, and projet MOBILIVRE BOOKMOBILE project, a traveling exhibit of artist books and zines. She received her BA from Oberlin College, attended the Whitney Independent Study Program, and is a member of the touring musical act MEN."
The event sounds super interesting, the films being shown are drawn from Ashby's archive of movies made on Fire Island, and is "activated through Ginger Brooks Takahashi's live modular synthesizer soundtrack, Fire Island Film + Sound is an audio-visual experience that explores the Island as a site of queer exile, utopia, sexual liberation and trauma."
We just got back from Fire Island last night. While there, it's almost impossible not to be conscious of the incredible queer history of the place. It's kind of a Mecca for gays, and it's important that we honor its history. Tonight's event does just that. We suggest you all take a trip through the Meat Rack, grab a drink at Low-Tea and then get on a ferry back to the city and head on over to White Columns on 13th street for a night you won't soon forget.
8:00PM, White Columns, 320 West 13th St. (Enter on Horatio St.), NY, NY.