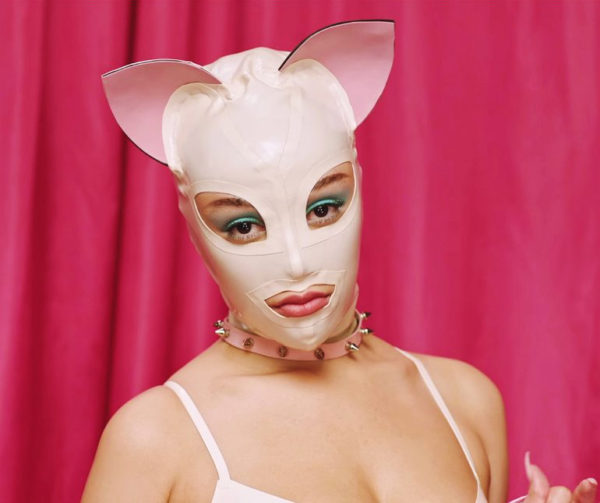 A still from the music video 'Go To Town"
Doja Cat – Amala
The viral "Mooo!" performer is not a one-note act.
Doja Cat's major label debut Amala (Kemosabe Records/RCA Records) sounds like it sprung fully-formed from the forehead of 2018, draped in honeyed synths, serpentine bass-lines, and sugary trap snares. Here, she's left behind the hopeless and barred-out heroine of Purrr! (2014) for a brighter persona, with a range of scenes and emotions more rose-gold than ultraviolet. (You should still go back and listen to "No Police," though.)
"Go To Town" and "Cookie Jar" are the tracks which showcase the zany, larger-than-life sides of Doja most clearly. "Go To Town" is an eat-me-out banger, and the clearest potential sleeper hit from Amala. The track is brash, wacky, and clever, like a Glossier version of her bovine hit. "Cookie Jar," the second track, is also lyrically absurdist ("I got extra taco but you better bring that macho grip") but she delivers that energy at a way more chaotic and ecstatic pitch than the more calculated "Go To Town" can.
Other songs on Amala burn more slowly, like "Wine Pon You," "Roll With Us," or "Morning Light." These shift the emphasis from the anthemic toward the more vulnerable and dramatic possibilities of Doja's voice. The vocal production crystallizes Doja's melodies with glassy harmonies and layers, pitch-shifts and self-samples. This album feels like the final product of an artist ready for wider public reception.
All in all, Amala is a strong and singular debut record. Buy or stream the album wherever, so that Doja can take care of her cat.
Watch the BDSM-inspired music video for "Go To Town."