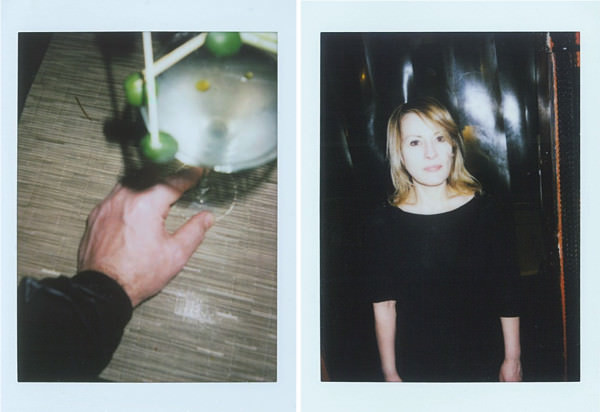 POLAROIDS BY GAYLETTER
DRINK THE BAR: GRADISCA
You gotta go for the cutting up with Miss Bini
There is a very special woman making the drinks — more like exotic creations — behind the bar at Gradsica, the Italian restaurant on W. 13th Street in NYC that occupies the same space that the infamous nightclub The Reno Sweeney once did. Her name is Cristina Bini and beyond being a regal blond from Florence, Italy, she has this rare intelligence and touch when it comes to liquid libations. Cristina said she got her major experience at The Art Gallery Hotel in Florence in their famous Fusion Bar by Ferragamo. There she was concepting cocktails to accompany the fusion cuisine of Italian, French and Japanese food that was no small feat. As she explained to me with a heavy yet sexy accent, "I put my fantasy inside the drink." We were handed the "Tonight's Special Cocktail" card upon arrival and became instantly intrigued. It read, "Italian Bullshot."  It consists of house infused rosemary vodka, celery salt, white pepper, Modena balsamic reduction and vegetable broth served with tortellini. Wow, really? William, our fierce website developer/dear friend and I decided to wait for Abi to order.
Once he arrived, fresh from a prior engagement in Chelsea, we ordered the Bullshot. Several well crafted minutes later this unique, amber, warm drink arrived with three tiny tortellini perched atop the glass on a toothpick. Here are our reactions to the drink: The nose has woody undertones with strong rosemary overtones, almost like a roast, it excites the nostrils to the point of stinging. It's a most unusual, subtle and smooth flavor, a broth like none other. William dipped his tortellini in the liquid — so delicious— mine was equally tasty dry."This cocktail is the perfect appetizer" quipped William "…warms the stomach. Custom savory." After a peek at the restaurant's special cocktail menu, that all sounded devine, we decided to go "off the grid" again and ask Cristina to make another one of her go to classics that would accompany our meatballs and tuna tartare appetizers. She nodded and said "OK, I make you a Pachanka." We were puzzled so I asked her to write down the spelling and as it turned out the drink is called "Paco Taibo," roast pepper, gold tequila, lemon juice, a touch of sugar, pear garnish and black pepper. We all agreed — so subtle again, fruity but not sweet, spicy but not overpowering, not at all obvious. Perfect for a first date! Abi noted it was "very intelligent, good for bottoming" — takes the bite out of the tequila but keeps the smokey flavor of the liquor. Custom sweet.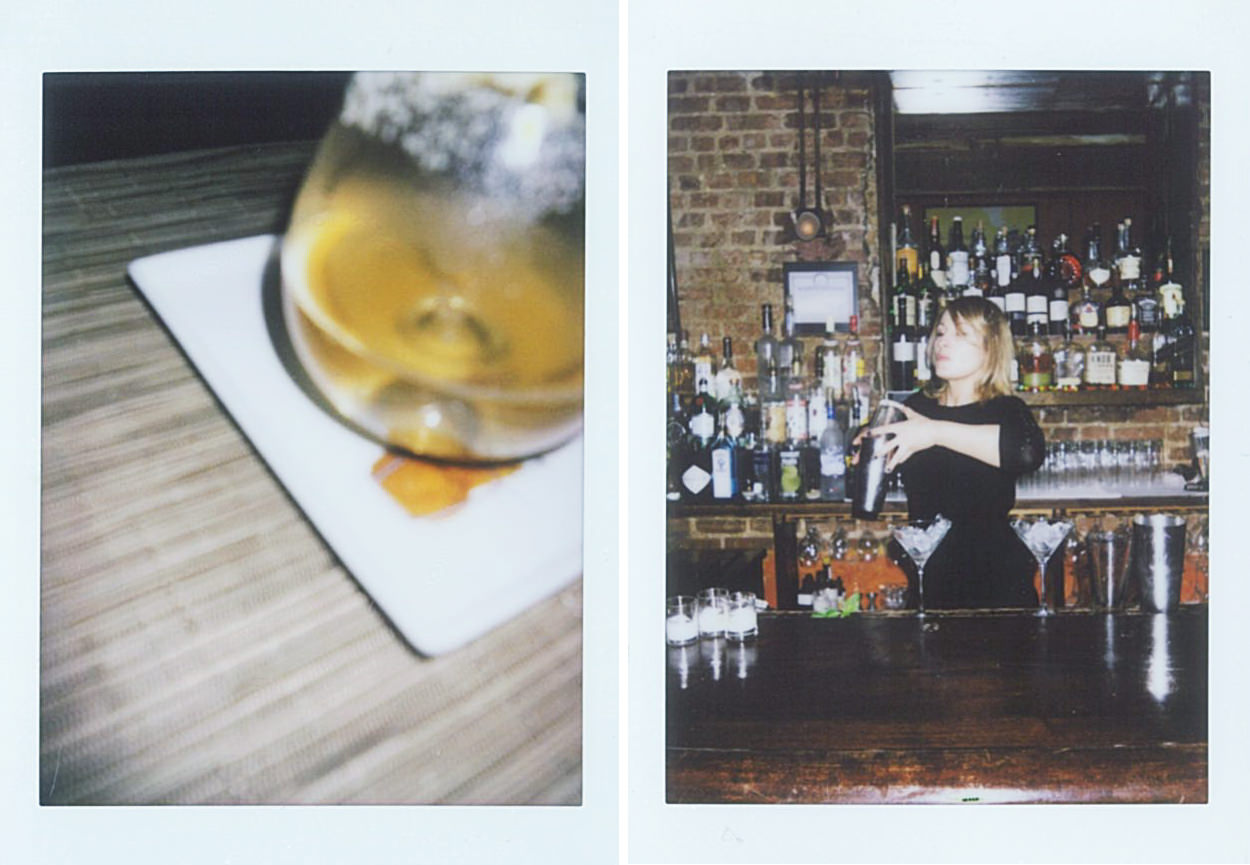 We were feeling Gradisca, the subtle lighting, smooth cocktails and a most conducive environment for kicking it at the bar. We finished our appetizers with Abi commenting on the meatballs. "When something is this good you just want to swallow it," then we moved on to the martini portion of the evening. Cristina put away her blow torch she used to blacken the roasted pepper and began to make a celery martini: 1 stick of celery muddled in a tall glass, gin double strained and a touch of olive oil. We all agreed the celery has a strong presence. The drink was not as subtle as the prior two. The olives have a buttery flavor amply supplied atop the drink. I asked the hot chef, well actually the man running the kitchen (the chef was in Italy) about them and he told me they are castelvetrano olives, William's favorite. I repeat, this is not a dirty martini, even though the olives had a definite impact, this is not for dirty martini lovers.
At this juncture we took a break from our cocktailing when the beautiful fresh Caprese salad arrived, you know the classic mozzarella and tomato deal but this one was beyond. Abi added, "When you order something so simple, and it impresses you, you know something is right in the kitchen." Yasss, and as you can see through a slotted window from the bar into the kitchen there is a lot "right" in that kitchen. Moving on to our next cocktail of the night Cristina chose a gorgonzola martini, yes, can you imagine a gorgonzola martini? The mention of it rendered William speechless. It was made from gorgonzola, a touch of dry vermouth and vodka. The flavor was definitively unusual — the taste is much lighter than it appears, not gimmicky, very unexpected. The vodka makes the cheese light and fresh, not heavy and earthy, yet it does have a kick — you must try one. We peeped the food menu and Cristina recommended the special (Cotoletta di pollo all bolognese: breaded pan fried farm raised chicken cutlet topped with parma, prosciutto and parmigiano with duchess potatoes) BUT as we were all sharing, we chose two of the divine pastas instead, a carbonara and a pappardelle.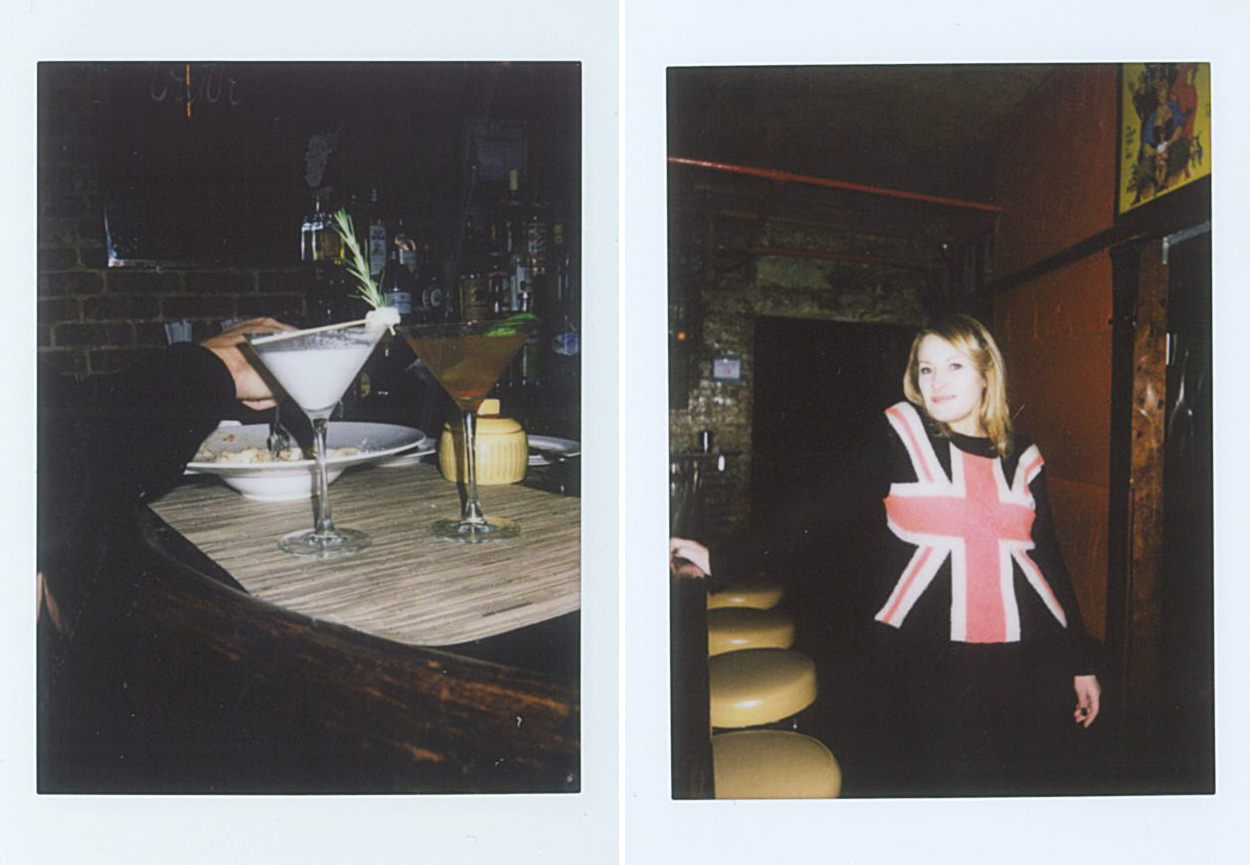 We weren't finished just yet, Cristina had one more treat in store for us, a paprika basil martini. Paprika, basil, gin double strained. A cheer rose up from us in unison, "That's amazing." It's so smokey because of the smoked paprika. "It's a correct martini — the integrity of the martini is retained even though it's flavored" Abi noted. Also a subtle finish we now knew was a signature that many of Cristina's drinks embody and a delightful compliment to the two impeccable pastas. I definitely had a "moment," the drinks, the food, my friends, the rain, "The Girl from Ipanema" softly playing, freshly blown hair….what a fabulous night. We all agreed we must do this again, thanks Cristina, truly a rare bird you are.
Most cocktails are priced around $15, Gradisca 126 W. 13th St. NY, NY. Reservations required but the bar is first come first serve.