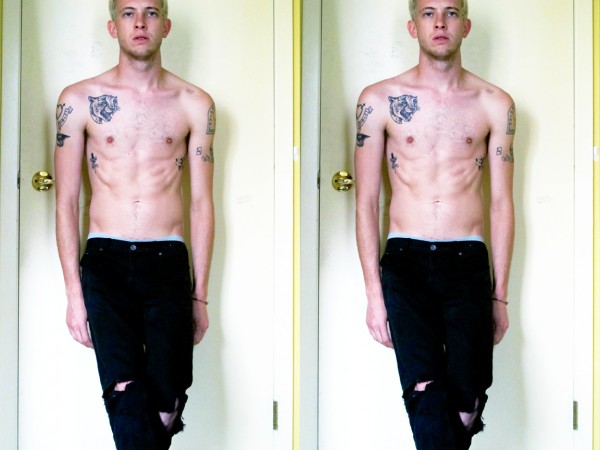 Images courtesy of the artist
Eating Out with Daniel Pitout
The alt rock singer on his new band, groupies & his fav 90s movies.
If there's one thing South African born, Toronto-dwelling Daniel Pitout hates, it's laziness. As the frontman for alt supergroup Eating Out and drummer for scuzzy punk outfit Nü Sensae, there's no question that his brand of restless energy has manifested into a consistently strong work ethic: Eating Out's debut 7", Burn, was released late last year alongside a stellar, 90s-reminiscent music video for standout track "That's My Man," and he's now currently performing in a production of The Buddy Holly Story in Chemainus, British Columbia. He also happens to be one of the few openly gay members in the DIY punk scene, and a very active, forward-thinking one at that: in 2012, he launched the AIDS Day Music Project, a non-profit organization promoting HIV/AIDS awareness through music and art.
We dropped Daniel a line to ask him a few questions about Eating Out, gay groupies, the 90s movies that inspired the video for "That's My Man," and what being queer in the DIY punk scene has meant for him.
Who came up with the name Eating Out and how? I did. I just thought it was a funny name for a band and thought it would be funny to have a gay guy front a band called Eating Out.
What are your thoughts on queer visibility in the DIY punk/grunge scene? Do you find that there's a large, openly gay punk community for younger LGBT-identifying people? I think "queer visibility" is kind of a redundant term, at least in my life. I am openly gay and always have been, and I play in bands. I've never had to make a point of pushing any kind of political agenda nor hide who I am. I believe that barriers are broken when you stop acknowledging them. I've never made decisions based on my sexuality or let it define who I am as an artist or a person. I think if you are into punk music and you happen to be LGBT then you should listen to that music and start a band. Not because you are gay, but because it's what you wanna do.
The video for "That's My Man" fits the 90s, grunge feel of Eating Out's music so perfectly. Where'd the concept for that come from? Was it  inspired by any other specific music videos/films? It was inspired by my love for 90's teen movies I grew up on. Clueless, Can't Hardly Wait, Wayne's World, etc. I also try making music videos like I'm making a film. I feel like no thought goes into music videos these days and people just wanna bang 'em out. I have probably spent more money on music videos for Eating Out than I would ever spend on recording the songs.
You've said in the past that Eating Out is inspired by bands like Smashing Pumpkins and the Breeders. What is it about that kind of alt-rock sensibility that appeals to you most? It's just what I grew up loving and still listen to today. Siamese Dream was the first album I would listen to over and over.
Who do you think is the hottest drummer of all time? Hottest frontman? I used to have a crush on Taylor Hawkins from Foo Fighters but I dunno if he is the hottest drummer of all time. Frontman would have to be my boyfriend Kurt Cobain.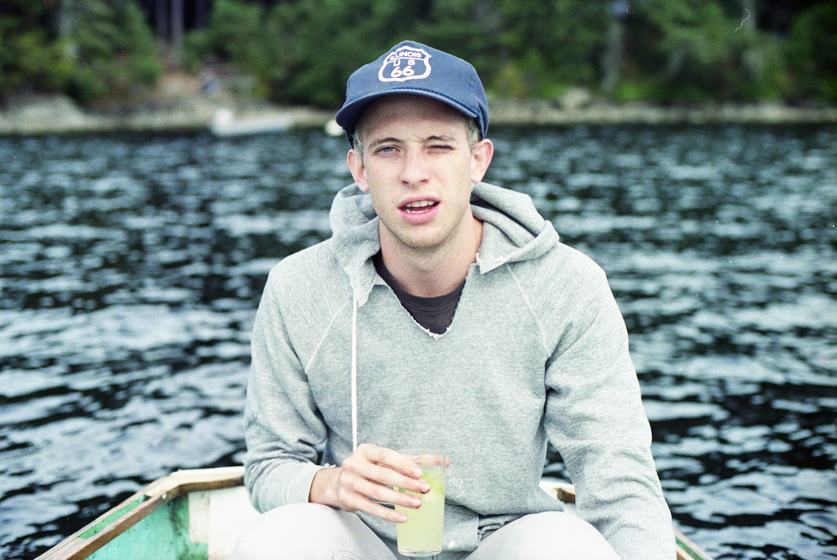 photo by Gordon Nicholas
We saw you were ranked as one of OUT's 100 Most Eligible Bachelors last year. What kind of attention (unwanted or not) did you get from that? Can we expect to see you on this year's list? Well I'll just say it made me realize how pushy, aggressive and entitled strangers can be. But besides that it was mostly all positive attention. I mean there is something sad and hilarious about being voted on a list for being really really good at being single.
Do gay groupies exist within the punk scene, in your experience? Not really to my experience. I probably get propositioned way more by straight guys at our shows.
What are songs you like to cover live, or would like to  cover that you haven't? In Eating Out we have covered a few songs. "Fuel My Fire" by L7, "Zero" by Smashing Pumpkins. We did an entire Replacements cover set once actually, and continue to play some of their songs.
What is your favorite city and why? I have a lot of different cities I love, but if I had to choose one it would be Johannesburg, South Africa. It's my home and where I grew up so you can never really beat that.
If you could give advice to a young gay kid looking to start a punk band, what would it be? The same advice I would give any kid trying to start a punk band: have fun and make sure your heart is always in it.
Any future plans we should know about? I am going to be recording new material for Eating Out soon in the hopes of having my first full length album for that band.
Watch the video for "That's My Man" below:
You can also find Daniel on Instagram and Twitter.