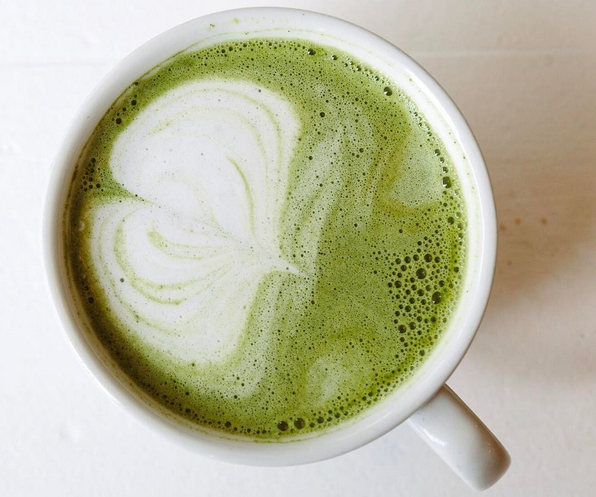 image via @babacoolbk
EXPERIENCE MINDFULNESS, MOVEMENT & MATCHA – MATCHA PARTY
You may have heard that matcha is currently all the rage. I'm not sure how on board I am, but it's very much in fashion. The way these food trends start are so foreign to me. My assumption is that Facebook or Tasty must have played some role in launching the current craze over this southeast Asian specialty. "Matcha madness has officially taken over – it's being experimented with in a variety of delicious culinary applications across the five boroughs and beyond." When I first tried matcha, I was 16 and with my very best friend whose Indian household had, and still does have, the sickest tea collection. She whipped us up some lattés (under her mom's supervision) and we were lit. This was the cusp of Instagram's popularity and we all had DSLR cameras, so we were hyped to be taking really poorly composed photos of this aesthetically pleasing cup of green.
Now you can get it at your local pour-over coffee shop and they'll make sure one of those stylish leaves are milked into it. Ah, sweet commodification. Ceci Cela, which is around the corner from the GAYLETTER office, does a frozen version that will turn you out when you're hungover or just bored. This is about as far as I've ventured into "matcha madness." If you're unfamiliar with the drink or just looking to jump on the band-wagon, Baba Cool is hosting an event that will incorporate a traditional matcha ceremony (not sure what this entails to be honest) with what they call the "modern Brooklyn influences (read: hip hop dancers and other local flourishes)." This event reeks of Portlandia and I love it. "Open to the public, guests will experience a unique exploration in collective imagination, a celebration of the meaningful cultural rituals surrounding matcha tea and, of course, enjoy some delicious beverages." You heard her, Nancy? Do something healthy and choose matcha over wine. You won't die.
$10, 8:00PM, Baba Cool, 64-B Lafayette Ave. Brooklyn, NY.