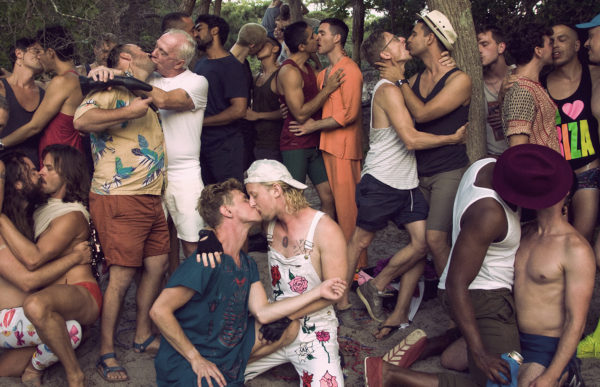 Ryan McNamara, Queer Saliva Heals (Meat Roack Kiss-In) 1, 2016. Digital inkjet print, Courtesy of the artist and Company, New York.
Fire: A Little Piece of Fire Island
I've never been to Fire Island, but I've heard about it. Stories about a gay paradise: parties, sex, drugs, the Meatrack… A place for fun and friends where you can be yourself and not worry about what anyone else has to say about it. Ryan McNamara has curated the work of 17 queer artists into an exhibition simply entitled Fire. It captures the experience of Fire Island. Littered on the floor are fliers for DWORLD Underwear Parties that read "The pool is open at 2:00AM for a skinny dip!" and "NYC's hottest Go-Go." In the center of the space is a sculpture of a squatting boy called "Boy's Tears" by Cajsa von Zeipel. It's surrounded by sand, towels, flip-flops, and deflated beach balls. An empty bag hangs on the wall. Scribbled on the front of it in marker is the description, "K8's Jockstrap Collection Bag. Do it for fashion!" Next to the bag, K8 Hardy fitted several jockstraps onto a fiberglass mannequin. A wood and plaster creation ("Chemical Compound") by Ryan McNamara depicts countless faceless figures kissing, sucking, and fucking in the biggest orgy I've ever seen.
Walking through the exhibition is exciting, it's like walking through the remnants of a wild beach party that just ended an hour ago. I felt like dropping everything and going to Fire Island to experience the inside-jokes, and the community that seemed to be all about acceptance and having a good time. In organizing Fire, Ryan McNamara makes a statement about the importance of queer spaces. Like Fire Island itself, the exhibition is a small bubble of queer pride and fun. "This is a very personal show, in the sense that it has no pretensions of thoroughness or coherence. A series of friendships and encounters organized around a shared experience of finding one's place. Just some people inhabiting a tiny speck of the world and — to borrow a phrase by Douglas Crimp, another friend from the island — misfitting together."
Other artists include Travis Boyer, Jack Brusca, TM Davy, Raúl de Nieves, Nicole Eisenman, Kia LaBeija, Matthew Leifheit, Hanna Liden, Tiffany Malakooti, Samuel Roeck, Paul Mpagi Sepuya, Devan Shimoyama, A.L. Steiner, and Wolfgang Tillmans.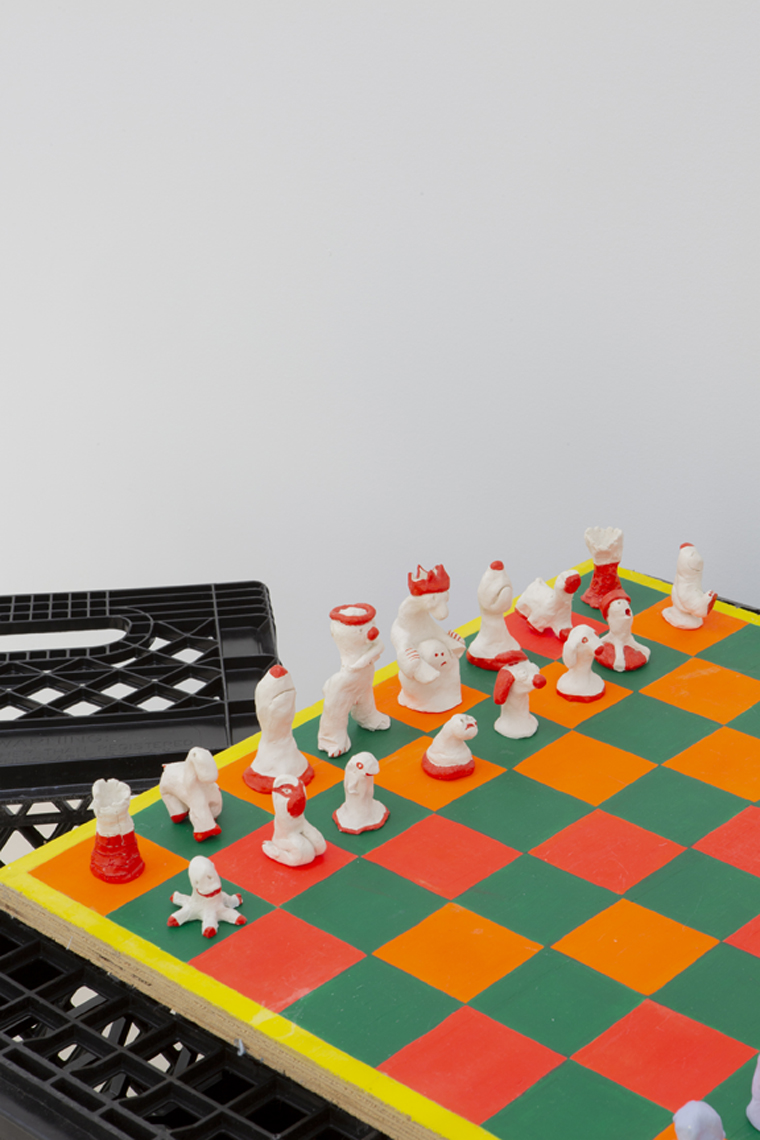 Nicole Eisenman and Tiffany Malakooti, Remarkable Lesbian Chess Set, 2016. Clay, wood, and paint. Courtesy of the artists and Company, New York.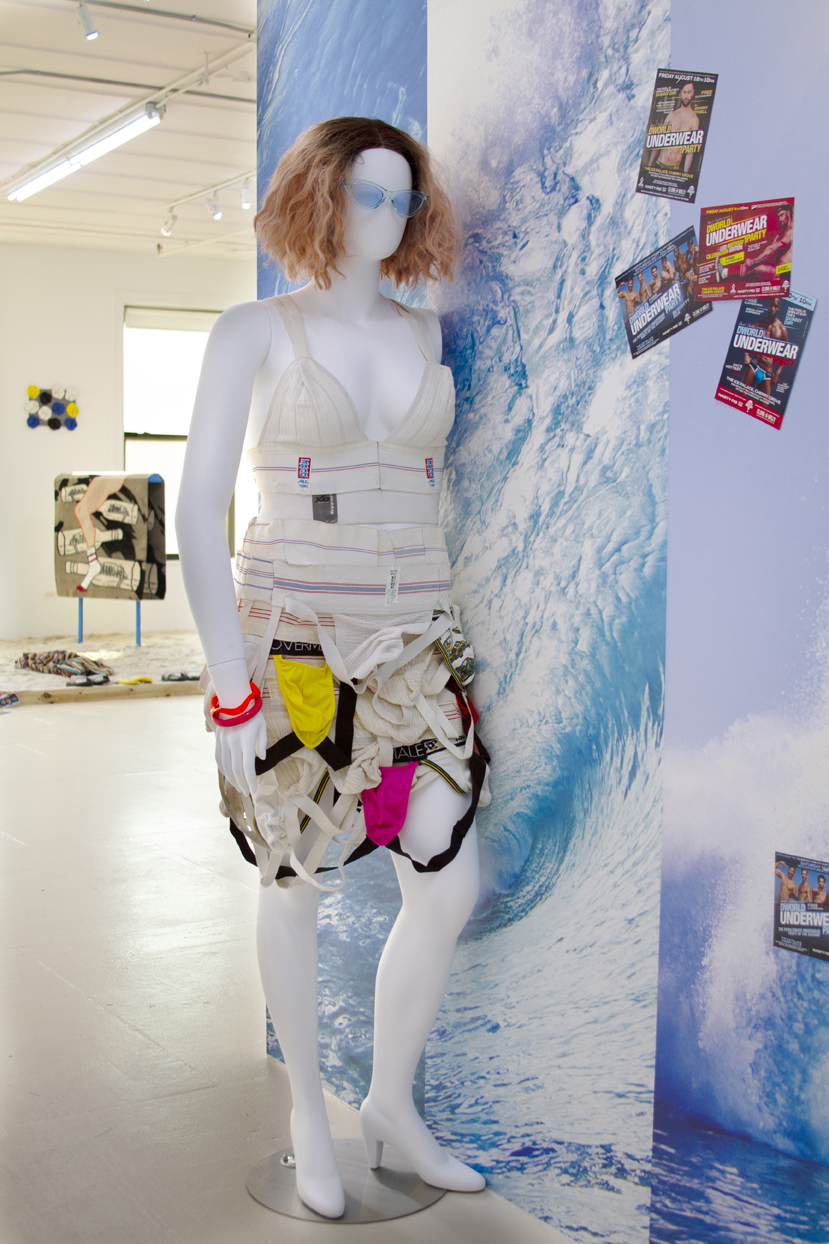 K8 Hardy, Look Pines, 2016. Fiberglass mannequin, metal base, cloth, enamel paint, synthetic wig. Courtesy of the artist and Company, New York.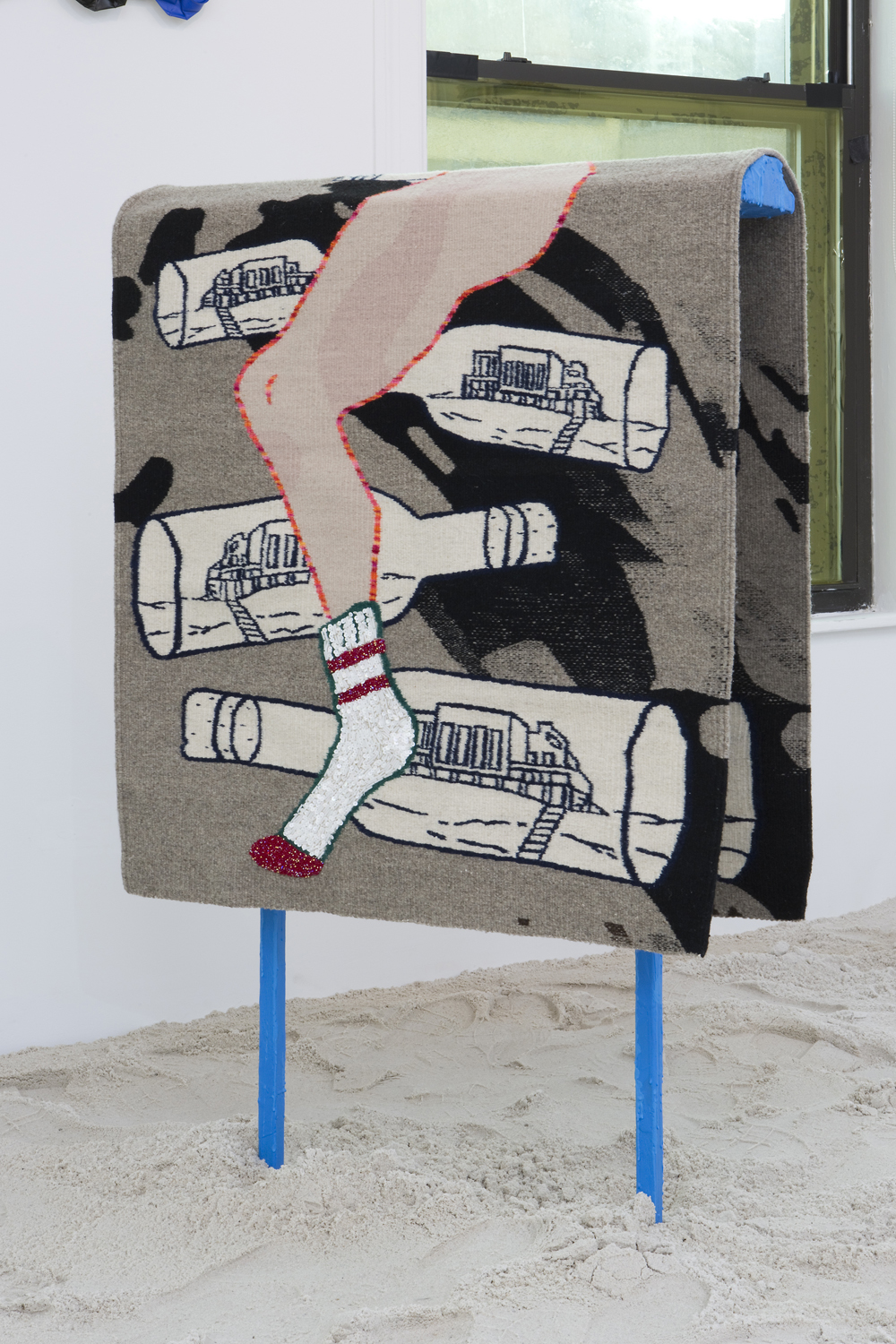 Travis Boyer, Le Fountain, 2019. Embellished and dyed wool blanket on beeswax, wood, and steel frame. Courtesy of the artist and Company, New York.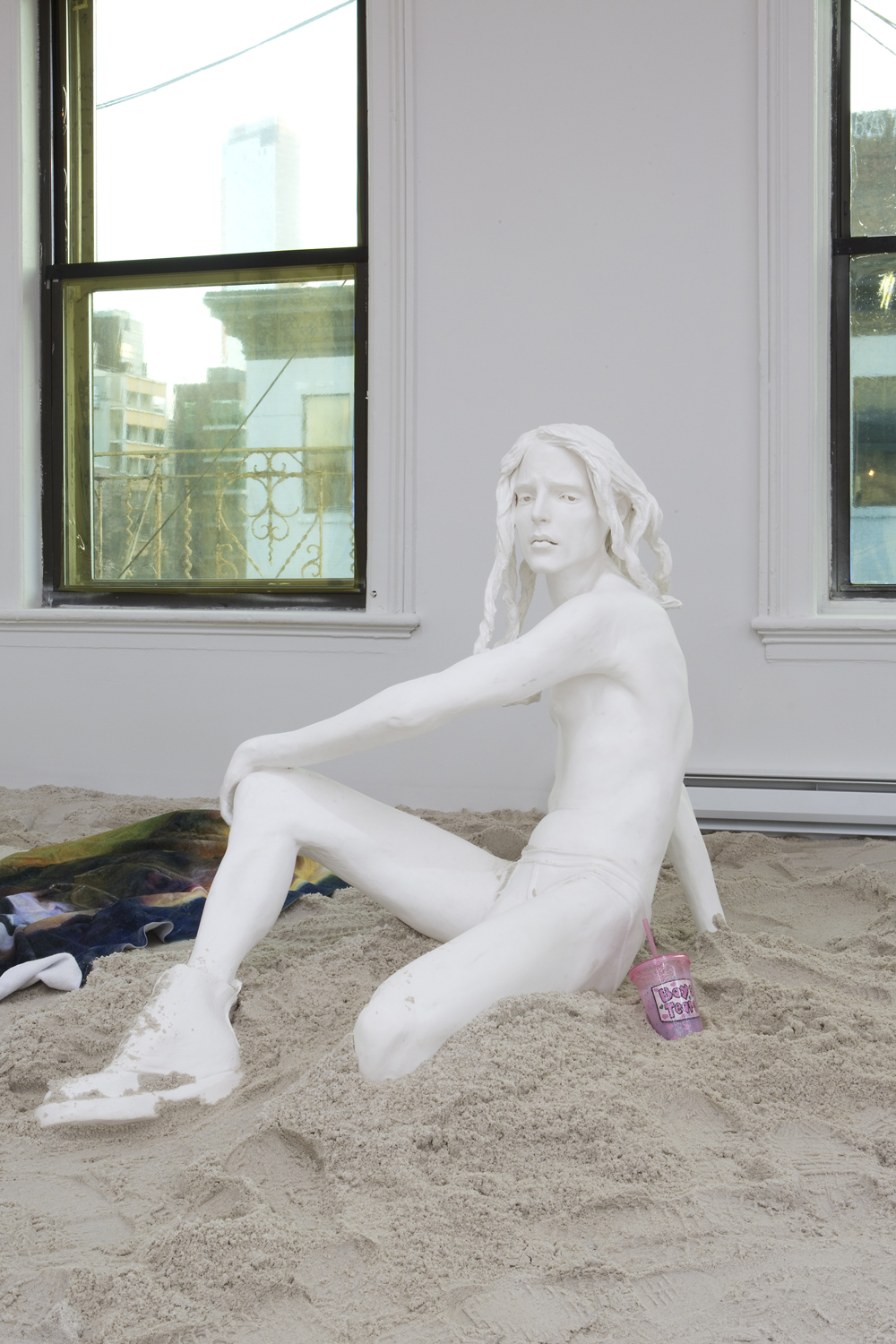 Cajsa von Zeile, Boy's Tears, 2019. Styrofoam, fiberglass, aqua resin, plaster. Courtesy of the artist and Company, New York.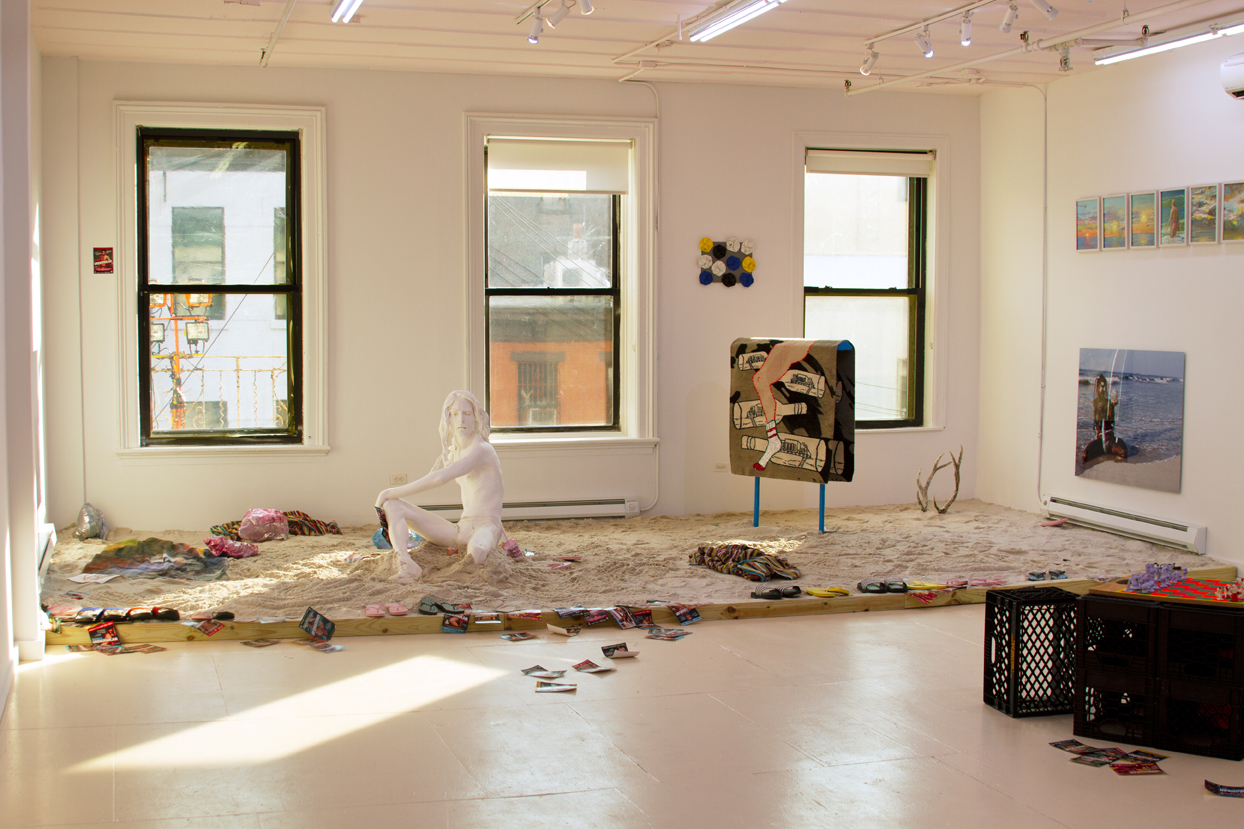 Installation view, Fire, Baby Company, New York.
The exhibition is up until April 14, 2019 at Baby Company, 73 Allen Street, 3rd Floor, New York, NY.