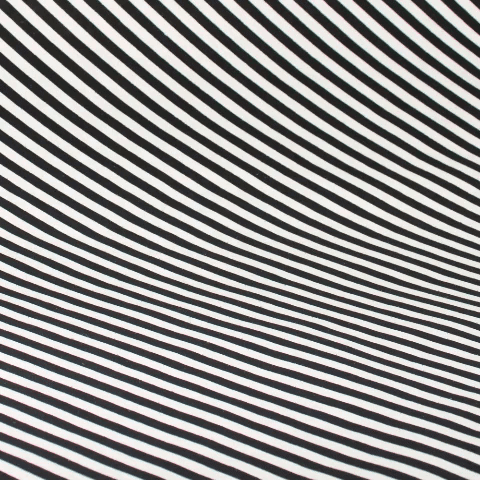 PHOTOGRAPHY BY CONNOR ATKINS
GAYLETTER'S GIFT GUIDE 2017
Our recommendations for the holiday season and beyond!
Attention all holiday shoppers, you don't have to look any further! Whether you're shopping online to soothe your social anxiety, or are just Mx. Last Minute like many of us, consider the hardest part about gift-giving done for you. We've done the research and sifted through a bunch of outlets to provide you with the perfect gifts for your friends, family members, partners or that person you really want to sleep with again. They might be femme, they might be trans, they might be gay or they might be questioning, but who cares! Anything on this list you can gift to those you love with with light in your eyes and good-taste in your heart. Expect a "Yas!" to sashay right out of their cute little mouth once they get to unwrapping.
From the beloved New York-based Malin+Goetz, to the brand-spanking new LIT by Char Defrancesco, please pour yourself a drink and have a gander at this here list. It includes Amanda Lepore, Tequila, Tom of Finland, Marc Jacobs and a bunch of other very sexy ideas for the holiday season. It's shopping with a queer-twist and was curated with our community in mind, because the world is waiting for us to fail and go away, but here are a bunch of gifts that reminded us that damn, queers really do have the best taste!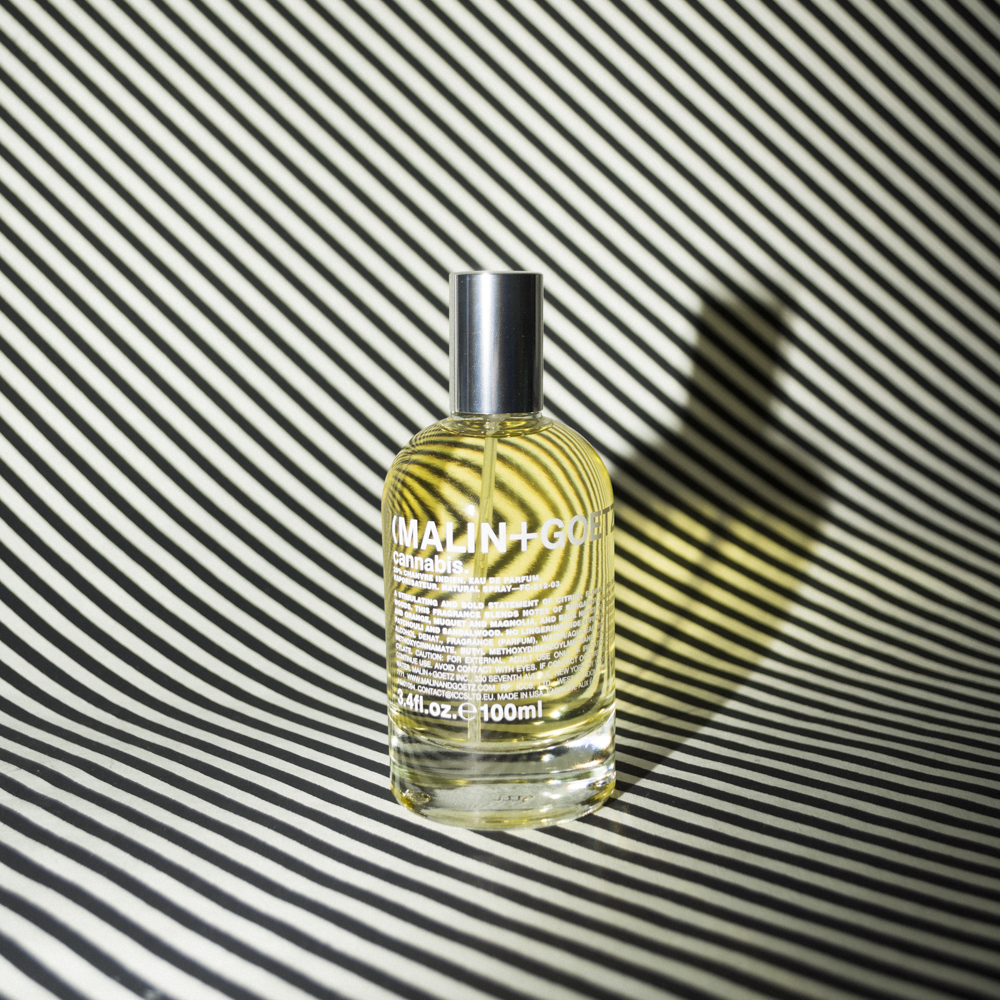 MALIN+GOETZ – Cannabis Eau de Parfum
Combining the faint aura of cannabinoids with sophisticated and seductive earthy notes, Malin + Goetz's latest scent, casually named "Cannabis," is an cheeky gift to give anyone who loves the occasional puff. If your sibling likes to get lifted and Mom and Dad don't know, this is a terrific gift to have them open in front of the family. Malin+Goetz, the New York based skincare and fragrance apothecary, has an arsenal of unisex fragrances (Dark Rum is brilliant for everyday), and Cannabis fits happily into their ranks. "Once defiantly naughty, now inescapably chic, and always a rite of passage, Cannabis has never been more à la mode." The alluring fragrance has notes of bergamot, black pepper, magnolia, sandalwood, and of course, a little bit of weed. Unfortunately, it's THC free! ($165, malinandgoetz.com)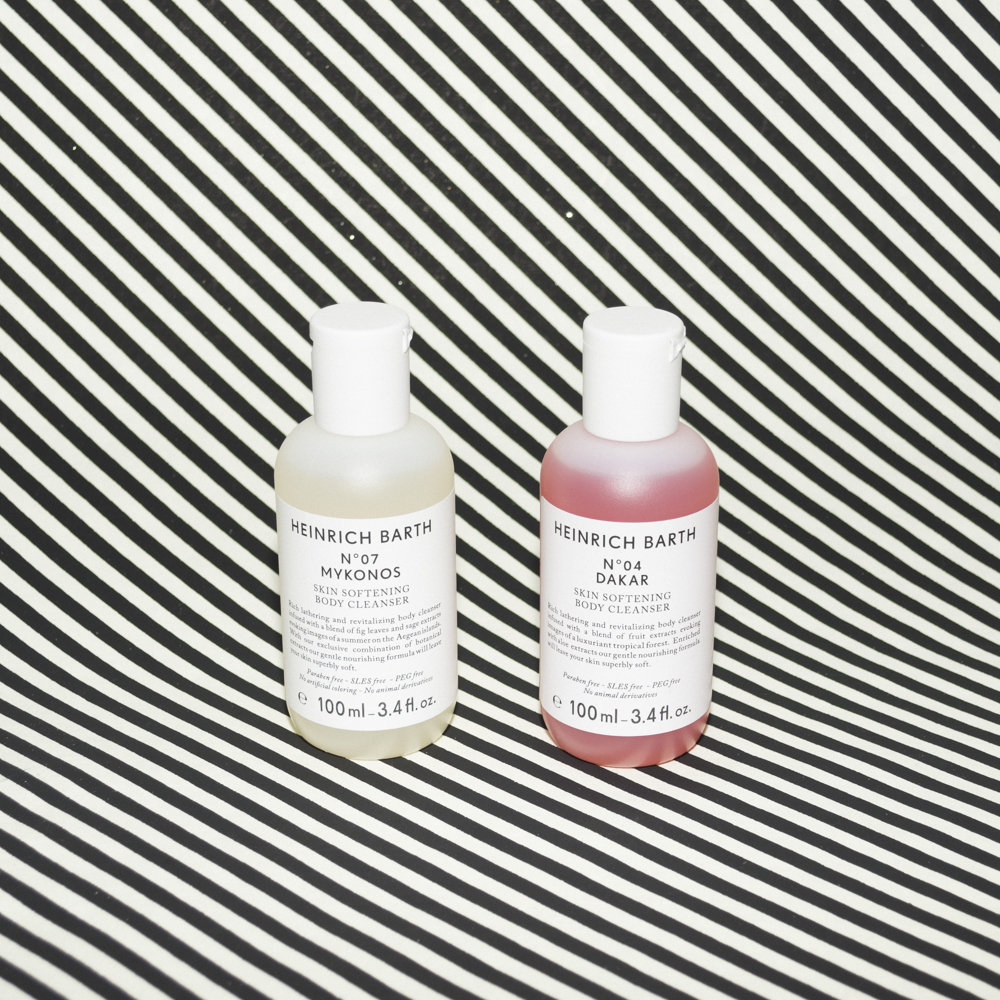 Heinrich Barthe – Body Cleanser
Ask around and see what your loved ones prefer, are they bar soap or body wash people? You'd be surprised! Everyone is different, and so is their skin. Some people are prone to flare ups and others are just lucky, they have weird amphibian-like skin that keeps replenishing and hydrating all day long. Heinrich Barthe was one of the greatest explorers in the 19th century, and this new bath and body line is geared toward having your travel needs met. They've created "a range of beauty products for your daily needs, sourcing the best ingredients from local flora around the word, to recreate the aura of a destination that lingers on as a souvenir." Manufactured in Italy, the primary line has a neutral scent and is cruelty free, designed for a traveler who wants to seamlessly move throughout various locales. The body cleanser mixes fruity ingredients with Aloe extract to leave skin hydrated and silky smooth even after you pat down. Perfect for the gym locker or any hotel shower. ($17.50, heinrich-barth.com)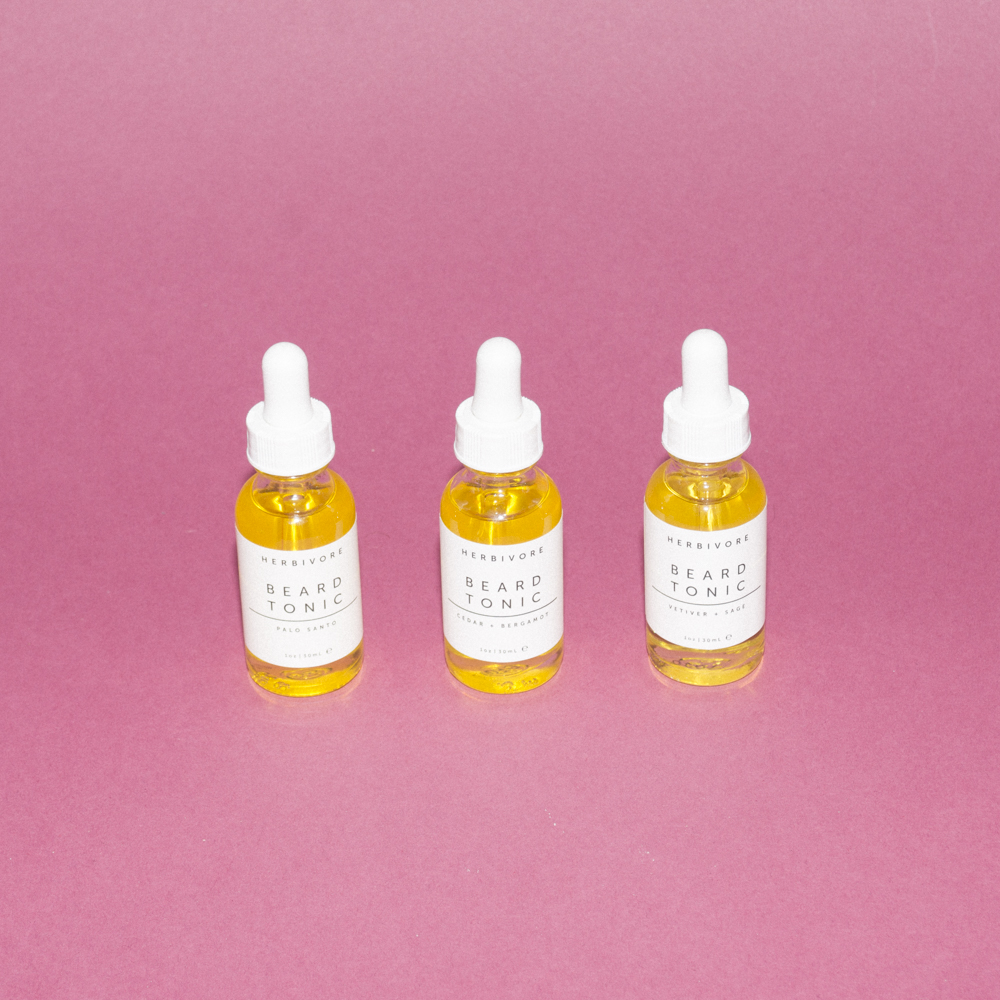 Herbivore – Beard Tonic
These days, there are two types of men: men who have beards, and men who wish they had beards — of course, there's a whole spectrum of gender, but it still stands to reason that beards are lit and if you don't have one, bummer! And to keep that beard looking fresh and not like the dandruff-infested rat's nest that it probably actually is, you've gotta put product in it. Herbivore produces a fabulous beard tonic in 3 delicious scents: Palo Santo, Cedar + Bergamot, and Vetiver + Sage. These tonics — essentially all-natural plant oils — are not heavily perfumed but rather balanced and subtle. When applied to one's facial hair, the smell is just slightly there, but not too offensive for those with sensitive noses or a general distaste for fragrance. In addition to the spot-on aromas, the tonics moisturize the beard hair as well as the skin below. ($20, herbivorebotanicals.com)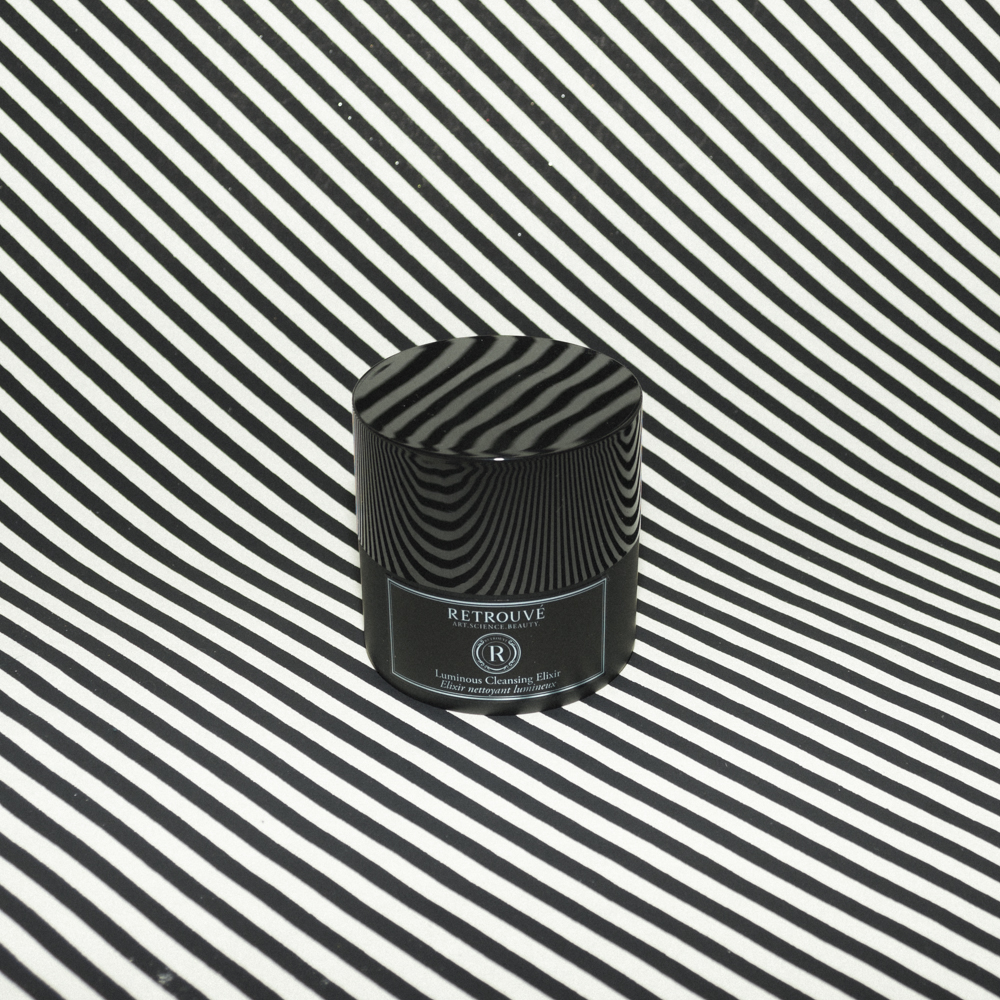 Retrouvé – Luminous Cleansing Elixir
Whoever said don't judge a book by it's cover is an idiot, because we all know that's not true. The same goes for product. Expensive package design can guarantee a sell, especially in the queer community since we're usually interested in what looks best on the shelf regardless of how good it works. (Don't say that's not true.) This elixir from Retrouvé is gorgeous, and we spent a lot of time admiring how well our set design reflected off the packaging. "An elegant, water-free cleansing balm rich in beneficial oils that is ideal to massage onto the skin for an ultimate cleansing experience," the cleansing elixir is "easily-spreadable, yet richly textured, with effective moisturizing cleanser that has been formulated to be removed easily from the skin so as to avoid unnecessary pressure or pulling to the delicate facial area." Imagine you just got in from the gig and you have to start taking your face off — why not provide someone with the best of the best in skin rejuvenation? ($75, retrouve.com)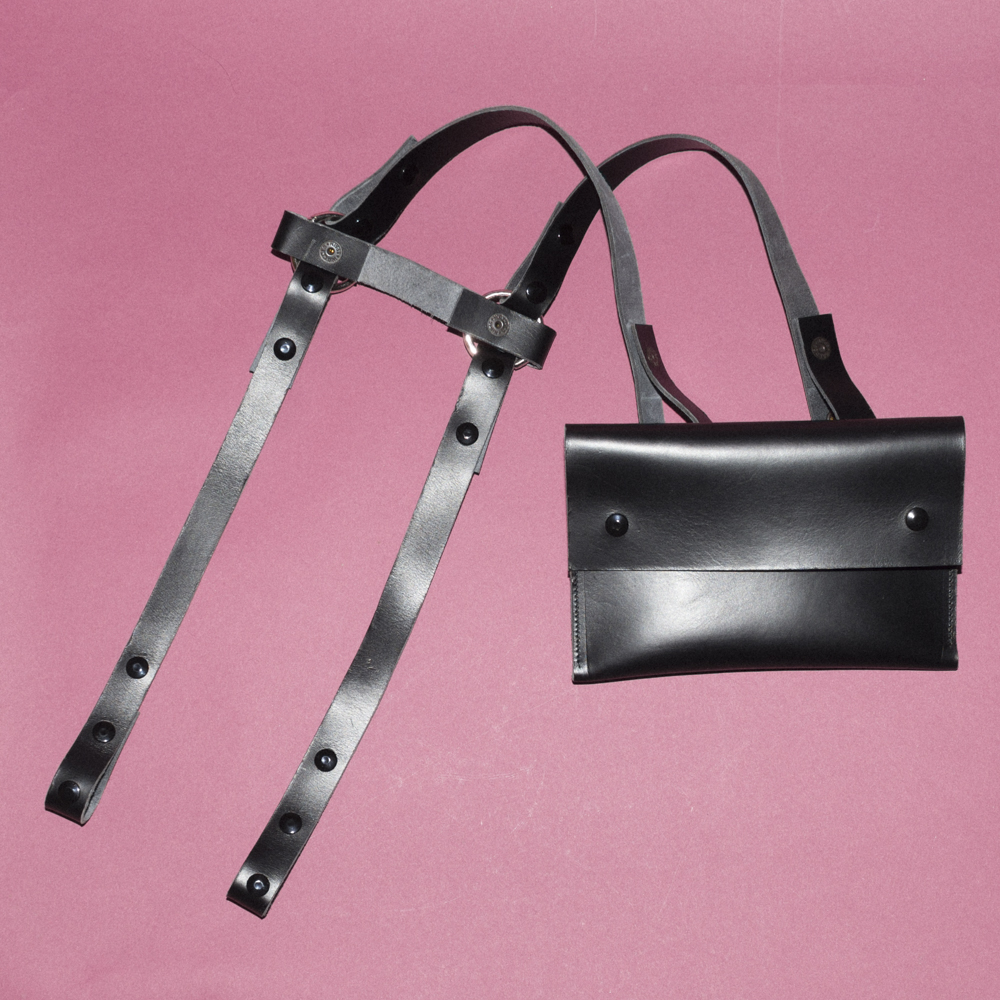 Artém Atelier – Harness Bag
Is it a bag? Is it a harness? It's both! The Harness Bag from Artém Atelier is perfect for the sex party attendee who needs somewhere to store their poppers and lube but wants to look sexi at the same time. The bag is the brainchild of Aatem Khudoroshkov, a Russian born leather maker who now lives in Spain where all of his products (and there are many!) are made. Besides the Harness bag, he also makes sandals and other bags that are equally beautiful in design. The harness bag is the perfect gift for the leather daddy in your life or a perfect request from your sugar daddy. ($149, artematelier.com)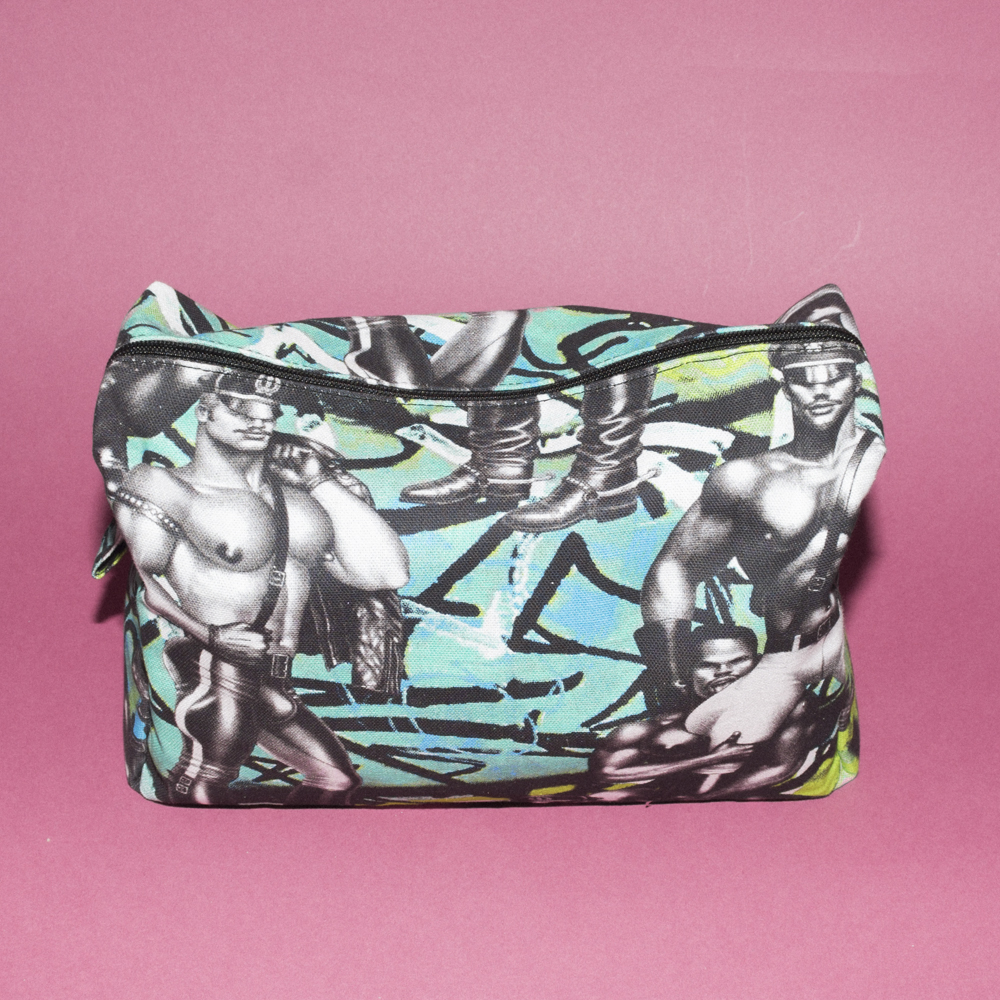 Tom of Finland – Street Style Toiletry Bag by Finlayson
Tom of Finland got his work seen by traveling around a bit. First to Germany, and then eventually to the States. He was nearly arrested for carrying his homoerotic drawings, so to carry a travel bag emblazoned with his his beefy creations in public is a total act of pride. Travel bags are always too small or too big, but this bag is just right, considering its spacious and sensible design. Do you travel for work? Is your friend super anal about being organized? Look no further if you answered yes to either. The graffiti inspired design is a bold choice for the brand, but such an illustrious image direction is not uncharted waters for ToF. Have Tom's leather-clad daddies accompany you on your next trip to Miami, Mr. Apt 4A, or Mykonos. They're too proud to be left behind. ($50, tomoffinlandstore.com)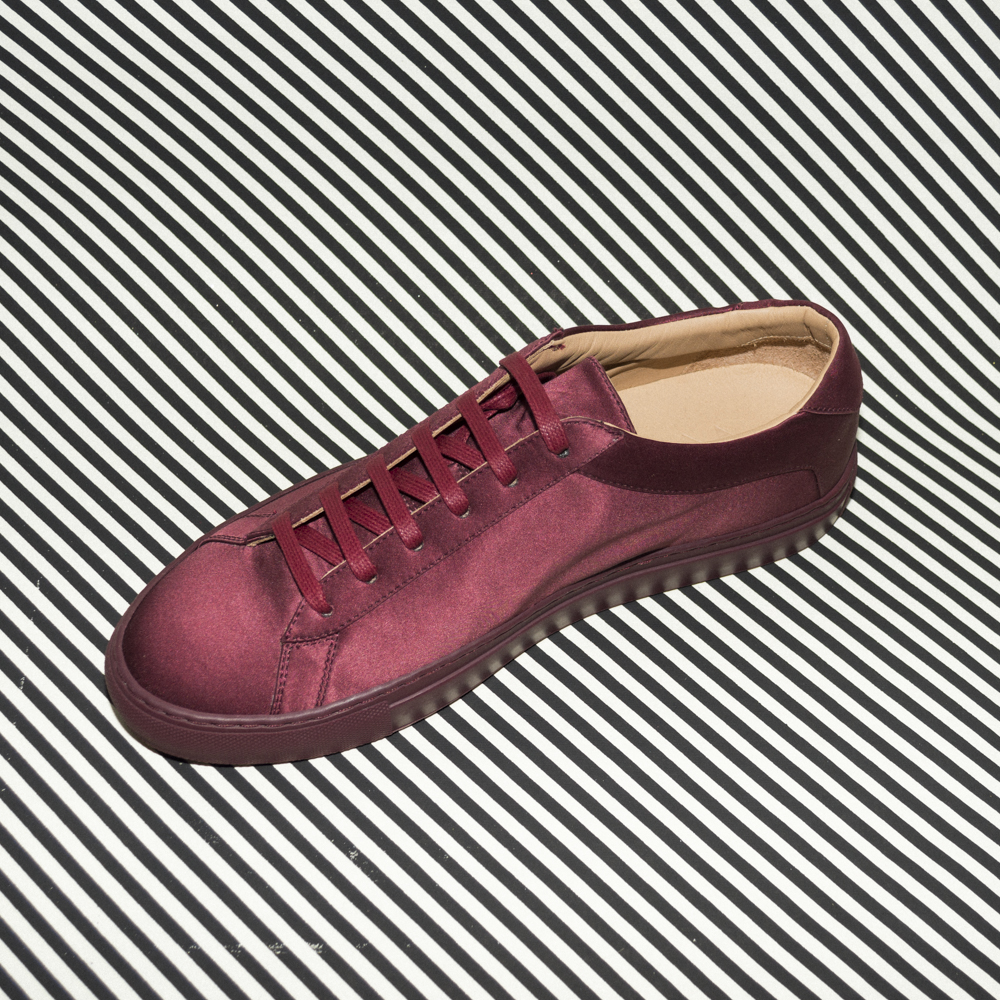 KOIO – James Whiteside collaboration 
Shoes are a lovely way to tell someone that you support them and care about the way they look. If you have generous  family or friends, it's also a great gift to ask for, since sometimes shoes can run you a pretty-penny. James Whiteside, or Mr. Ballet, has teamed up with Koio for his own line of footwear. Of course he spends most of his time wearing tights and flats, but, considering he's no stranger to red carpets, these gorgeous maroon-satin sneaks are super light on the feet and are dying to be seen. Featuring a replicated illustration of James' signature claw tattoo, this limited edition collaboration will mark someone as trendy, but also in the know. They are releasing under 200 pairs, which is a bit extreme, but who doesn't love some streetwear hype? Especially if you've got a thing for sexy feet! Here's a shoe you can be annoying with at Holiday parties. Like, it's Christmas red. You can wear the shoe and an all black look and still be on trend for the season. Shantay you stay hunny. ($298, koio.com)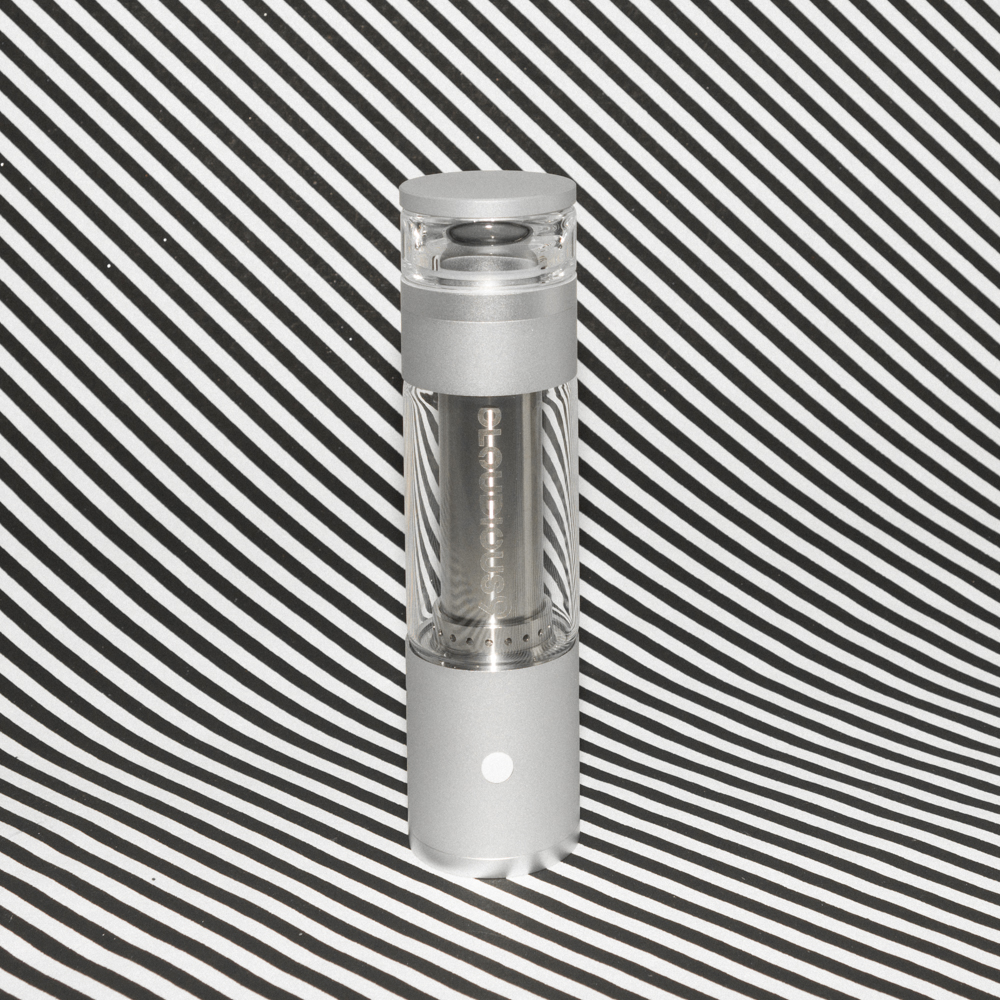 Cloudious9 – Hydrology9
The holiday season sucks because getting high outside is a total drag. Joints are easy on the go, and bowl-packs are always a nice way to be nostalgic in your parents' driveway, but let's get real, vaping is the future. The Hydrology9 Vape is super quiet and subtle. It's like the Prius of vaping. The Holiday Bundle is also an insane deal: it includes the vaporizer, AC adapter and charging cable, user manual, cleaning kit, genuine leather case, and free acrylic replacement cylinder tube. OK! This is the future of weed made chic. The device is also trippy as fuck. It changes color during your session, so if you like lava lamps and rainbows, then look no further. Hyrdology9 is giving you full fantasy; lights, lifted, action! ($250, cloudious9.com)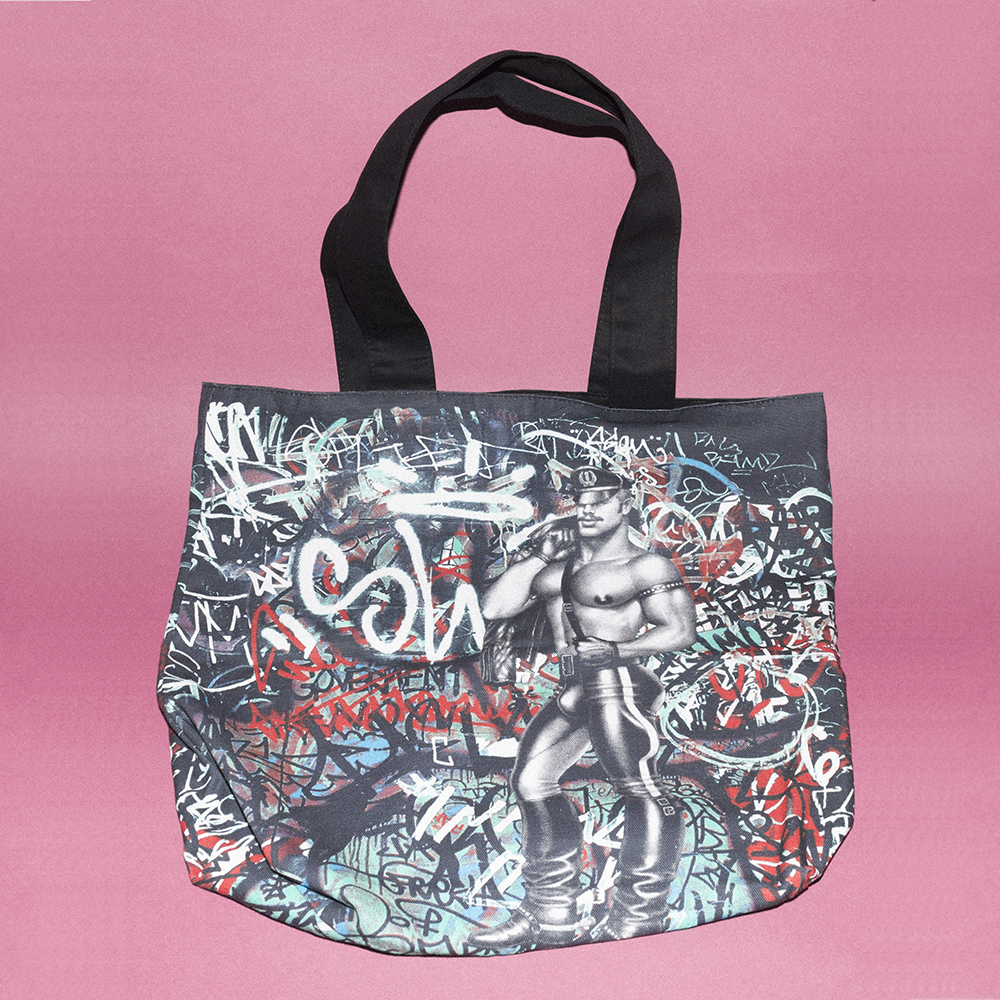 Tom of Finland – Back Alley Lined Tote by Finlayson 
You're lying if you're saying you do not need another tote, and you're lying if you're not always trying to borrow one of your friends as you leave their home with some clothes you left behind after a long night. What's the problem with an abundance of totes? Nothing. They are made to match moods, match outfits and, in a more eco-friendly sense, carry your groceries! (Plastic is not cute, babe.) Featuring the same graffiti style artwork as the travel bag seen earlier in the guide, this Tom of Finland tote will look fabulous through every season. That said, it might get extra attention at the beach because who doesn't love to ogle at more hot bods. Keep this on deck for everyday. It's flavorful and large enough to carry quite a few essentials. You don't really have to pack wisely, it has plenty of space for all of your needs. ($42, tomoffinlandstore.com)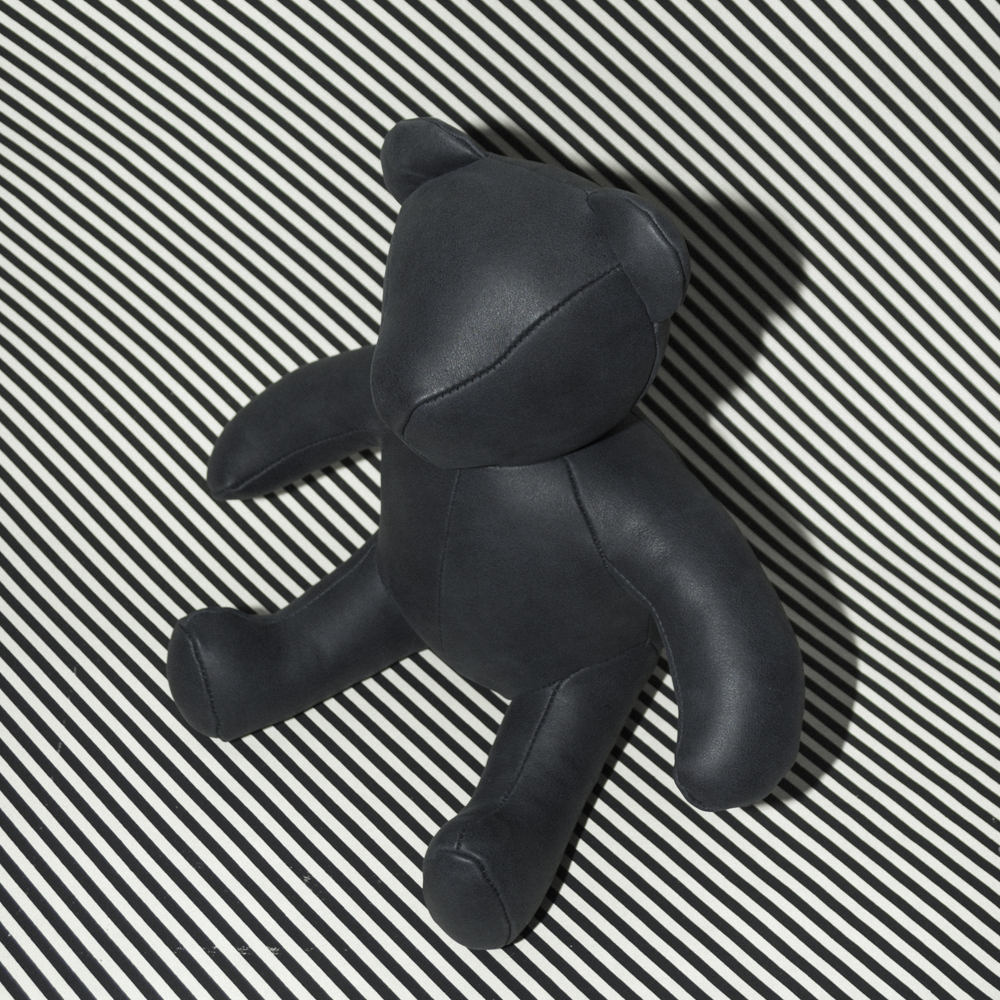 Maharam x Pin Up – Leather Bears
Most of us have had a prized stuffed animal or doll we kept with us in bed; in transit; at the doctor, and probably a bunch of other dirty places our parents were not thrilled about. It's a shame that, for the sake of societal propriety, adults are meant to give up all things fluffed and contort their love for plushy animals into other weird shit like ultra-furry Aloe infused socks. Originally working in tandem on adult products in 1990s Florida, Kate and Jeanne created the leather teddy bear after a funky project for the Mrs. Florida Leather contest left them with a bunch of excess leather around the holidays. They needed gifts for their families, so they created these delightful bears with a bit of a fetish edge. Created as an exclusive for PIN-UP and with Maharam, the bears come in an array of colors and are as cozy as they are sexy. Cats are a cute accessory for your armchair, but these might be a bit better. They don't shed, and they don't need to be fed, but they're still a glorious accessory. ($385, https://tomoffinlandstore.com/)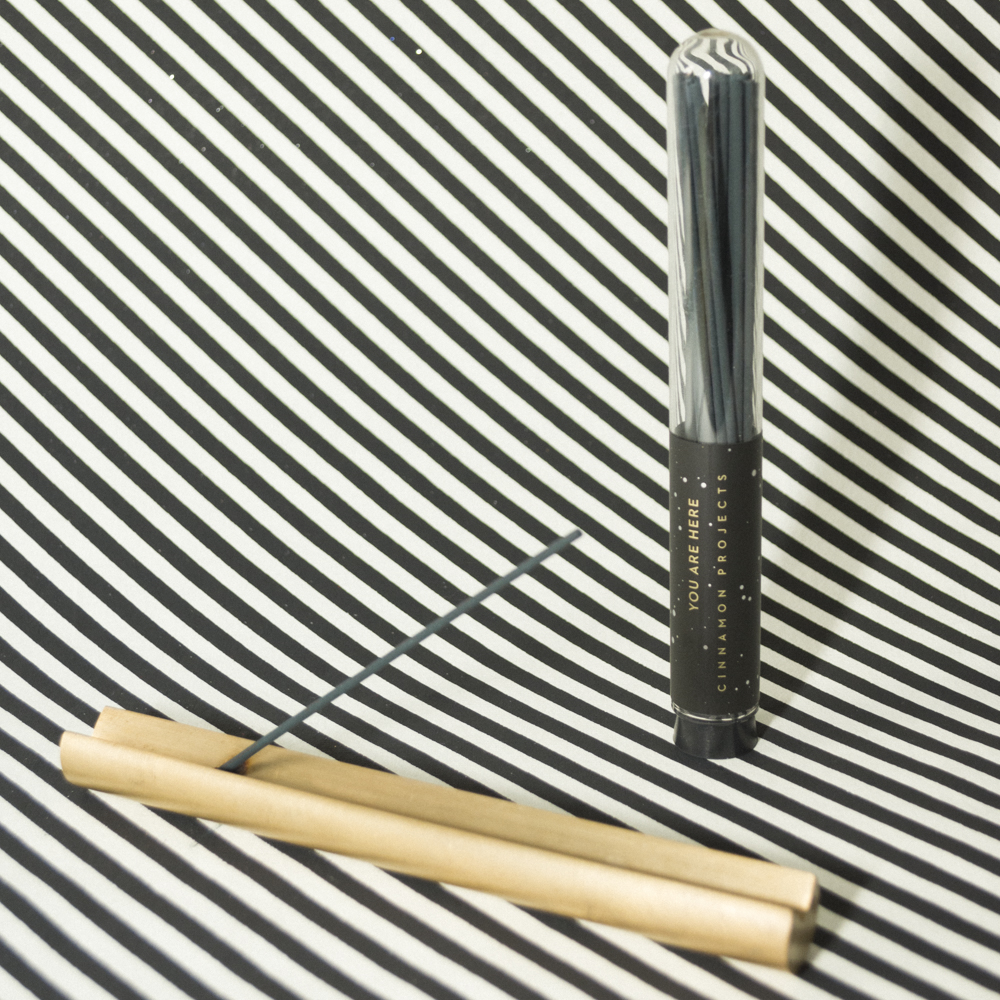 Cinnamon Projects – You Are Here
The New York based creative agency, Cinnamon Projects, are known for their inescapable aromas. Just in time for the holiday season, You Are Here is the brands latest from their Series 02.  It is woodsy, warm, and inviting, making it perfect and just in time for the cold weather. Per protocol, the delicious scent comes not just in the incense sticks pictured here, but it a travel-friendly 9ML perfume oil. The fragrance has the "indisputable power to shape memory, heighten experience and deepen intention. You Are Here is both deeply animalistic and highly ethereal in spirit. Composed to simultaneously ground and elevate with notes drawn from eternal elements." Gift either to yourself, honestly. We know from personal experience that you'll want to borrow from whoever you decide to bless with such a fine gift.  ($40 – $80, cinnamonprojects.com)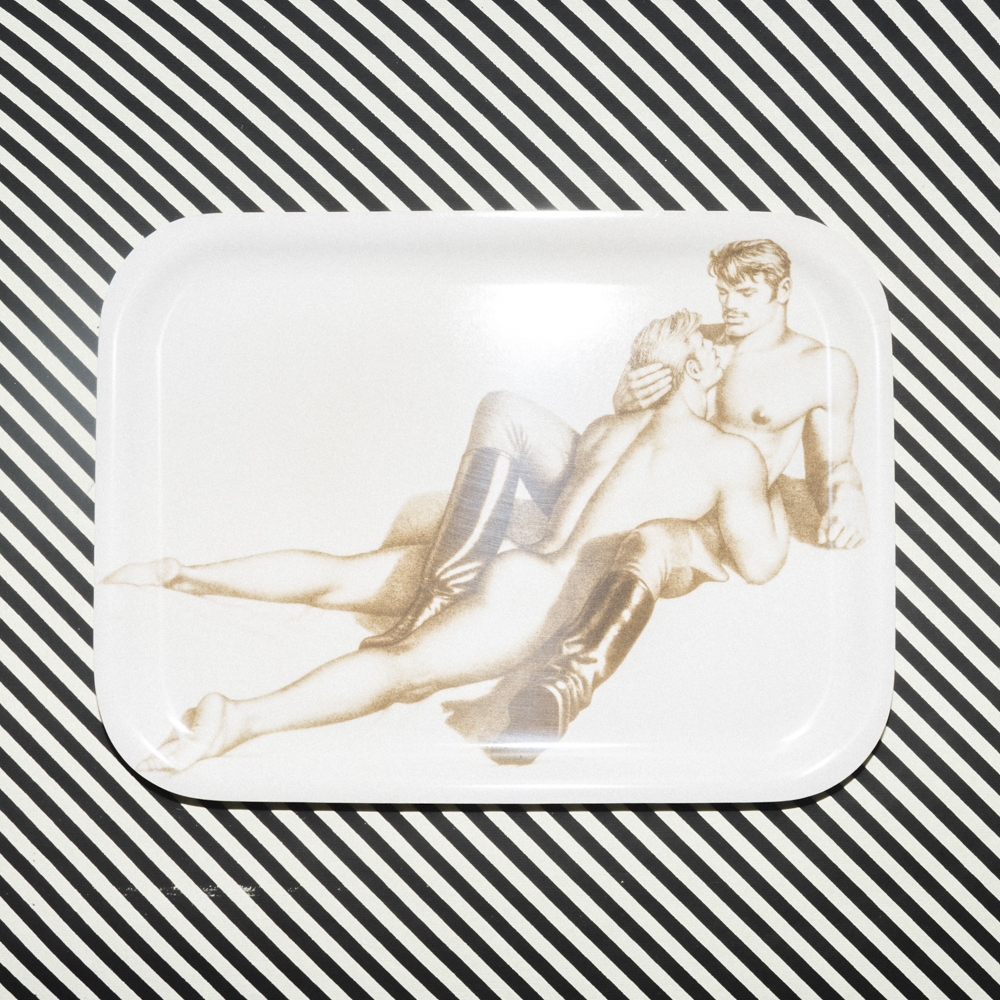 Tom of Finland – Lovers Wooden Tray
Some plates are not meant to be eaten off of. Consider this one that features lovers embracing to be a design-item rather than a practical-object. You're not going to want to serve anything on this besides packaged condoms. If you're someone who need not bother with large interior choices, a illustrated plate can do wonders for the room. Here is the secret, you don't actually have to use this, and in fact, it's better that you don't. To cover the two Tom of Finland characters would be undermining the point of the plate. Crafted from wood and manufactured by Aurora Decorari, gift this to anyone who is an interiors aficionado and be sure to mention that the Finnish have selected Tom of Finland bio-pic as their official Oscar's foreign-language film submission. So, not only are you gifting something beautiful, but anything from Tom of Finland is a great segue into educating someone on our vibrant gay-history. ($32, tomoffinlandstore.com)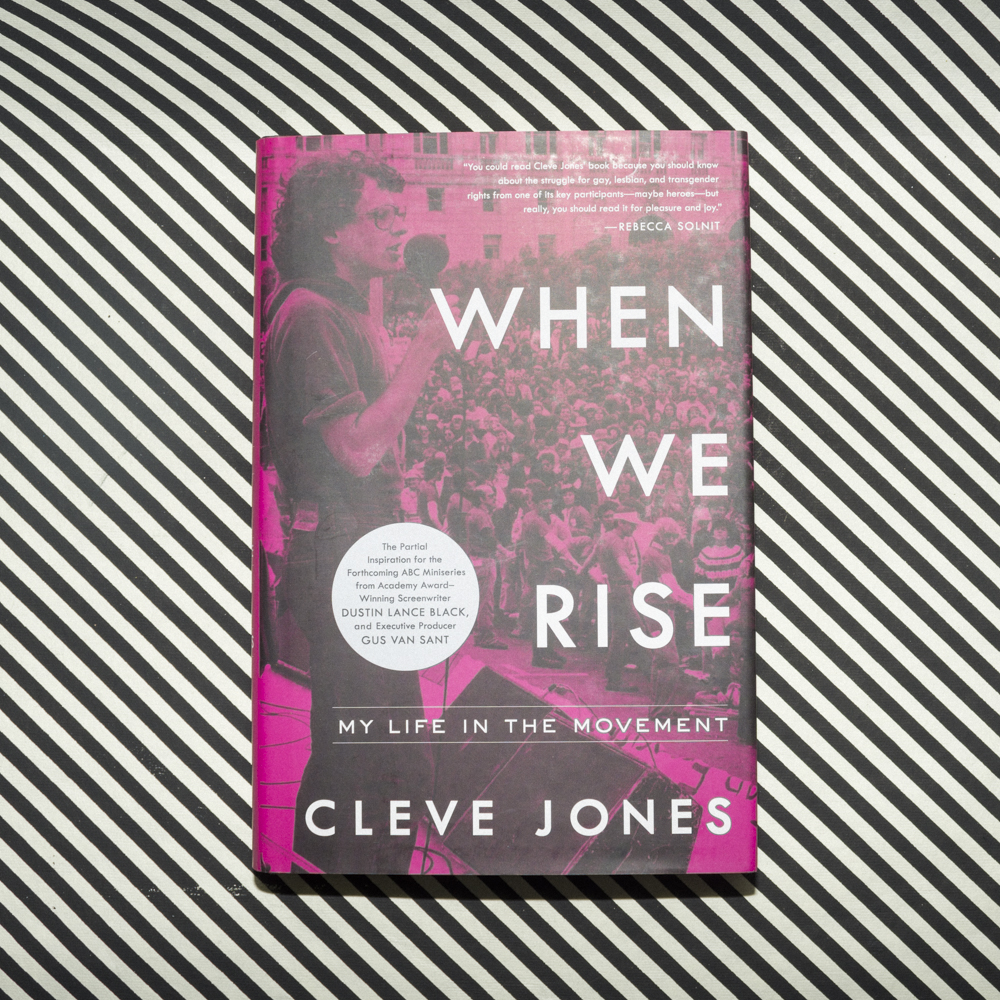 When We Rise: My Life in the Movement by Cleve Jones
2017 was a really rough year. Most Americans are back in the streets protesting and rallying for what they believe is rightly theirs. The fight to correct the current administration's shortcomings won't be a short one, but the spike in LGBTQ activism should not go unnoticed. Cleve Jones moved to San Francisco at the brink of the city's now notorious gay-liberation history. He danced with the best queens, slept with countless men and was there to help Gilbert Baker rise the pride flags for the very first time. His memoir, When We Rise: My Life in the Movement, is the tale of the LGBTQ community at it's infancy. Post-Stonewall, Pre-AIDS. Jones chronicles the various struggles to pass equalizing legislation, and fighting to have the community be seen as normal, functional, and worthy of basic human rights. Anyone with a gay bookshelf and gay book club meeting to attend should have read this book. As we try to revolutionize the present, Jones offers wisdom into the LGBTQ community's revolutionary past. ($18 at your local bookseller)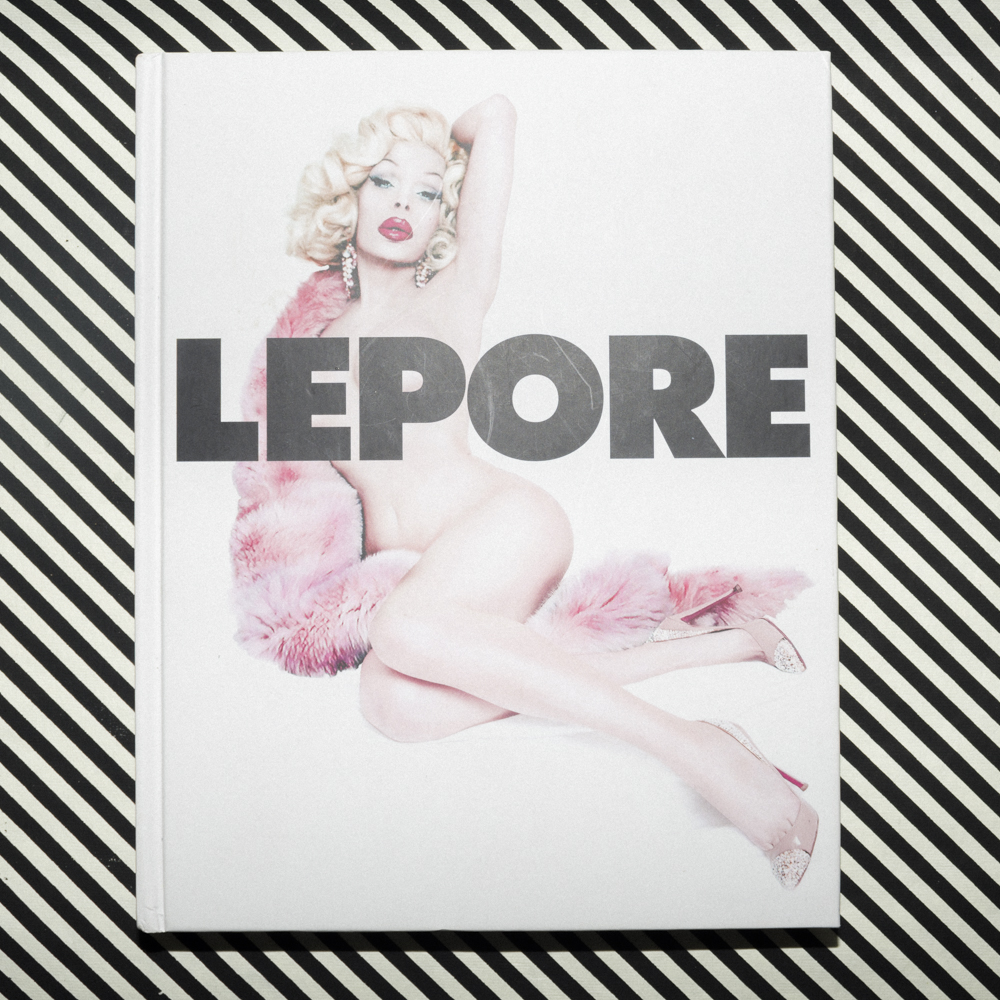 Doll Parts – Amanda Lepore
Amanda Lepore is a woman who needs no introduction, especially if you're reading GAYLETTER. We love Amanda! And so do many other people, like Miley Cyrus, who has said: "I hate everyone but Amanda Lepore." Doll Parts is Amanda's touching and revealing autobiography that "takes off the makeup, peels back the silicone, and reveals to the world the woman she truly is, all with a sense of divine certainty, humor, and charm." Who wouldn't want this under their tree? If you're not convinced yet, I'll leave you with the words of the woman herself to give you a peek into what you should expect from the book. "If you happen to be young and transgender, then you're used to people being hateful toward you when all you want to do is exist. Through all the insanity in my life, there was only one thing I could control: myself. On the outside, obviously, but on the inside, too. I focused on not letting other people's opinions have any effect on me whatsoever, and that's how I've lived my life ever since." —Amanda Lepore. ($19.99, simonandschuster.com)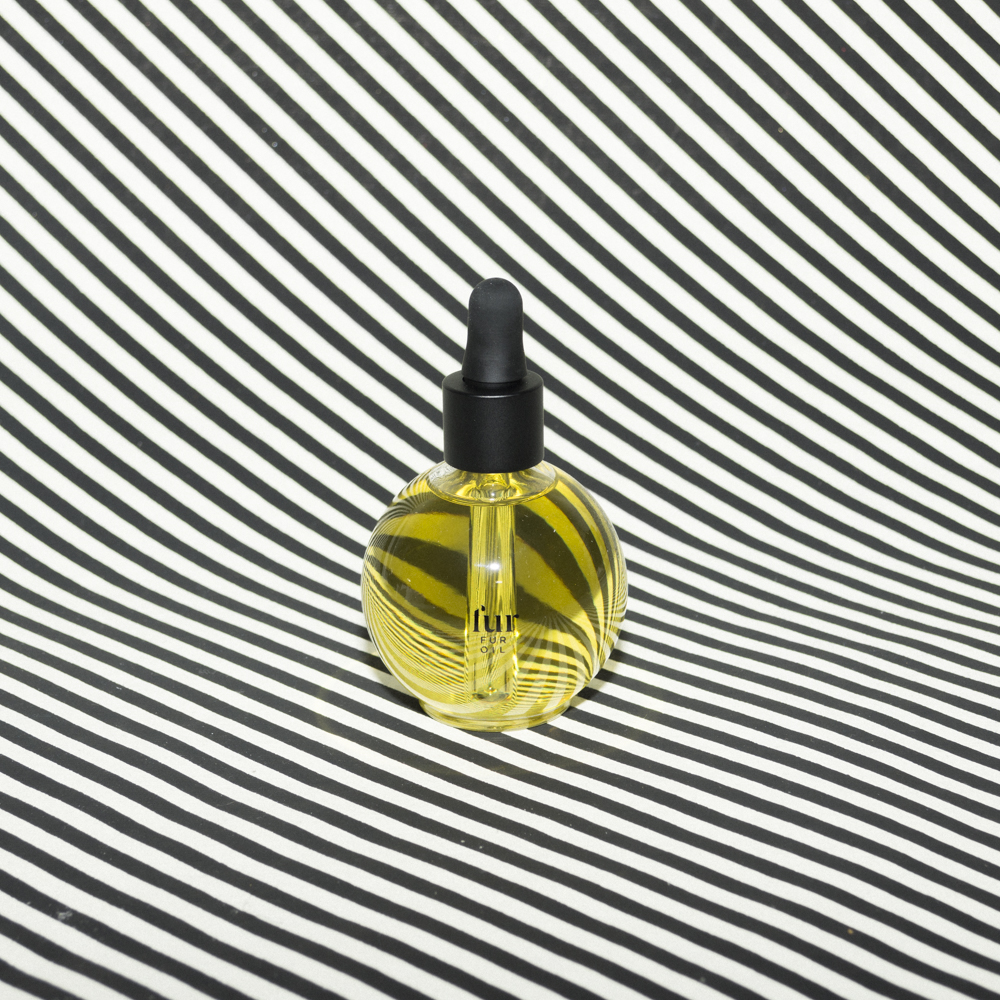 Fur – Oil 
Your pubes probably aren't seeing the light of day, except for when you're having sex, and even then it's probably dark out. Some of you reading don't even have pubic hair. That's all right. Fur is a force to be reckoned with.  They argue, why treat the hair below the belt any different than the hair on your head? Well, shit, I don't have an answer there, but the oil is a fine selection for any of your more hairy friends who just use soap and water and call it a day. A little bit after the shower will spruce the room with a delicious scent of their key ingredients, which include Grape-seed oil, Jojoba oil, clary sage seed oil, and tea-tree oil. You know how hot it is to have your groin smelling so sultry? The oil smoothes and glistens the applied area, drying instantly and won't stain your panties. It's important to mention that Fur is not just for pubic hair. Use it on your chest, your armpits, beard, and wherever else you're furry. This is a great gift to give to whoever's lap your head is in. You won't regret it. ($44, furyou.com)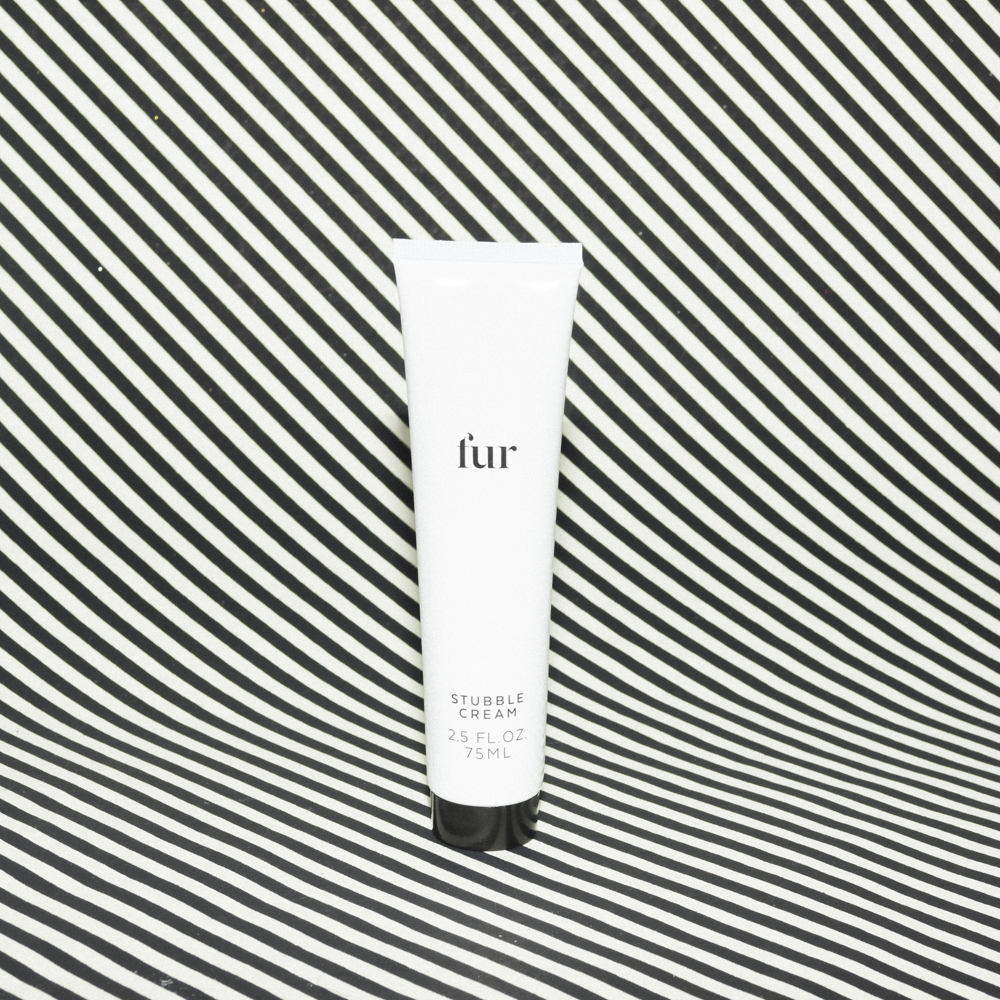 Fur – Stubble Cream
Pubic razor burn is now a thing of the past, thanks to Fur's other, equally wonderful stubble cream. If you're a twink, or just aspiring to be one, then say goodbye to those pesky pubic rashes: Fur's Stubble Cream For Pubic Skin will rejuvenate and moisturize your pubic area so you can continue to shave all winter long. Made with shea butter, tea tree oil, and olive extracts, "this 100% natural formula is ideal for daily use to prevent in-growns, bumps, and razor burn. Used as an aftershave, it softens prickly stubble and keeps skin smooth." Whether you buy the whole package or just the cream, don't forget that all hair (or lack thereof) should be treated equally. ($34, furyou.com)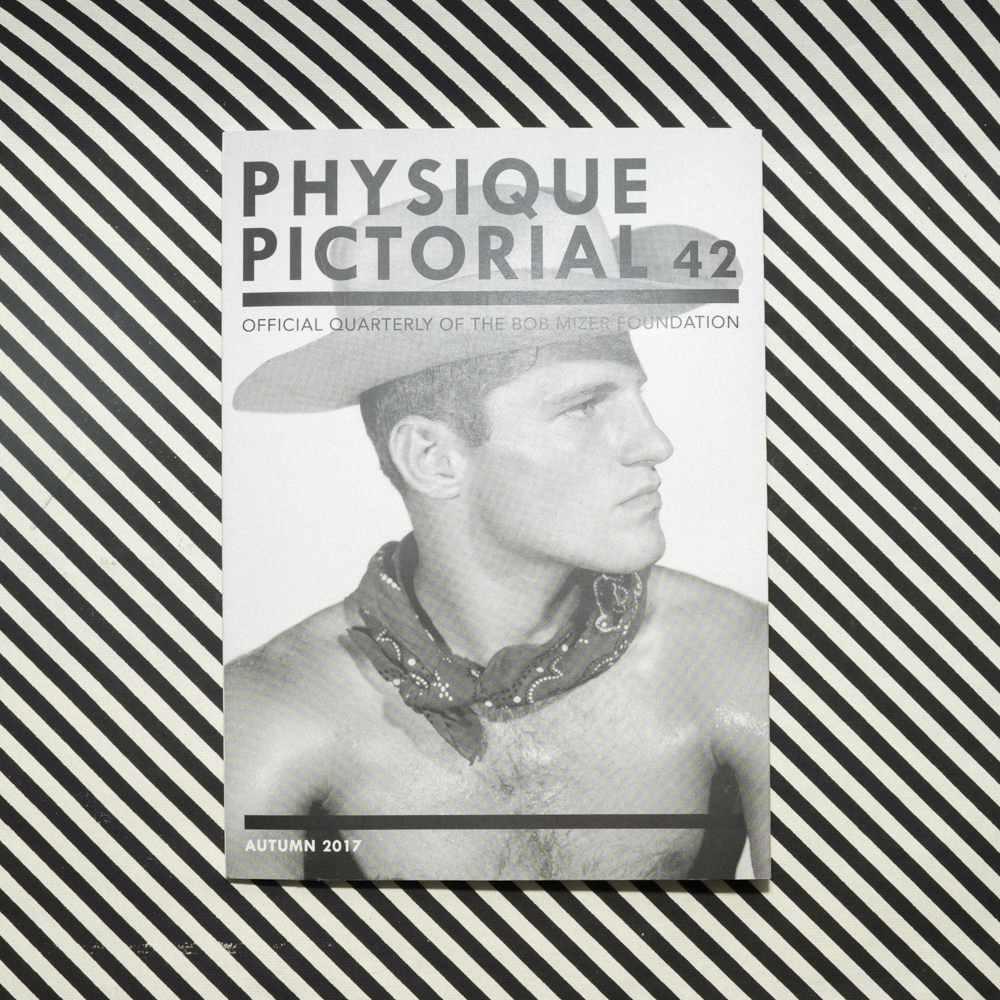 Bob Mizer Foundation – Physique Pictorial
"After a hiatus of nearly 30 years, the first male physique magazine ever to be published is running off the presses once again." Issue 42 marks the official relaunch of the Bob Mizer Foundation's quarterly Physique Pictorial. Using unseen images from Mizer's archive, the reissue fuses the old with the new, and remains unabashedly sensual, overwhelmingly sexy, and features page after page of incredibly gorgeous guys about to bare it all. After you grab a copy for yourself, this is a great gift for your friend who aspires to be a cultural attache, or a bottom, or anyone who loves a good magazine. Physique Pictorial is beautiful addition to a coffee table or nightstand, offering the comfort of beefy bodies and juicy text. As mainstream media companies launch their own LGBTQ+ subsidiaries, it is marvelous to remember where we all began. ($25, bobmizerfoundation.org)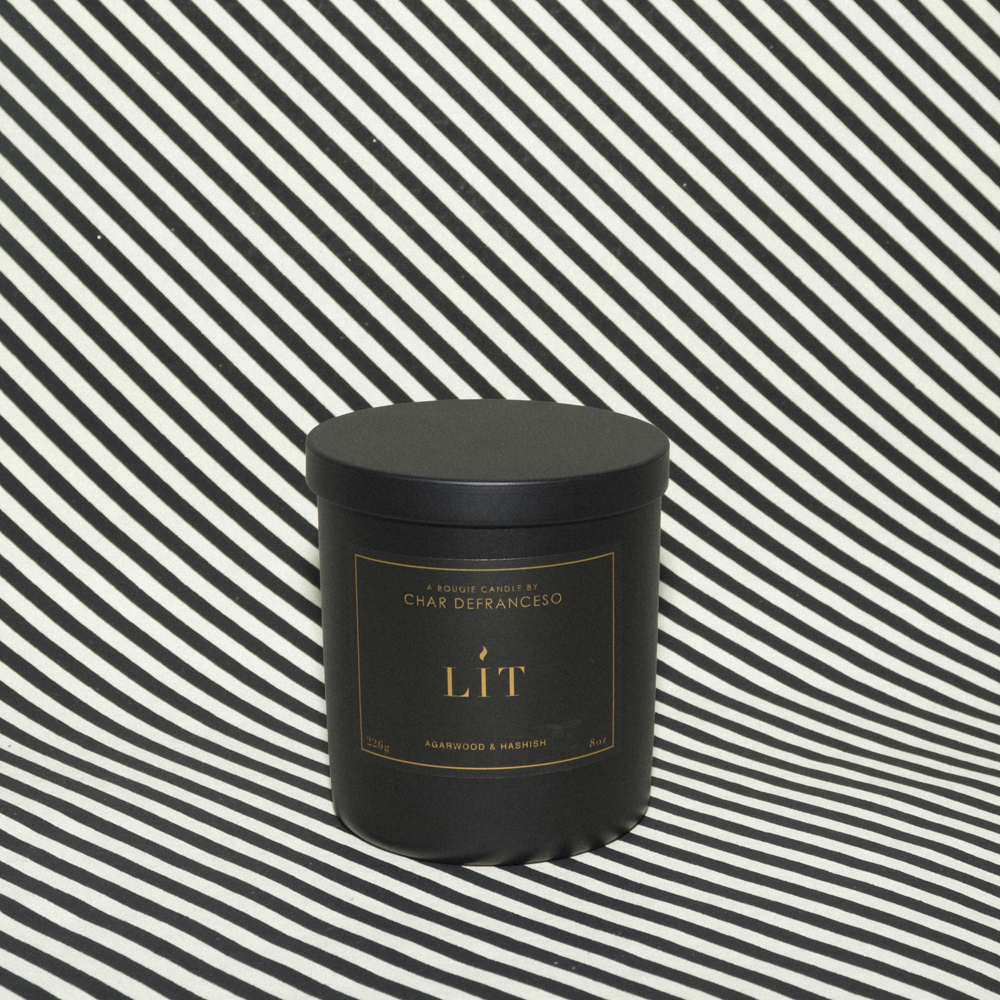 Lit by Char Defrancesco
Candles are an easy gift. If you don't like candles then you don't like life. Or maybe you don't have a nose. In which case I'm sorry, you're really missing out. There's so many candles out there. One of our new favorites is Lit by Char Defrancesco. We have been burning it in the office and have been enjoying it's lovely aromas. "Combining agarwood with the warmth of hashish delivers woody, vanilla top notes with black currant, fig and hints of spice with pepper and patchouli." Thats a lot of flavor notes, but just trust us, it all works. It also comes in a lovely black tin and has the most lux looking ashen-colored wax that, when warmed, pools to black. It's a fine, fine item. Get lit and enjoy! ($58, getlitbychar.com)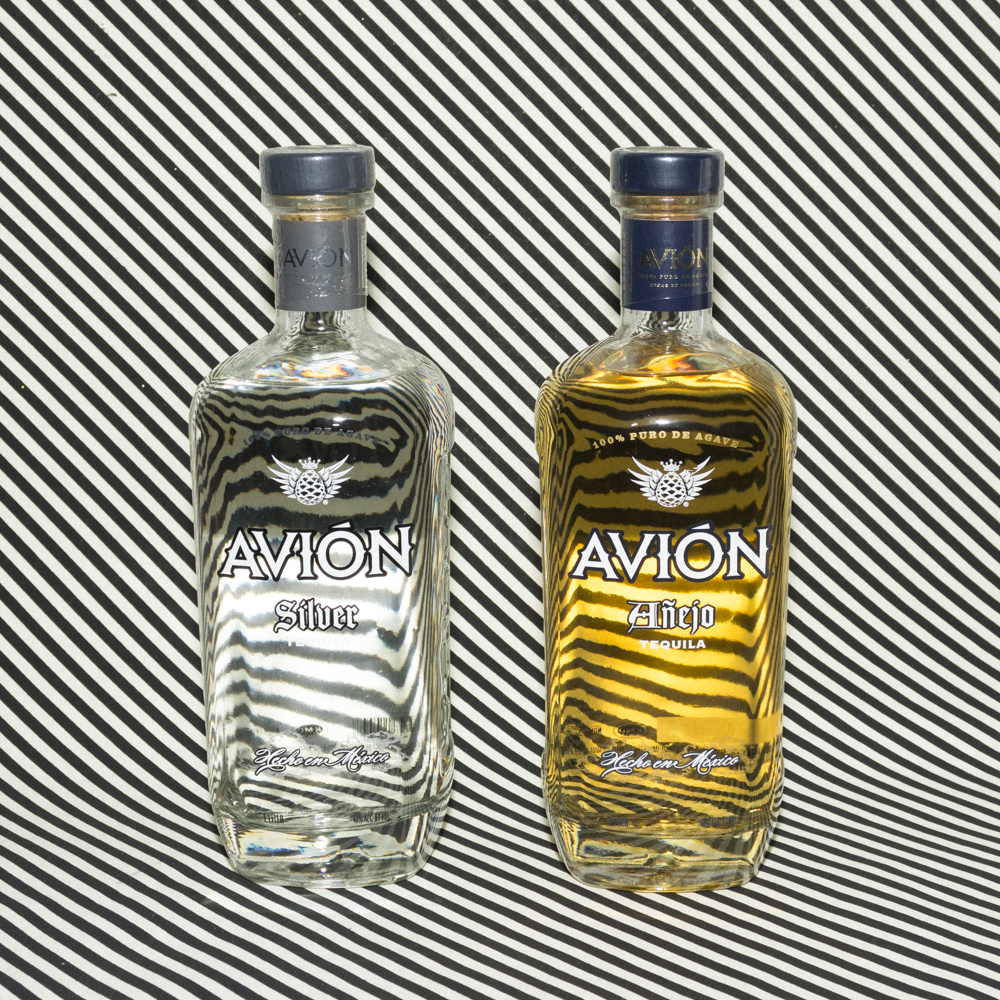 Avión Tequila
What are the holidays without a stiff drink? A shot of this super smooth tequila was just the thing to keep me going at 12:37 on a Friday afternoon. (You read that time right.) I don't even really like tequila, but this was actually delicious. It's aged for two years (which, apparently, is twice as long as the industry standard, hunny) and has "hints of vanilla, caramel, coconut, and maple." Abi has Avión's Silver tequila at home (he think that it's better for mixed drinks), but the Avión Añejo is the perfect tequila to sip on the rocks or even neat, like I did. There's no salt or limes necessary. Trick your friend and say it's a gift for the holidays, but then just get drunk together. Sharing is caring! ($67, reservebar.com)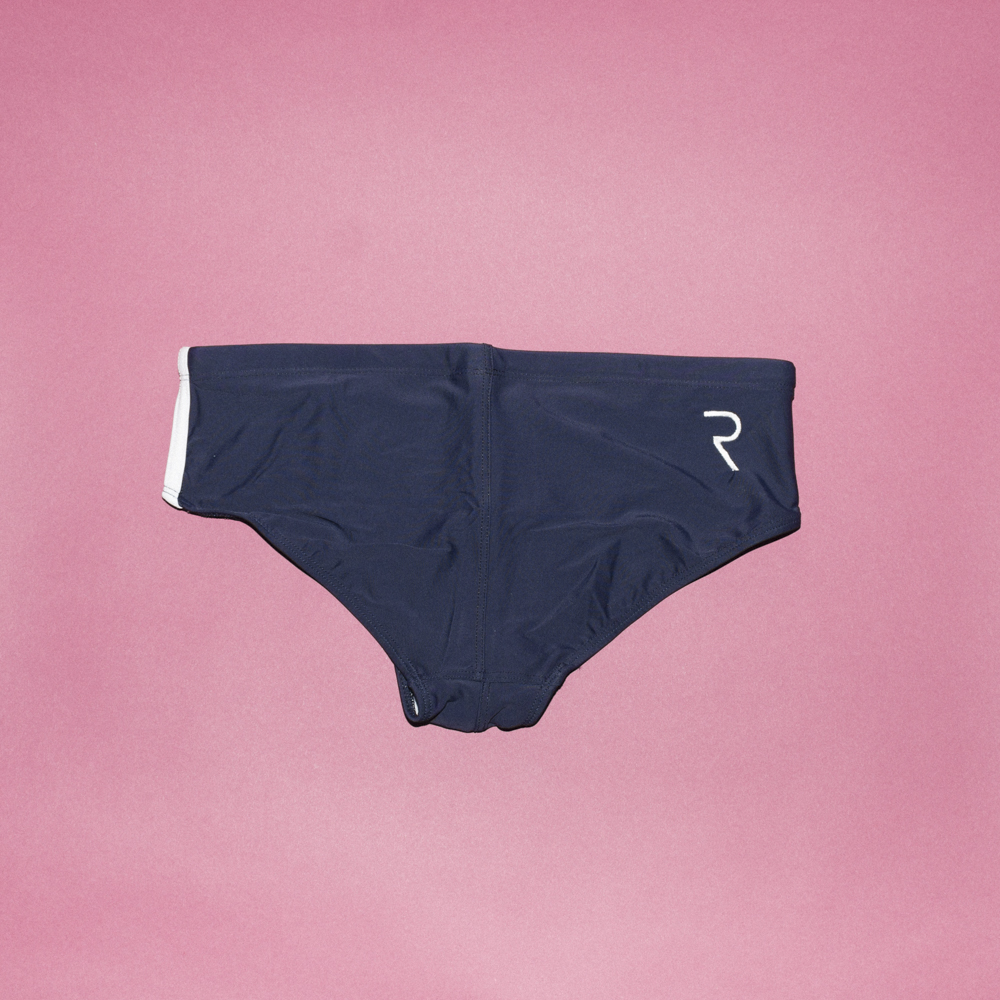 Rufskin – Speedo
It's December and apparently snow is in the upcoming forecast. What gives? We miss the beach. Rufskin, one of the gay-community's most prominent brands, makes the finest, sexiest beach, fitness and everyday pieces that are terrific for even your most queenie friend. There is no wrong time to pack a speedo or tight shorts for the weekend. There's nothing better than getting a body-aspirational bathing-suit for the Holidays. It's a kind of slight-nudge to the warmer months that are very far away, but if you've got the right group of friends, maybe a beach-trip is in your future. Miami, Melbourne, Mumbai — you can wear Rufskin in any climate for any reason. They're made from the finest materials, so chances are your giftee will open their trunks up and run to the bathroom to slip into them right away. It will be cute to watch — make sure you're gifting to the best legs! (Starting at $34, Rufskin.com)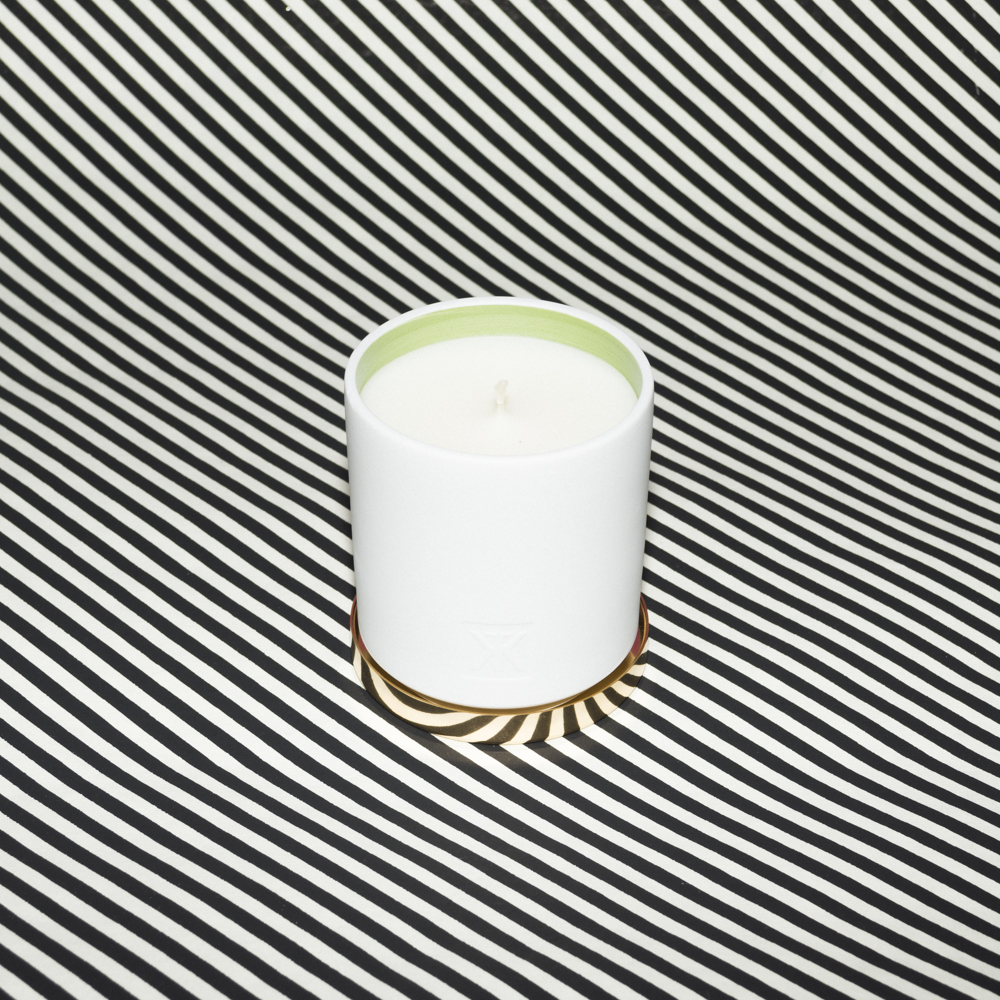 Maison Francis Kurkdjian – La Trouverie Candle
If you're a flambeau fag like me, you can't get out of bed without lighting a candle. I literally spend 75% of my income on buying and lighting any kind of lux candle that I can get my hands on. Maison Francis Kurkdjian's new candle, La Trouverie, is perfect for the hectic holiday season: its soothing and subtle fragrance blends lavender, thyme, and rosemary in an inviting scent that will calm even the most hammered distant relative at your holiday gathering. Not to mention, the candle and packaging are aesthetically stunning (it even comes with a golden lid). This candle has fifty-five hours of burning time; so feel free to leave her burning throughout the entire holiday season. ($82, franciskurkdjian.com)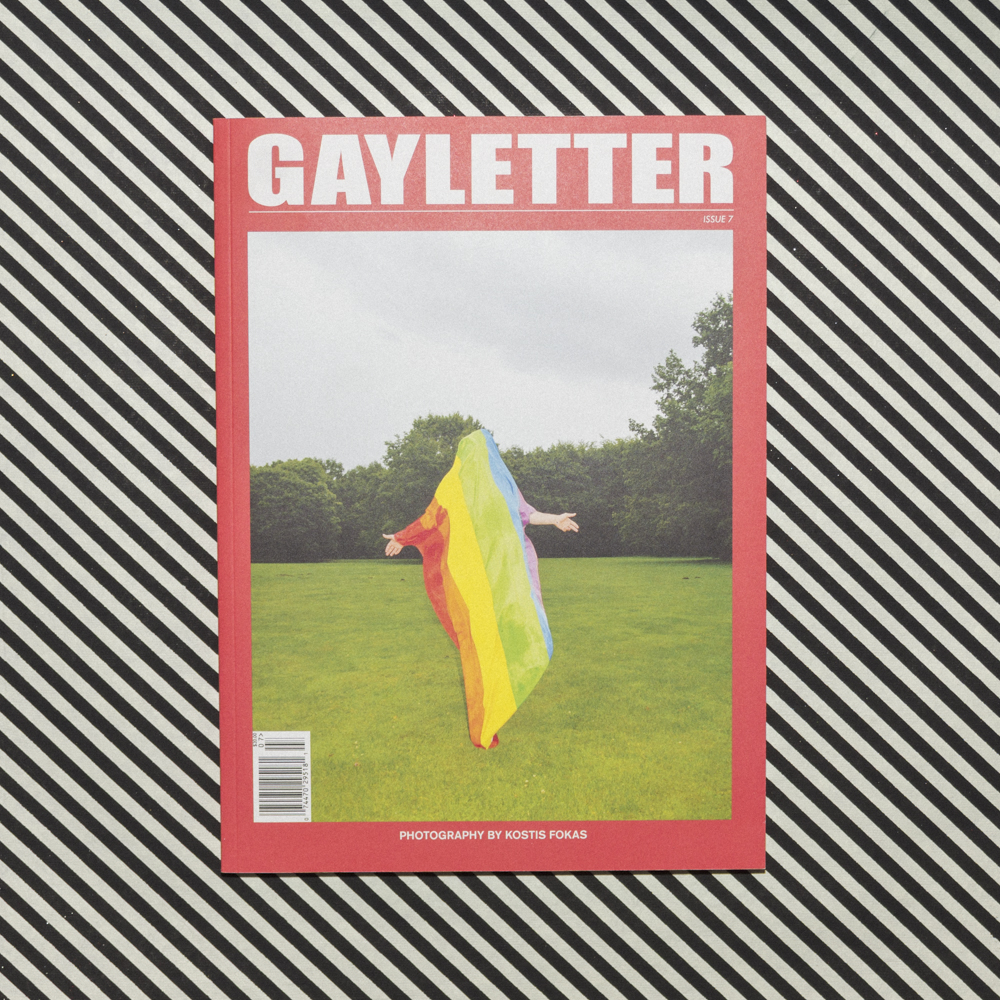 GAYLETTER Issue 7
Obviously you should already own a copy of issue 7 of GAYLETTER magazine but the holidays are the perfect time to buy another one for someone else. Maybe your mom, dad, homophobic uncle, or maybe another gay who will actually appreciate it. Issue 7 was our biggest issue yet. It features work by Cody Chandler, Vincent Dilio, Kostis Fokas, Benjamin Fredrickson, Brian Kenny, Danielle Levitt, Slava Mogutin, Daniel Nicoletta, Serichai Traipoom, Luis Venegas, Gerardo Vizmanos and so much more. Our cover photo will brighten up any dreary Xmas morning, and really, what better way is there to celebrate the birth of our christ and savior than with a radical and multicultural queer publication dedicated to toppling the heteronormative, dying white patriarchy? Can I get an amen!
(gayletter.com/magazine)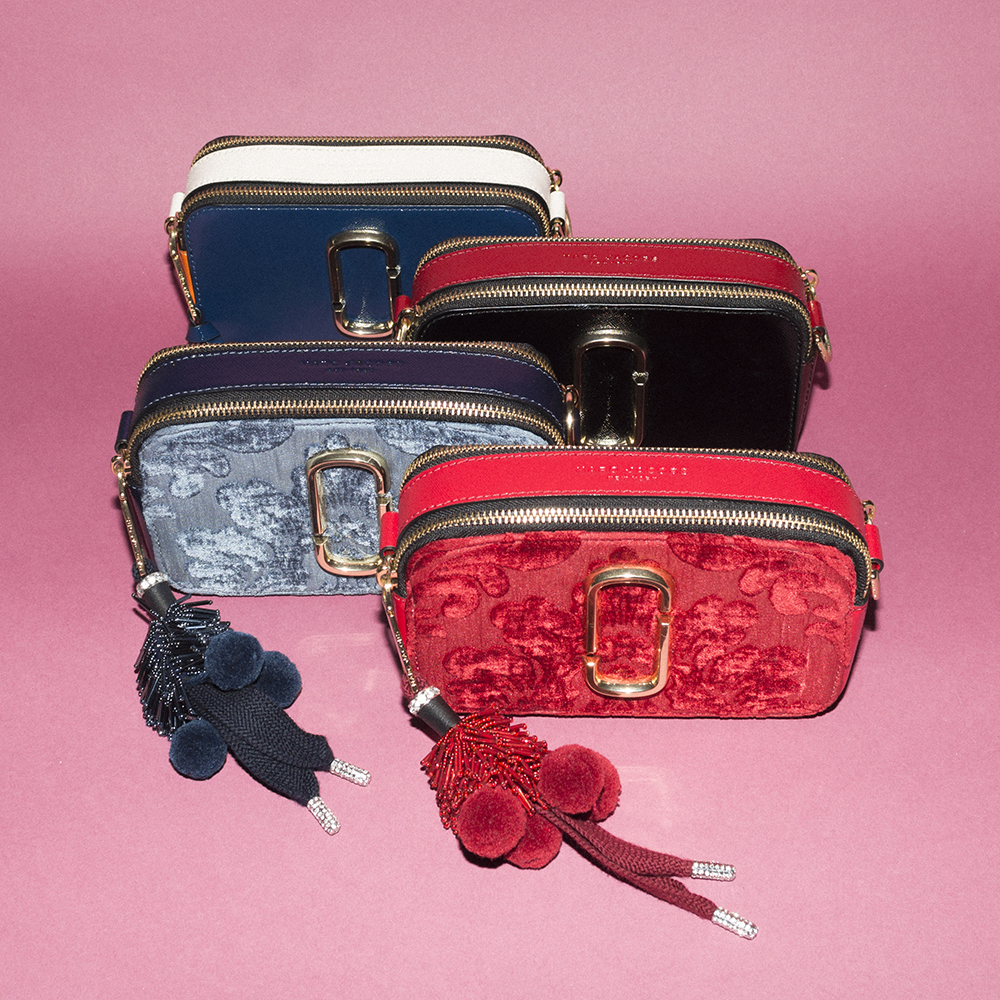 Marc Jacobs – Snapshot Small Camera Bag
Phone, keys, PrEP, wallet. That's all you really need before you step out the door. Marc Jacobs is a former party boy, so he knows what's useful fashion and what's not. The Snapshot (not to be confused with the just as cute Hotshot) is the perfect crossbody, cross-season, gender-neutral bag we could find. It comes in a range of colors and textures, making this really a no-brainer for anyone interested in fashion and making jaws drop.  The Snapshot gives you just enough room for the day's essentials, and if you're travel-efficient, it will fit everything you need for a evening transition. You won't be fishing around for your Burts Bees in this bag. Something to consider is the variety of straps — see below! — that come with the bags; they're detachable and encourage you to play with different styles. (We like to take the straps off the bag and wear it as something else, like a belt or a necklace — get creative!). We took it upon ourselves to mix and match at the office, and much to our delight, these Snapshot bags are as versatile as we are. Day-to-night, fall-to-winter, dinner-to-gay bar, we'll gladly take it everywhere! (Starting at $295, marcjacobs.com)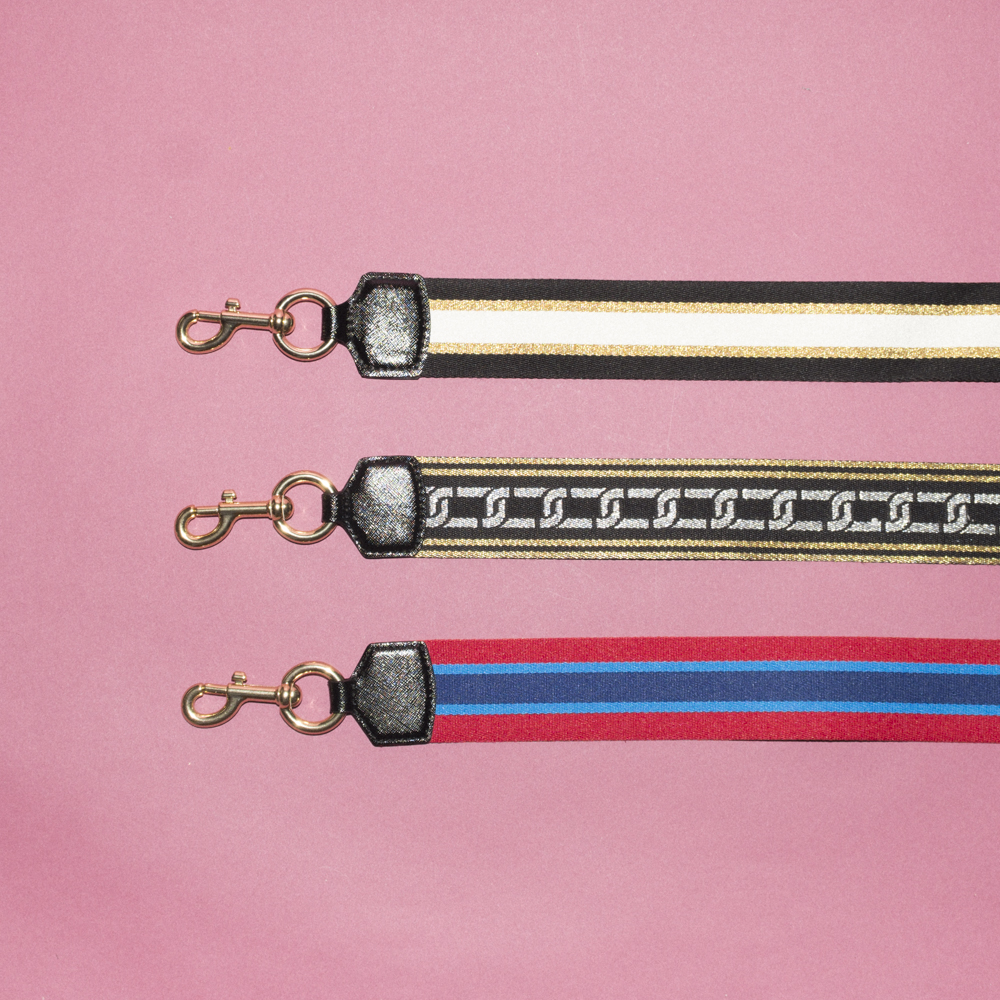 You're welcome!
Written and compiled by Christian Eble, Tom Jackson and Chris Stewart