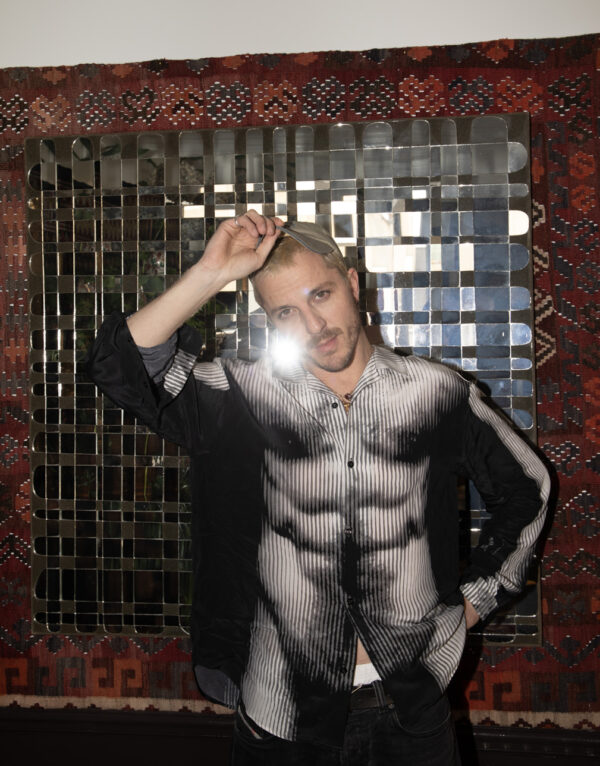 PHOTOGRAPHY BY ZAC BAYLY
Glenn Martens
Glenn Martens had a big year. The 39-year-old Belgian designer tripled up on responsibilities in 2022. Already the creative director of Y/Project and Diesel, he became the second-ever guest couturier for Jean Paul Gaultier, starting the year off with a slam-dunk presentation in January, hailed a master class on corsetry. Then in February, he debuted his first runway collection for Diesel (which he took over late 2020) doubling down on their denim legacy and stunting with giant, record-breaking-big inflatables, cementing it one of the buzziest shows of the year and accomplishing a total brand revamp. The Antwerp Academy grad's years being experimental at Y/Project seem to have finally paid off with Martens proving he can make his structural vision accessible to a wide audience. With everything on his plate, the toast of the fashion industry found some time to catch up with Silvia Prada, sharing about his path to designing, his Paris uniform, and what he's looking for in a boyfriend.
What was your first memory about creating something as a designer? It was very late. I come from this small town, Bruges in Belgium. There's a movie called In Bruges. Colin Farrell is the main character, and every other sentence he says, "shithole Bruges." So I grew up there. It's very beautiful, but it's only medieval architecture. So, it's a bit of a museum city. They call it the Venice of the North. You don't really get confronted with any new design or architecture. It just doesn't exist in your life. Like, you just grow up between Gothic buildings and you think that's the world, you know? I liked to draw, but I was drawing mainly historic figures, because I was in Bruges and my dad has a big passion for history, and was explaining about the kings and the queens and we were seeing these crazy figures on museum tours. And, it's only much later when I was out of high school that I actually understood that these drawings were actually my first connection with fashion. Especially because when I was drawing figures like Cleopatra or King Arthur, all the details were related to clothes — the miniature pearls in there and the jewelry and the clothing. So I do think I unconsciously had a big passion for garments and fashion. Especially how garments can make the man. I had no idea what King Arthur or Cleopatra really looked like, but with the clothes, he became King Arthur, or with what she was wearing, she became Cleopatra.
So much later, I was in a very classic college, studying Latin and languages. I was really ready to follow this path but I was too overactive and restless and a bit of a troubled child. So I was 18 and decided this is not gonna happen, I'm gonna be able to be in university and have a career working in an office. I should do something more creative. I tried interior design because it was creative, but still theoretical, with mathematics and physics. Like, okay, let's do something creative, but not too creative. When I got there I was not interested in interior design, but I met people for the first time, who had something more to say than Latin and languages. People from a creative background who were listening to music, who were raving and going to clubs. Who were into fashion, who were taking drugs. This kinda thing. So that's where I became like a contemporary person.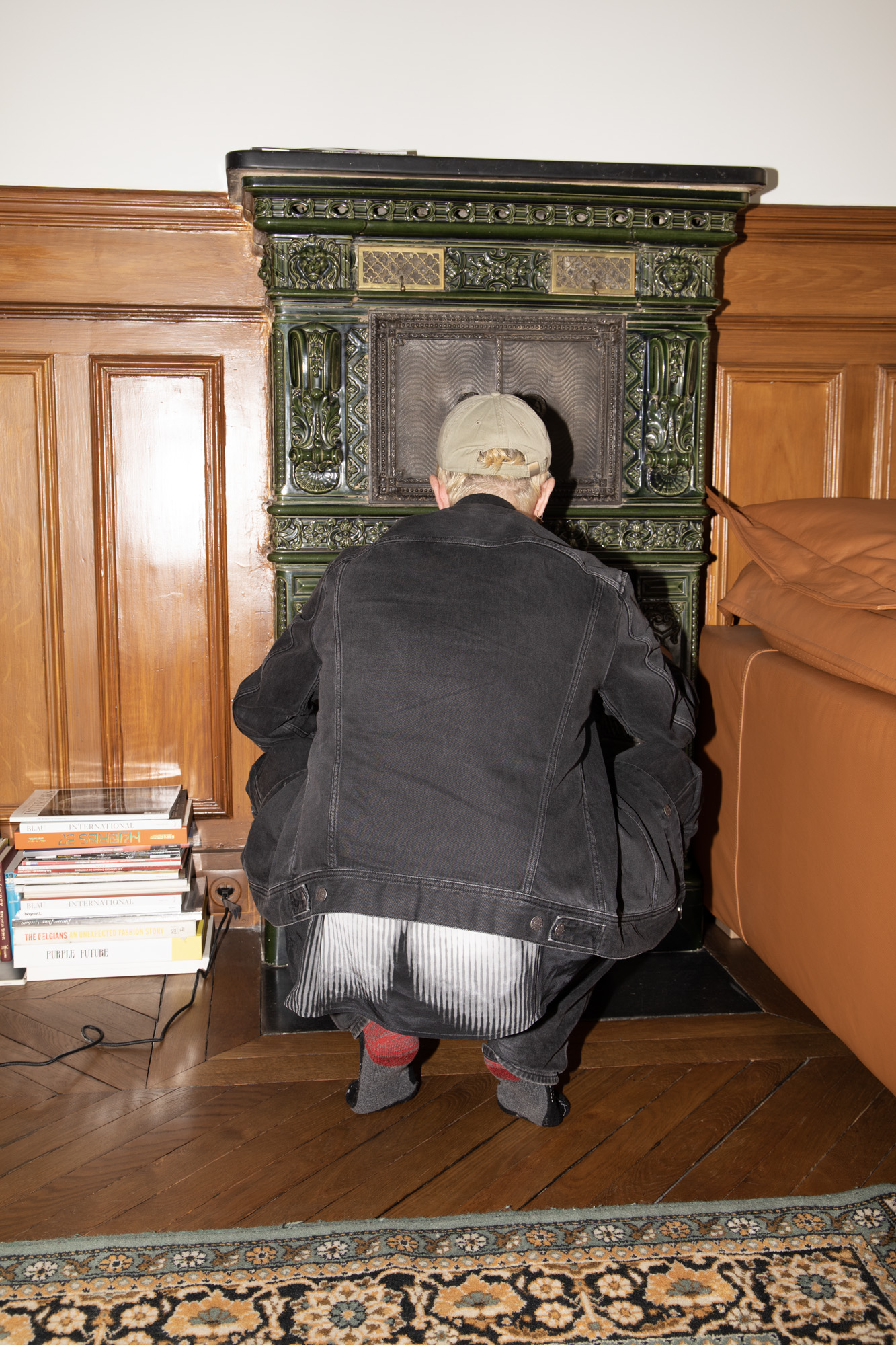 SHIRT BY JEAN PAUL GAULTIER x Y/PROJECT, JACKET AND JEANS BY DIESEL THROUGHOUT.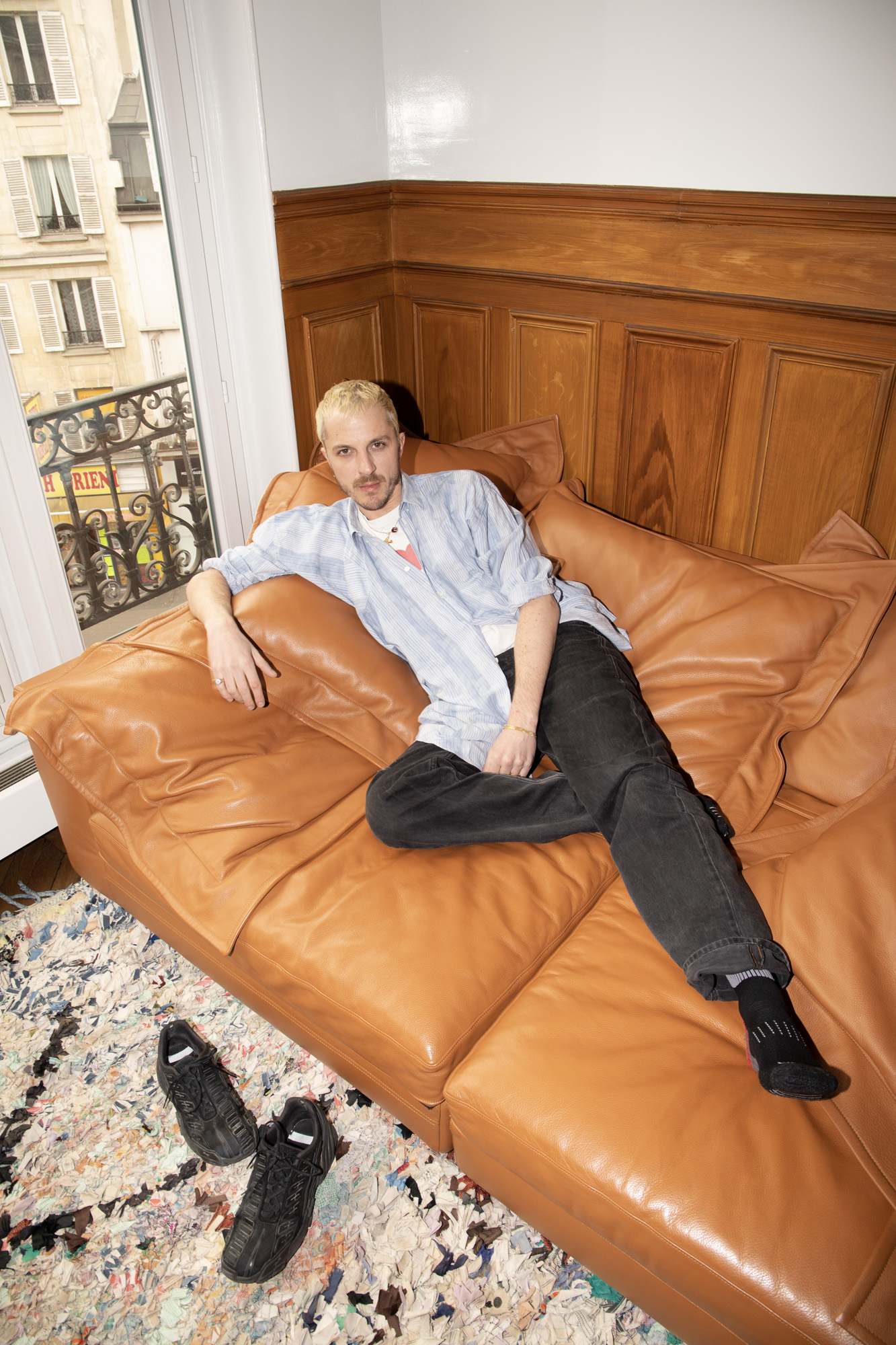 Glenn Martens photographed at home in Paris. December 2022.
Like a creative creature, right? A creative creature, also a contemporary creature. Before that, obviously I was not a problem child or anything, it was all very controlled and suburban, so, I was a bit of a geek, let's say, compared to the kids in Brooklyn, or New York. Are you from New York originally?
No, no, no. I'm from Barcelona. [Laughs] That's true.
I've been here for 20 years. But I'm a Spaniard [Laughs]. I was in Barcelona two weeks ago. Beautiful.
I wanna ask you about your work which is very progressive and avantgarde. I feel like your work is connecting with intellectuals right now. In terms of fashion, it's so hard to find any designer that is like, "okay, I'm connecting with an intellectual mind." So I wanted to know what your creative process is like? I come from a very classically trained background in fashion. I really came from the fashion academy. But the thing is I am also a tailor, you know? I had to do the stitches on my collection for myself in the past and do all the pattern-making myself. The starting point is really the construction of the clothes and then indeed the ideas that, I dunno if they're intellectual or not. I love clothes from what happens from the inside originally. I think it's definitely less superficial than just the graphic on the print. And my challenge of designing is definitely how to reinvent, how to challenge that constructive part of the garment, and how to redefine the backbone of those clothes. I guess you see it as intellectual. It's less instagramable. Less one-hit wonders. Especially for Y/Project.
For Diesel, I trained myself to be this kind of designer who creates concepts. Diesel, which is not a brand that's supposed to do experimentation with construction, they all fight with me because I still need a concept. It needs to be 2D though, and it needs to be active wear. So now it's more like, yeah, how can we redesign fabrics, how can we make material treatments different. I think my main goal is always to surprise myself. My goal at the end of the day is I always want to be surprised. Otherwise I get bored.
Let's talk about denim and pop culture. Do you have any favorite moments in pop culture that define the history of denim? Obviously, I come from Bruges, I wasn't the most connected in that way. As a teenager, there was of course Diesel. Diesel was a huge success even in a small town like Bruges, that's for sure. But in terms of pop culture, for many people from my generation, it was probably the extra, extra low-rise jeans on Britney Spears.
That is a huge pop culture moment. [Laughs] I was 16 when her first song came out. So I was definitely still young enough to be really engaged in that performance. Bruges was a bit of a conservative city, so Britney was like a bomb as she was everywhere in the world, you know? I was very triggered by Britney.
Do you collect anything, art, sculpture, magazines, or things you don't even want to confess? No. Nothing, really. I'm not greedy or stingy whatsoever, but I really don't have a lot of connection with objects or things.
You just want to live minimally? My apartment is not minimal. I mean like I have carpets on the walls, you know? I mean, but it's not my priority. When I moved into my apartment, I wanted to do the design project, but then like the moment it's just acceptable, I need to move on to the next thing. I mean there's so many things missing in my place, and I don't think I'll ever buy them.
You don't have the time? I just really don't think about it. I think the most precious thing that I have is my jewelry. I also never buy anything, but jewelry is always something that I receive. I always feel like I'm carrying around the soul of somebody. And that's really, precious. It's not about actual value, it's more emotional value.
So now this part of the interview is gonna be for the boys [Laughs]. Tell me about your first boyfriend. First boyfriend. I was 18, 19, I think it was.
Are you ready? [Laughs] This is going to be blackmail.
We can edit after. So don't blackmail me with this. Thank you. First boyfriend, boyfriend. I think I was bisexual for a very long time. I was straight for a very long time. Again I come from Bruges, there was not one single gay person in this whole city. Not one single out person, so I didn't even know gay culture existed. Like, I remember the first time I saw a gay couple was when I went to Euro Disney. And I saw two men, where one man was kissing the shoulder of another man. And then my dad, I think my dad knew I was gay, he kinda explained it. He was like, "Oh these are two men. They are a couple." But that's kinda where it stopped.
So when I was in high school, I mean, you know, it's always the thing where you know it, but then you just deny it. You kind feed it by denying it and you recognize as long as you deny it, it's not happening. Then I went to university for interior design, again where my world opened up. I think I saw another student, I think we were watching each other in the cafeteria for like ten months. I was 18. Nobody I knew was gay. I wasn't even out, but we kept having eye contact forever, and then ten months later at a party it secretly started.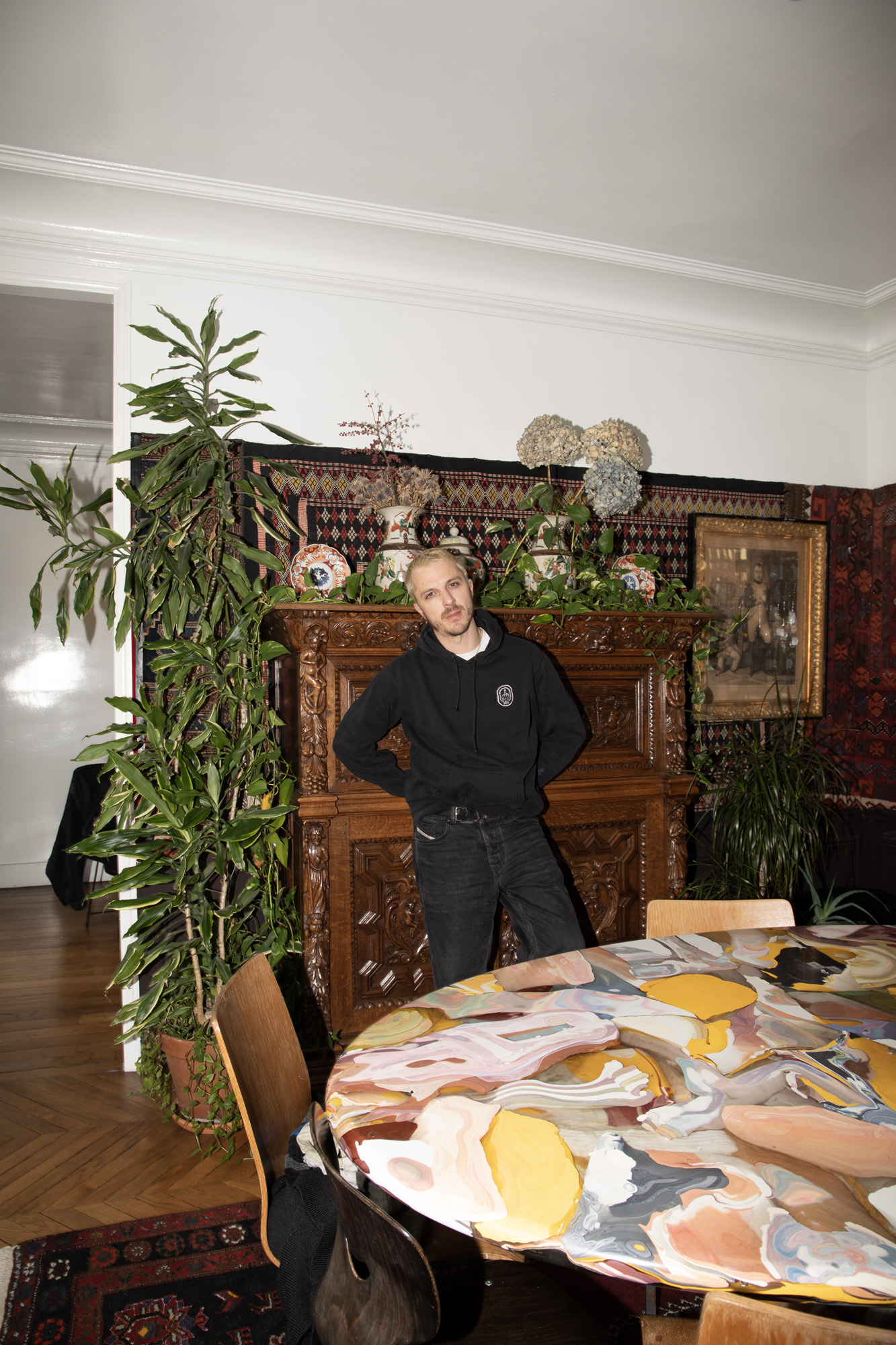 Glenn standing in front of a recycled plastic table designed by Dutch designer Dirk Vander Kooij.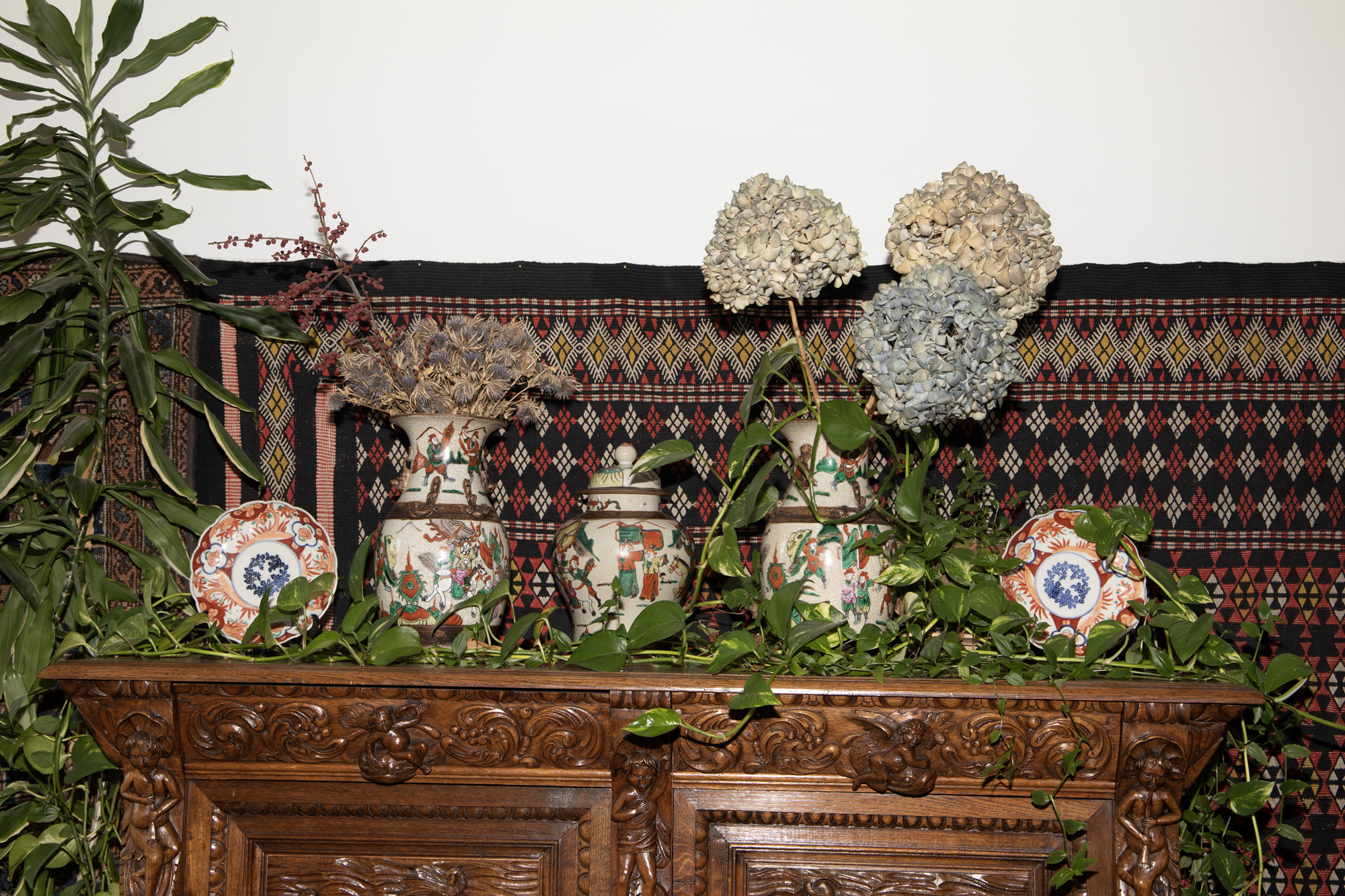 A wooden closet and a set of vases, inherited from his great grandmother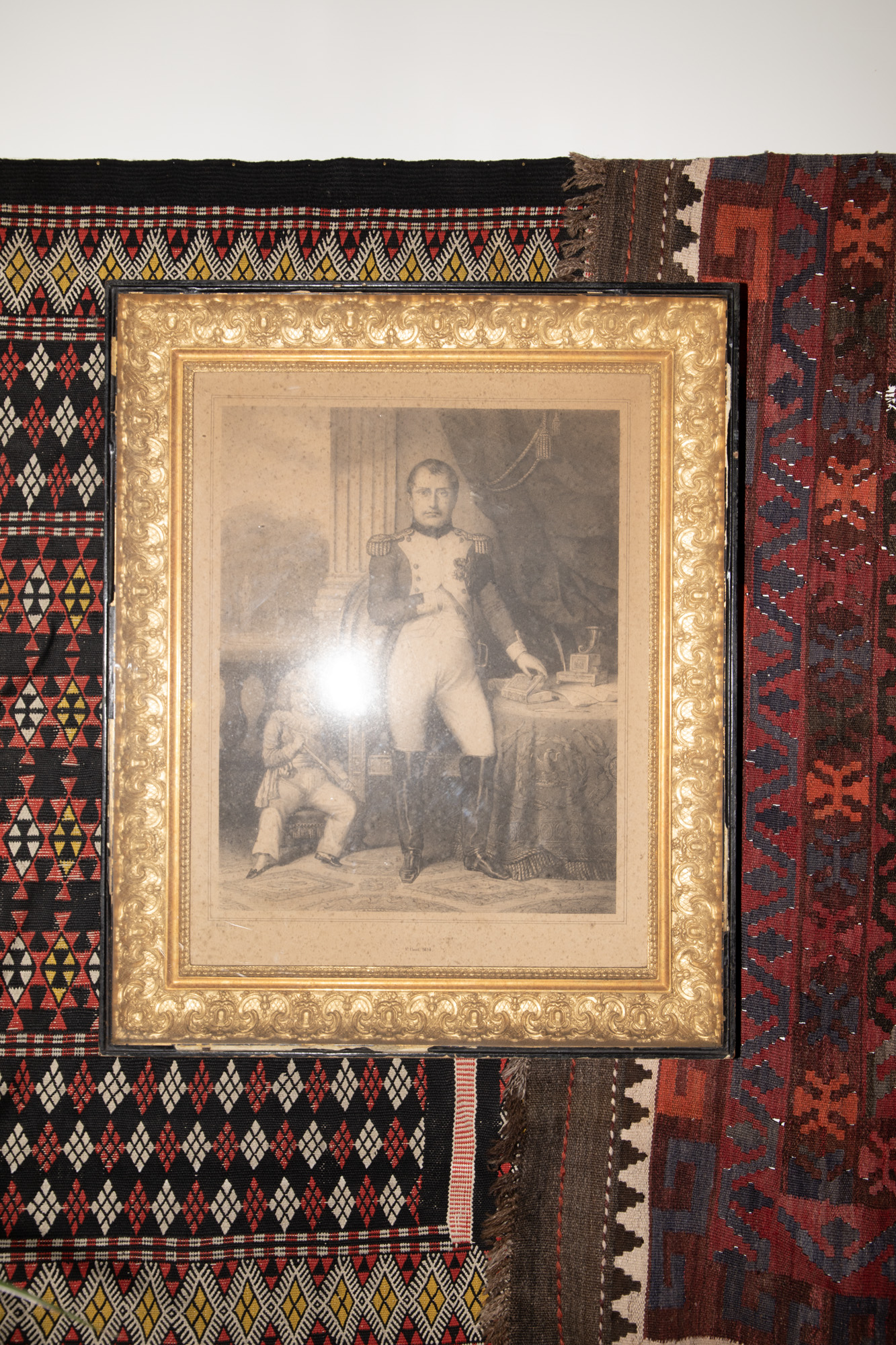 An official portrait (print) of Napoleon Bonaparte, a wedding gift to his great grandfather.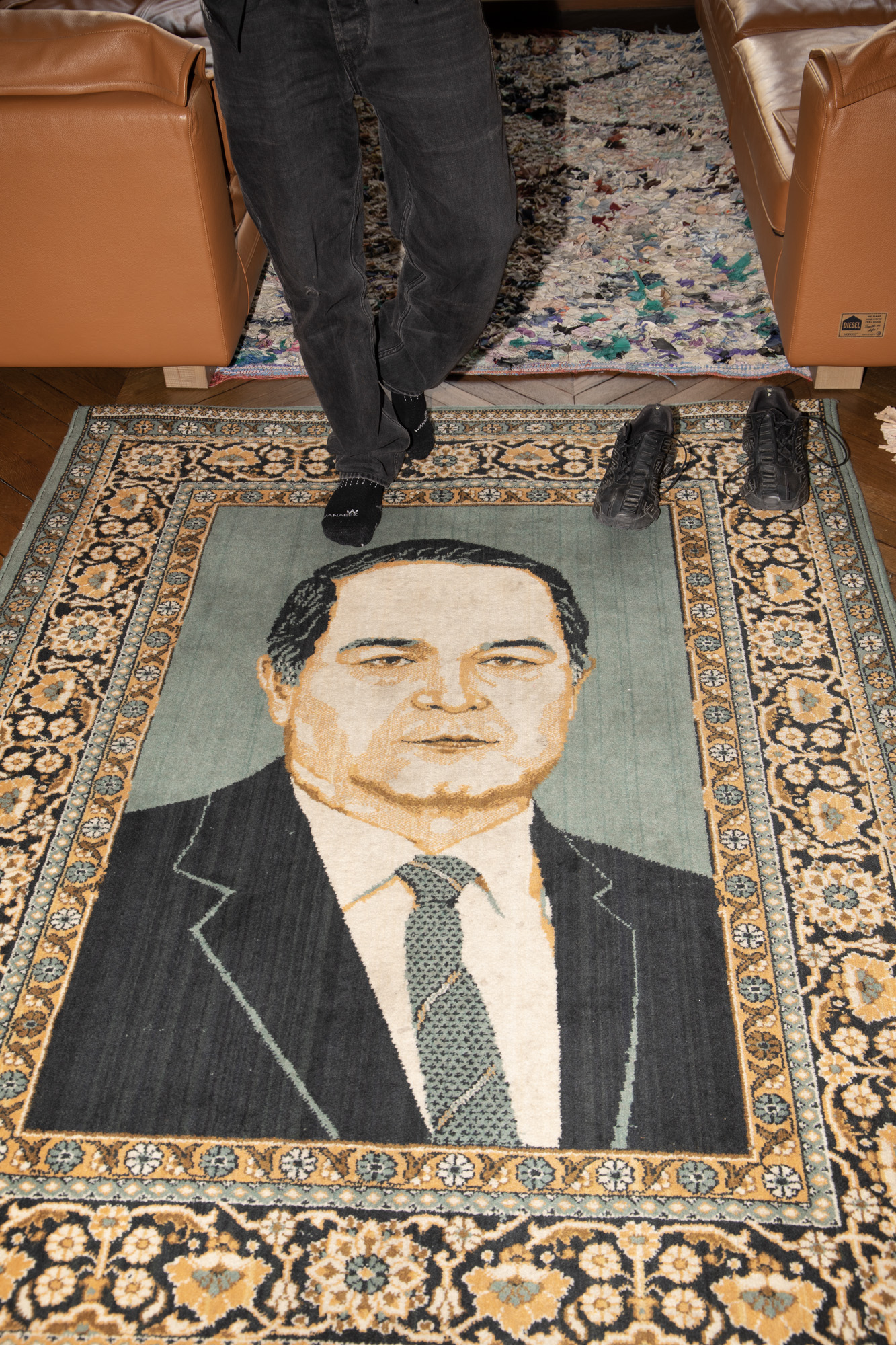 A rug featuring an unknown subject, gifted by a friend.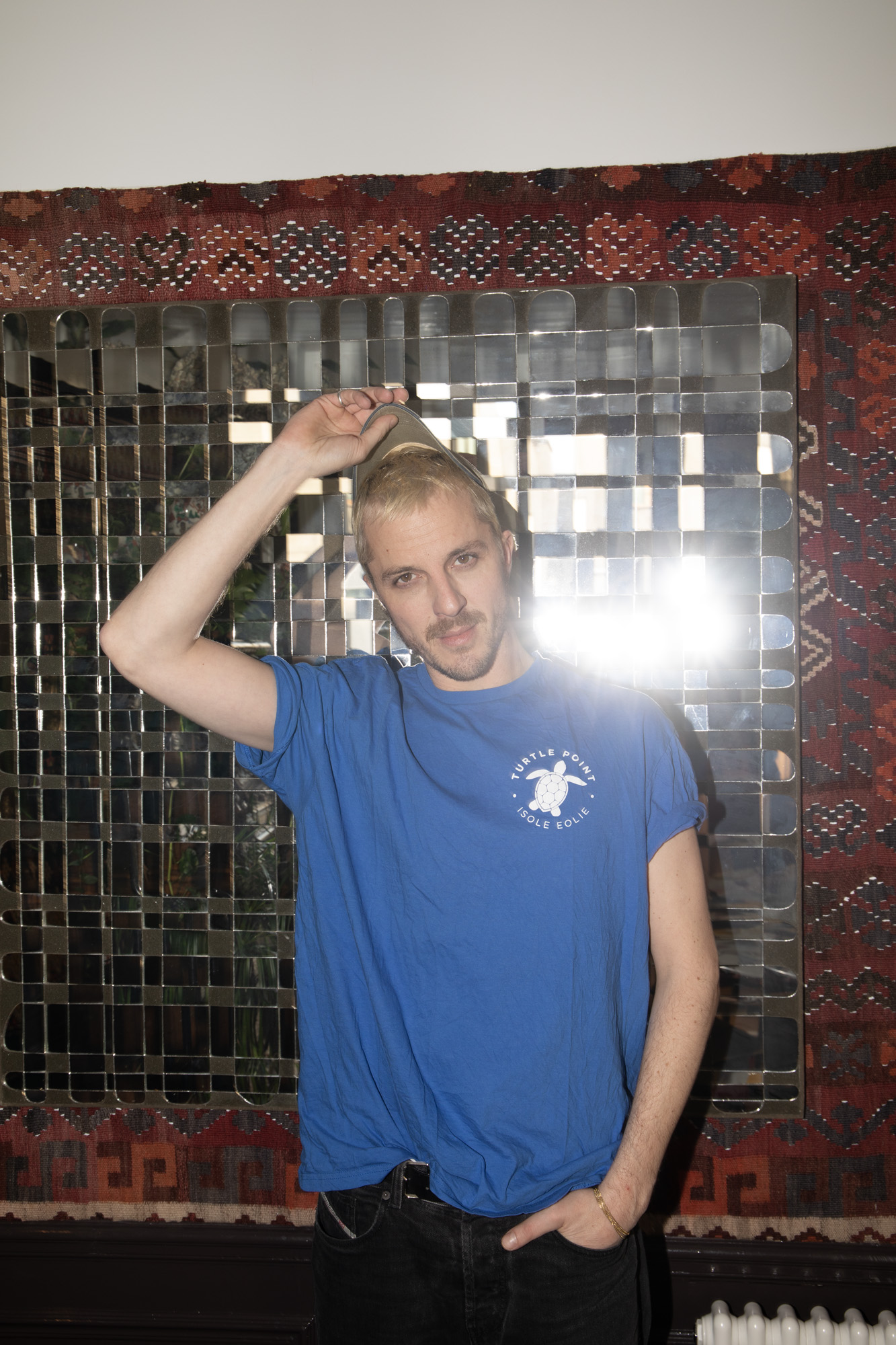 And what's your type? I'm very versatile in that way I'm a "yes-sayer" in the way that I love going to castles and going to the opera. I love going camping, hiking for two weeks, sleeping in the wild. And I think that is the profile that I like to look for. Cause I really love to live my life this way, so therefore it needs to be somebody who is also able to be as flexible. Someone who likes to be a bit more straightforward and raw. I would also say that my type of guy is someone who's into excesses, and I always date with the hope of falling in love.
What's your morning routine? Coffee, cigarettes [Laughs]. Coffee, cigarettes. And that's kinda of it, then a shower. But I like to take a lot of time for my coffee and my cigarettes. I go to my email, and I go to my Instagram and all these things.
Have you ever been in love? Two times. The first time was actually one of my very first long relationships. The one I had when I was 22 was with my teacher at Antwerp Academy. I was in the third year. And he was a fourth year teacher. To be honest, he wasn't my teacher directly, but I was a fitting model for the students in the fourth year. So that's when we met each other. I was always fitting for his class. And instead of looking at the clothes, he would look into my eyes and I was like, "Oh the teacher." He was like ten years older than me. I think we dated for eight years. At a certain point he moved to Paris with me. We lived here for a few years together. And the issue was basically that we had too much of an age difference. He was at a point in his life where he wanted to end his career and settle down. And I was at the point where I was starting my career. So there was a bit of a conflict of speed, but that was a big love. And it's still my biggest love and it's still somebody I respect a lot. And who challenged me a lot. I think of course your first big and long relationship, eight years is something you carry forever and then I had two other short-term relationships, but now you have all the details.
[Laughs] Everybody wants to know. The second guy was somebody I loved because he was bipolar and he spent the last ten years from institute to institute.
That's a hard love. Crazy. Afterwards I heard people describe it like the up is fantastic, but then the down is also extreme. And we met in this massive up. So it really felt like this explosion. We even got engaged after three months [Laughs]. And then after the fourth month he went straight into a down. We were visiting his parents and all of sudden he was so aggressive and so intense.
Bipolar people. They're so charming and attractive and sexy. It makes sense. The breakup was so hard. It was just absurd. Actually he didn't even break my heart that much. And the third guy was more of a traditional love story.
Well, I have these little cute questions. If you were a car, which car would you be? I don't give a shit about a car. Cars are the last thing I think about. But I guess it would be maybe a black Porsche.
If you were a meal? I always say the same thing, steak and fries.
Steak and fries? I always say that at restaurants, it's always the same. I have to make so many choices in my life every single day, so in my private life, I try to have no choices to make. That's why I just say yes to everything and I don't follow up. Then when I go to the restaurant, I have the same thing and I always wear the same thing also. Paris, it's always a black denim shirt and black denim pants.
Which animal would you be? My friends always say I'm a llama because I'm always very strict.
If you were a sport, I think you're a hiker. I'm a hiker for sure. Yeah, that's the only sport I like to do.
And lastly, a movie. Eternal Sunshine of The Spotless Mind or The Hours. That is the movie I think I've seen the most in my life.
The Hours. I'm very boring Silvia. A lot of my references are from when I was younger, I guess because my life is too fast to actually engage in music and movies, so I have a lot of references from the past. I remember when I was sketching for my final year at the academy, I had The Hours on repeat. I think just the music, I almost got into it — it was quite trippy.
Well that's a really relevant movie. One of my favorites too. I have just one last question. If there's any other practice you would like to do or to explore in the future what would it be? Garden architecture. I would love to do garden architecture. That's the thing I've always wanted to do.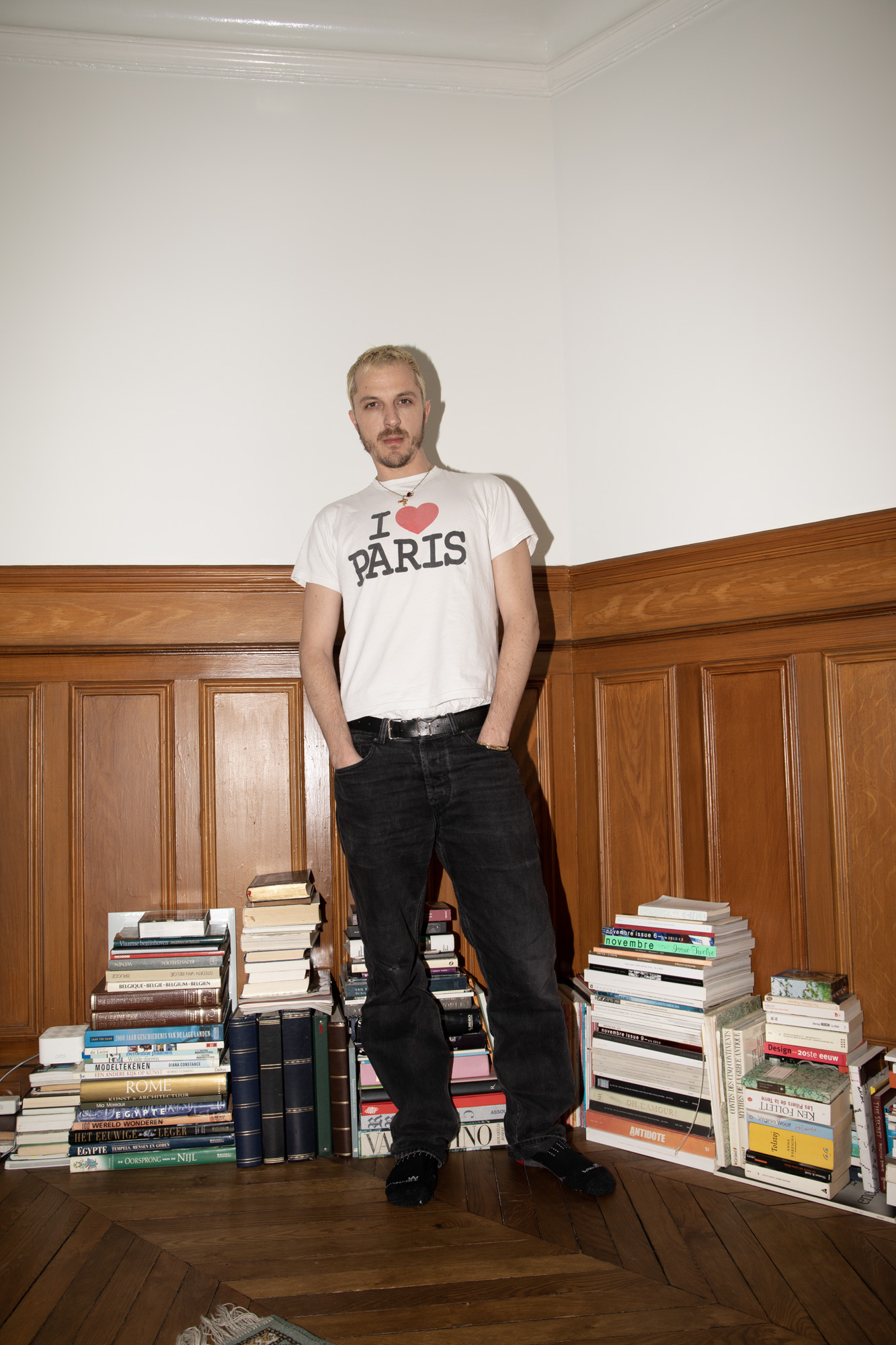 This story was printed in GAYLETTER Issue 17.