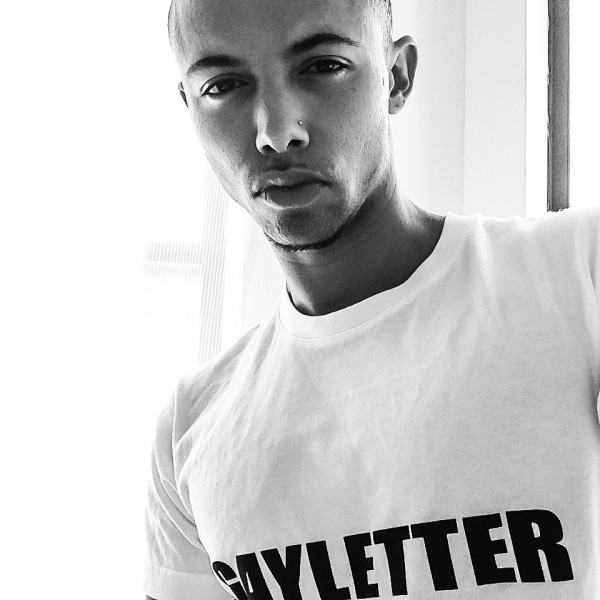 Selfies by Alex
Hi, Alex
Alex is 25 years old, he grew up in Tucson, Arizona, he's now living in Brooklyn, New York. Even though he was born in the states he considers himself Haitian. His father is from Haiti and his mother is from the Netherlands (by way of Curaçao). He studied Anthropology and Caribbean Studies and he's currently working for a non-profit, "mostly doing historical research, community engagement, recording oral histories/ethnography." He has a boyfriend who is "intelligent, driven, thoughtful and humble." In a man Alex is also attracted to "a good chest and stomach — lips do it for me though…"  He's open to any races when dating, but so far he's only dated black and latinos.
The favorite part of his body is his chest, he told us that his nipples are "quite sensitive" and he loves his chest because it's "big, well defined, perky. lol"  He always knew he was gay, "before I even realized there was a word for what I was feeling." His first crush was his best friend in grade school, "I would always get jealous when girls would hug him and he'd give me a handshake." An ideal date for Alex would be going to a "dope bar — not too loud or crazy, just laid back, good drinks, good convo, good music — that's all I need." His go to cocktail is a bourbon, on the rocks.
Alex doesn't have any real beauty routines, "I'm pretty simple. I wash my face, shave/trim, brush my hair  — always try and keep it fresh and simple." He tries to work out 3 times a week, "sometimes more, sometimes less…"  When it's time for him to go to bed he wears briefs, except in the Summer time, he wears just his bedsheets. Some of the things that make him happy are "music, Haitian food, weed, writing/words, whiskey…" He sounds like our type of guy!
We asked him to take a few selfies wearing our GAYLETTER t-shirt and here's the result…